Minced Chicken Kurma or Kheema Kurma..well, I was debating what the name of this recipe should be. Kheema Kurma sounded funny so I vetoed it. It brought to mind many such names of people that rhyme with their surnames – I won't get into the details – I will leave you to think of such names that you've come across in your life. Yeah yeah, a total time pass activity. But then, what are weekends for? To take it easy and relax.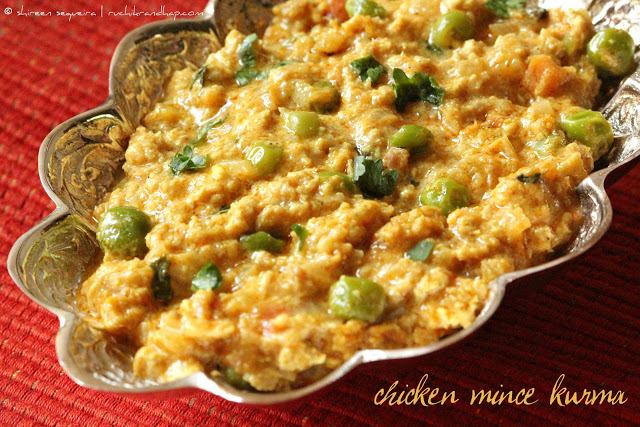 That is pretty much what I will be doing this weekend. Going to finish my housework now & then do my weekly shopping at the supermarket. So without boring you with too many philosophical stories, will leave you with this simple recipe which I found in the Mangalore Ladies Club Recipe book and tweaked it a bit. It's a typical Kurma/Korma style of making chicken mince, so if you are only fond of eating mince in its red masala form, forget about this recipe. The cashewnut paste in this recipe lends this lovely creamy texture and flavour that is a perfect accompaniment to chapathis.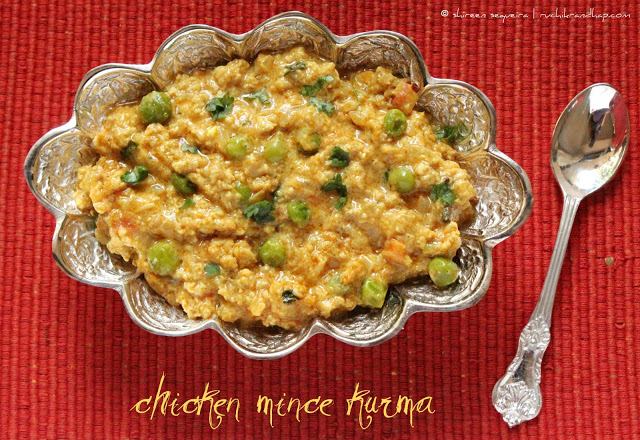 Minced Chicken Kurma
Serves 4
You Need:
800gm chicken mince/kheema
3 medium onions finely chopped
3 small tomatoes finely chopped
1/2 cup curds
1 tbsp ginger garlic paste
1/2 cup green peas
50gms (or a fistful)cashewnuts ground to a paste
2 tbsp heavy cream (optional)
oil for frying
Whole spices
1/2 inch cinnamon
2-3 cloves
2 cardamoms crushed
1/4 tsp cumin seeds
Dry masala
1/2 tsp coriander powder
1/2 tsp cumin powder
1/2 tsp turmeric powder
1/2 tsp (or to taste) red chilli powder
1/4 tsp garam masala powder
For garnishing
Method:
1. Wash & drain the mince in a fine slotted colander until all the water drains off.
2. Heat oil in a heavy bottomed kadhai or wok and add the whole spices and fry for a few seconds. Add the chopped onions and fry till pale & then add the dry masala powders and fry for 1/2 a minute. Add the chicken mince and fry for another 2-3 minutes.
3. Toss in the chopped tomatoes and ginger-garlic paste and fry well for another 5- 6minutes until it is almost dry. If the mince has let out a lot of water then don't add additional water. Else add 1/2 cup water and simmer for 6-7 minutes until most of the water evaporates & the mixture becomes dry.
4. Add curds and mix well. Add the cashewnut paste and mix again, allow to simmer on a slow flame for 5 minutes. If you wish to add some more water to make a thick gravy you can add about 1/2 cup water.
5. Toss in the green peas, cover & cook for 2minutes. Turn off the flame