Pin
Mince puffs have been my all time favourite. Infact, I love any type of puffs – egg, chicken, meat, especially the ones we get in bakeries in Mangalore. The joy of finding fresh & hot puffs and biting into one is something else. I totally relish them whenever I travel to Mangalore as I make it a point to pick up some from either Vas Bakery or the little bakery near my in-law's place. Sometimes I am so tempted to buy some and bring them back with me to Dubai, however, the rules that concern bringing of cooked food back to the UAE are very strict and I prefer not to take any chances. Speaking of puffs I wanted to share a very important message to all those travelling to any of the Gulf countries. Please make sure that if you plan to buy some puffs (or any other bakery item) they should not contain poppy seeds (whether in the filling or as a garnish) as this is banned in most countries and can land you in trouble if you are not cautious. If you don't want to take any chances like me, how about trying your hand at making some at home? These puffs were really easy to make and I realised that it really pays to have a pack of puff pastry handy in the freezer. Whenever you have leftover cooked minced meat all you need is 30 mins and some patience. Thaw some pastry sheets and fill them up. Fold, bake and some delicious puffs will be ready in minutes!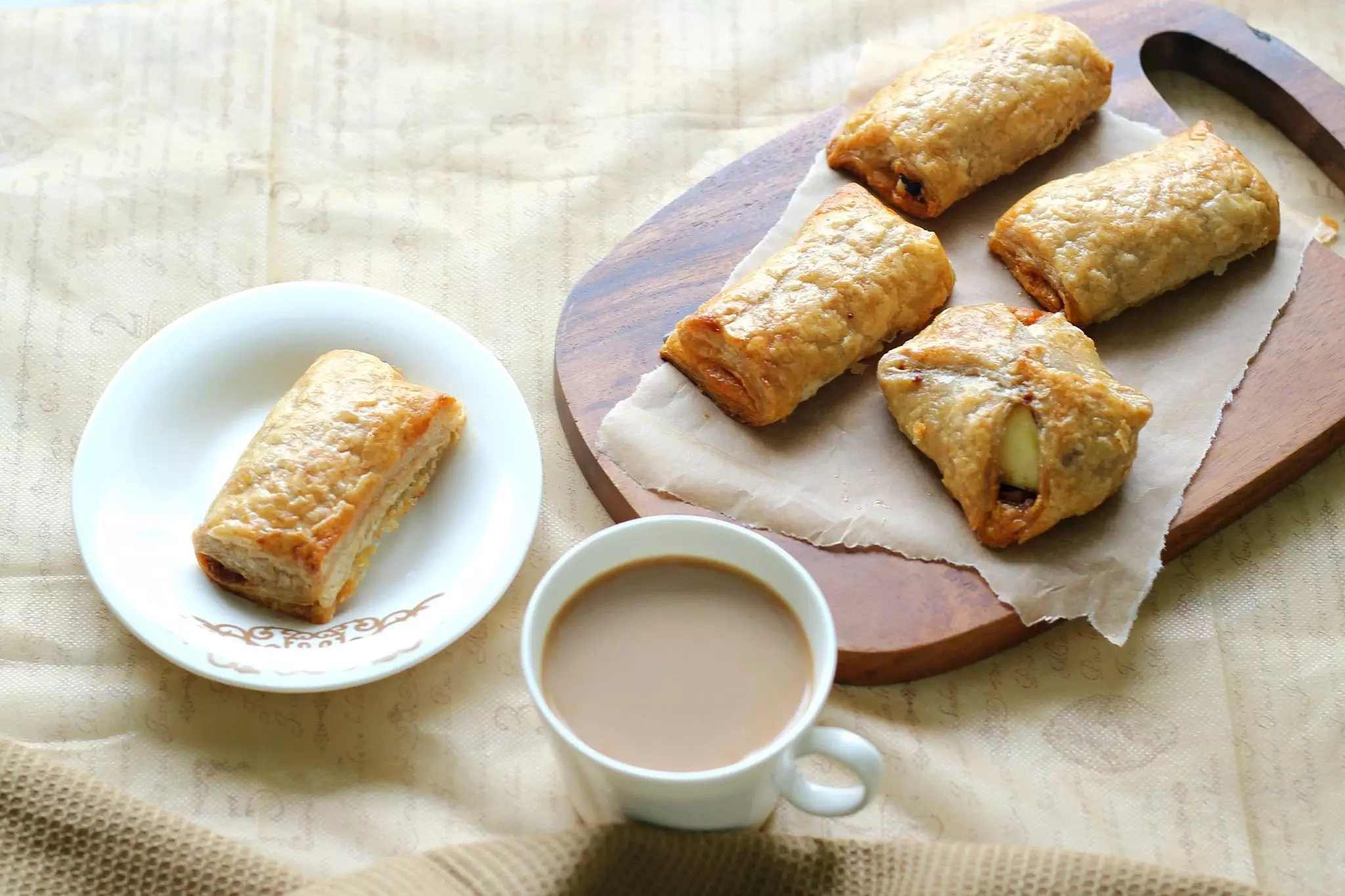 Pin
So, although I was very apprehensive about making puffs at home I decided to give it a shot. The hubby had been asking me to make some since ages. I decided to make them knowing fully well that they may flop, for I had never worked with puff pastry before. After a few flops, I finally managed to create the perfect puffs. My only grouse though was that the squares I bought were small and so we got thinner puffs that I'd have liked. Nevertheless, we also get triangular shaped ones which I hope to try out next time. Perhaps I'll even make my own puff pastry and cut it into whatever shape & size I like!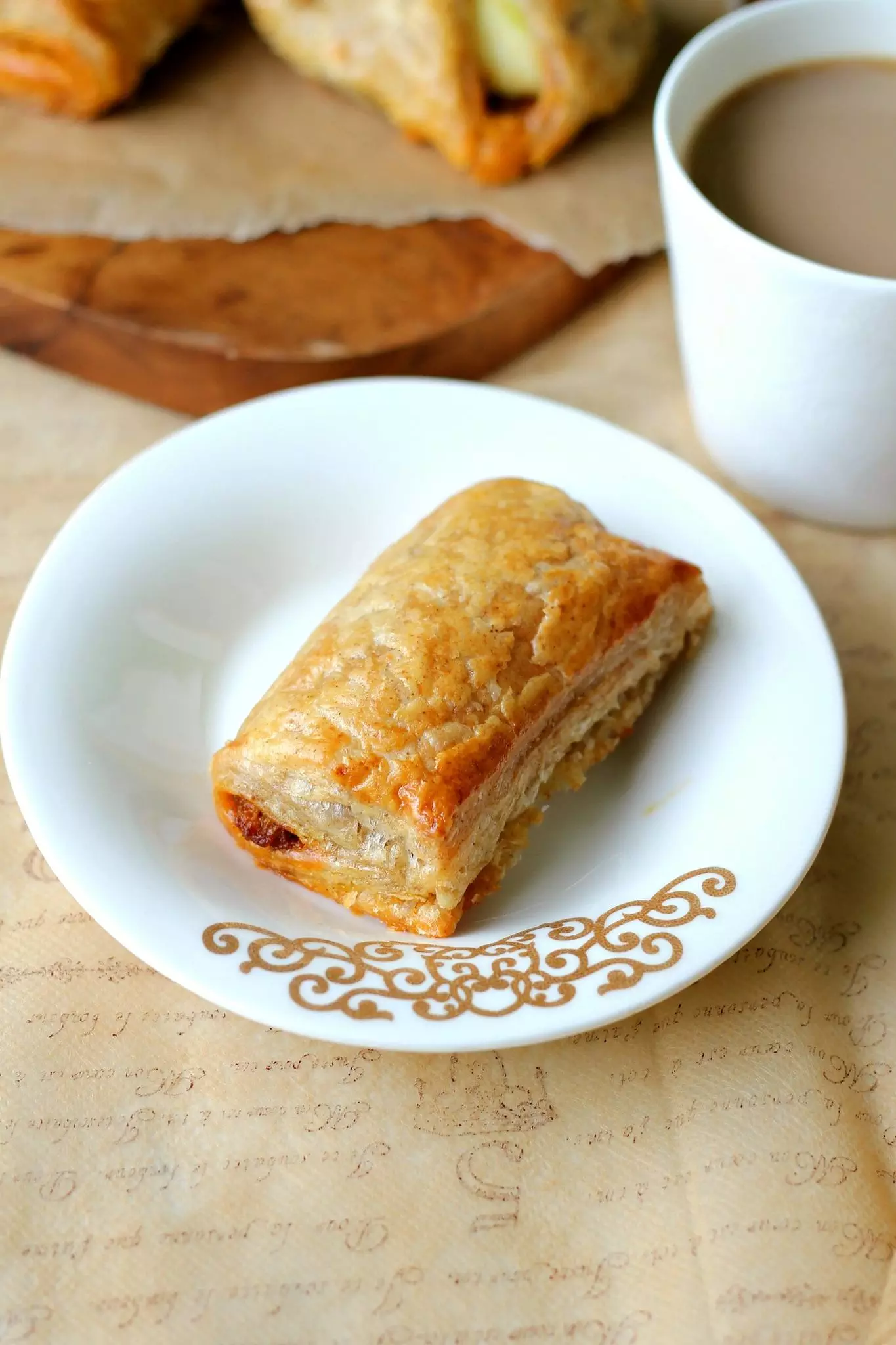 Pin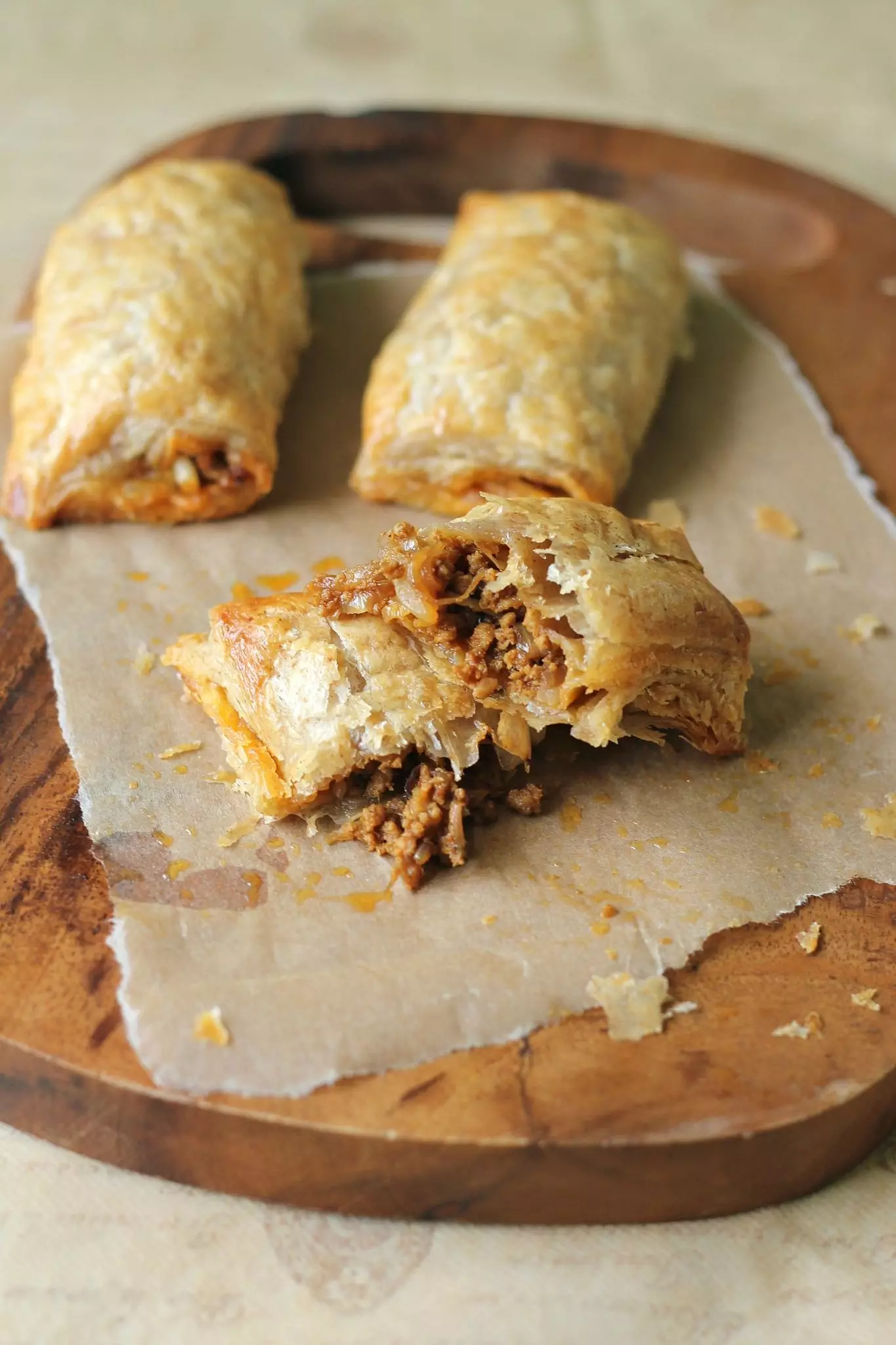 Pin
When you buy the puff pastry from a store make sure that you place it in a cool box so that it doesn't begin to thaw till you get home. Sheets that stick to each other are a nightmare to separate.  Alternatively look for sheets that are separated by a sheet of wax paper or the like. You may have to shell an extra penny or two for such brands that take care of the sheets by packing them in such a manner but it will be worth it in the end. Secondly, don't be tempted to fold the sheets unless they have thawed properly as they tend to break. Again, thawing must be done on a well greased or lined baking tray that will go inside the oven.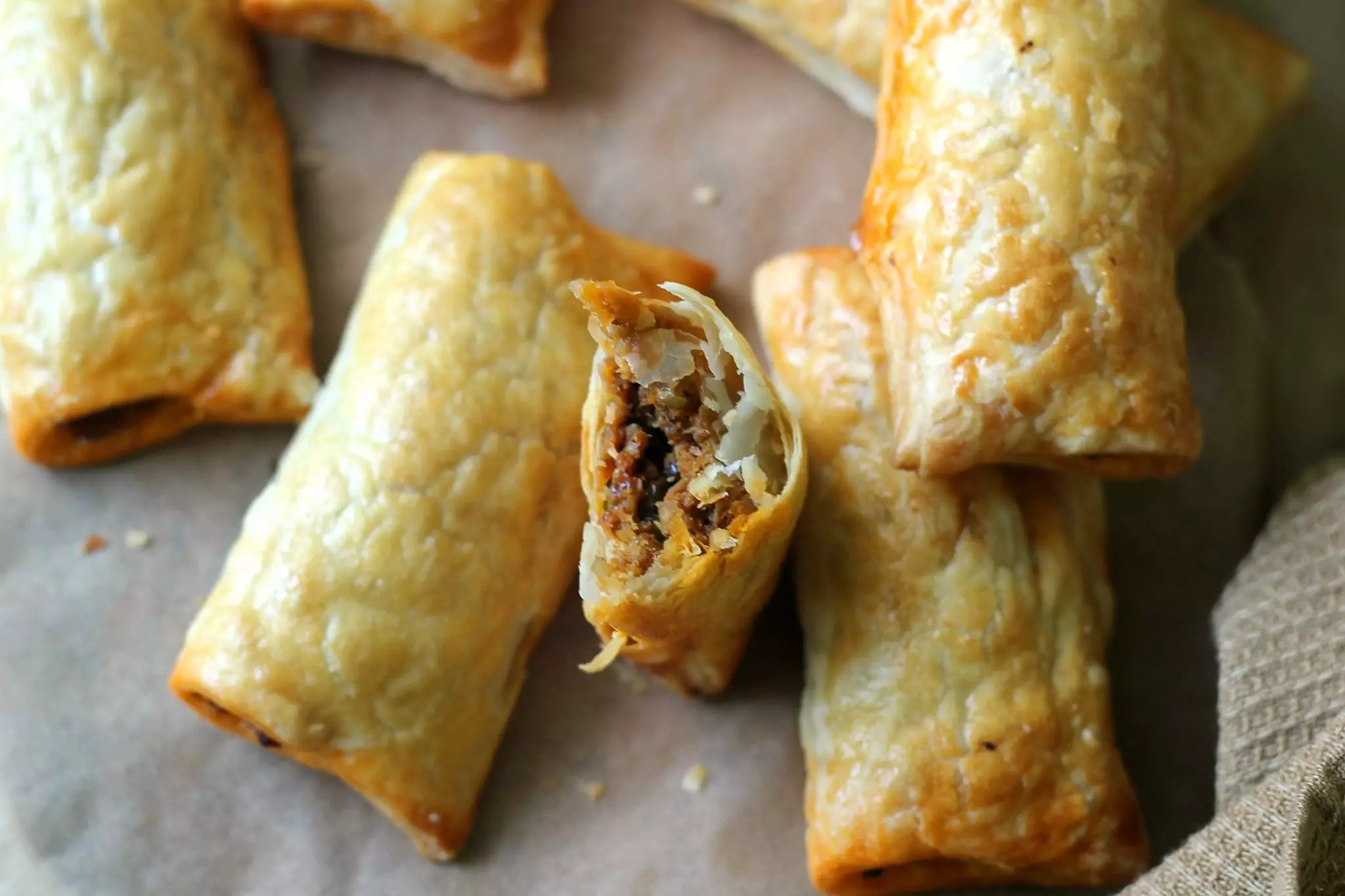 Pin
To save this recipe on Pinterest, click the image below! Do follow all my boards while you're there!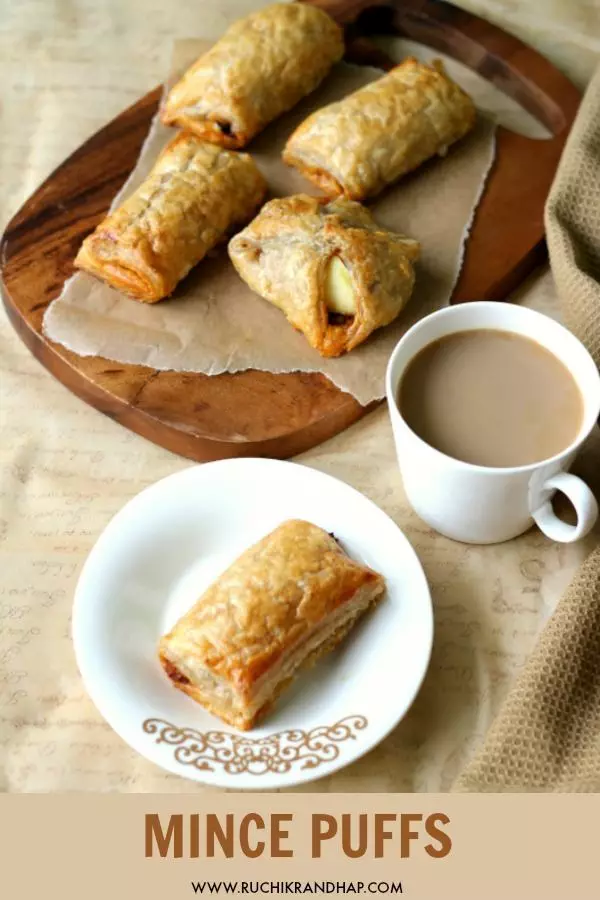 Pin
Mince Puffs
If you love mince puffs you can make them at home! Super easy and delicious puffs make for a great tea time accompaniment or a breakfast option!
Print
Pin
Rate
Ingredients
16

puff pastry squares

butter to grease the pan

hard-boiled eggs

optional
For the egg wash
1

egg

1

tablespoon

of water
For the filling
350

grams

minced meat

chicken, beef or mutton

juice of 1/2 lime to marinate the mince plus extra while cooking it

2

medium-big sized onions

thinly sliced crosswise (half-moons)

1

small green chilli

slit (deseed to tone down the spice level)

1

" ginger

finely chopped

2

teaspoons

freshly ground pepper

1/2

teaspoon

cumin powder

1/4

teaspoon

turmeric powder

1/2

teaspoon

garam masala powder

2

teaspoons

tomato paste

1/4

cup

chopped coriander

oil or ghee for frying

salt to taste
Instructions
To make the filling:
Place the minced meat in a fine slotted colander/strainer and lightly rinse it or just sprinkle it with water. Washing it completely will make it lose its flavour. Place in a bowl and marinate it with some salt & lime juice. Keep aside for at least 10 minutes.

Heat oil or ghee in a heavy based wok or kadai and fry the onions till translucent. Then add the ginger & green chillies and fry on a low heat for a few seconds

Add the tomato paste and fry for another half a minute or so and then reduce the heat completely. Add in the spice powders and then the marinated minced meat.

The meat will begin to release its stock. Fry it on a high heat till the almost all of the excess water evaporates and the meat is cooked. Adjust seasoning.

Garnish with chopped coriander and remove the pan from the heat. Allow the mixture to cool.
To make the puffs:
Grease a baking tray with butter and place the puff pastry squares when still frozen. Allow them to thaw for about 10-12 minutes or until you can lift them up to fold (they will break if they haven't thawed properly)

Place a teaspoonful of the prepared mince mixture in the centre of the pastry square. If you wish you can place half a hard boiled egg cut side facing down on the mince mixture. However, this is optional

Dab the edges/corners gently with plain water. This will help seal the edges.

Fold the puff pastry into half (vertically) or diagonally to form a crescent shape (half moon). You can also fold the four corners inwards. Gently press the edges with your fingertips or with a fork for a nice design.

Preheat oven to 200 degrees C and bake the puffs for about 18-20 minutes (if using regular puff pastry) or 22-24 minutes (if using whole wheat puff pastry) or till they puff up and turn golden in colour. Bake times may vary according to your oven and thickness of the puff pastry sheets so keep an eye out.

Remove and let the puffs cool for about 10 minutes on the baking tray, then using a cake server or spatula ease them out onto a wire cooling rack till they cool some more & turn flaky & crisp.

Enjoy warm puffs with a cup of hot tea or coffee
Disclaimer
The nutritional values are only indicative.
Tried this recipe?
Please leave a comment & rate the recipe below or share a photo on Instagram and tag me @ruchikrandhap