So it's Blog Hop Wednesdays once again. This event makes sure that participants push themselves out of their comfort zones and try out something from another blogger's recipe collection, thus making an interesting choice of trying something new or completely unheard of. It is also a great way of getting to know new bloggers and making friends along the way.
For this week's Blog Hopping I have been paired with Divya Kudua of Easy Cooking. Divya needs no formal introduction as everyone on the blogosphere knows about this talented & versatile cook with an amazing collection of vegetarian recipes. Despite being a non vegetarian myself, I am always on the look out for vegetarian recipes as I totally love veggies and before being paired with her, I have had the opportunity to go through her recipes and try a couple of them. The one which I have tried, tested and loved (including my guests) is the Classic Chocolate Fudge Brownies. When I got paired with her, i immediately browsed through her entire collection of recipes and bookmarked a few which I am going to try one by one. For now it's her Methi Pulao recipe today.
By the way I was not much of a Methi fan until I made this pulao. I shrugged at the very thought of cooking & eating these bitter leafy greens and hence never cooked it at home. However, I am thrilled to tell you that not only did this Pulao transform my husband and me, our little fellow asked for second and third helpings too!
I made this pulao twice on the same day. I was a little obsessed with making a healthier version of this Pulao and so I made it for lunch with brown Basmati – since I have never cooked this variety of rice before I did a bit of a trial & error before the rice was fully cooked and boy! was it tasty! Yum yum yum! Brown rice imparts this nutty flavour to the whole preparation and I simply gobbled it up in no time. Luckily I had used just 1/2 a cup of rice and didn't stand the chance of overeating. Anyways, made it once again for the evening's meal and served it along with a simple Yoghurt & Cucumber Raitha and shallow fried Brinjal (thin slices marinated in Meet Mirsang). The Methi leaves give out a delicate flavour and you cannot sense the bitterness as in this recipe you need to use just the leave – whole, as they are, without chopping them (so the bitterness is not released).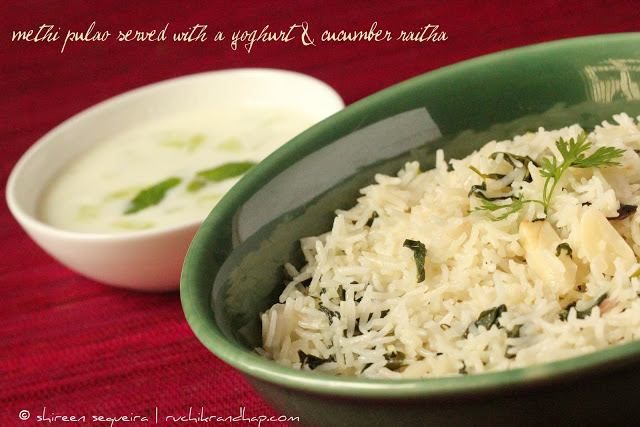 Pin
Methi Pulao
Serves: 2
You Need:
1 cup basmati rice * see note
1-3/4th cups of water * see note
1 packed cup of methi leaves
2 tbsp coriander leaves roughly chopped
1 large onion finely chopped
2 large/4-5small cloves of garlic without skin
1 long green chilli finely chopped
2 cloves
1/2 inch cinnamon
1-1/2 tbsp olive oil or ghee
1 tsp lime juice (optional)
salt to taste
Method:
1. Wash and soak the rice for about 10-15minutes. Pluck and wash only the methi leaves (and not the stalks) and coriander leaves and allow to drain. Do not chop the methi leaves as the pulao will taste bitter. If the garlic cloves are medium size
2. In a pressure cooker, heat the oil or ghee and toss in the cloves and cinnamon, fry a little and then add the chopped onions, garlic cloves (whole or just cut into two) & green chilli. Fry well till the onions turn slightly golden
3. Toss in the methi and coriander leaves and fry for another 2 minutes.
4. Add the well drained rice and fry for 2-3 minutes till you feel the rice getting a bit heavy and hard to stir. Add freshly boiled water, mix well, add the lime juice and salt. Check taste and allow the rice and water mixture to come to a full boil. Cover the lid of the cooker and place the weight (whistle). Reduce the flame to sim and allow to cook for exactly 5 minutes (keep a timer!) – ensure that the fire is not strong enough to let off a whistle or doesnt even make a hissing noise. After 5 minutes, turn off the flame and allow to stand for a few minutes till the whistle turns completely loose.
5. Open the lid and fluff up the rice with a fork. Give it a gentle mix, close the lid for about a minute, re-open and serve Methi Pulao hot with Raita
Notes:
1. You can use brown basmati rice if you wish to make this pulao even more delicious & healthy. I tried making this pulao with 1/2 cup brown basmati and used about 1-1/2 cups of water (in the ratio of 1:3) and pressure cooked for 6 whistles – however it was by trial & error that I got it right – will repost the exact method soon.