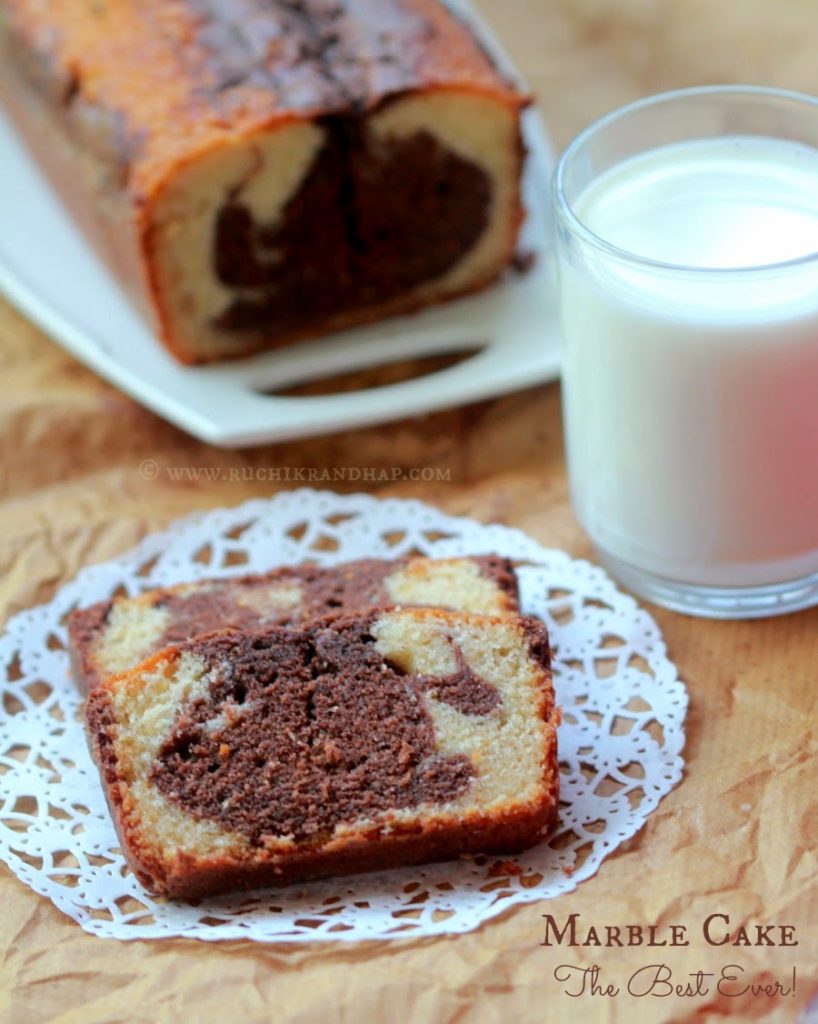 Today, hopefully I will bake the first cake of 2014! Yayy! Ever since I returned from my vacation I have not been able to bake anything although I have been continuously adding to my list of bookmarked recipes. Then a jolt of reality said that I should first post all the draft recipes that haven't seen the light of day for ages now. Would you believe me if I said that I have recipes in draft dating back to 2012? The year I was expecting my second baby saw the highest number of recipes in draft. Add to that the recipes of 2013, the year of the Great Move (our relocation to Dubai) and more recipes got piled up. Not a single day goes by without me going through them several times wondering which pictures I should scrap and retake.
This particular recipe caught my attention today as I have done two photo shoots for this cake as it has been made several times – pounced upon by kids and adults alike and finished in no time with only the crumbs begging for mercy. Well, this must be the most awesome marble cake I've tasted since it contains not just cocoa powder but real melted chocolate as well and that just well, enhances the taste so much!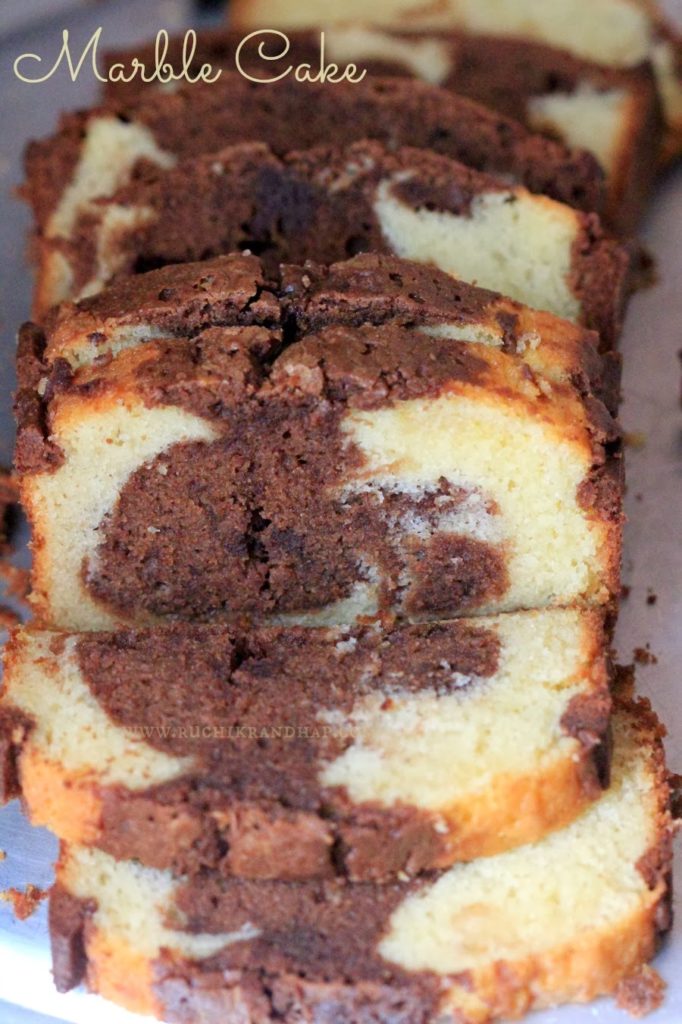 The third and fourth pictures are of my first attempt at my brother's place – cakes made in the gas oven. In my opinion they turned out really terrific. A lot more tasty than the electric oven version, but maybe I still haven't got the hang of my new oven and its million settings and features yet. Oh well! Maybe I should practice no? So while I go and honour my hubby's latest cake request, (wish me luck!) why don't you try this marvellous cake this weekend?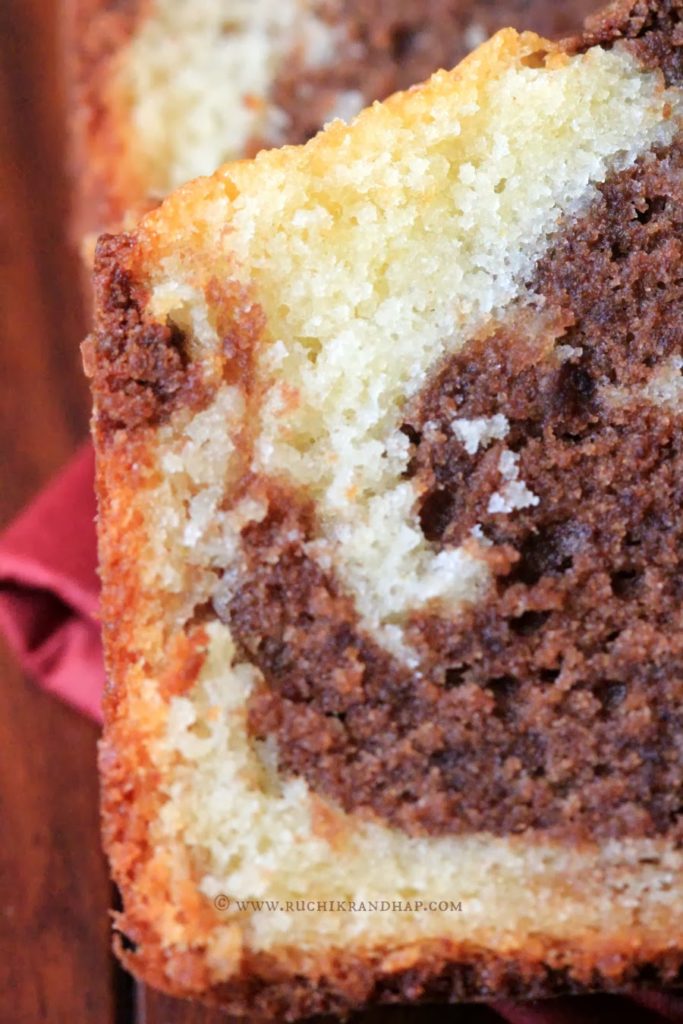 Marble Cake Recipe
Prep time: 15 mins | Bake time: 45-50mins | Servings 12/10×5 inch loaf *see notes
Ingredients:
170 grams unsalted butter, softened at room temperature
200 grams /1 cup sugar
3 extra-large eggs
1 tsp vanilla extract
1/4 tsp salt
1/4 tsp baking powder
1/4 tsp baking soda
170 grams / 1-1/2 cups all-purpose flour (maida)
1/4 cup plain yogurt, full fat preferred
1/4 cup whole milk
50 grams semi-sweet chocolate * see notes
1/2 tablespoon unsweetened cocoa powder (optional)
Method:
1. Preheat oven to 160 degrees C. Grease and line a 10×5 inch loaf pan with baking parchment. Sift the dry ingredients once – flour, baking soda & baking powder.
2. Melt the chocolate in a double boiler (bowl placed over a pan of simmering water) or microwave for a few seconds until it is a smooth paste.
3. In a bowl cream together the butter and sugar till pale and fluffy. Add in one egg at a time and beat after each addition.
4. Add the vanilla and mix. Add the dry sifted ingredients in three parts, alternating between yogurt and milk. Stir gently to ensure that everything is mixed properly.
5. Divide the batter into half, to pour the first half into the baking pan. To the other half of the batter mix the cocoa powder and melted chocolate and stir to mix.
6. Pour in the chocolate batter in parts into the loaf pan – basically you need to get a design like a marble effect, so gently punch out the vanilla (white) batter that u previous put in and pour the chocolate or just use a spatula to twirl the batter together in the form of a figure eight. Don't over mix or you will spoil the design. Smooth out the surface a bit.
7. Place the pan in the preheated oven and bake for about 45-50mins or till the skewer inserted comes out clean.
Note:
The original recipe was for double the ingredients and a bundt pan was to be used. You may go ahead and double the recipe and use a 10 cup bundt pan. The baking time will need to be increased as well – to approx 55-60 mins or till the skewer inserted comes clean
You may use bitter chocolate if you prefer. I just used semi sweet chocolate chips as I wanted to use them up. Try not to use chocolate with nuts unless you want the nuts in the cake.
Recipe adapted from House of Annie