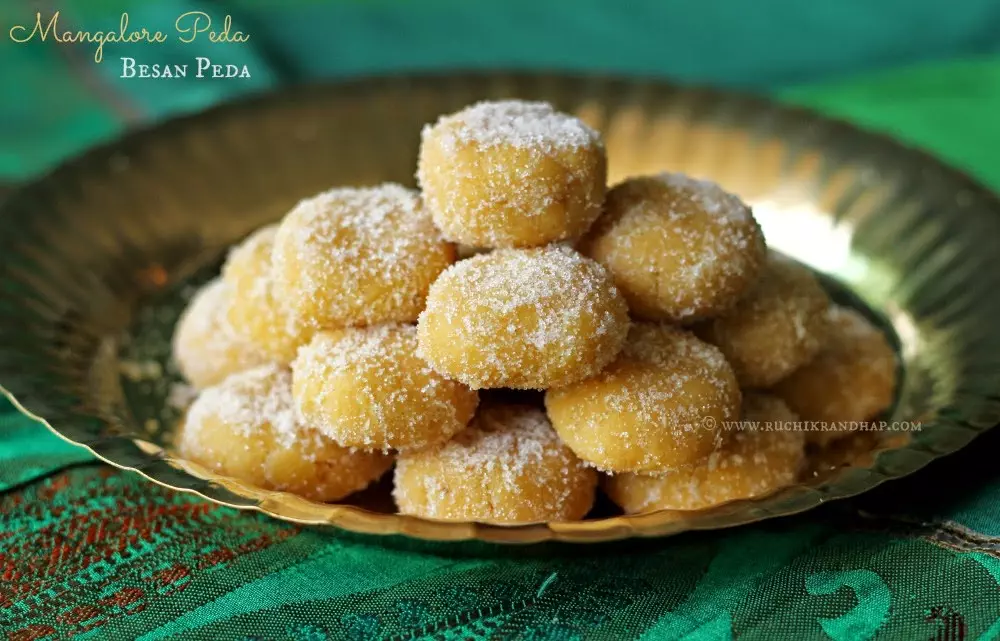 Pin
As we are inching closer to one of the biggest festivals of India my news feed on Facebook is being bombarded with all kinds of recipes – sweet and savoury. It is almost impossible to turn a blind eye to them. It makes me simply want to try them out but then I tell myself to focus and stick to the list of goodies I have already planned to prepare. While most of my experiments are good to go on the blog some of them fail to impress and so those are struck off the list making way for more goodies until I try them again (and again). Well, I have been trying to get a particular Mangalorean sweet right and somehow it has not impressed me to the extent of being posted on the blog. Today on its second attempt I realised that I couldn't go on trying the same dish so many times as I am running short of time to post the rest of my recipes (you know how much I love blogging, don't you?) just in time for Diwali. Although we don't celebrate it at home I just love this excuse to make sweetmeats at home.
I am sure that if you are a Mangalorean reading this you are wondering why you never heard of this particular sweet named after our very own Kudla. Well, you haven't heard about a Mangalore peda because it doesn't exist 😀 Well, it didn't, until now. I just created a new recipe and thanks to Mr. Sequeira's brainwave I decided to make what it turned out to be – a peda. Made from chickpea flour like the Mysore Pak and rolled in caster sugar like the Dharwad Peda, it was about time that Mangalore had a sweet named after it no? While I was debating if I should call it the Mangalore Peda or just call it the Besan Peda I Googled to find no recipe that was similar and went ahead and christened it so. In hindsight this experience provided food for thought. Aren't all the sweets as we know them today a creation of some chef, great or small? Its just about a combination that clicked to which a name was given. Not just sweets but a whole lot of dishes have been a brain child of somebody or the other so well, in my defence I think this is simply a sweet created by a die hard Mangalorean, from her favourite ingredient – chickpea flour.
I completely fell in love with the whole process of making these babies today, from start to finish. The aroma of roasted chick pea flour is something else. To top it they looked so pretty once they were rolled in caster sugar. When I placed them on the brass thali they looked like cute little children wearing their best dresses and behaving themselves, for once!
However, more than love of cooking, it was the love of photography that overtook me today. I simply couldn't stop clicking away. I must have gotten a shot from every angle and setting and had to make the difficult choice of selecting just a handful. Don't they look pretty?
The pedas don't take very long to make. If you are familiar with the process of making burfi then its pretty easy. Even if its your first time trust me, it's not that difficult. It is a little time consuming though as you need to individually roll the pedas into shape but that's about it. All is forgiven when you pop one of these into your mouth. They simply melt! I think these are perfect for this festive season. Don't limit them to Diwali, you can make them for Christmas, New Year or any festive occasion. Unlike milk based pedas this is fairly cheaper to make as this recipe needs just half the amount of ghee than most burfi recipes call for and of course there is no milk or khoya or condensed milk or anything involved thereby extending its shelf life a tad more (if you can resist eating them!)
I'd love to hear your feedback on these pedas. Please do write to me at
[email protected]
and let me know what you think of them. If you make them be sure to click a picture and email it to me. I'll be super thrilled..like I was today, when I made these pedas 🙂
Mangalore Peda | Besan Peda
Prep time: 5 mins | Cook time: 15 mins | Yield 24 pedas
Ingredients:
1-1/4 cups gram flour / chickpea flour / kadale hittu
1/2 cup ghee
1 cup sugar
1/2 cup water
3-4 cardamoms, powdered
caster sugar to coat
Other things required
a thali (steel plate) greased with ghee
ghee to grease your palms
Method:
1. Sieve the gram flour once to remove any lumps. Grease the steel plate with ghee and keep aside. Place caster sugar in a plate and keep it ready.
2. Heat 1-2 tablespoons of ghee in a heavy based/non stick tawa/kadhai/wok and roast the gram flour on a low heat. This will take a few minutes but don't be tempted to increase the heat as the flour can get burnt within seconds. Make sure you have no distractions when you roast it. When you get a nice aroma of roasted flour remove it onto a plate. When cool enough to handle rub the mixture using your fingers to remove lumps if any.
3. In a heavy based/non stick saucepan mix the water and sugar and bring it to a boil. Simmer until the liquid thickens and you get a one string consistency – to check this, dab your index finger in a little mixture (take care, it is really hot, so use a spoon to remove some liquid out), press the mixture between your thumb and index finger and release. If you get single thread (stickiness which forms a thread) connecting the two fingers, the syrup is ready
4. Add the rest of the ghee and the roasted gram flour and stir it vigorously/continuously to avoid lumps from forming. Cook this mixture on a medium low heat till the ghee begins to leave the sides of the pan and the mixture starts looking like a lump.
5. Pour the mixture into the prepared plate and allow it to cool a bit (it cools down in minutes and hardens, so don't delay)
6. Grease your palms with ghee – this will avoid your palms from getting scorched and protect it from the heat as you need to shape the pedas when the mixture is still hot or else it wont set later if it cools down completely. Take enough mixture and give it a good squeeze to make lime sized balls. Flatten them in the centre of your palm to give it the shape of a peda.
7. Roll the pedas evenly in the caster sugar. Serve