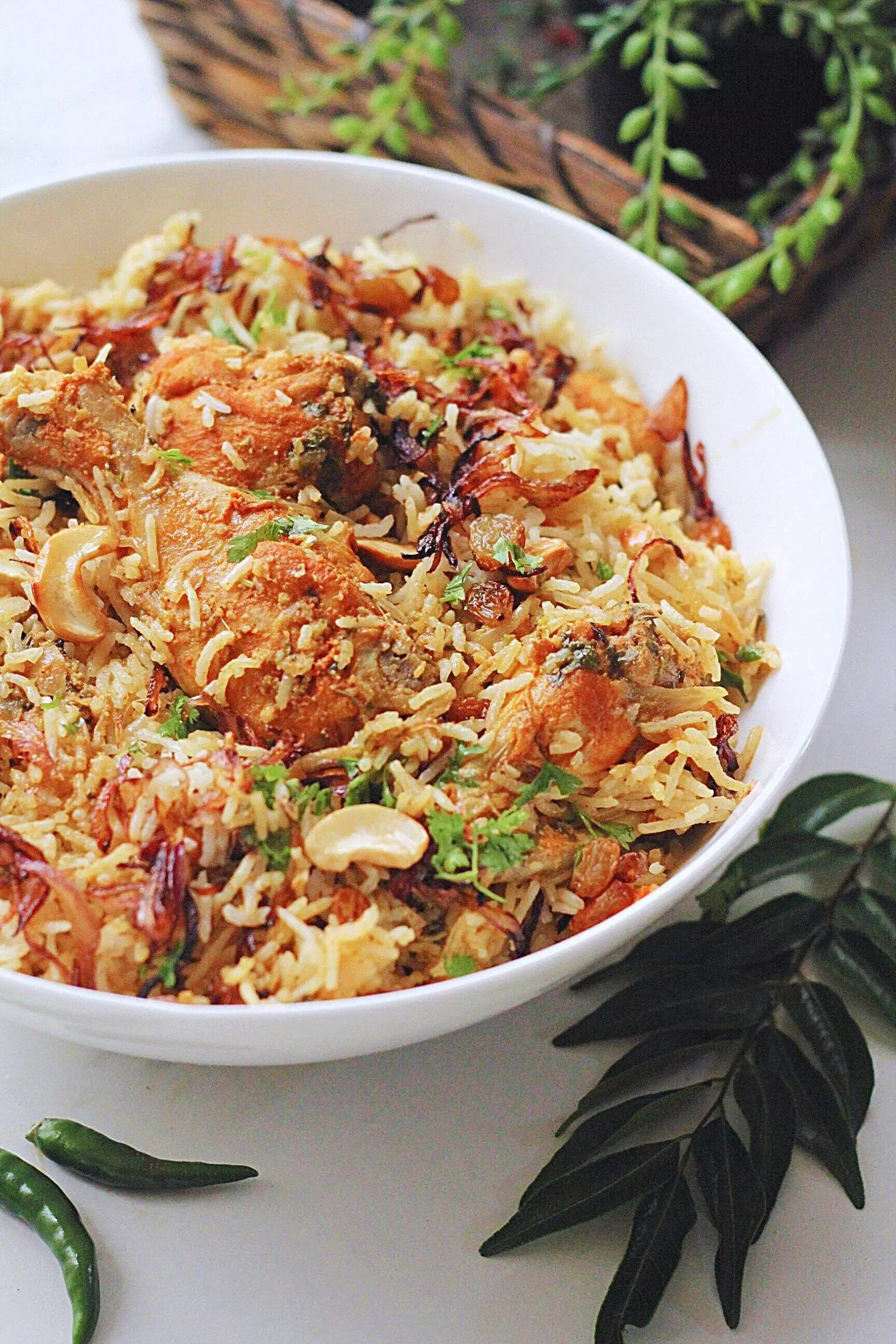 **This recipe was first published on 11th February 2011. This post is now updated with new pictures & a video**
There are very few people who do not relish a biryani. I am a total lover of everything rice and biryanis are my all time favourite. I try at least one new type of biryani once in a month or two. To me it is the most satisfying meal of all – a complete meal. Some recipes may be tedious & time consuming, but biryani accompanied by a raita is a complete meal by itself so you don't really have to make a 100 other things if you have a biryani on your menu
Packed with protein, carbs and fat its not the healthiest meal but one of the most delicious according to me. There are many ways to make this dish, I found this to be the most simple (at least till I find a simpler one). You can dish this out in one hour flat (or less) if you have all the ingredients at hand. So I call it my jhat-pat biryani recipe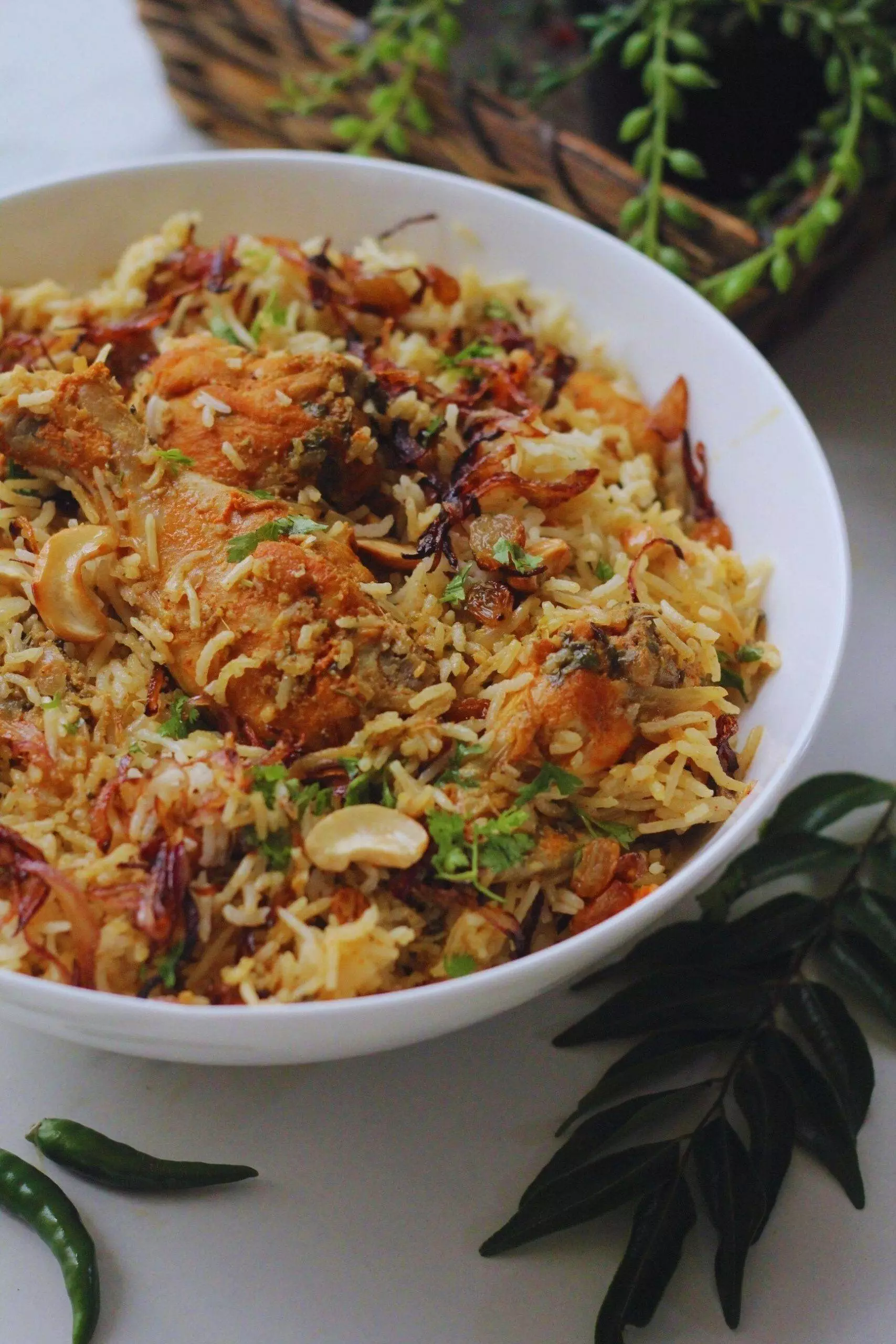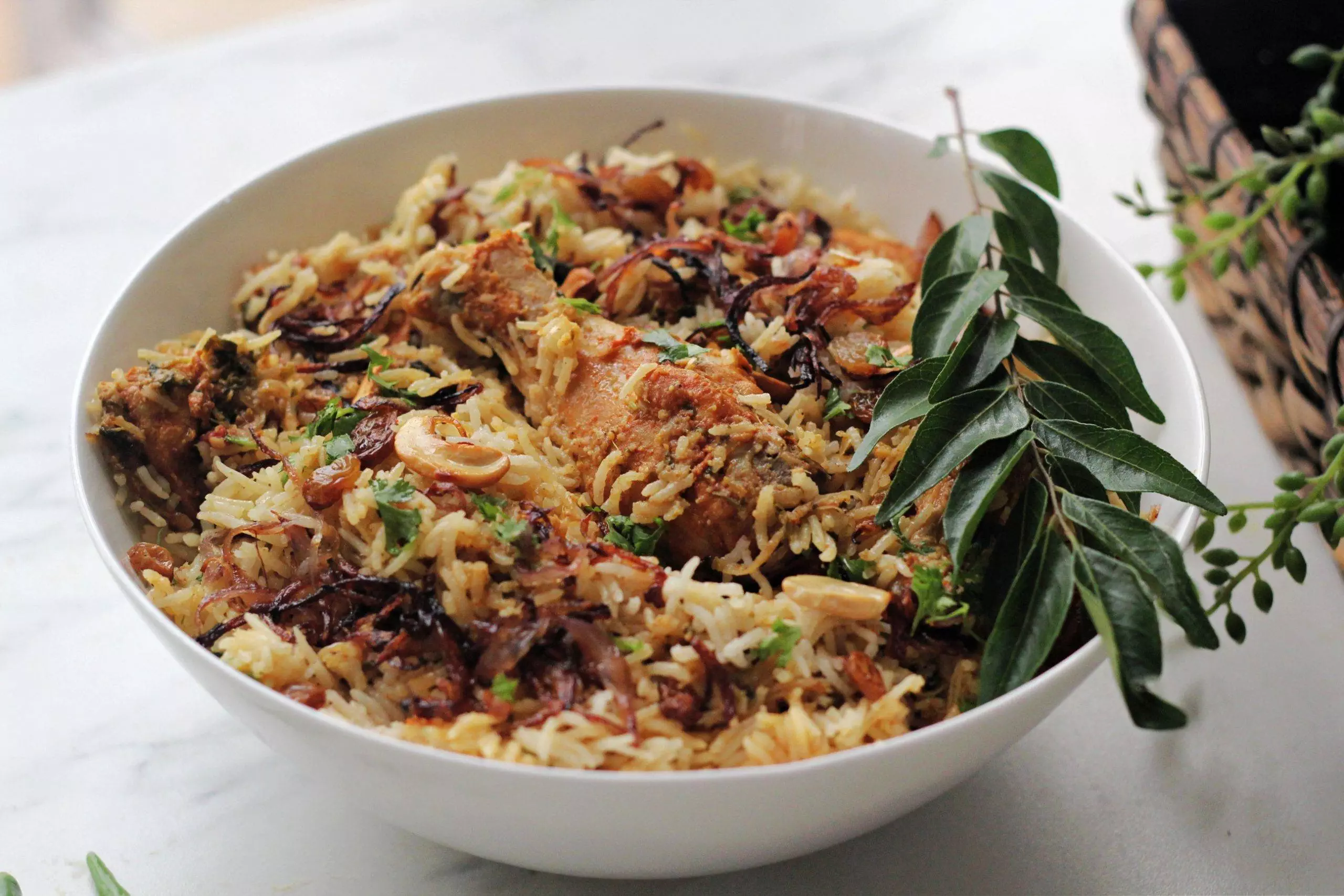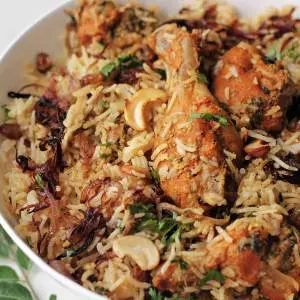 Malabar Chicken Biryani
This easy, simple & delicious biryani from the coast of Kerala is something you can serve for a party as well as a midweek lunch!
Print
Pin
Rate
Ingredients
For the marination
1

kg

chicken cut into big pieces

2

teaspoons

plain red chilli powder

1/2

teaspoon

turmeric powder

1

teaspoon

lime juice

Salt to taste
Other ingredients for the gravy
2

big

onions, finely sliced

1

large

tomato, roughly chopped

1

cup

plain yogurt (curds), whisked

1

cup

coriander leaves, roughly chopped

1

cup

mint leaves, roughly chopped

4-5

curry leaves (optional but recommended)

1

teaspoon

garam masala

Salt – as needed
For the masala
30

grams

(about 2 inches) ginger

30

grams

(about 2 small or 1 big pod) garlic

3

teaspoons

poppy seeds, soaked in water for 5- 10 mins

3-4

green chillies (adjust to taste)
For the rice
3

tablespoons

ghee

600

grams

(3 cups) basmati rice

6

cups

plain water or stock

1

stock cube (bouillon) - use if water is used for the rice
For garnishing
2

medium

onions, finely sliced

1/4

cup

cashew nuts, halved

1/4

cup

raisins

3

tablespoons

Ghee for frying

1/4

cup

coriander leaves, chopped

1/4

cup

mint leaves, chopped
Instructions
Wash, drain & marinate the chicken with the red chilli powder, turmeric powder, salt and lime juice. Keep aside for 30minutes, preferably in a refrigerator

In a frying pan, heat some ghee and fry the marinated chicken pieces till golden. This step will help lock the flavours in and the chicken won't disintegrate in the gravy.

Heat ghee as mentioned in 'For garnishing' in a pan and fry the cashew nuts till golden brown and then add the raisins and fry them till they puff up. Remove & keep aside. Add the onions and fry till golden brown. Remove on a plate and let them crisp up.

Add some more ghee if required & fry the onions as mentioned in 'For the gravy' and saute them till translucent/pale pink. Toss in the tomatoes, throw in some salt to taste and fry for about a minute till the tomatoes get all mushy

Add the coarsely ground paste and saute for 2-3 minutes or till the raw smell vanishes. Reduce the heat and stir in the yogurt and lemon juice and cook on slow fire till oil separates. Now add fried chicken pieces, mix well,cover and cook till chicken is half done. At this point add the roughly chopped coriander & mint leaves, the garam masala (I missed this in the video). Mix well, cover & cook till chicken is done.

Reserve around 3/4th to 1 cup of the gravy. This is to cook the rice.

Soak the rice for 10 minutes - this helps it cook faster. After 10mins, wash and drain the rice well.

In the meanwhile bring approximately 6 cups of water to a boil. You will need a total of 6 cups of liquid. So it will be a combination of the reserved gravy plus plain water.

In a large pan heat the ghee and toss in 4 cloves & 2 cardamoms and a piece of cinnamon (optional - hence i havent mentioned in the ingredient list) and fry the rice for 4-5 mins till it starts to feel a bit heavy - this is indication that its time to pour in the boiling water - if you continue to fry beyond this point, the rice will start to break

Add the 6 cups of liquid (reserved gravy + freshly boiled water). Stir well. Crumble the stock cube into it. Check taste and add more salt if required. You can also add a few drops of lime juice. Bring the mixture to a rolling boil. Cover the pan with a well fitting lid. Now reduce the heat completely and cook for 5 minutes. Turn off the heat after 5 minutes and let it sit undisturbed for 15 mins. Once done, open the pan and fluff up the rice with a fork

Take a large vessel, spread the chicken pieces along with a little gravy on each piece. Add one layer of cooked rice over the chicken chicken. Repeat the same process and make two more layers

Garnish with the fried onions, chopped coriander & mint, fried cashew nuts & raisins
Notes
The use of the gravy to make the rice is just to enhance it's flavour. You can just use plain water instead
Disclaimer
The nutritional values are only indicative.
Tried this recipe?
Please leave a comment & rate the recipe below or share a photo on Instagram and tag me @ruchikrandhap
Picture of when I first made this recipe: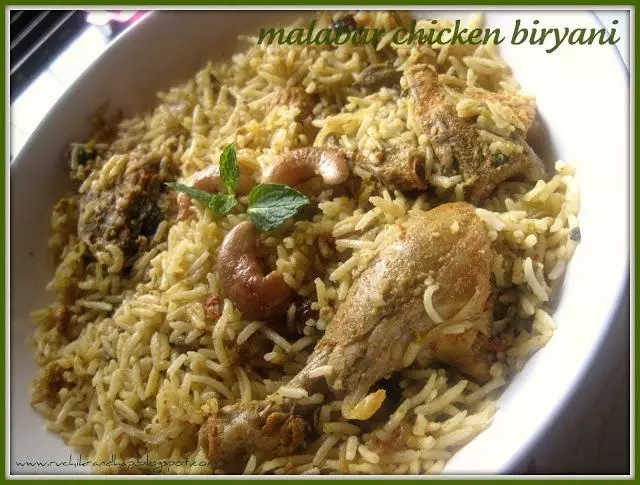 Largely Adapted From: Malabar Spices – I used my own method to make the rice