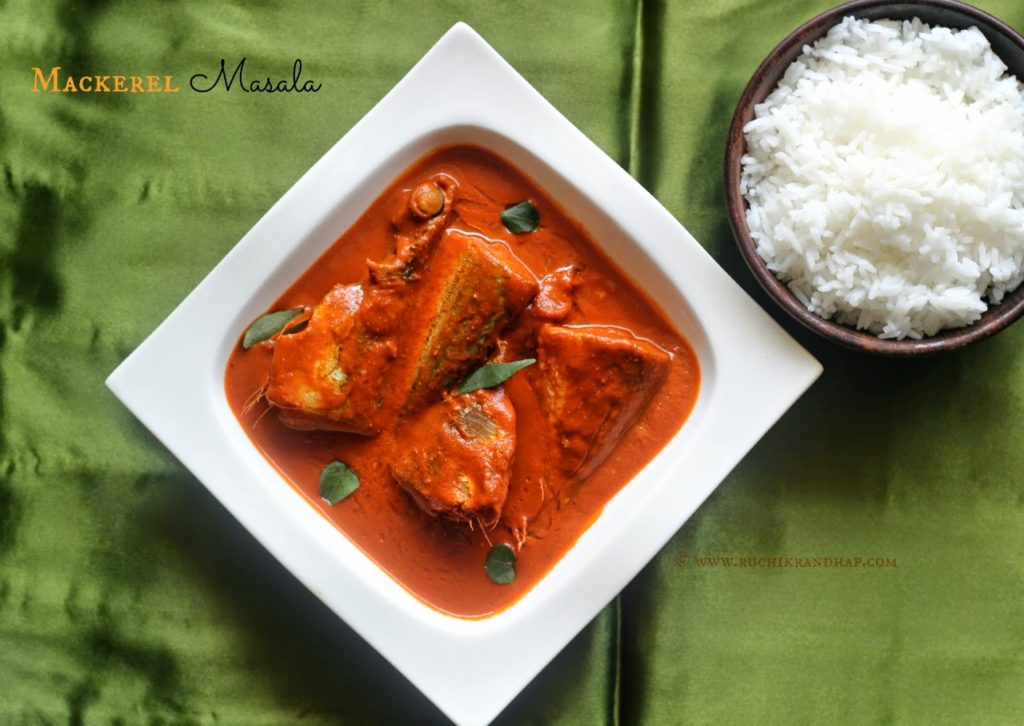 In the poll I conducted on my
Facebook page
a couple of days ago, in which I asked readers what kind of recipe they would like to see next on the blog, 'fish curry' garnered the second highest number of votes. So here's a lovely and fiery red curry to enjoy this week. I was pretty eager to try this recipe as it involved no additional steps apart from cleaning the fish and grinding the masala. By additional steps I mean the frying of chopped ingredients such as onions, ginger, garlic, green chillies etc before the ground masala is added. When I am in a hurry to cook I usually dislike this chore (or 'chorre'! as we say in Mangalore – Oh! what a bother! Hehe!) so this cut to the chase, fast forward recipe suited me fine. All you needed to do was grind the masala and dump it along with the cleaned fish in a pan and wait for science to do its job. While I attended to other chores (or 'chorres') in my kitchen the fish cooked beautifully, on a slow fire, letting all the lovely spices permeate its meat! A few minutes later the curry was ready to be enjoyed with some hot rice!
Its not very often that we make fish at home. This is mainly because of our little fellow who dislikes fish. Like a pakka North Indian he loves his tandoori chicken, chicken butter masala and tikka masala which he mops up with tandoori roti or naan. He's a thick daal loving boy who enjoys any veg or non veg food if made the North Indian way. So yeah, whenever fish curries are made, it is just the rest of us who gorge on them and thoroughly enjoy the meal.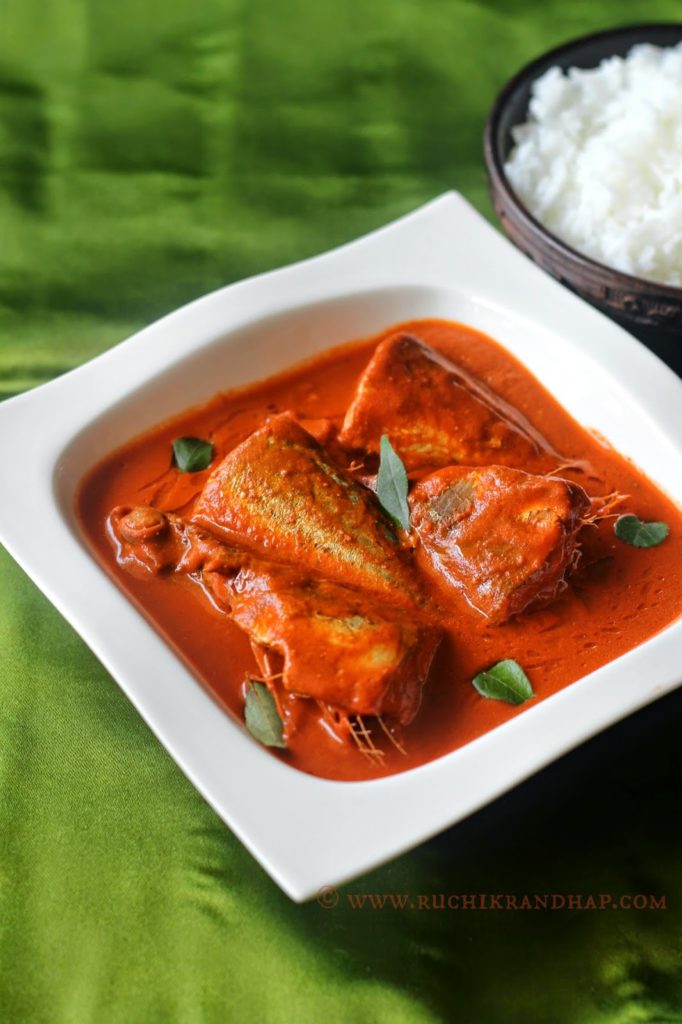 If you ask me how different this curry is from the ton of other Mangalorean style Mackerel curries, I will have to say, not much! You see, we Mangaloreans like to use pretty much the same set of spices in almost every dish so the curries are going to taste similar. However, some recipes have ground coconut in them, some have coconut milk in them and some have onions in varying quantities minus the coconut or its milk. These form the base of our curries and minor modifications to the core ingredients can lead to a completely different end result. This curry has a thick base that makes it an ideal accompaniment to chapathis, dosa or neer dosa. It can be served with rice too (I recommend white rice for this dish as the red boiled one can be too dense/heavy but it's your wish entirely). Another thing different about this curry is that there is neither roasting of spices involved nor does the masala need to be fried before the addition of fish. All you do is place the masala in your pan and let the fish simmer in it to perfection. Sounds simple? Try it! Let me have your feedback after that!
Do write in at ruchikrandhap@gmail.com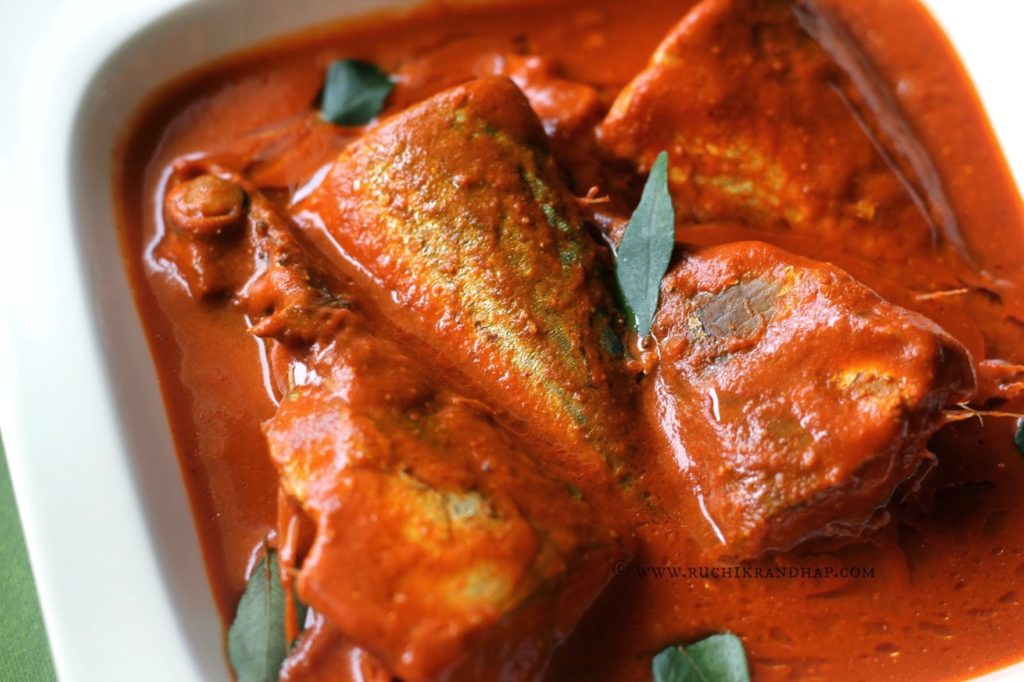 Mackerel Masala
Prep time: 15 mins (doesn't include time taken to clean the fish) | Cook time: 5-7 mins | Serves 2-3


Ingredients:
500 grams mackerels (approx 4 medium sized ones)
2-3 tablespoons of oil
For the masala:
3 long dry red chillies (Bedgi variety), de seeded if you wish
3 Kashmiri chillies
1 teaspoon cumin
2 tablespoons coriander
1/4 teaspoon mustard
1/4 teaspoon fenugreek seeds (methi)
1/4 teaspoon turmeric powder
3 cloves garlic (Indian variety)
1 big onion
1 inch piece of ginger
1 marble size ball of tamarind
salt to taste
Method:
1. Descale and clean the fish well and leave it on a colander to drain. If the fish is too small leave them whole otherwise cut each Mackerel into two or three pieces (depending on its size)
2. Grind all the ingredients mentioned under 'For the masala' using a few tablespoons of water at a time, to a fine paste. Transfer the masala into a bowl and rinse the mixer jar with just about 1/4 cup (or less) of water – reserve this.
3. Heat oil in a wide based pan (big enough to accommodate the mackerels if you are leaving them whole) and swirl the pan so that the base is coated well with the oil. Now add half the masala to the pan, spread it well and place one layer of the fish pieces. Next spread the remaining masala over it and layer with the rest of the fish pieces. If the masala looks too thick, sprinkle the reserved masala water.
4. Gently shake the pan a bit so that all the fish pieces are covered with the masala adequately. Cover the pan and cook on a slow fire till the oil begins to separate and the fish is cooked. Remove from heat but keep the pan covered – the fish will continue to cook in the heat.
5. Serve hot with rice, chapathis, dosa or neer dosa
Recipe adapted from J.B Lobo's 'Home Encyclopedia'