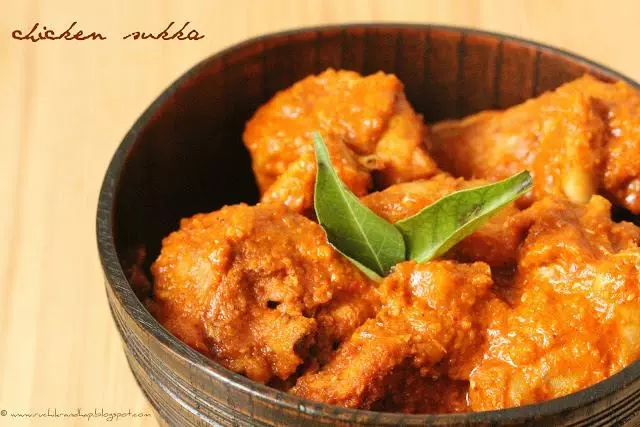 PinOne of the most popular Mangalorean dishes is the Chicken Sukka – it is probably made by all the communities in Mangalore in varied in degrees of spiciness. The spiciest I believe is made by the Bunt community famous for their delicious spicy food. Chicken Sukka is a dry dish made with a beautiful blend of spices and coconut. The authentic way of preparing this ofcourse involves the effort of dry roasting the spices, grinding them to a paste and grinding the coconut to a very coarse paste and allowing the Chicken to cook in this spicy mixture. However, the easier & quicker version was what my mother followed – by using the very versatile Bafat Powder instead of grinding individual spices to arrive at the masala. 
As far as I can recall, Chicken Sukka was one of the standard items on a Catholic wedding menu. Unlike its home made version, the one prepared in large quantities by caterers always had large chunks of Chicken some of it not very tender and it was a big challenge to bite into the pieces with a plate in one's hand and all the wedding finery that was at risk of being botched up by the splattering curry. Anyways, that did not matter much when I was kid as the joy of attending a wedding was in the fact that we would get to eat grand food. Today, we make most of these items at home so attending weddings has become a bore unless it is a close family affair.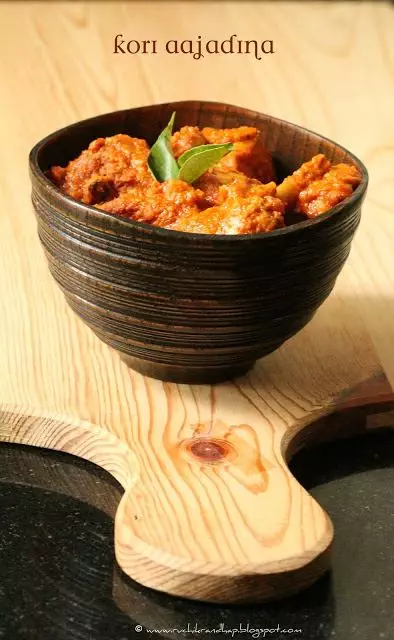 This particular preparation brought back so many memories as the fragrance was so much like the Chicken Sukka prepared for weddings when I was little.
Chicken Sukka smells divine with so many spices and roasted coconut that go into it and tastes awesome whether you eat it with Brown Rice, Neer Dosa, Dosa or Chapathi. This particular verision is made by Bunts, however, I will shortly post the recipes as the Protestants and Catholics make it.
Kori Aajadina
Adapted from: Cherie's Stolen Recipes
You Need:
1 kg chicken
1 onion chopped
salt to taste
For the masala
1/2 tsp poppy seeds (khus-khus)
1 inch cinnamon
3-4 cloves
1 medium size onion finely sliced
1/2 tsp  turmeric
3 cloves of crushed garlic with skin
7 long red chillies (Bedgi) * see note
7 short red chillies (Harekala)* see note
1-1/2 tbsp coriander seeds (dhania)
10 peppercorns (kali mirch)
1/4 tsp fenugreek seeds (methi)
pinch of cumin seeds (jeera)
marble size ball of tamarind or 1 tbsp tamarind paste
For the garnishing
1 cup grated coconut
3 cloves of garlic with skin
1/4 tsp cumin
For the seasoning/tempering/fon/bagar/tadka
1 medium size onion finely sliced
2 tbsp ghee
1/2 inch cinnamon
Method:
1. Cut the Chicken into medium size pieces, wash and drain.
2. Heat a tawa/griddle and dry roast the poppy seeds, cinnamon, cloves, sliced onion, garlic and turmeric – roast it till the onions turn pale. Add red chillies, coriander, cumin, fenugreek, peppercorns and tamarind one after the other and toss. Allow to cool and then grind all these ingredients to a fine paste.
3. Place the chicken in a large pan/wok and add salt to taste, 1 chopped onion and 3/4th of the ground masala. Allow to cook on medium slow flame – there is no need to add water as the chicken with leave its stock.
4. On a tawa/griddle dry roast the coconut, 3 cloves of garlic and cumin on a slow flame for about 2-3 minutes till you get a nice fragrance of roasted coconut. Do not wait for it to brown. Allow to cool and grind it along with the remaining masala (which was retained) to a coarse consistency. Add it to the almost cooked chicken.
5. For the tempering, heat ghee in a smaller pan and fry the onions till golden brown, toss in the cinnamon and add this seasoning to the Chicken.
6. Turn off the flame and serve hot with rice or chapathisNotes:
The Harekala variety of chillies is higher on the spice meter as compared to the Bedgi variety. The Kashmiri chilli is the least spicy among all, but gives a lovely red colour to the curry. Pls use the kind of chillies as available to you. Use spicy chillies moderately if you prefer it less spicy. For this recipe I used a blend of Bedgi & Kashmiri chillies as I like moderately spicy food.