Chicken is one of the sources of protein that we greatly rely on in my house. It comes next only to fish. But of late the two have switched places and I end up cooking a lot more chicken than fish – mainly because the latter is not easy on the pocket these days, involves a lot more hard work in the cleaning department and doesn't go down Junior's throat that easily. But then, kids go through different phases when it comes to choice of food. Chicken however wins hands down because of its taste and versatility. One can cook it in various ways and forms – whole chicken, with and without bone and minced/ground chicken are some common ways I use. I don't grill a lot although I think I should slowly increase the use of that technique mainly for health reasons.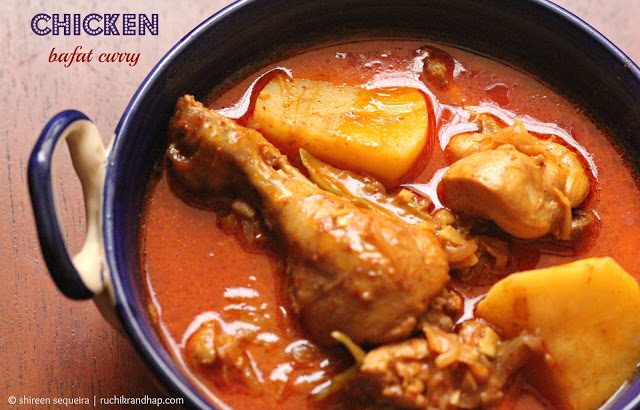 Pin
Being Mangaloreans it generally means that we cook a lot of curries suitable to eaten with rice, especially boiled rice. Thanks to the abundance of cook books I own I find myself flipping through them almost on a daily basis, bookmarking this recipe or that (if I am recipe specific) or simply seeking ideas to create my own recipe. I am not much of a recipe creator, Roshan is and he loves to experiment. These days I insist that he writes down the recipe right after the cooking session is over. So in the next few days I hope to delight you with some recipes that are straight from his kitchen.
I found this recipe in Isidore Coelho's book called 'Ranpi' which is the Konkani version of his widely popular book 'The Chef', however, the latter has a lot more recipes in English while the Konkani version has only traditional (and mostly forgotten) recipes.
The Bafat style chicken is typically Mangalorean as Bafat powder is a blend of spices that is common to Mangalorean cuisine. Although it is regarded as a seasoning for pork, it can be used for a whole variety of recipes ranging from vegetables to fish to meat. You can make your own bafat powder if you have a good quality spice grinding mixie/food processor. Alternatively you can give the spices to a mill for powdering.
In Mangalore, Bafat powder is available at most grocery shops and Catholic owned bakeries. In Mumbai, it is mostly available at Mangalore Stores outlets.
Kombi Bafath (Chicken Bafat Curry)
Preparation time: 15mins | Cooking time:20mins | Serves 4-5
You Need:
1 kg chicken on the bone
1 coconut to extract thick & thin roce (milk) * see notes for substitute
1 tsp vinegar
salt to taste
3 tbsp oil or ghee for frying
For the shindaap (sliced ingredients)
2 medium size onions thinly sliced
3 small green chillies slit (adjust to taste)
12 small flakes of garlic minced
1 inch piece of ginger minced
For the bafat masala (to be powdered)
8-9 Kashmiri chillies
20 peppercorns (adjust to taste)
1/2 tsp cumin seeds/jeera
1/2 tsp turmeric powder/haldi
2 cloves *see notes
1/2 inch piece cinnamon *see notes
Method:
1. Cut chicken into medium sized pieces, wash and drain on a colander. Keep the sliced ingredients (shindaap) ready. Make a fine powder out of all the ingredients mentioned under 'For the masala' using a dry grinder
2. In a heavy bottomed kadhai or pan heat the ghee or oil and fry the sliced onions till they turn golden pink – this takes about 5-6 minutes on a medium flame. Next add the chicken pieces and the rest of the 'shindaap' (green chillies, garlic, ginger) and mix well. Fry for a couple of minutes.
3. Toss in the masala powder, mix well so that all the pieces are coated with it. Add salt to taste. Let the chicken fry over a slow flame for another 2-3 minutes before you add the thin coconut milk. Cover and cook till half done.
4. Add the thick coconut milk (add only as much as required), add the vinegar & check taste. Simmer until done without covering the pan.
5. Serve hot with rice (preferably red/brown rice)


Notes:
a) Making the coconut milk
To make thin coconut milk
Dissolve 3 tbsp coconut milk powder in 1-1/2 cups of warm water
To make thick coconut milk
Dissolve 6tbsp coconut milk powder in 3/4th cups of warm water
b) Bafat powder:
You may add 2 tsp coriander powder while grinding the bafat powder. This will add to the flavour and tone down the spice. However, I didn't add it as the recipe did not ask for it.
You can skip the cloves and cinnamon if you don't like the taste of garam masala. Alternatively, prepare the powder without these two ingredients and add garam masala (about 1/2 tsp) separately during the cooking stage if you wish to.
If you don't wish to grind the bafat powder, you can skip it and use ready made bafat powder – about 2-3 tbsp (or to taste)