Here's another one from my collection of recipes that was originally meant to be posted before September 8th – the feast of the Nativity of the Blessed Virgin Mary (BVM) called as 'Monthi Saibineeche Festh' in Konkani which is celebrated with great gusto by the Catholic community, especially in Mangalore when the feast is celebrated on the 8th of September after nine days of prayer (Novena). Somehow, I missed posting this & the newer recipes surfaced and got posted. I thought life would be more relaxed once my little one started school but I guess I was wrong. The first half of my day goes in scrambling around the house trying to finish chores which wont get done once the tyrant gets home. The second half is well, just a second half – most times quite unproductive as far as housework is concerned, but I do try to squeeze out time for blogging as much as possible.This particular recipe belongs to my mum who made sure we kids ate bittergourd at least once a year. She did prepare it in abundance (like all other kinds of vegetables) all year round except that I didn't even bother to sniff it. During the Monthi feast it was impossible to escape the clutches of my mum who ensured I got at least my annual (if not more frequent) dose of this healthy vegetable. As I grew up I was exposed to other preparations of the Karela which I also started to like – especially the fried Karela which tastes just awesome. I am yet to experiment with that recipe in my kitchen as my hubby isn't too fond of this vegetable, but I am sure he will love the fried version.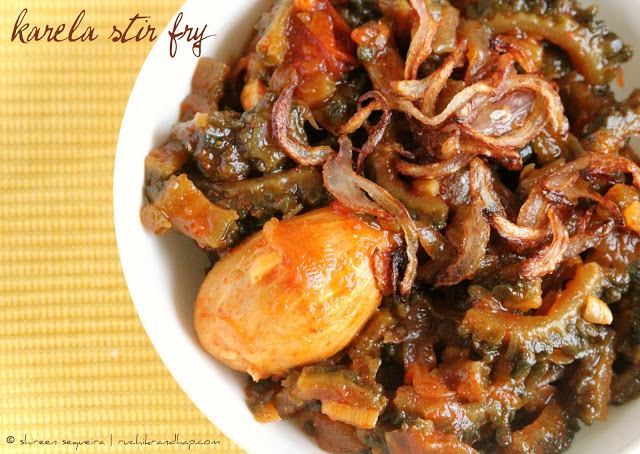 Posting a vegetarian recipe, especially a Mangalorean one was long due. Before I change my mind & post another non vegetarian recipe, here is a dose of health for you. Do feel free to reduce the quantity of jaggery if you prefer the bitter taste. However, I totally love the bitter-sweet taste of this dish which makes it so perfect to be eaten with rice or chapathis the next day (amazingly this dish is just like Pork Bafat which tastes better the next day) 🙂 Enjoy!
Karathein Sukhein
Serves 2-3


You Need:
250gm Bittergourd/Karelas
For the masala
1/2 tsp Bafat powder (or adjust as per taste)
1 large onion finely sliced
1 medium size green chilli
3 cloves garlic
1/2 inch ginger
1 medium size tomato
2 small hog plums (ambade) bruised or 1 marble size ball of tamarind
jaggery to taste (I used about 50gm)
salt to taste
For the seasoning
1/2 finely sliced onion
2 tsp coconut oil or ghee
Method:
1. Wash and cut the bittergourds lengthwise. Remove any hard seeds and make thin slices of them. Apply 1/2 tsp salt & keep aside for 4 hours. After 4 hours, wash it a couple of times and drain excess water.
2. Place the washed & drained bittergourd slices in a pan, toss in the sliced onions, chopped garlic & ginger, tomato, hogplums, green chilli, bafat powder & salt to taste. Sprinkle some water, cover & cook on a very slow flame till half done.
3. Add some jaggery to taste and cook till completely done. In another pan heat some oil and toss in the sliced onion and fry till golden brown. Add this seasoning to the cooked Karela and serve hot with rice or chapathis