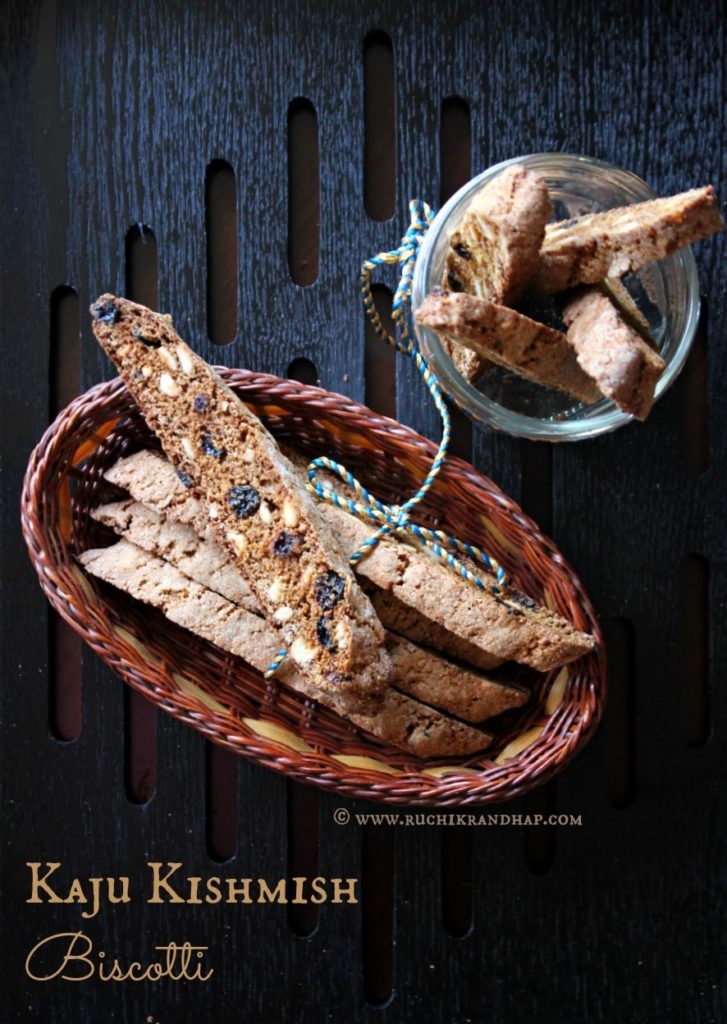 Although I am not a biscuit/cookie person at all I eventually had to give in to the husband's demands to make some at home. "Why did we even buy such a big oven if you don't want to experiment new things?" he growled. Well, I guess i just needed a pep talk like that cuz I immediately started to flip through the million recipe cuttings that I have been gathering ever since I came to Dubai. I found this recipe in the Friday magazine, my most favourite weekly recipe haunt. The original recipe was for cashew and cranberry biscotti which I tried, but the baking time mentioned in the recipe was way too long. The biscotti got burnt but tasted yummy nevertheless, but I was compelled to correct the recipe.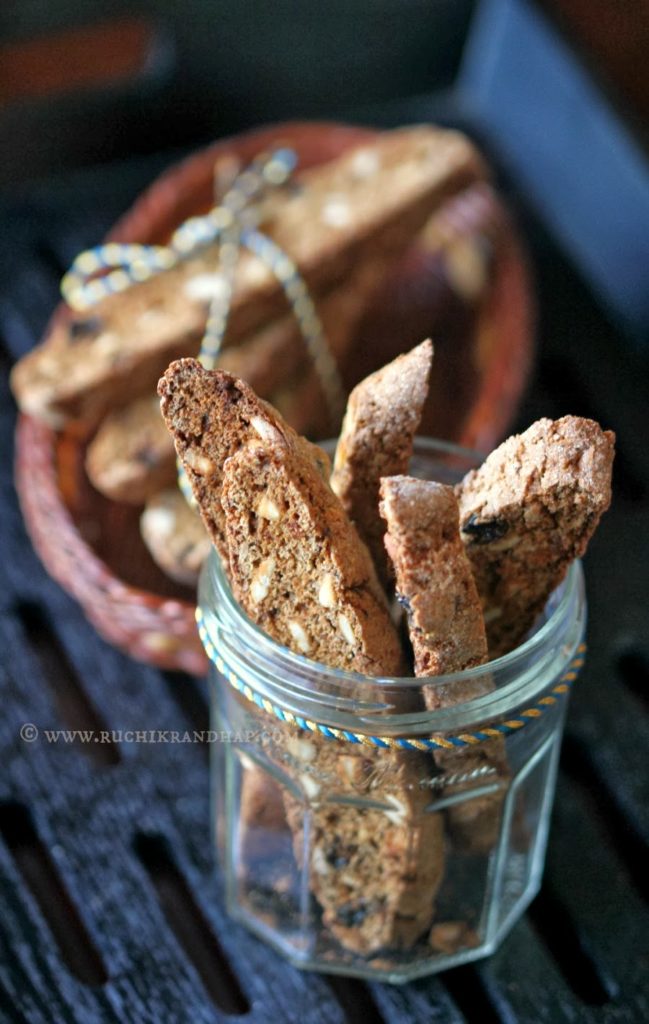 It was a great way to get familiar with my oven too. Ovens these days come with so many features and settings that it is easy to get intimidated. Somehow, after shifting the baking rack to another level, reducing the temperature and the baking time the biscotti turned out fine. However, since I ran out of cranberries (I had a few leftover from my X'mas baking to begin with) I simply replaced them with golden and black raisins (black currants). I patted myself on my back for thinking of such a brilliant substitute (yeah right! hehe, just kidding!)
You may use any dried fruit I guess. I am sure many of you must be having a small pile of dried fruit from your X'mas baking. I have lots of dried papaya, raisins, dates and ginger which I hope to utilize before they turn bad (not that they spoil so fast, but still).
This Indian twist to a very Italian biscotti is the added spice (I used a blend of coriander powder, ginger, nutmeg & all spice). You can use your leftover mixed spice from your Christmas baking too. Biscotti by the way is nothing but a log of cake that is baked twice. They are super crisp and a great accompaniment to your evening cuppa. So go ahead and make them, they are really easy, quick to make and yummy to eat!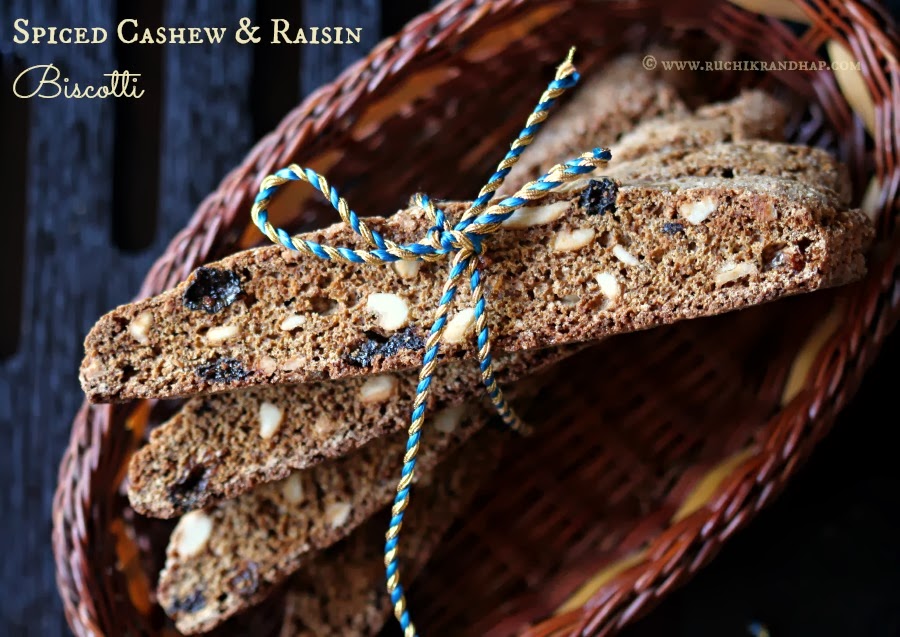 Kaaju-Kishmish Biscotti (Spiced Cashewnut and Raisin Biscotti)
Prep time: 15 mins | Bake time 40 mins | Yield: approx 30 biscotti
Ingredients:
100 grams whole wheat flour /atta
100 grams self raising flour *see notes
75 grams soft light brown sugar
75 grams raisins, black and golden or dried cranberries
75 grams unsalted cashew nuts
1 tsp soda bi carb/baking soda
1 tsp baking powder
1 tsp cinnamon powder
1 tsp mixed spice or 1/4 tsp each of coriander powder, nutmeg powder, all spice powder and dried ginger powder
Pinch of salt
2 eggs
1 teaspoon vanilla extract
Method:
1.Preheat the oven to 170 degrees C. Line a large baking sheet with parchment.
2. Sift the flours, spices, baking powder, baking soda and salt together a couple of times into a large bowl. Toss in the raisins/cranberries, cashewnuts and mix well
3. Make a well in the center and add the eggs, sugar and vanilla extract and mix until the dough comes together like a ball.
4. Transfer the dough ball on a lightly floured surface and roll into the shape of a log/sausage about 30 cms long and 5 cms wide.
5. Carefully transfer this log onto the baking sheet and pat down the surface so that it becomes 8 cms wide and about 1-1/2 cms high.
6. Bake in the preheated oven for about 22-23 mins until firm and a skewer inserted comes out clean. Remove from the oven and allow it to cool a bit.
7. Using a serrated knife cut into slightly slanted slices of about 1 cm thickness
8. Arrange the slices flat on the baking sheet and return them to the oven – reduce the oven temperature to 160 degrees C and bake for a further 20 mins turning them over halfway through (thats 10 mins each side). Once cooked they should be super crisp and firm.
9. Remove from the oven and allow to cool completely on a wire rack. They will turn crisp once they begin to cool. Store in an airtight container as soon as they cool (about 20 mins on the wire rack). If you leave them out for longer they will turn soft
Notes:
The original recipe was for all purpose flour, I replaced a part of it with whole wheat flour. Use all purpose flour if you wish