Aloft the banner's flying O'er ancient Hindustan
Ye Saffron, White and Green proclaiming freedom's sweetest morn
March on ye sons of freedom, unto your destiny
To build a glorious kingdom, of peace and happiness

To strive and build a kingdom where dwelleth righteousness



Arise, awake ye millions, ye sons of Hindustan

Keep on the constant vigilance to guard the freedom won

Wage on a ceaseless battle O'er hunger and on greed

Truth's splendour let bedazzle dark legions that surround

Silence the sabre's rattle yet fight the foes around




God bless the Indian Union, Bless thou our motherland

Grant us the help to serve the million Of this ancient land

Thou Lord of all creation, we praise Thy Holy Name

Preserve us as Thy nation to serve Thee ever more

Throughout all generations, to serve Thee ever more

These are the words from one of my school's anthems which we used to sing everyday during the morning assembly. I used to take great pride while we then sang the National Anthem right at the end of the assembly – Jana Gana Mana. My heart still swells up in pride when I listen to this anthem today – most of which is played in cinema halls of multiplex theatres before the movie begins. I am glad it is a mandatory thing – it is important not just to stand in attention listening to the soulful anthem being rendered out by competent singers, but also to remember the scores of freedom fighters – famous or not – those whose brave deeds are not remembered although they are very much a part of our history. It is also a moment to remember the thousands of soldiers in present times who still protect our borders and make it safe for us to have a good night's sleep. It is also to remember our country's leaders, special security forces and police, people who have taken India to greater heights ~ every person who in all earnestness makes us proud to be Indians.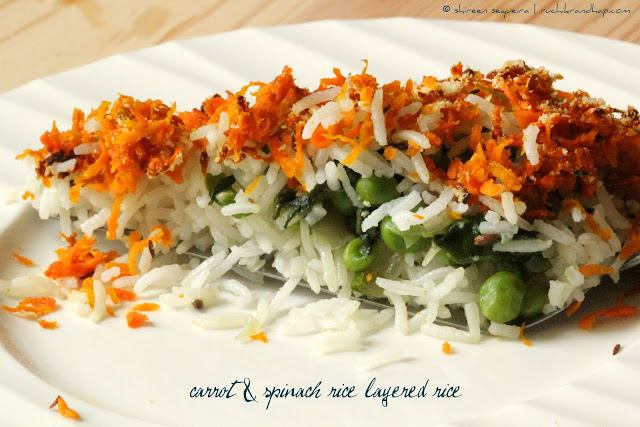 Keeping this special day in mind, I tried the 3 layer rice from Tarla Dalal's website which I had bookmarked long ago but never got around trying it. The 3 colours represent the tricoloured flag of India – the three horizontal bands on the Indian National flag – Saffron, White and Green – that represent Courage and Sacrifice, Peace and Truth and Faith and Chivalry respectively. The Ashoka Chakra at the centre represents the Eternal Wheel of Law.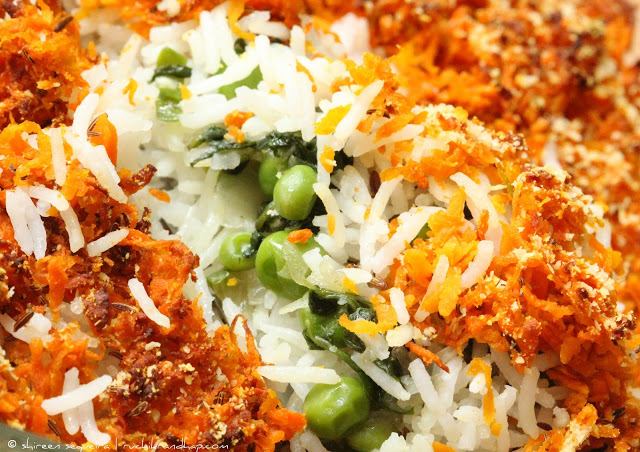 This colourful rice makes for a lovely meal. The Carrots that represent the Saffron colour of the flag is a rich source of vitamins for the skin, nails and eyes. The White Rice that represents the White colour of the flag is a wonderful comfort food and a great source of carbohydrates that gives us fast and instant energy to carry out our daily tasks. The Spinach and Peas that represent the Green colour of the flag are powerhouses of nutrition. Spinach is rich in vitamin C and K, fibre, calcium, folic acid and iron. Peas are high in lutein, protein, magnesium and fibre.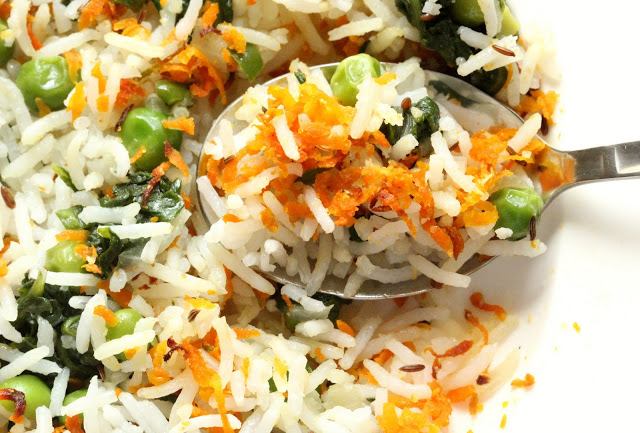 Carrot and Spinach Layered Rice
Serves 2-3
You Need:
For the Rice layer
1 cup basmati rice

1/2 tsp cumin seeds (jeera)
1 tsp olive oil

salt to taste
For the Spinach layer
2-1/4 packed cups of chopped Spinach (Palak)
3/4 cups boiled green peas (I used frozen peas)
3 medium sized green chillies chopped
1/2 cup or a medium sized onion chopped
1 tsp oil
salt to taste
For the Carrot Layer

1-1/2 cups grated carrot
1/2 tsp caraway seeds (shahjeera)
1 tsp coriander powder
1/4 tsp cumin powder
1 tsp oil
salt to taste
For Baking
2 tbsp grated cheese (optional) – I used grated Parmesan
Method:

To Make the Rice:

1. Cook the rice in sufficient water and salt to taste – cook till almost done (90%) – I use Kohinoor Basmati rice and I cooked it for about 8 minutes. Drain the water and keep aside

2. Heat oil in a wok or large pan and fry the jeera for a few seconds. Add the cooked rice, salt to taste and mix gently. Keep aside.

Pin
To Make the Spinach Layer:

1. Cook the spinach with 2 tbsp of water and when cooked, drain any excess water.

2. Heat oil in a wok or pan and fry the onions till they turn pink. Add the spinach, green peas, green chillies and salt to taste mix well and cook for a couple of minutes. Turn off flame and keep aside
To Make the Carrot Layer:

1. Heat oil in a pan and fry the caraway seeds. Add the grated carrots and 2 tbsp water. Add the curry powders and salt and fry a bit. Cover and cook for a couple of minutes. Turn off the flame and keep aside.
To Assemble:

1. Grease a 7″ baking dish (I used Borosil glass bakeware) with 1/2 tsp olive oil. Layer the base with half the rice. Add the spinach and peas mixture as the second layer. Add another layer of the remaining rice and finish off with the carrot layer on top. Garnish with grated cheese.

2. Bake in a preheated oven at 220C for 20minutes

3. Serve hot with Raita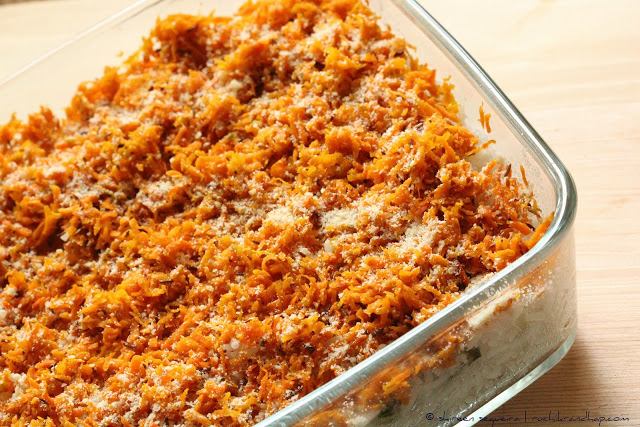 Pin