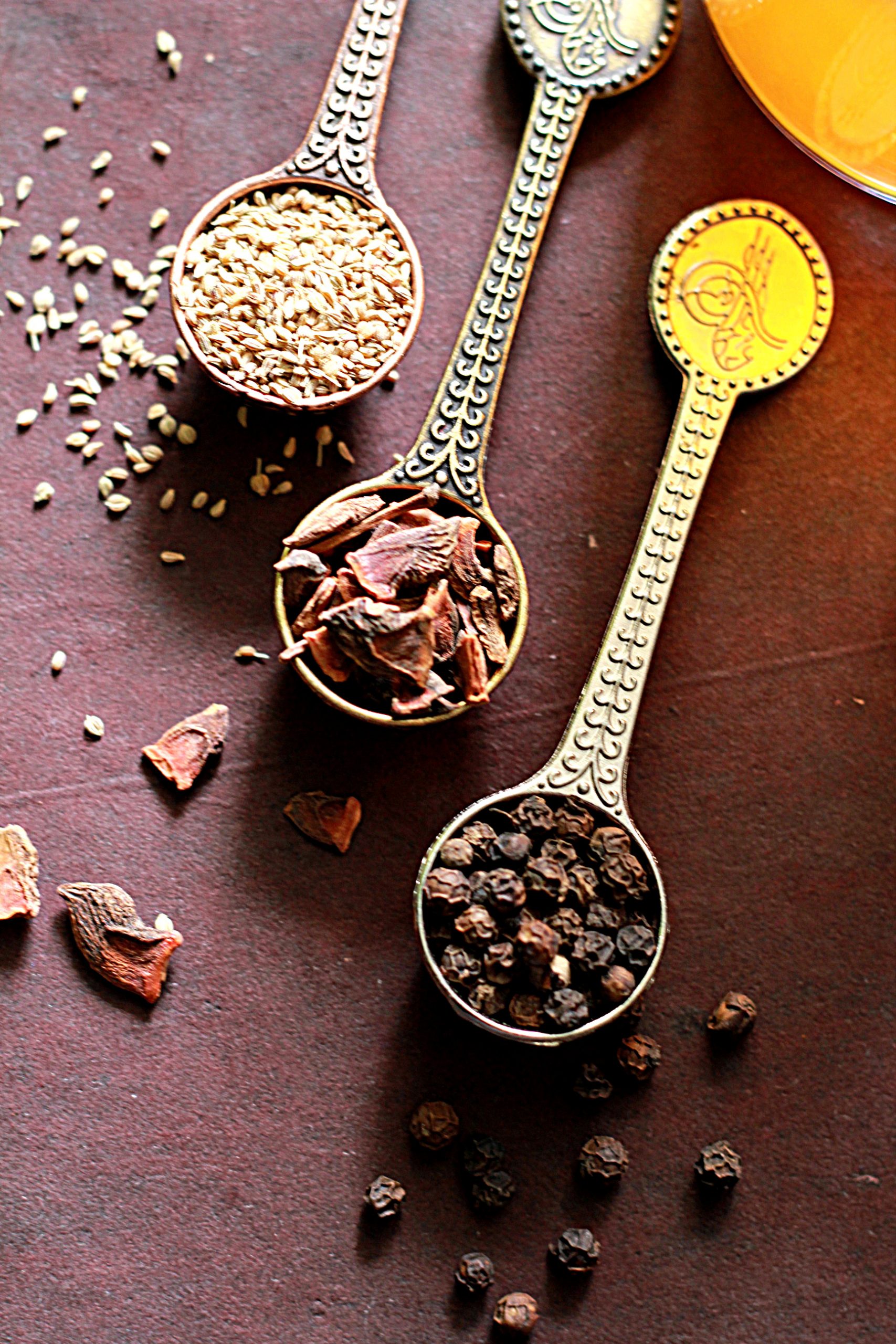 Pin
Immunitea, one of the different ways to make herbal tea that tastes so delicious that you will want to ditch your cuppa caffeine! Yes my dear friends! Ever since I came across this recipe I have been hooked on to it. At the very beginning of the covid season I had received a forward on Whatsapp which was an audio of a lady who spoke in Konkani giving out the instructions of how to make kashaya – herbal decoction at home to boost one's immunity. I made a mental note of the ingredients and set to work when I had gathered all the ingredients. Initially I did not have fresh turmeric (root) so I made the concoction with with organic turmeric powder (which smells very potent and divine by the way), over a period of time I tweaked the recipe a lot to my liking and although the recipe and pictures were ready in March 2020, I am only posting the recipe now. This drink will tide you through any onset of a bad cold, believe me, the peppercorns will take care of that. The rest of the ingredients that go into this magic potion, ginger, carom seeds (omam), cinnamon, cloves and fenugreek have immense medicinal properties of their own and when brought together taste magical. We like to sweeten it with Mangalorean palm jaggery (pele god) but you can use regular, unbleached/organic jaggery or even pure honey (but ensure that you don't add it when the liquid is boiling).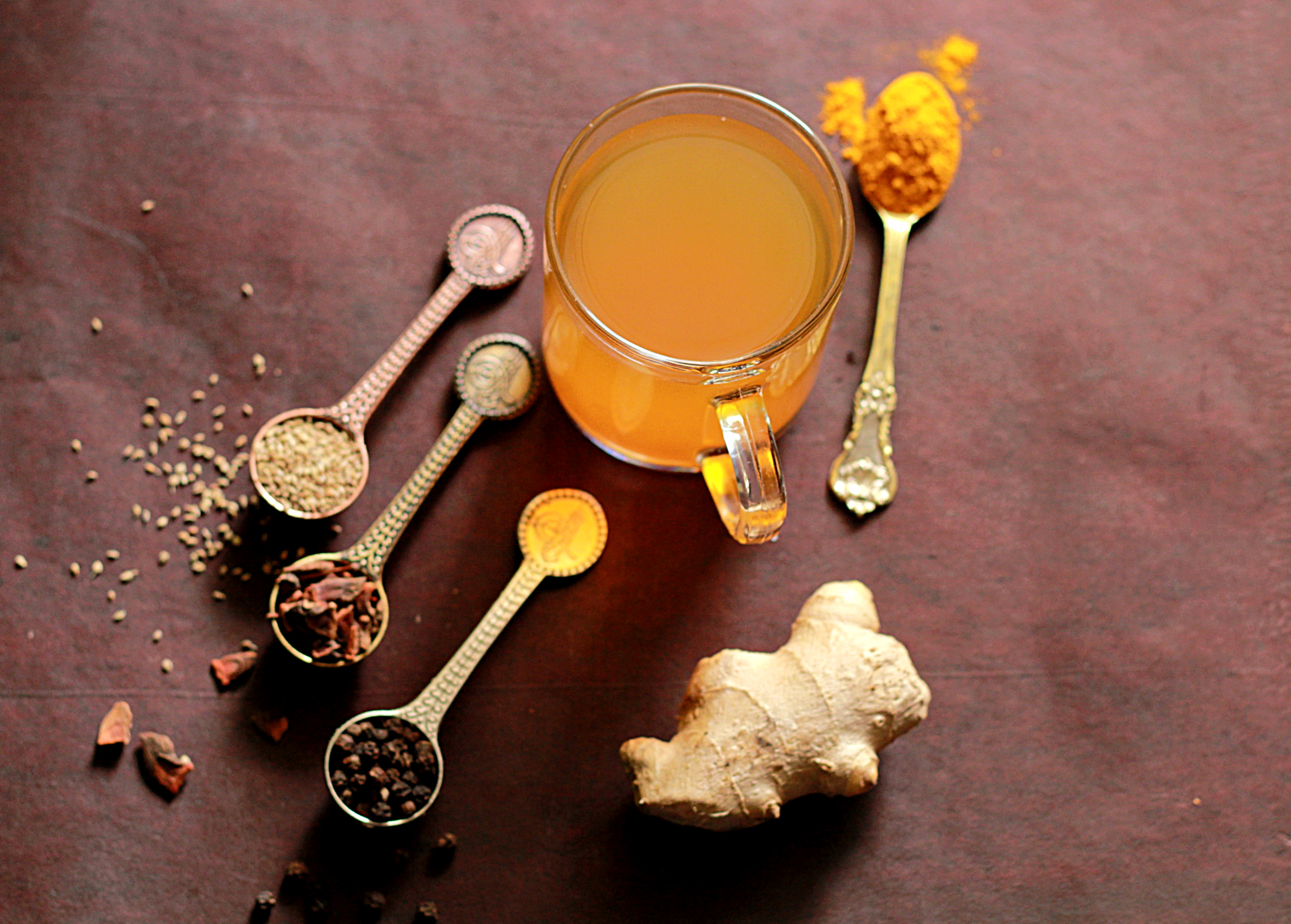 Pin
For those of you following my journey on this blog know that I had quit caffeine last year. After being literally *addicted* to coffee for years I gave it up cold turkey. Coffee was in love with me too so the breakup was a bitter affair. For the first 2-3 days I had a terrible 'hangover' as my body rebelled against this decision. My migraines which used to be suppressed with a hot cup of strong coffee gradually became the reason behind those very migraines. It was a vicious cycle that I could not rid myself out of. After I gave up caffeine one find day last June I have never gone back to it. Sure, I taste a bit of coffee in desserts if it is added but I am no longer compelled to sip it as a beverage and I am not longer bound by it. My day does not start or end with it like it used to briefly before I stopped it.
This tea is now our new go to whenever we need a nice drink in the evening. I believe that with all the immense health benefits that each ingredient brings this will improve our immunity especially during Covid times
Pin
Anyway, the point is that I have not made the shift to this tea or any herbal tea for that matter as a substitute to this addiction. but I have made a shift to not being dependent on anything to start & end my day with. De addiction from caffeine has opened up a whole new world of healthy beverages for me. From enjoying homemade ragi malt to having a nice cup of hot cocoa during the winter months to a whole variety of herbal teas that I either make or purchase, I also enjoy a really good, piping hot cup of water! Yes! As much as I love my herbal teas I have decided not to be addicted to them either. So on some days I just sip on plain hot water or water with a squeeze of lemon juice added to it. Sometimes it is just a slice of grated ginger. There are a lot of new avenues to explore & experiment with once you kiss goodbye to caffeinated tea & coffee. +
I do hope I have inspired you to try something new today and quit caffeine if you were struggling to do so. For those of you who enjoy a good cup of tea or coffee and it indeed refreshes you for a new day as long as you are not addicted to it, it is perfectly fine. After all what's life without the simple pleasures?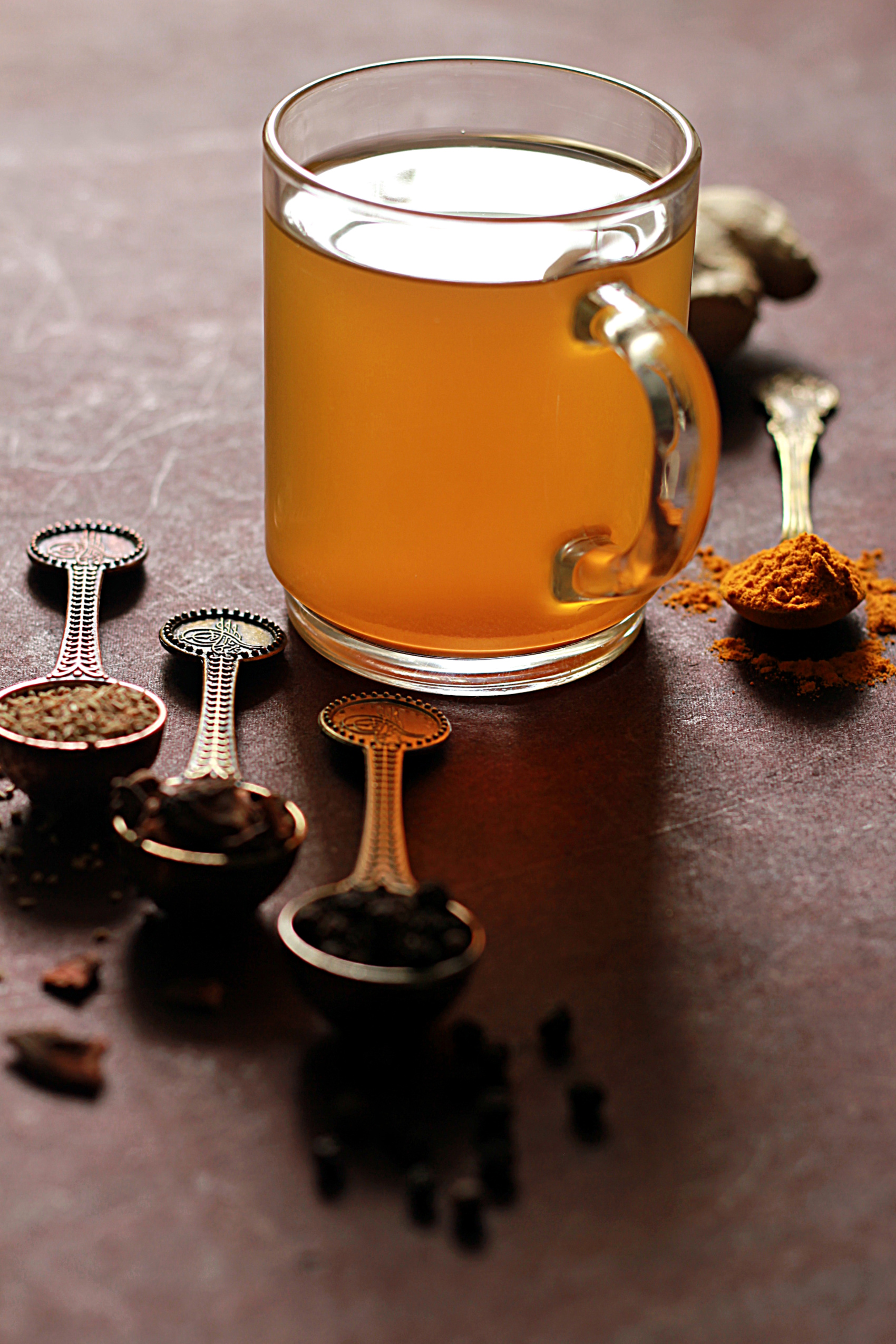 PinTry some of these other herbal teas/home remedies
King of Bitters Decoction – Kirathyaso Kasai
Pepper Tea/Decoction – Miryaso Kasai
Ironweed Decoction – Kaljiryaso Kasai
Cumin Tea/Decoction – Jeeryaso Kasai
New here? Subscribe to my *free* newsletters with my latest recipes!
Tried my recipe? Do leave a comment on this post down below and don't forget to give it a star rating! It will really help more readers discover my recipes! Do share a picture on Instagram and tag me @ruchikrandhap and I will feature your post in my stories!
Don't forget to check out my latest videos on my YouTube channel. If you like what you see, do give me a thumbs-up (like), share & comment and subscribe to my channel so that the gods of YouTube (a.k.a algorithms) recommend my channel to a wider audience with similar tastes and more & more people can discover my videos!
And while you're here, do follow me on Instagram, Pinterest,  Facebook and Twitter. If you'd like to say hello or have detailed queries do send an email at [email protected]. I'd love to hear from you!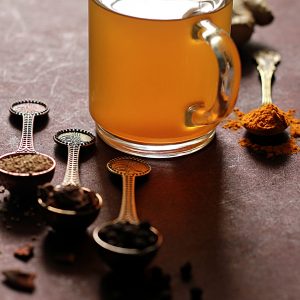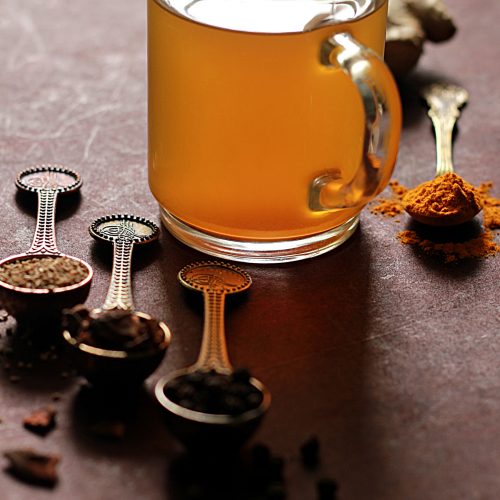 Immunitea
A herbal decoction with the goodness of turmeric, ginger & spices that improves the overall immunity. A home remedy that is a must for all
Print
Pin
Rate
Ingredients
500

ml

(2 cups) water

1/2

teaspoon

carom seeds (ajwain/omam)

1/2

teaspoon

whole black peppercorns

1/2

teaspoon

freshly grated turmeric or 1/4 teaspoon turmeric powder

1

teaspoon

freshly grated ginger

1/8

teaspoon

fenugreek seeds

2

cloves

optional

1/2

inch

stick of cinnamon (optional)

1-2

petals of star anise (optional)

1/2

roundel or to taste palm jaggery (or any other type) (optional) * see note
Instructions
Crush the pepper coarsely using a mortar & pestle

Bring the water to a boil in a saucepan and add all the ingredients to it. You can add the jaggery to the whole mixture or leave it out and add it only for those who prefer it.

Reduce the heat and let everything simmer together for 5 minutes or till the mixture reduces a little.

Strain into cups and serve hot. If you are using honey instead of jaggery you can add it now
Notes
You can also use honey instead of jaggery if you prefer but ensure that you do not add it while the mixture is boiling, instead, add it to the drink after you have strained it into serving glasses
Disclaimer
The nutritional values are only indicative.
Tried this recipe?
Please leave a comment & rate the recipe below or share a photo on Instagram and tag me @ruchikrandhap