Whenever the hubby returns from his travel trips he likes to eat some simple home cooked food. Keeping this in mind I usually make typical Mangalorean fare like fish curry with rice and a simple veg on the side or some chicken sukka with dal and a vegetable of his choice, usually chana (garbanzo beans). I had chicken sukka in mind for yesterday's menu but somehow I changed my mind at the last minute and decided to make something which I could also post on the blog. Now this something had to be quick, simple and tasty – otherwise it would get rejected from the little masterchefs (so much stress I tell you!). Honestly I had something else in mind when I started off with this recipe but midway I realised that the outcome would be different and I began to hope that it wouldn't flop as I didn't have a backup dish for lunch and it was only an hour before the little fellow came home. Luckily as the cooking progressed the dish took shape of something delicious. After a little tweaking the result was simply yummy!
Since my little boy is extremely fond of thick gravies, typically North Indian style, he had no issues with this curry. Infact he finished his lunch in a matter of a few minutes as I served this chicken with some plain parathas. I like to stock up on some store bought parathas (similar to the Kerala Parota minus the million layers) and they are a huge blessing when there is nothing ready to go with curries, especially those that have little gravy, so in lieu of chapathis you can actually fry some up in a jiffy and mop up your curries with it.
As luck would have it, the husband liked this dish too and kept guessing the ingredients. Little did both the boys know that there was a good amount of coconut in it which gave the curry its flavour and texture. This dish is perfect for your weekend meals or even as a special item on your festive menu – if you wish you can make it more rich by adding cashew nuts instead of peanuts. Peanuts are really a way of cutting costs and is an economical substitute to the rich and more expensive cashew nuts or almonds, but its your choice really.
I hope you enjoy this dish as much as my family did. If you do give it a try do click a picture and send it to me on ruchikrandhap@gmail.com and I will post it in the tried & tested recipe folder on my Facebook page. If you have not yet 'liked' my page, please do so – the more number of likes ensures a wider reach of my posts.
Love this recipe? Save it on Pinterest! Just click the image below!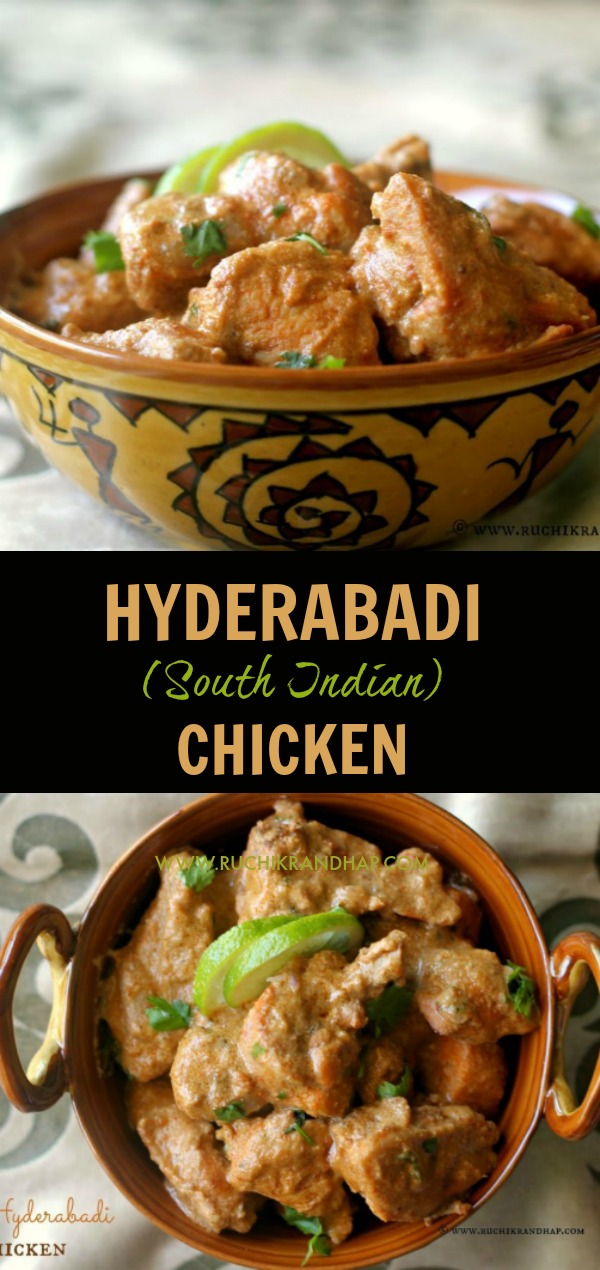 Pin
Hyderabadi Chicken
Delicious chicken curry flavoured with coconut & spices makes it a perfect dish to be eaten with rice or chapathi
Ingredients
1

kg

chicken

with bone or boneless

2-3

teaspoons

plain red chilli powder * see notes

a generous pinch of turmeric

haldi

salt to taste

2

medium sized onions finely chopped

chopped coriander for garnishing

juice of 1/2 a lime

oil for shallow frying

approx 3-4 tablespoons
For the masala:
2

tablespoons

coriander powder

50

grams

approx 3/4th cup grated coconut

50

grams

approx 1/3rd cup groundnuts/peanuts (with or without skin) * see notes

1

teaspoon

poppy seeds

khus khus optional (I skipped it)

10

grams

3 fat cloves garlic, peeled

10

grams

approx 1 inch ginger

4-5

cloves

1

inch

piece of cassia bark or cinnamon

2

cardamoms
Instructions
Cut the chicken into small sized pieces, wash and drain excess water on a colander. Marinate it with the 2 teaspoons of red chilli powder, turmeric and approx 2 teaspoons of salt (adjust to taste - use less if you wish and later you can increase it). Keep aside for at least 20 mins.

Grind all the ingredients mentioned under 'For the masala' to a fine paste - use a little water to help grind it to a smooth paste. Remove the paste into a bowl and rinse the mixie jar with approx 1/2 cup of water - reserve this for later use.

In a large wok/kadhai heat the oil and fry the onions till light golden. Add the marinated chicken and fry on a high flame for 3-4 minutes. Then cover the pan with a small lid - the closer it is to the chicken pieces the better as it will help the chicken cook in its own juices - this is the steam cooking techinique. Cook for about 5 mins on a medium heat stirring once in between

After 5 mins add the ground masala, mix well and add the reserved masala water (from the mixie), mix well, check salt and spice to taste and adjust accordingly.

Continue to cook until the chicken is tender and the gravy thickens up and coats all the pieces. Add the lime juice and check the taste - adjust. Remove from heat.

Garnish with chopped coriander and serve hot with chapathis, phulkas or rice
Recipe Notes
1. You can marinate the chicken with 2 teaspoons of chilli powder first and later increase it according to taste. Unless you like very less spicy food 2 teaspoons is ok as the peanuts and coconut based masala will balance the spice. Use good quality Kashmiri chilli powder which gives a mildly spicy taste and great colour. 2. Instead of peanuts you may use cashew nuts or blanched (skinless) almonds. It will definitely enhance the taste of the curry Recipe adapted from J.B Lobo's Home Encyclopedia