Pin
Homemade Pork Sausage – this has got to be one of the best things we learned to make at home during the lockdown!! The hubs who is keen in trying out something new kept coaxing me to put my old Kenwood Stand mixer to use. We had bought it almost a decade ago in Dubai when we were here on a holiday. However, like most of the gadgets that find a dark spot in our homes, this one too joined the bandwagon of the lost & forgotten tribe of gadgets! At his behest I pulled out the sausage maker attachments and we both got to work, creating different flavours including the homemade chorizo, Goan style, which unfortunately did not turn out as well as we had hoped for. If all our future experiments go well, we maybe able to crack the recipe and add Goan sausages to our repertoire and I'll be sure to share that recipe with you!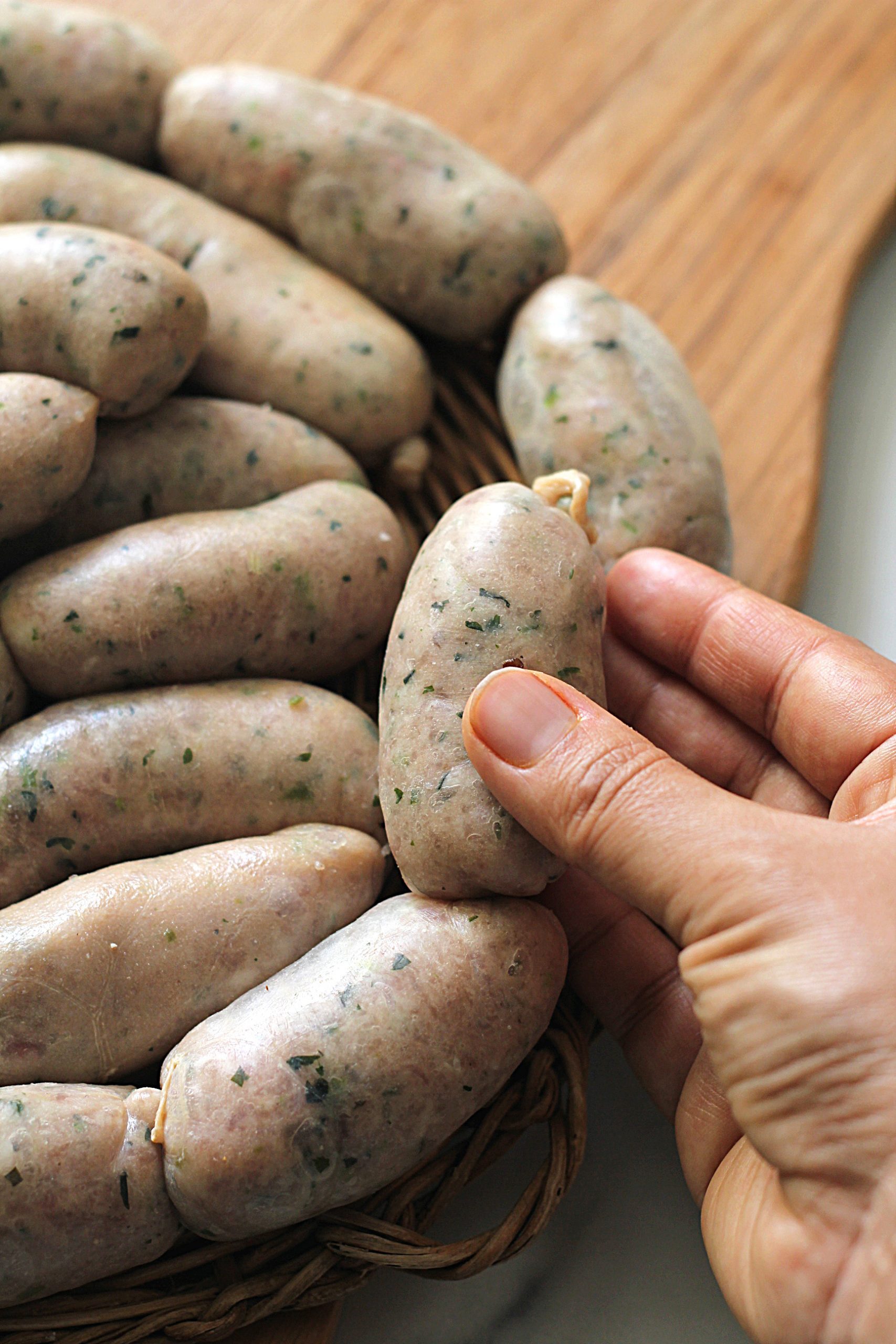 Pin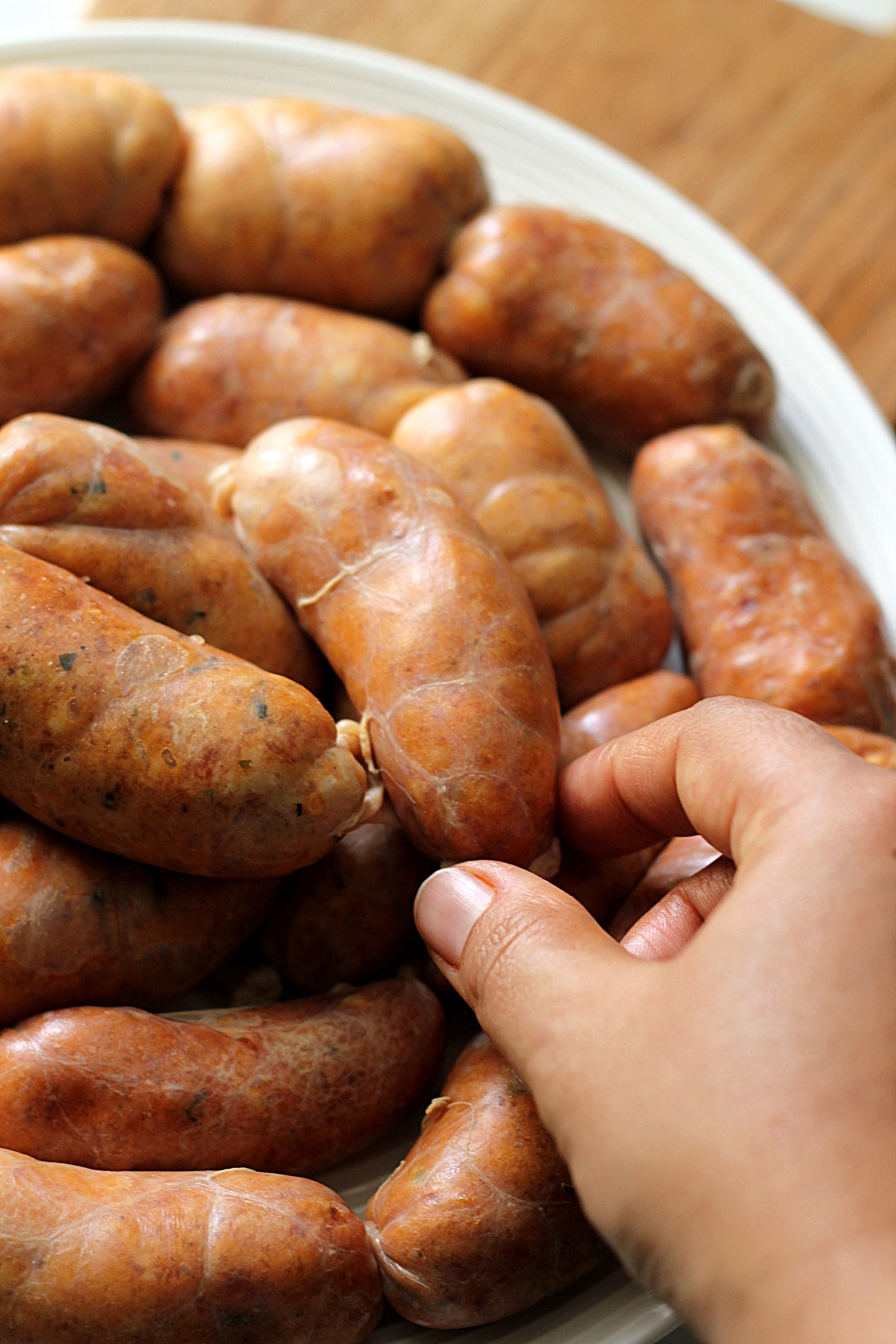 Pin
When we started to make this we decided to try out 2 different flavours. We weren't sure how they would turn out but it was a pleasant surprise. Both of these are my hubby's efforts, I was just the assistant. He prepped up for both the recipes and we decided to shoot the video anyway. If the sausages flopped, we could always trash the video but thankfully they didnt! We were so happy with the outcome that we made some more that same week and shared with my brother and they loved it as well!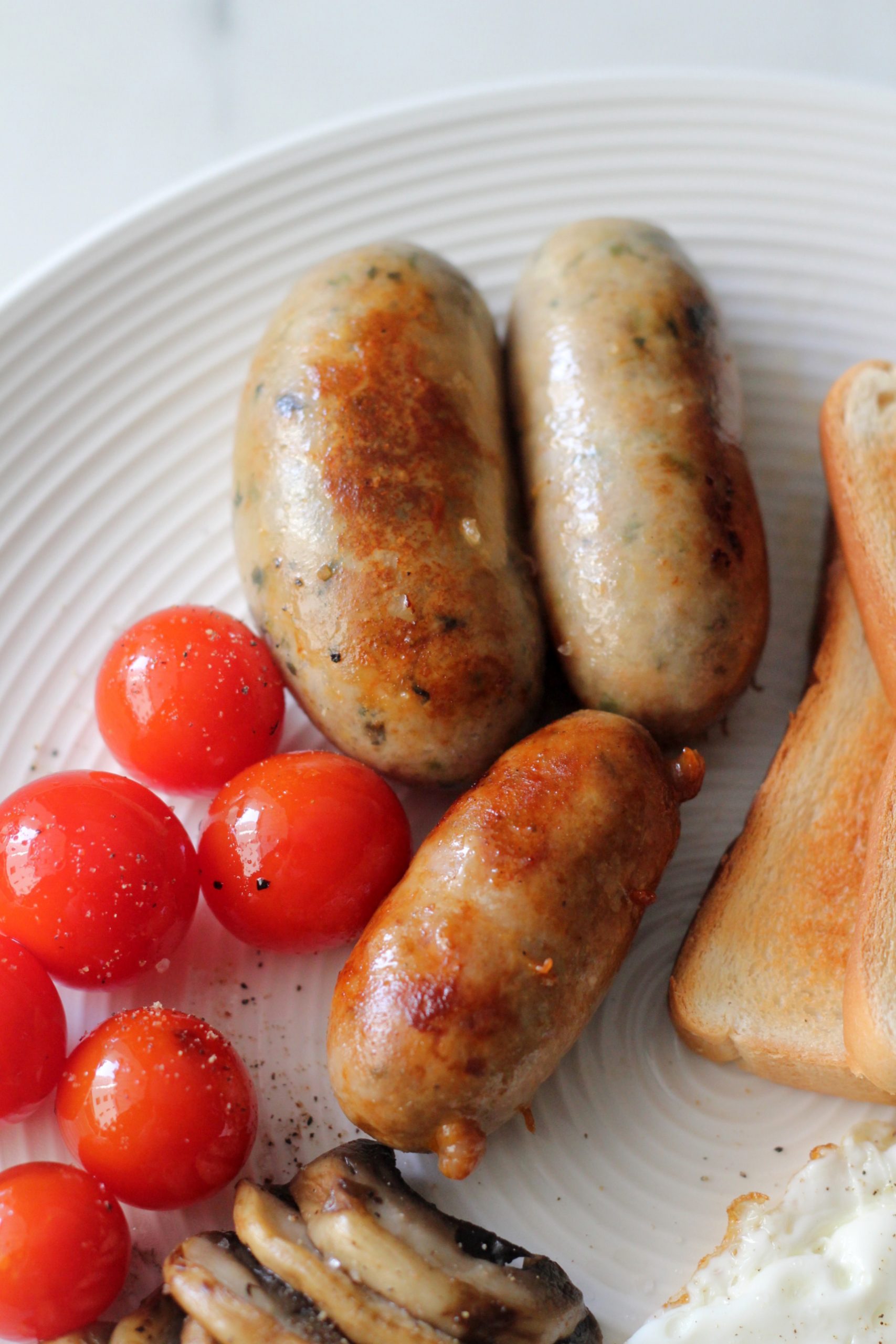 Pin
Whether you have a manual sausage maker or an attachment to your stand mixer this will be a one time effort in obtaining some delicious, preservative free sausages.
Where can I buy the sausage casing? Will I get it in India?
You can find the sausage casing in any store that sells pork. If you are in UAE, you could check out the Westzone, Spinney's or Waitrose outlets.  You can also find them online, on desertcart.ae or Amazon.ae. However, if you are planning to buy it on Amazon India here's the link . Do check it out!
Pin
Pork sausages are a great addition to your breakfast platter and they taste super awesome too minus all the preservatives. Do give it a try!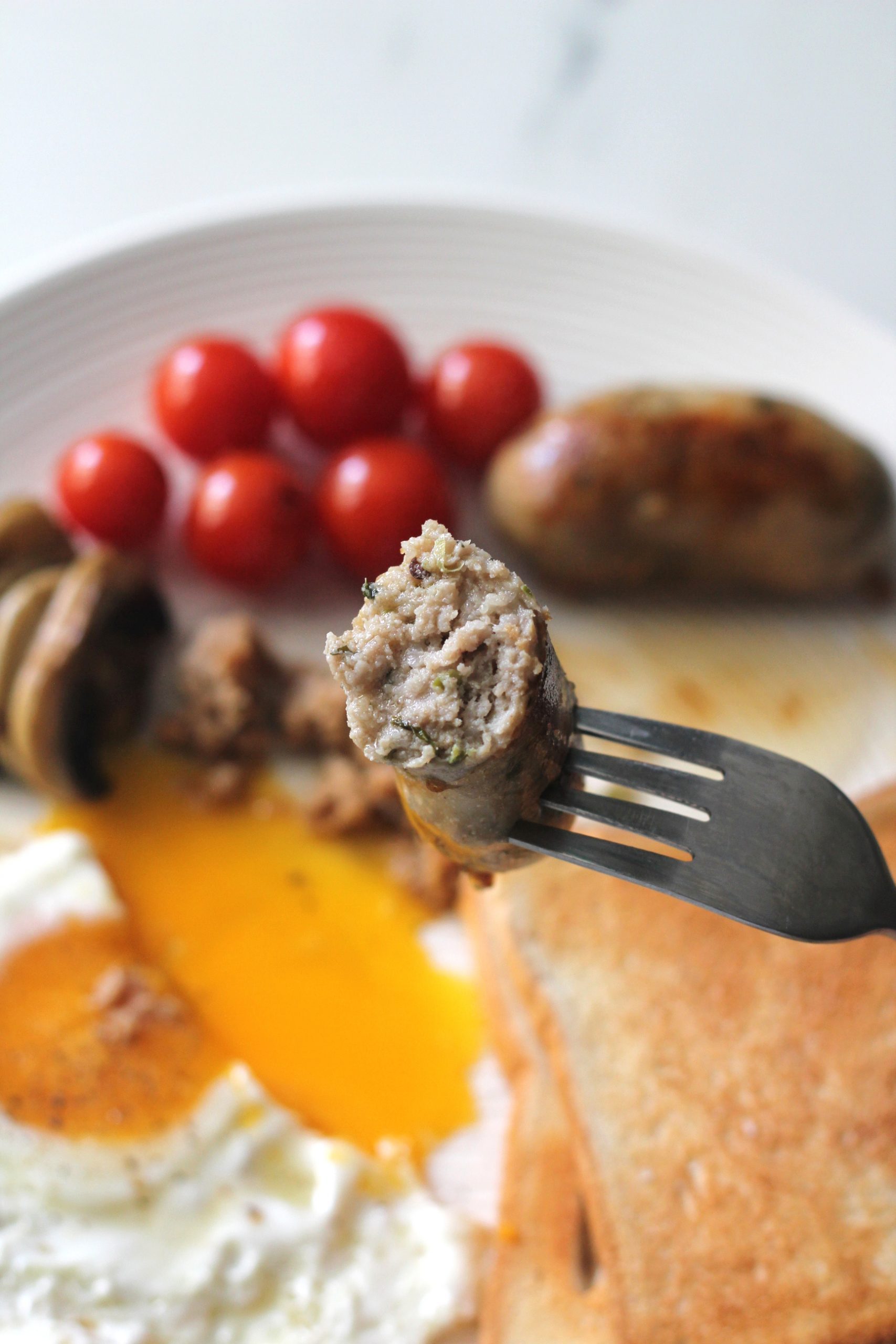 Pin
New here? Subscribe to my free newsletters with my latest recipes!
Tried my recipe? Do leave a comment on this post down below and don't forget to give it a star rating! It will really help more readers discover my recipes! Do share a picture on Instagram and tag me @ruchikrandhap and I will feature your post in my stories!
Don't forget to check out my latest videos on my YouTube channel. If you like what you see, do give me a thumbs-up (like), share & comment and subscribe to my channel so that the gods of YouTube (a.k.a algorithms) recommend my channel to a wider audience with similar tastes and more & more people can discover my videos!
And while you're here, do follow me on Instagram, Pinterest,  Facebook and Twitter. If you'd like to say hello or have detailed queries do send an email at [email protected]. I'd love to hear from you!
Homemade Pork Sausage - Two Flavours!
Simple and delicious pork sausages made at home without any preservatives make for a delicious addition to your breakfast platter!
Print
Pin
Rate
Ingredients
You need
approx 3-4 ft natural sausage casing per kilo of meat (depending on the size of each sausage)
For the herbed pork sausage
1.2

kg

boneless pork with fat

1

tablespoon

sea salt

3/4

cup

chopped coriander

4

teaspoons

green chillies

finely chopped

1

teaspoon

green chilli paste

1

tablespoon

ginger garlic paste

1

tablespoon

vinegar

1

tablespoon

olive oil

1

teaspoon

pepper powder
For the spicy pork sausage
1.2

kg

boneless pork with fat

1

tablespoon

sea salt

3

teaspoons

Kashmiri chilli powder

1/2

teaspoon

cayenne pepper powder

1/2

teaspoon

pepper powder

1/2

teaspoon

gararm masala powder

1

teaspoon

cumin powder

1

teaspoon

chilli flakes

1

teaspoon

dried herbs/Italian seasoning

1

teaspoon

vinegar

1

tablespoon

olive oil

1

tablespoon

ginger & garlic paste
Instructions
Soak the sausage casing in water for 30-40 mins, then rinse under running tap water, drain and keep aside till required.

Marinate both the meats separately with their respective the ingredients for marination and keep aside for at least 30 minutes.

Run the meats through a meat mincer separately and keep aside.

Attach the sausage casing to the sausage maker and tie a knot at the end. Fill it with the prepared mince mixtures separately, adding a knot at the end.

Smoothen the length of the sausage to remove any air pockets. Then, depending on the size of the desired sausages (cocktail or hotdog) twist them at regular intervals.

Store in a zip lock pouch in the refrigerator for upto 2 days only. You can freeze them for upto 3months.

To cook them (about 7-8 medium sized sausages), add 2 cups of water in a frying pan and bring it to a boil. Reduce the heat and add the sausages. Cover the pan and cook for 5-7 minutes. Then remove the lid and let the sausages cook on a low heat till the water evaporates.

Serve hot along with bread and eggs or vegetables as part of your breakfast. You may also crumble the cooked sausages and add them to pasta or serve with rice.
Disclaimer
The nutritional values are only indicative.
Tried this recipe?
Please leave a comment & rate the recipe below or share a photo on Instagram and tag me @ruchikrandhap
Full Disclosure:
Please note that this post contains an affiliate link to Amazon.in which means that I may earn a commission when you click on the link and make a purchase. Affiliate links are provided only for products that I have used and enjoyed or firmly believe will benefit my readers as much as I have benefited from them.