Making things from scratch doesn't take as much time as we believe. Working parents usually like to stock up on frozen treats especially chicken nuggets for their little ones. It is a good lunch box treat as well as an anytime snack. It also doubles up as a goodie on the kiddie meal menu for a birthday party. I have bought them and stocked them up for as long as I can remember. But I always had this gut feeling that nuggets were not really healthy as commercially available ones are made using up leftover chicken pieces that were ground up and shaped into nuggets, breaded and then frozen – ready to be fried or deep fried and served.
Now that we tried making them at home I will never go back to store bought nuggets – EVER! When I made the nuggets at home I knew that I was preparing a wholesome meal for my children. The fact that fried foods are not the healthy is slightly pardonable when you know what's going into that stuff in the first place. Secondly, there is no grinding involved in this recipe. All you have to do is cut up slightly thin chunks of boneless chicken, the shape doesn't matter, they are supposed to be nuggets after all. A simple marination and a brilliant idea for a coating later what you have is yummy chicken ready to be gobbled up. Bite after bite it is nothing but delicious goodness of chicken. You can make these fresh or save yourself some precious time during the week by preparing them in advance over the weekend and freezing them in freezer safe containers – just make sure you place them in batches separated by baking parchment/butter paper or plastic sheets and you are certain that they don't stick together
These nuggets were so tasty that they didn't quite last the photo shoot so I barely got any shots. My little one just ate nuggets all day and refused to eat her lunch. For once I didn't complain. I knew for sure that she was having a filling, homemade snack!
Click the image below to save this recipe on Pinterest!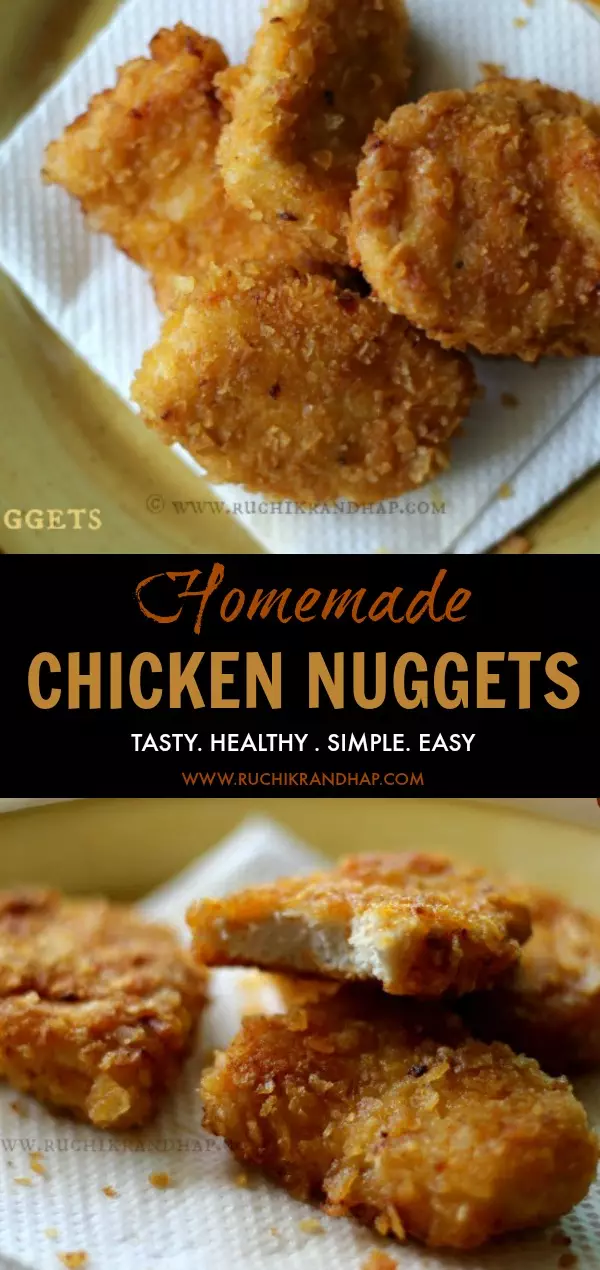 Pin