Another week has gone by and right after I finish with this post I plan to do a million things. The first one on the list is to tune back into the 'school routine' mode. Besides this I'll have to chalk out a rough list of sandwiches and other lunch box items that I'll have to prepare during the upcoming week. A couple of weeks ago I tried making chicken nuggets at home. I was randomly browsing some cooking videos at home and chanced upon one by chef Nicko of Nicko's Kitchen and I wanted to try it out immediately. The process was very simple and the result very delicious and healthy.
Making things from scratch doesn't take as much time as we believe. Working parents usually like to stock up on frozen treats especially chicken nuggets for their little ones. It is a good lunch box treat as well as an anytime snack. It also doubles up as a goodie on the kiddie meal menu for a birthday party. I have bought them and stocked them up for as long as I can remember. But I always had this gut feeling that nuggets were not really healthy as commercially available ones are made using up leftover chicken pieces that were ground up and shaped into nuggets, breaded and then frozen – ready to be fried or deep fried and served.
Now that we tried making them at home I will never go back to store bought nuggets – EVER! When I made the nuggets at home I knew that I was preparing a wholesome meal for my children. The fact that fried foods are not the healthy is slightly pardonable when you know what's going into that stuff in the first place. Secondly, there is no grinding involved in this recipe. All you have to do is cut up slightly thin chunks of boneless chicken, the shape doesn't matter, they are supposed to be nuggets after all. A simple marination and a brilliant idea for a coating later what you have is yummy chicken ready to be gobbled up. Bite after bite it is nothing but delicious goodness of chicken. You can make these fresh or save yourself some precious time during the week by preparing them in advance over the weekend and freezing them in freezer safe containers – just make sure you place them in batches separated by baking parchment/butter paper or plastic sheets and you are certain that they don't stick together
These nuggets were so tasty that they didn't quite last the photo shoot so I barely got any shots. My little one just ate nuggets all day and refused to eat her lunch. For once I didn't complain. I knew for sure that she was having a filling, homemade snack!
Click the image below to save this recipe on Pinterest!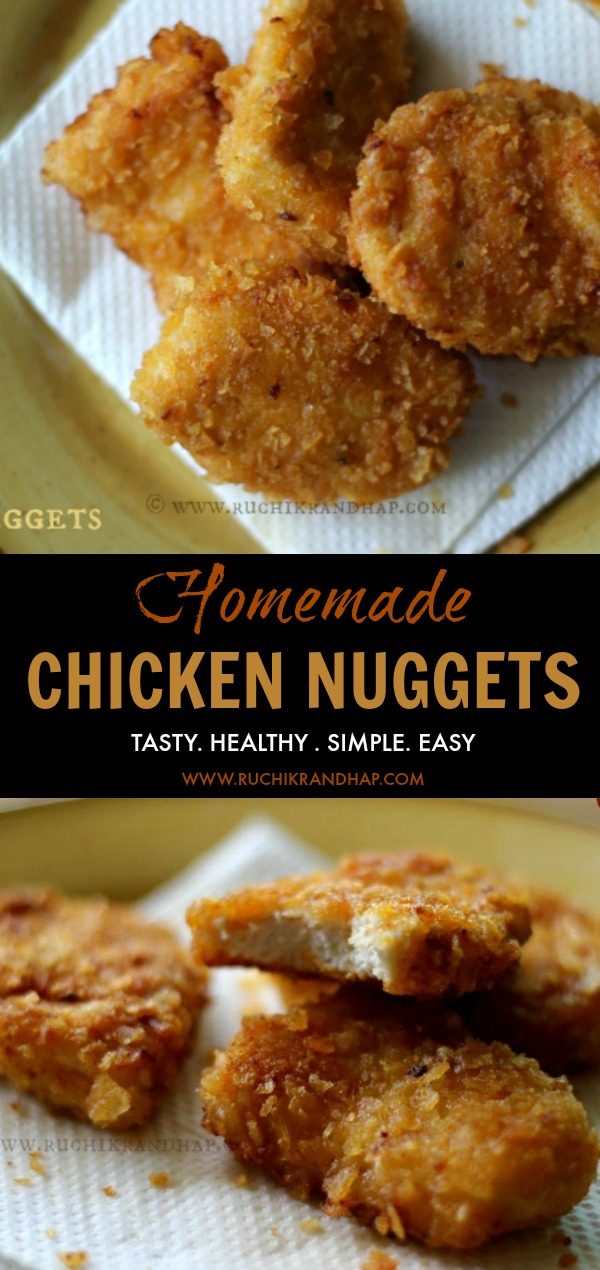 Pin
Homemade Chicken Nuggets
Homemade chicken nuggets are the best way to treat your kids to a delicious, nutritious and wholesome snack without any preservatives. Once you taste these you will never go back to store bought ones again!
Ingredients
500

grams

tender boneless chicken

preferably breast fillets

1/3

cup

plain flour / maida

1

large egg or 2 small ones

lightly beaten

150 - 175

grams

potato chips / crisps

I prefer Lays, any flavour * see notes

salt & pepper to taste

oil for shallow frying
Instructions
Cut the chicken into nugget sized pieces. Make sure they are as even as possible in terms of their thickness. Slices of medium thickness would be perfect as they will cook faster.

Wash the chicken and allow it to drain on a colander. Pat dry with a clean kitchen towel or tissue if required.

Marinate the pieces with salt & pepper and keep aside for anything between 20 mins - 4 hours.

Prick a small hole in the bag of chips, let the air escape so that the packet shrinks. Then take a rolling pin and thrash the chips till they evenly turn into a powder - go ahead, take all your frustration on them!

Place the flour, beaten eggs and the chips powder in three shallow plates.

Coat each chicken piece in the flour (shake off the excess), then dip it in the egg solution and finally coat it with the chips mixture. Place on a plate. Repeat the process till all the chicken is used up.

Heat oil in a skillet and shallow fry the chicken nuggets on a medium heat till they turn golden on both sides. * see notes.

Serve piping hot with some ketchup or cheese dip or eat them plain or as an accompaniment to your meal.
Recipe Notes
1. The flavour of the chicken nuggets can be so versatile - use your favourite flavour of Lays chips! My favourite is Sour Cream & Onion. In the above pictures I used Lays Chili flavour. Any flavour works well. If you wish you can add some chilli powder at the marinating stage (don't make it too spicy if you are serving the nuggets to young kids) 2. For shallow frying use plenty of oil in the skillet. Don't gasp! You need to use a little extra oil than you normally would for shallow frying. To make the process less sinful once you are done with the frying tilt the frying pan at an angle so that all the oil drains to one side and the nuggets on the other - this helps the nuggets to release any excess oil. You can also place them on absorbent kitchen tissues before serving. 3. Ensure that the heat of the oil is maintained at a medium. If the oil is too hot the nuggets will burn quickly on the outside and remain uncooked on the inside. I usually like to flip them once after the first minute and then flip them back again and then again- so each side receives heat twice. 4. To freeze the nuggets simply place them in a box and stack them up using a butter paper / baking parchment (or even freezer safe plastic sheets) in between. I usually store stacks of 6 per level. This helps you remove only the desired number of nuggets for frying and they don't clump together.