Lactose free, Fat free, Heart healthy – Tarla Dalal on Poha (Beaten Rice)
Wow! I never knew that the humble Poha or Pou as we call it in Konkani was so full of goodness in the health department! During my childhood the sight of Pou made me…well, yawn. I'd have a dismal look on my face when my mum made Pou as a tea time snack while my brother loved every bit of it. I would eat it only when it was garnished with bananas. It goes without saying that I didn't try my hand at it after I got married even though my husband loves any version of Pou. Thanks to blogging, I have been reintroduced to the Sweet Poha and although it has no real 'recipe' and is the simplest of all, I am posting it for the benefit of all those who enjoy simple, oil free and healthy snack recipes. When I finally made & ate this (maybe after 8-9 years!), I totally loved it and wondered why I deprived myself of such simple pleasures of life.
If you have never been too fond of the coconut, I am sure you will find this version interesting. The freshly grated coconut releases all its flavours when combined with the jaggery and cardamom. Although one can substitute the jaggery with sugar, it's best to stick to jaggery (if it's available) as it provides all the juicy sweetness. Sweet Pou tastes best with banana slices.
In Mangalore Poha is transformed into two versions, the sweet and the
savoury one
 (Bajil in Tulu) which is eaten as is or served with
Sajjige
(Upma/Savoury Semolina) and is famously called as 'Sajjige Bajil'. This is by far one of the most common breakfast items and is probably the favourite of more than half the population of Mangalore. The Sweet Pou is more of a tea time snack and is often savoured with hot coffee or tea (some of it even poured into the beaten rice – yum!). In Konkani – 'God' means jaggery/sweet and hence the term 'Godaso Pou'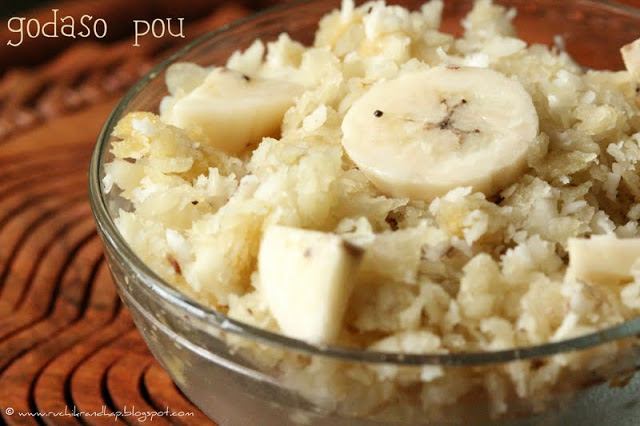 Godaso Pou
Serves: 1


You Need:
3/4th – 1 cup beaten rice * see note
1-1/2 tbsp jaggery (or to taste)
1/2 cup freshly grated coconut (dont use dessicated coconut)
2 pods cardamom powdered
a pinch of salt
1 small banana (Elaichi/Kadhali) – optional
Note:
If you are new to the world of beaten rice, then look for the thinner variety of beaten rice/poha. In Mumbai two types of Poha are available. The regular thick poha (small & thick flakes) which is used by Maharashtrians to make Batata Poha and the Chivda variety (thin, flat & large+ flakes – which is what you need to use)
Method:
1. In a bowl, add the grated coconut and powdered/grated jaggery. Toss in the cardamom powder. Use your fingers to mash all the ingredients well so that all the flavours blend well and add a pinch of salt
2. Mix the beaten rice only when you are ready to serve – else it will turn too soggy.
3. Garnish with sliced banana and serve