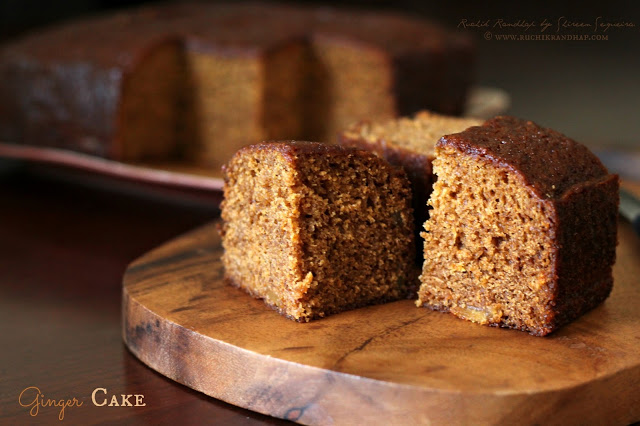 Ginger cake! The name itself sounds so festive, isn't it? But trust me, it is a cake that you can bake anytime of the year because it is simply delicious and easy to make! I have been baking a lot since the past few weeks and this particular cake won hands down mainly due to its moistness and subtle flavour and sweetness. When I say sweetness, I was actually expecting the cake to be extremely sweet and syrupy considering that the recipe called for sugar and golden syrup in large quantities but surprisingly it is not. It is very very moist though and a perfect option for a make ahead cake. If you plan to bake something new this Christmas, you must go ahead and try this recipe as you can prepare it a couple of days before you plan to serve it.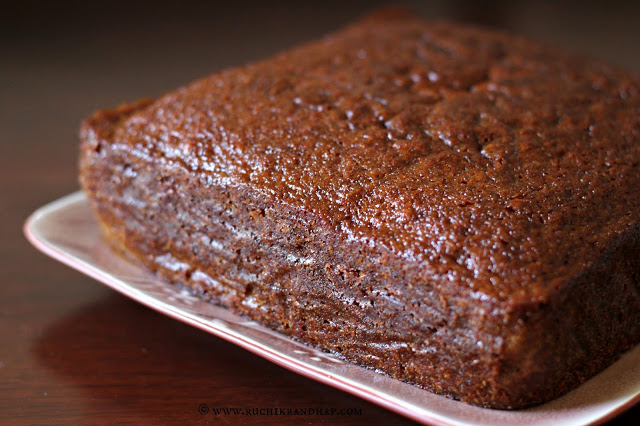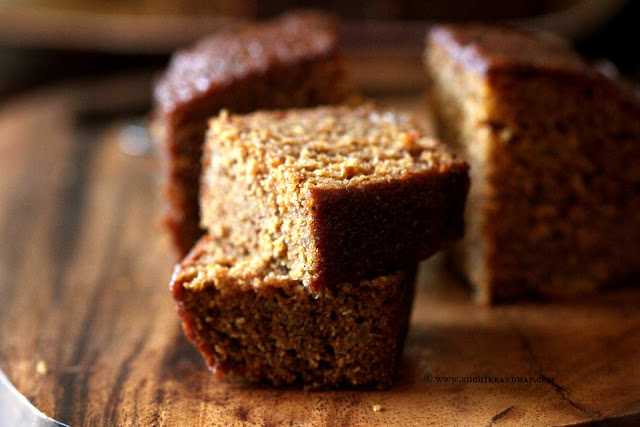 Another thing that I loved about this cake was that I finally got to use the ginger preserve that I brought from Mangalore this year. A couple of years ago I made my own preserve but due to the lack of tender ginger I couldn't make it this year. It came really handy and I am sure all of you who have some preserve (alyache doss/ale doss) with you can try using it up in this marvellous cake! I have given some tips on substituting the golden syrup with corn syrup but you may not be able to leave it out completely as it really adds to the flavour, texture and moistness of this beautiful cake!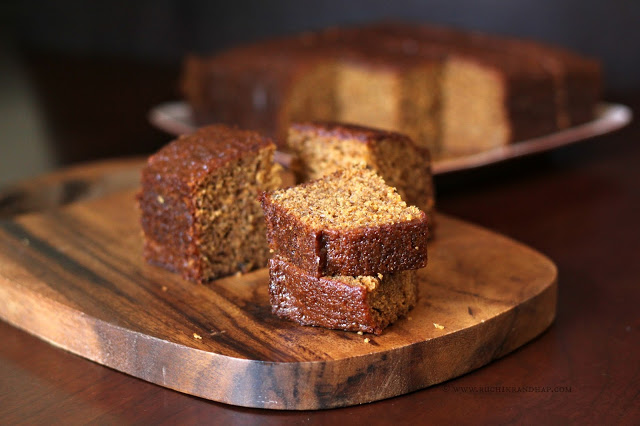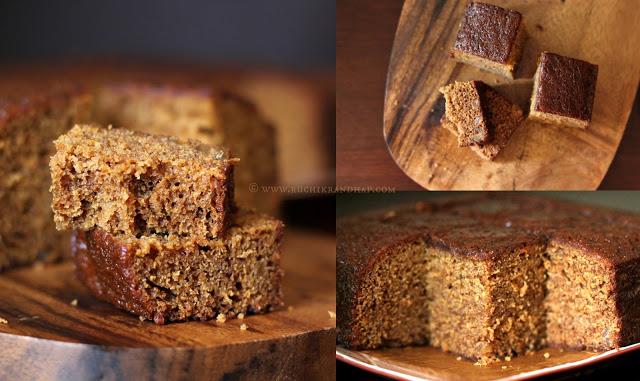 New here? Subscribe to my free newsletters with my latest recipes!
If you give this recipe a try do leave a comment on this post down below and don't forget to give it a star rating! It will really help more readers discover my recipes! Don't forget to check out my latest videos on my YouTube channel. If you like what you see, do give me a thumbs-up (like), share & comment and subscribe to my channel so that the gods of YouTube (a.k.a algorithms) recommend my channel to a wider audience with similar tastes and more & more people can discover my videos!
And while you're here, do follow me on Instagram, Pinterest,  Facebook and Twitter. If you'd like to say hello or have detailed queries do send an email at ruchikrandhap@gmail.com. I'd love to hear from you!
Ginger Cake
An ultra moist, lightly spiced & delicious ginger cake that serves as a perfect festive cake or even as a tea time treat all year round!
Servings
:
7
inch square cake
Ingredients
225

grams

(8 oz) all purpose flour

225

grams

(8 oz) golden syrup

110

grams

(4 oz) unsalted butter

110

grams

(4 oz) soft brown sugar

2

teaspoons

baking powder

1

teaspoon

soda bi carb (baking soda)

1/4

teaspoon

salt

200

ml

(7 fl oz) milk

3

tablespoons

(30 grams) finely chopped preserved stem ginger

4

tablespoons

syrup from the preserved stem ginger

zest of 1 orange

1

teaspoon

mixed spice

2-3

teaspoons

ground ginger (dry ginger powder) * see notes

1/4-1/2

teaspoon

ground cinnamon * see notes

1

egg, lightly beaten
Instructions
Preheat oven to 170 C. Line the base of a 7" square baking tin with baking parchment.

Place the butter, golden syrup, sugar, milk and ginger syrup in a small saucepan and heat until the sugar and butter is dissolved. Add the orange zest and remove the pan from the heat. Allow to cool for 5 minutes.

In a large mixing bowl, sift together the flour, baking soda, baking powder, salt, mixed spice, cinnamon and ginger powders. Add the warm butter and syrup mixture and whisk well.

Stir in the chopped ginger and the egg and mix everything well. Pour into the prepared baking tin and cook for 35-45 minutes until a skewer inserted comes out clean.

Remove the pan and allow the cake to cool in the tin for at least 1 hour before turning out onto a wire rack.

Peel off the baking parchment and cut into slices. Serve. The cake keeps well for 5-6 days in an airtight container.
Recipe Notes
1. I didn't have self raising flour with me so I just used 225 grams plain flour (maida) + 2 teaspoons baking powder and 1/4 teaspoon of salt. Over and above this you also need to add the baking soda as mentioned in the recipe above
2. I used 2 teaspoons of ginger powder very hesitantly as I didn't want it to overpowder the cake but I was surprised how subtle it actually was. I suggest you stick to 2 teaspoons if you are using a new pack of ginger powder (freshly manufactured or homemade).
3. If you don't like cinnamon you can leave it out. Adding too much of it will mask the flavour and aroma of ginger and your cake will smell more like cinnamon cake.
4. If you don't have golden syrup you can substitute it with equal parts of light corn syrup and molasses. There are many substitutes for golden syrup available on the internet. Some call for a combinations of sugar caramel (homemade) and cornsyrup or honey or maple syrup