Sometime last month I had made some
herbed garlic butter
that I so fell in love with! I used it as a filling for the
garland shaped bread
that I made and then I was wondering if I could use it up in something different. Since I had some boneless chicken breasts I decided to make some chicken roll ups. The idea was a hit as my son loved it. The meal was very simple in terms of taste and the presentation made sure that my son (who is a big fan of eating out) was happy too!  These roll ups are really easy to make if you have some garlic butter handy. If you don't you can still make some in a matter of minutes and you meal is ready within 30-40 minutes. So do give it a try!
What I love about grilling chicken is that it helps break the weekday meal monotony (since I usually cook traditional Mangalorean food on most days) and my kids cheerfully eat it. Marinating the chicken in advance usually saves the day especially when I have tons of work scheduled. I don't have to worry about checking on my dish every now and then as the oven takes care of it. So yeah, I'll be trying out more such easy to make dishes and will share the recipes here on the blog. Do stay tuned!
Save this recipe on Pinterest!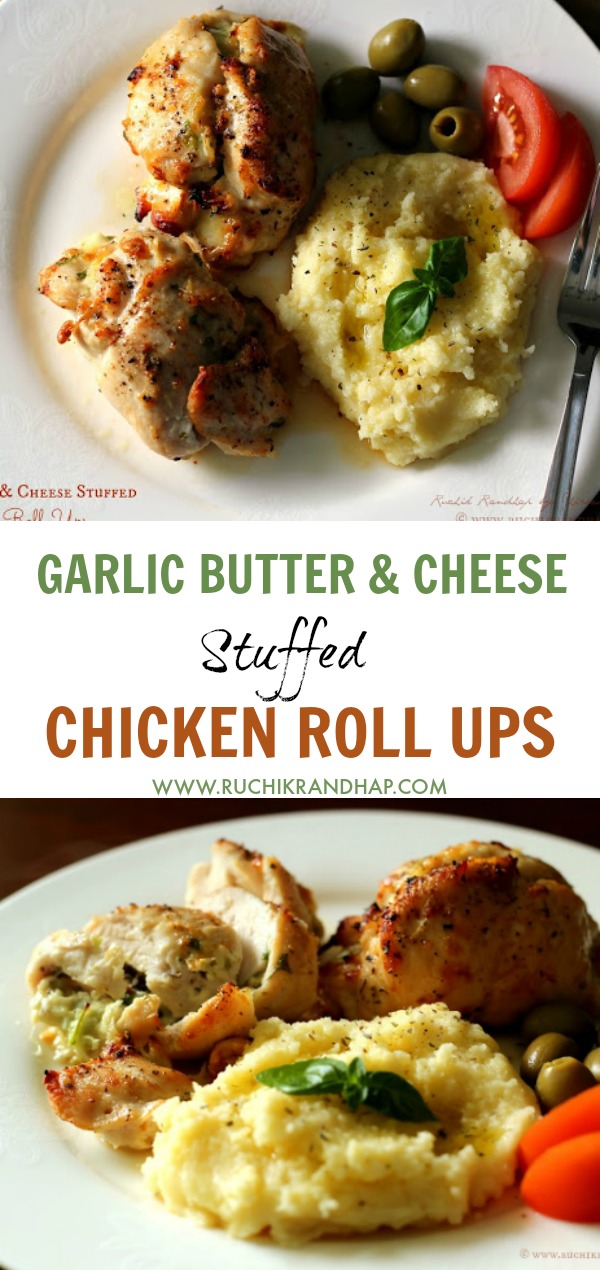 Pin
Garlic Butter & Cheese Stuffed Chicken Roll-Ups
Herbed garlic butter stuffed chicken roll ups is the best way to break the monotony of your weekday meals. Absolutely delicious, grilled chicken is a sure winner with kids!
Ingredients
1

kg

boneless whole chicken breasts

you need the whole pieces, not cut up

1

medium sized onion

finely chopped

10

fat cloves of garlic

peeled and minced

3

tablespoons

unsalted butter plus extra to grease and brush

Italian seasoning

dried mixed herbs

grated cheddar or parmesan cheese

as required

mozzarella cheese

as required

2-3

tablespoons

chopped fresh coriander

garlic salt

optional

salt & pepper to taste
Instructions
Wash the chicken breasts and pat dry. Carefully slice them into half, horizontally so you get thinner 'sheets' of each breast piece.

Marinate all the pieces lightly with salt and place them on a large baking sheet that has been lightly greased with olive oil or butter.

Heat some oil in a wok/kadai and fry the chopped onions till translucent, add the minced garlic and fry on a reduced heat for a few seconds. Don't let the garlic burn or it will taste bitter. Remove the mixture onto a plate and let it cool.

Spread the butter on each piece of the sliced chicken breast and add the prepared filling across the length of the chicken. Then add the Italian seasoning and/or garlic salt (if you are using garlic salt make sure you don't add too much as the chicken is already marinated with salt in step#2)

Sprinkle the grated cheeses and chopped coriander.

Roll up the chicken from the broadest side first and secure the ends using toothpicks. Drizzle with olive oil or brush with extra butter.

Preheat oven to 220 C and cook the chicken on 'bake' mode for 12 minutes. Then change the oven setting to 'grill' mode for another 8-9 minutes or till it looks golden on the surface.

Remove from oven and carefully remove the toothpicks. Serve hot with mashed potatoes or any side of your choice.