One of my fondest childhood memories involve this dish. I have eaten the Egg Stumbler for as long as I can remember. My mum used to make this for us very often and it served as a breakfast cum anytime meal which could be put together in a jiffy. As you know scrambled eggs by themselves are a nutritious snack, add to it a handful of cubed bread pieces and what you have is a complete meal in itself. So filling, tasty and nutritious.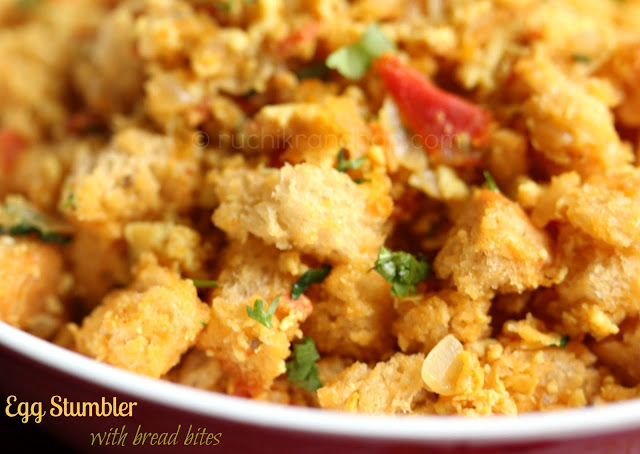 While in Mangalore I used to live in the vicinity of 'Vitthi's Sugarcane Shop' – a shop which was so famous among school students for the amazing sugarcane juice, Maggi and egg stumbler that Mr. Victor used to dole out everyday. Who is Vitthi then? Well, we Mangalorean Catholics have this habit of reducing fine English names to a rubble. We snip the ends and localize them and the final result of a person's most respected name does not even remotely sound like the original, save maybe for the first initial. For example Victor becomes Vitthi, Elizabeth becomes Elize or Lizzie, Gregory becomes Gigu, Dominic or Domingo becomes Doonnga, Philomena becomes Minna, Dulcine becomes Docchi, Steven or Stephen becomes Itti  (for goodness sakes!!!). The surnames are not spared either! The list is endless and if you are a Mangalorean Catholic reading this, I bet you are smiling – for you know another dozen names to lengthen this list. Trust me, the list is endless, the best names have either gone through a metamorphosis over the decades or some of our Konkani singers have successfully ruined their credibility by crooning them over & over again. Remember, "Belaaaaa, Isabella"? So people from my generation hesitate to christen their children with some of these fine names for the fear of being ridiculed in public with these songs. Or maybe I am the only one with this fear. When it was time for us to name our son, we had gone through this painful process of vetoing every name that could be reduced to something else in Konkani, had a song to its credit or simply had double meaning. Sigh!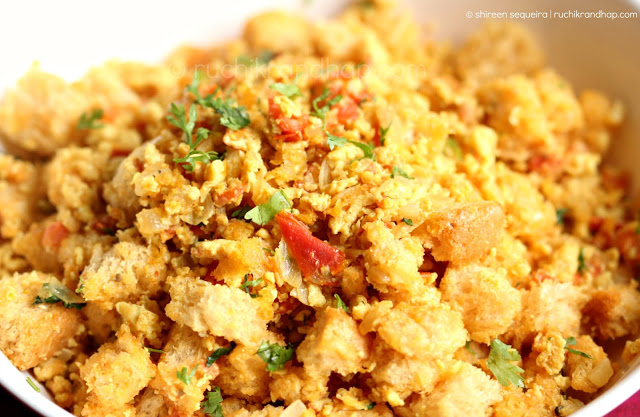 Ok, so back to Mr. Victor a.ka Vitthi's shop – I am sure that beside the usual crowd in Mannagudda (the area where I lived) who savoured it, even students who came regularly to Mangala Stadium for sports got the chance to eat the egg stumbler. Most passersby entered his 'cafe' on getting just a whiff of his heavenly scrambled eggs. The word 'stumbler' probably came into being because most people could not pronounce 'scrambled' – they either said 'scrumbled' or 'stumbled' – so you can use your imagination here.
The way Mr. Vitthi made his Maggi was very different from the package instructions – so much so that people in my neighbourhood started to replicate it in their homes. Sugarcane juice was another among his 3 crown jewels and I don't really recall tasting it there because I had another favourite shop in the local veggie cum fish market at Urwa. These three items on Vitthi's menu card were by far the most famous 'healthy' street snacks that I can think of. They satisfied many a student during a meal break. I wish Vitthi's shop was still around (a small open hall with 6-7 long 'baank' (wooden benches) that could fit in 7-8 youngsters at one go, each one hungrily devouring his snack while Vitthi would squeeze the life out of the sugarcanes in the juice extractor and serve you a tall glass of chilled sugarcane juice) but sadly it closed down after his death and remains so till date.
May his soul rest in peace.
Click the image below to save this recipe on Pinterest!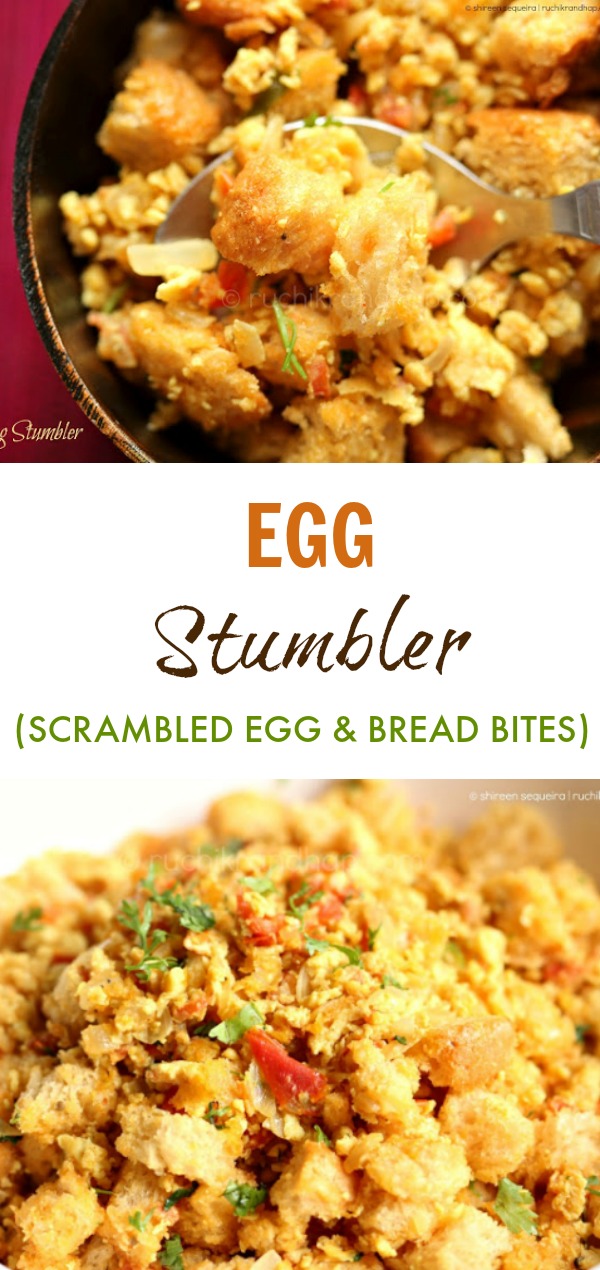 Egg Stumbler (Scrambled Eggs with Bread Bites)
A street style wholesome & hearty breakfast option also called as bread & egg 'upma' in India.
Print
Pin
Rate
Ingredients
4

eggs

4

slices

of bread

1

large onion finely chopped

2

medium sized tomatoes finely chopped

1

medium sized green chilli finely chopped

1/4

tsp

turmeric powder

1/2

tsp

red chilli powder * see notes

1/4

tsp

pepper powder

1/2

tsp

cumin/jeera powder

1

tbsp

coriander leaves finely chopped

for garnishing

2

tbsp

oil

salt to taste
Instructions
Break the eggs in a bowl and beat well. Trim the sides and cut the bread into cubes. Keep aside.

In a heavy bottomed pan/kadhai, heat the oil and toss in the chopped green chilli and onions and fry till the onions are almost golden. Add the chopped tomatoes and fry for a couple of minutes till mushy (add salt at this stage to speed up this process).

Add the turmeric, red chilli, pepper and cumin powders and fry on a low heat. Pour in the beaten egg mixture and stir on a medium low flame for about 2-3 minutes taking care to see that they don't get scorched.

When the eggs have cooked just right *see notes, add in the bread cubes and mix gently.

Garnish with chopped coriander and serve hot.
Notes
You may use white or brown bread as per your choice, ensure that it is fresh but not crumbly.Adjust all the spice elements (green chilli, red chilli powder & pepper powder) as per your taste. You can skip the chilli powder if you have low tolerance to spice.Eggs need to be cooked just right - neither undercooked nor too dry as the bread needs to absorb the juiciness slightly to give the right taste. Make sure you had a wee bit of extra salt because once the bread is added the whole mixture could taste bland - It will be harder to adjust the salt after the bread has been added as the bread can turn soggy soon. This dish needs to be prepared and served fresh and piping hot as the bread can turn soggy if prepared in advance.
Disclaimer
The nutritional values are only indicative.
Tried this recipe?
Please leave a comment & rate the recipe below or share a photo on Instagram and tag me @ruchikrandhap