They say all good things come in small packages. I couldn't agree more. I have a teeny tiny package sleeping in my cradle this very moment. My little baby is over a month now and it is such a pleasure to experience motherhood all over again – despite the sleepless nights. My husband is also enjoying his time with his daughter and is waiting for daddy's little girl to flash her first toothless grin at him.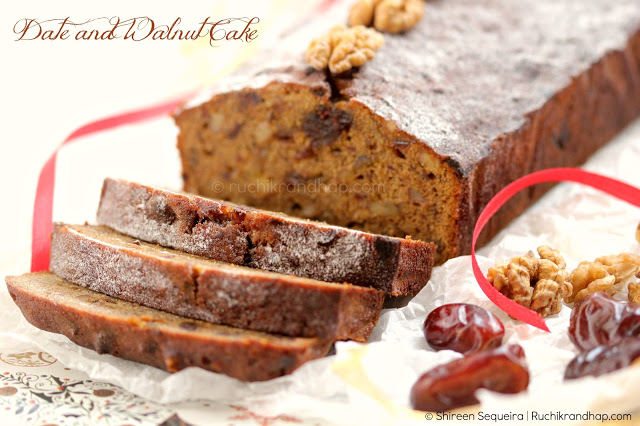 At this very moment I cannot help feeling more blessed and thankful. God has blessed me with a lovely family – my husband and two lovely children, a blog that keeps me going and a million friends who encourage and support me. A couple of years ago, feeling pretty down and lonely I prayed for some good friends. My prayers were answered in special way. Not only did I find good friends – mums of my son's friends from his first playschool, but also a good number of people who became friends because of the blog. Readers who thanked me for recipes that reminded them of their homes & childhood. Long lost school friends who re-connected with me thanks to the internet. New friends who joined my Facebook page first and thereafter went on to become my 'virtual'/online buddies. The list is ever growing and I am so happy that there is no dearth of people to turn to for love, encouragement, support – to share a tear or a smile.
Christmas is that time of the year when families come together to celebrate the birth of Jesus. It is not just a festival, but a season of love – to celebrate love. This celebration also calls for some self introspection – to quickly glance through the year that has gone by and ask ourselves whether ours was a life well lived. Whether we made a difference to another person, whether we brought meaning into our own life. I hope this season you have the opportunity to do all this and more – to say thank you, I love you and sorry!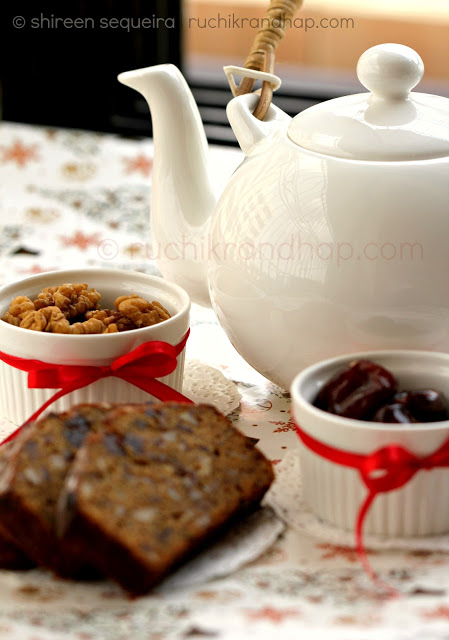 Today as my blog has crossed 1 million page views, I wish to thank 3 special people who are in a very special way connected to the success of this blog. They were instrumental in pushing me to create the blog, revive it and keep it going when all I wanted to do was chuck it all and go back into my shell. Not only has this helped me widen my horizon beyond my home & hearth but also helped me grow as a person. Roshan, my darling husband, Prema, my dearest friend & cousin and May, my lovely friend. Thank you guys for every piece of advice, encouragement and love.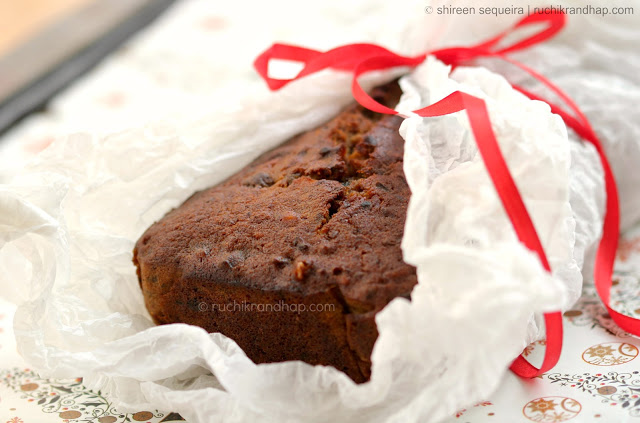 At this point it would be totally unfair if I didn't thank my dear readers for taking the blog to where it stands today. It has gained popularity and in turn helped many people learn about our traditional Mangalorean recipes, because of those who have spread the word – for this I thank you. And also to all those of you who have poured your love & appreciation via comments or emails – telling me stories about your childhood or about how a certain dish evokes fond memories of your homes, families or people you have grown to love. I am so touched when I receive such mails and I always choke up while I read them.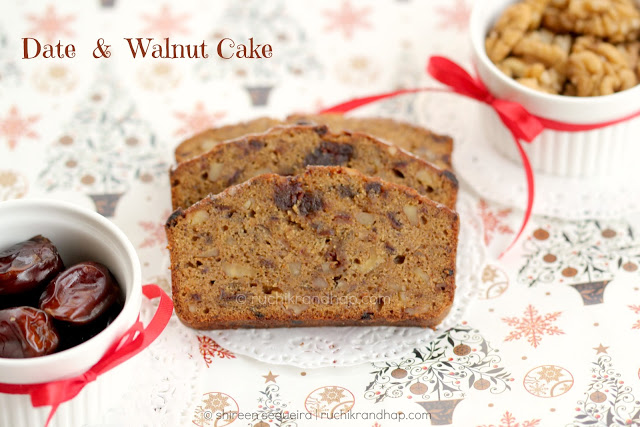 So thank you dear readers for making Ruchik Randhap what it is today, in your own special way! May you have a blessed & meaningful Christmas season!
Save this recipe on Pinterest!! Click the image below!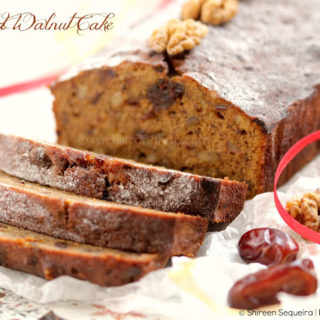 Date & Walnut Cake
This old fashioned date & walnut cake is a perfect replacement for your usual fruit cake for Christmas or a slightly fancy cake for your teatime!
Print
Pin
Rate
Ingredients
175-200

gms

pitted dates finely chopped * see notes

100

gms

(1 cup) walnuts roughly chopped

100

gms

(2/3rd cup) soft brown sugar (I used dark muscovado)

100

gms

(3/4th cup+1 tbsp) all purpose flour (maida)

100

gms

(1/2 cup) butter softened at room temperature

2

eggs at room temperature

1

tsp

baking powder

1/2

tsp

cinnamon powder *see notes

1/4

tsp

nutmeg powder

pinch

of salt

2

tsp

honey

optional
Instructions
Prepare an 8"x4"x2" loaf pan - grease the insides and line with parchment/butter paper. Keep aside. Preheat the oven at 160°C / 320°F  (for 15mins if you are using an OTG without the pre-heat option).

Place the chopped dates in a bowl and pour boiling water to cover them. Keep aside for 10-15minutes. Sift the flour, baking powder, salt, cinnamon & nutmeg powders together a couple of times and keep aside.

In a large mixing bowl whisk together the butter and sugar until creamy. Add one egg at a time and beat well till incorporated. Add the honey and mix well.

Sift in the flour in 3 parts, mixing each part with a spatula till incorporated. Add the nuts and the dates (drained) and fold.

Pour the batter into the prepared tin and bake for 40-45 minutes or until the skewer inserted comes out clean. Remove from oven and place on a wire rack/mesh to cool for 15mins.  Remove from tin and allow to cool completely before cutting. Sift some powdered sugar over the surface to decorate (optional)

Serve with a hot cup of tea or coffee.
Notes
I used Omani dates that were just ripe and were not overly sweet. You may use the variety of your choice. Mushier & darker (in colour) dates will yield a sweeter taste and darker colour. The original recipe asked for 200gm, but I reduced it to 1 cup (approx 165gm) that yielded a mildly sweet cake.
Instead of cinnamon & nutmeg powder you may use mixed spice powder that is generally used for Christmas cakes. Two pinches of dried orange peel powder will also add to the taste and aroma.
Disclaimer
The nutritional values are only indicative.
Tried this recipe?
Please leave a comment & rate the recipe below or share a photo on Instagram and tag me @ruchikrandhap