If you are a Mangalorean then the Dalitoy needs no introduction. But for those who are not, well, it is a quintessential Konkani style Dal made in almost every Konkani household without fail and savoured with a lot of passion – as much as Dal is loved in Northern India. When I talk of 'Konkani' cuisine, it is not to be confused with the Konkani language which is spoken in different dialects along the Coast of India (Konkan Region) and in Mangalore is spoken by the Catholics and Hindus (GSBs and non GSBs) – in dialects that slightly differ from each other. These Konkani speaking Hindus are popularly known as Konkanis or Konkanas in Mangalore.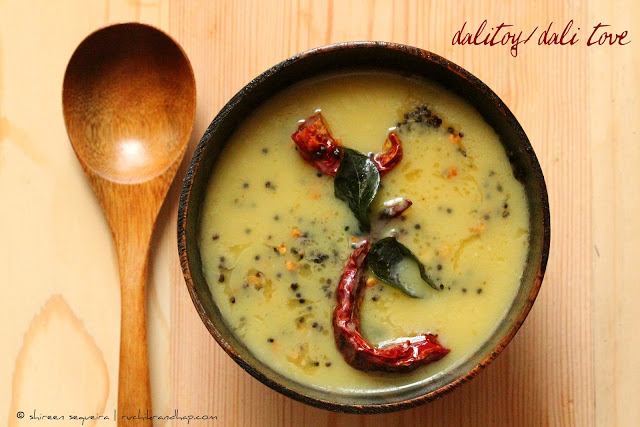 Pin
The Toor Dal (Split Pigeon Peas) which is used to prepare Dalitoy is probably the most sought after type of Dal across the world. Almost every kitchen has a stock of it at least in small quantities. Also, irrespective of the type of cuisine and cultural, ethnic differences that span our country, the Lentils or Dals as they are called are probably the most common item to be found in a majority of houses. Even in South India, you are bound to find one type of Dal being cooked everyday especially if it's a vegetarian household.
Since I have grown with a whole bunch of Konkani neighbours and friends I have always liked the Dalitoy or Dali Tove (pronounced as 'Tho-way). The best tasting Tove is always home made, fresh and piping hot. A typical Konkani thali (meal plate) usually includes steamed white rice, Dalitoy, one or two types of vegetables (curry or stir fry style), occasionally seafood (fried or spicy dry dish), pickles and happal (Poppadums/Papads made of Urad Dal or Red Chillies) or shendige/sandige (Sabudana/Tapioca Pearl Vadis/Odis/Fritters)
What is distinctly different about the Dalitoy is the predominant fragrance and flavour of the Asafoetida (Hing) and the different flavours brought in by the green chillies, curry leaves and dry red chillies in a coconut oil seasoning – the combination of these flavours is so simple yet so mind blowing that every Konkani worth his salt loves this dish. While Turmeric is an optional ingredient, the natural colour of the Dal – a beautiful pale yellow is also what sets this Dal apart from other preparations.While it is enjoyed every day as a part of a simple & delicious meals that are had at home, it is savoured in great delight and reverence to Lord Venkataramana during the annual Car Festival that takes place around January every year. The Car Festival called as Theru in Konkani and Rathothsava in Kannada revolves around the celebrations of placing the deity in a gigantic Ratha (a wooden palanquin or palkhi) decorated in red and white which is then hauled across the city by devotees. The celebrations which usually last for 5 days is partaken by devotees with great fervour & enthusiasm. Devotees from the length & breadth of the city & outskirts attend the celebrations and it is said that most of the matchmaking happens during the time. Well dressed men in their traditional dhoti attire are complimented by good looking women dressed in fine Sarees & gold jewellery looking all the more resplendent – as beautiful as brides. This is also a time for families to meet as even those living outside Mangalore tend to come to attend the celebrations.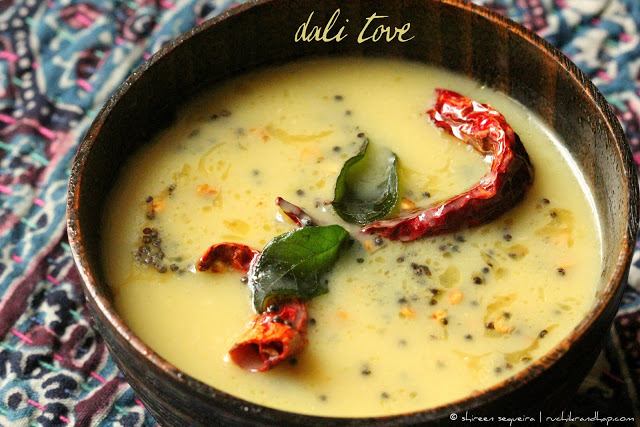 During the Theru people participate in Pujas at the Sri Venkataramana temple situated at Car Street also formally known as Temple Square & partake of the Prasada Naivedya by way of meals that is similar to the Langar served at the Sikh Gurudwaras. Dalitoy that is one of the items that is served during the simple meal is believed to be the best. Little doubt then that the Dalitoy which has found its way on the menu of the Prasadam, must also be a favourite food of the Gods
Recipe Courtesy: Vidya Nayak Shenoy
Serves 3
You Need:
1 cup toor/tuvar dal (split pigeon peas/torichi daal, togri bele)
1 button size ball of soft Hing (asafoetida)
3 green chillies slit (adjust the number as per taste)
salt to taste
For the tempering/seasoning/tadka:
1/4 tsp mustard
2 dry red chillies
1 sprig of curry leaves (kadipatta)
2 tsp oil (coconut oil preferably)
Garnishing (optional)
2 tsp chopped coriander leaves
Method:
1. Wash the Toor dal well and pressure cook with sufficient water & 2 green chillies for about 15 minutes (on a slow flame). Turn off, wait for the whistle (weight) to turn loose, remove and churn the dal using a blender or food processor. Add a little water to adjust the consistency
2. Place the dal back on the fire, add salt to taste and the hing dissolved in a little water. Bring the dal to a boil
3. In another pan heat 2 tsp coconut oil and add the mustard, when they splutter add the curry leaves and broken red chillies and toss them about. Do not allow the chillies to burn. Immediately add this seasoning to the dal and cover. Turn off the flame and serve piping hot with rice.
Probably one of the best combinations in the world – White Rice, Dalitoy & 
Spicy Clam Sukka
 (click for recipe)