One of Mangalore's most traditional sweet dishes is the 'Mandas' (pronounced as 'muhn-daas'). Every community prepares it and every household has a different version of it. Taste wise it comes close to a Zucchini bread or any cake with a good amount of fruit in it. It's more of a pudding than a cake as it has this puddingy wobbly texture and density.
Similar to how the western 'Cake' started off without a leaving agent – yeast, baking powder or baking soda (apparently the Egyptians were the first skilled bakers) our dear old Mangalorean ancestors learnt to bake their own version of the cake sans leavening agent, although it was more or less dense and thick and the preparation of which took a very long time.
The women of the house would rise early and get the day's meal ready and also start off with the preparation of the Mandas which involved soaking the rice, grating coconuts to extract the thick milk (called as roce in Konkani) and gathering & preparing the cucumbers to be ground in a traditional vaan (grinding stone/mortar pestle). The batter was then poured into a pan smeared generously with ghee and kept on very slow fire. The sweet dish would then be ready for tea time as men would return from the fields or workplaces and the children from school and would devour this hearty snack.
Sometimes the preparation began late at night, when the day's cooking was done and the family was preparing to retire to bed. The pan containing the batter was placed over a dying fire and live coals were placed on the lid that covered the pan. This ensured that the heat of the stove was enough to slowly cook the batter from below the pan and the live coals on top provided a two way heat. This technique was called as 'voir pondha uzo' (voir means up/top and pondha means down or underneath and uzo means flame/fire) which was a local 'oven' technology. Live coals were easily available in those days as every ranchekood (kitchen) had a quintessential ranni (earthen stove fueled by firewood). Charcoal was also available in plenty as traditional bathrooms which housed large copper cauldrons called as 'baan' to heat water were also fueled by firewood, sticks, dried coconut shell (katti) and its fibre (sonn), dried coconut palm (pido) and dried leaves (sukhi koli).
Owing to the fact that every family was large in those days each having at least 8-10 children and their parents and a few more adults thrown in for good measure, Mandas was prepared in bulk. Since rice was a crop grown in their own paddy fields, people could afford to make several dishes out of rice including sweets to feed an army of a family (usually a joint family). So it is little wonder that if you look through some old recipe books written by your mom or grand mom you will find quantities mentioned in bulk – 2 kilos of rice, 1 kilo of cucumbers, 1 kilo of jaggery and so on which in today's age is probably enough to feed your entire building society! Nuclear families living in cities don't have the luxury of eating a Mandas made the traditional way (with live coals & all) and they also need to scale down the ingredients drastically. Which is what I've done. I did post a recipe of Mandas earlier, but this recipe is a better one as it is made from lesser quantity of ground grated coconut which packs more flavour into it than coconut milk (it takes more coconuts to extract thick milk/first extract)
Although the process may seem lengthy, it really is a simply, delicious and nutritious snack – best eaten on Sunday mornings for breakfast. Do try it and let me know how you liked it!
Above pic: The first attempt at baking – the surface should have a lovely brown colour.


About the dish
Baked Version
Mandas is a traditional pudding cooked for over an hour over slow fire or live coals. It has a pudding like texture and a great aroma thanks to the fragrance of firewood. Since I have baked it in an oven I have called it a 'cake', but don't expect a fluffy sponge cake – you will be sorely disappointed. Since it makes no use of yeast or baking powder (although you can add some if you wish) it will be dense. Be generous with the ghee which provides all the moisture it needs in an oven. Towards the end of the baking time you may change the oven setting to 'Broil/Grill' to get that browned surface – just in case you like it made the traditional way. However, be watchful and don't let the surface burn like I did!See the picture above – it was my first attempt which resulted in a lovely brown – the second attempt is the picture below  – perils of being forgetful and not keeping a timer 🙁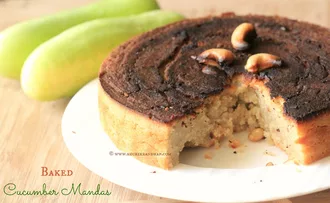 Pin
Steamed Version:
To make a steamed version, reduce the jaggery a bit (see notes). You will also need a idli / dhokla / sanna steamer (tondor). Place sufficient water in the steamer and place sufficient banana leaves to cover the entire plate (shelf inside the steamer). Grease the leaves with ghee and then pour in the batter. Steam on a full flame for about an hour. Do the knife/skewer test to check doneness. The thickness of the Mandas will depend on the diameter of your steamer – a larger diameter will result in a thinner Mandas and vice versa.
Vegan Version
This dish is eggless, gluten free, dairy free, soy free and can be nut free and vegan if you skip the cashew nuts and ghee!
Baked Mandas (Rice & Cucumber Pudding/Cake)
Prep time: 30 mins + soaking time: 3 hours | Baking time: 1 hr 15 mins (approx) | Servings 6-7
You Need
1 cup (200 grams) parboiled rice /Idli rice / Mutambo *see notes
1 cup (2 medium sized) cucumber roughly chopped
1 cup freshly grated coconut
1 cup jaggery (150 grams) * see notes
1/2 cup ghee * see notes
2 cardamoms
a fistful cashewnuts roughly chopped * see notes
salt to taste (approx 1/2 teaspoon)
Method:
1. Wash the rice a couple of times till the water runs clear. Cover it with enough fresh water and keep aside for 2-3 hours.
2. Wash and peel the cucumbers and cut them vertically, scoop out the pith (seeds) and then chop into small cubes. Grind the chopped cucumber and grated coconut to a fine paste. If using a mixer grinder, add very little water only if required.
3. Add the soaked rice and grind to a fine rawa like grainy texture. The consistency of the batter should be thickish like dosa batter. Use water sparingly to grind. Add the powdered jaggery, cardamom pods and salt to taste and continue to grind until all the jaggery has dissolved and there are no lumps. Finally add the ghee and pulse for just a few seconds till well mixed.
4. Grease a 7″ round cake tin with ghee or butter. Line it with baking parchment and grease the insides again. Preheat oven at 220 degrees C for about 10 minutes.
5. Pour the ground batter into the prepared tin and stir in the chopped cashew nuts. Decorate the center with whole cashewnuts. Reduce the temperature of the oven to 180 degrees C and bake for approximately 1 hour 10 minutes (see notes) or till the knife, skewer inserted comes out clean.
6. Remove the tin and allow to cool on a wire rack for about 15 minutes. Invert the tin and allow the mandas to cool completely.
7. Peel off the parchment paper, cut and serve.
Notes:
1. If you do not have par boiled rice, you can use a mix of boiled rice & raw rice.
2. You may substitute ghee with coconut oil, but it wont taste as good. Alternatively you can mix the two if you wish.
3. Depending on the size of the tin and oven used the baking time may vary between 1 hour to 1 hour 15 minutes. If you want a brown surface you can change the oven settings to the 'Broil/Grill' mode for the last 5 minutes (if you have a small oven). A brown surface will add to the taste.
4. Adjust the jaggery to taste. 150 grams will not be too sweet if you are wondering just that. However if you are making the steamed version, reduce the jaggery to about 3/4th cup instead of 1 cup (or adjust to taste) or else it may taste too sweet if you intend to have it for breakfast.
Tip:
Lightly fry the chopped cashewnuts in ghee before adding them to the batter – this enhances the taste of the Mandas