To my bad luck the bread that we brought was already crushed a bit (shapeless/not firm enough as it was really fresh and soft and stacked improperly at the supermarket) so cutting off the edges to make nice triangular shaped sandwiches didn't quite work out. So we made a few sandwiches and decided to make more during the course of the party depending on how the kids received it. Since there were many more fun items that attracted the kids a bit more than my poor sandwiches they went almost untouched. I had a ton of the chicken & mayo spread to deal with by the end of the party. Not the ones who like to waste food the husband and I decided to give it a makeover and use it up in someway or the other. The baguette sitting on the counter came to our rescue and it was quickly cut up and slathered with this creamy spread to make for some pretty hors d'oeuvres (pronounced as 'or-derves') which are sure to win everyone's hearts at our next party.
The bacon topping was a last minute idea that the hubby came up with as we had picked up some mind blowing bacon rashers from Waitrose (at the Dubai Mall) the previous day. It was so stunning that we decided to top the chicken spread with a few chunks of it. A few chives (which cost us an arm and a leg) were sprinkled to make it all pretty and there! a pretty, appetizer was ready, which of course we hogged for breakfast the next day of the party, but who cares? It was delish!
 Sliced baguettes with toppings are also called as bruschetta (pronounced as 'bruce-ske-thha') or crostini with a minor difference between the two although the terms are interchangeably used. While bruschetta features chopped tomatoes (most recipes call for it) along with other seasonings placed on French baguette (pronounced as 'bag-ett'), the crostini uses ciabatta (pronounced as 'chi-ba-tha') which is rubbed with garlic and slathered with olive oil before being topped up with cheese and seasonings and then toasted over live coals.
Since my experiment neither has tomatoes nor garlic-olive oil in it I have simply named it as baguette bites but please feel free to add either of the above mentioned ingredients to steer it towards its more traditional and fancy name.
New here? Subscribe to my free newsletters with my latest recipes!
Tried my recipe? Do leave a comment on this post down below and don't forget to give it a star rating! It will really help more readers discover my recipes! Do share a picture on Instagram with the hashtag #ruchikrandhaprecipe and tag me @ruchikrandhap and I will feature your post in my stories! 
Don't forget to check out my latest videos on my YouTube channel. If you like what you see, do give me a thumbs-up (like), share & comment and subscribe to my channel so that the gods of YouTube (a.k.a algorithms) recommend my channel to a wider audience with similar tastes and more & more people can discover my videos! I also share quick 30 second videos on Reels on Instagram so don't forget to check them out!
And while you're here, do follow me on Instagram, Pinterest,  Facebook and Twitter. If you'd like to say hello or have detailed queries do send an email at [email protected]. I'd love to hear from you!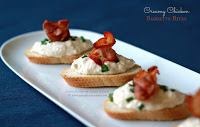 Creamy Chicken Baguette Bites
Delicious bites of baguette slices topped with creamy chicken and bacon fried to a crisp makes for a great party starter
Print
Pin
Rate
Ingredients
2

medium sized baguettes or 15-20 mini toast slices

For the chicken & mayo spread:

250

grams

boneless chicken

1/2

cup

or more mayonnaise

2-3

tablespoons

of cream cheese

2-3

tablespoons

of fresh cream, optional

1

clove

of garlic, minced

salt & pepper to taste
For the topping
4-5

bacon rashers (you may replace it with any other topping of your choice like turkey or beef bacon/ham)

fresh chives or coriander to decorate
Instructions
Wash and drain the chicken. Cut into thin strips and cook till tender with some salt (don't add too much of it) and pepper to taste. There is no need to add water while cooking as the chicken releases some stock of its own but do make sure that the bottom of the pan doesn't scorch

Remove, allow to cool and then shred. You can even pulse the chicken in a mixer grinder (don't grind, just pulse for 2-3 seconds at a time).

Transfer the contents into a bowl, add the mayonnaise, cream cheese, garlic and taste the mixture. Depending on the brands of mayonnaise and cream cheese used adjust the salt or fresh cream accordingly. Mix thoroughly. You can add some additional seasonings of your choice if you wish.

Slice the baguette diagonally into 1/4" pieces and spread a portion of the prepared chicken and mayo spread. Garnish with the toppings. Serve immediately
Notes
I used chicken tikka flavoured mayonnaise by a local brand named Noor. You can use any mayonnaise of your choice - plain or flavoured, it doesn't matter.
Disclaimer
The nutritional values are only indicative.
Tried this recipe?
Please leave a comment & rate the recipe below or share a photo on Instagram and tag me @ruchikrandhap