Can I claim to be a Mangalorean if I dont sing praises of the mother of all nuts? – Haha, im not talking about myself, silly! It's just that now that we have stepped into the beginning of monsoons and the Mango is no longer the hot topic, I thought I should write about an all season fruit (or nut if you please) – the Coconut! The most famous tree found in tropical weather – across the world.
The west coast of India is known for the abundance of coconut trees so it's little wonder that our cuisine is also predominantly coconut based. From sweets to savouries the coconut finds its way into almost all the dishes. They aint call it the 'kalpavriksh' for nothing! (kalp = wish, vriksh = tree) or the tree that fulfills all your wishes. While the tender coconut water (bondo/bondda/nariyal pani) is an any time natural thirst quencher for all seasons although it is most popular during the summer. The thin filmy flesh of the tender coconut is delicious when it's eaten right after you have quenched your thirst with the water. The matured coconut (brown on the outside) again has several uses – the flesh is grated and used in cooking savouries (gravies, chutneys, milk, garnishing) and sweets (fudges, burfis, laddoos and many more that use the milk extracted from fresh coconuts). The coconut water when left to ferment is also collected and sold as 'toddy' in arrack shops (now illegal) for those requiring a daily dose to keep themselves in good 'spirits'. The same toddy is used as a fermenting agent in the preparation of various rice based traditional preparations like '
appam's (sweet fermented rice pancakes)
or 'sannas' (sweetish idlis made of fermented rice dough) (recipe to follow). Matured coconuts are also sun dried and pressed to extract oil which is again used for cooking and other therapeutic & beauty requirements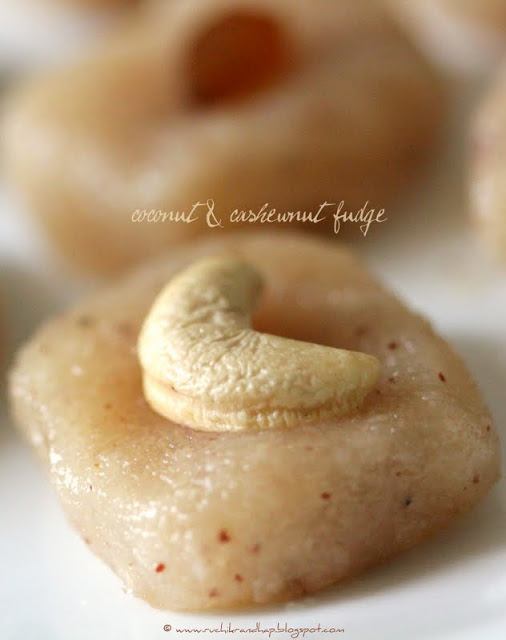 The fibre (called as 'katho' in Konkani) is commonly used as a kitchen scrub along with ash to make greasy utensils sparkly and squeaky clean and is also used to make ropes, rugs and a hundred other things that many Keralites will be proud of making. The innermost shell (after the flesh has been grated & removed) is again used to make wooden ladles, simple kitchen utensils, toys and decorative items and also used instead of firewood to heat up the bath water in large bronze cauldrons ('baan' in Konkani) in most homes even today.
The branches ('modal' in Konkani) are dried and then stripped off the thin long leaves, dried and used again (called 'pido) as firewood or to prop up spinach or pepper vines requiring propping up. The long leaves are removed and the spine of the same are used to make brooms! The tree, when uprooted/cut provides wood for various carpentry work, the most common of them is to make beams which support tiled houses.
So you see, the humble coconut tree requiring very little maintenance is probably the most versatile as far as its uses are concerned. While I will take you on a journey of the many uses of the cashewnut tree another day, for now, it's the Coconut & Cashewnut fudge for you…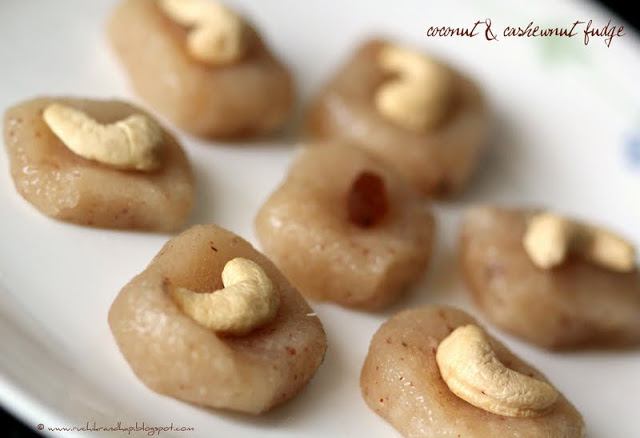 Coconut & Cashewnut Fudge
(print this)
Recipe Source: My mum
Serves: 4-6
You Need:
1/2 cup broken cashewnuts
1 1/4 cups freshly grated coconut* see note
3/4th cup sugar
1/2 cup water* see note
4 pods of cardamom powdered
1 tsp ghee
halved cashewnuts and/or raisins for garnishing (optional)
Note: 
1. While using freshly grated coconut, use only the white flesh of the coconut, as you continue to grate, the flesh closest to the coconut shell will be brownish in colour. 
2. The outcome of this recipe is a sticky soft & mushy almost halwa like texture. If you want to make 'burfi' which is a harder version of the fudge and snaps into a crunchy bite and has longer shelf life, simple skip making the syrup (so skip the water altogether) – just mix sugar well with the ground cashewnut & coconut paste and cook on a very slow flame and follow the rest of the method.
Method
1. Grind the cashewnuts & grated coconut to a paste (leave it a bit coarse – like the texture of thick coconut chutney) – use very very little water only if required to grind
2. In a heavy bottomed pan/kadhai add the sugar and water and mix well and continue to stir on a medium slow flame till you arrive at a one thread consistency (if you pour the mixture from a height it should appear unbroken and flow like syrup and not like water droplets)
3. To this mixture add the ground paste and mix well and reduce flame to sim – cook for about 10-12 minutes stirring in between to ensure that the paste does not stick to the bottom of the pan
4. Add the ghee and continue to stir for another 5-6 minutes or till the mixture leaves the sides of the pan. Turn off plate and transfer the mixture into a well greased 7″ or 8″ round shallow 'thali' with tall sides
5. Use slightly greased palms of the back of a large spoon to smoothen the surface. Allow to cool completely (for at least an hour so that the mixture sets). You can even refrigerate it for half an hour.
6. Cut into diamond shapes (run a knife through to draw lines diagonally) and serve
7. Store in an airtight box and refrigerate if you wish to keep it for over a day.