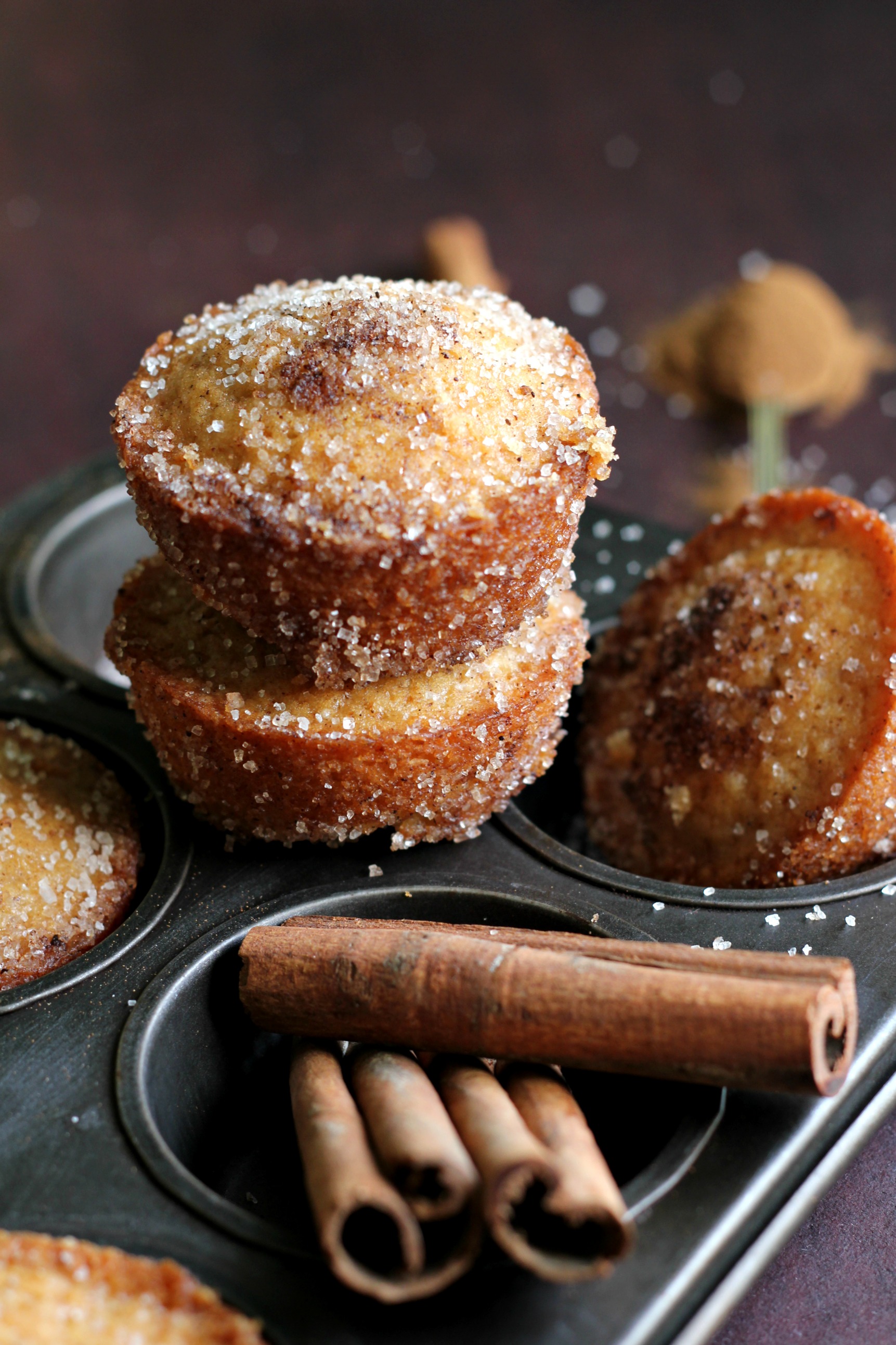 Pin
There are some recipes that are very close to my heart. Either because they have a sentiment attached to them or the fact that they are super easy to put together. This recipes falls under the second category. There are no major stories behind this recipe. I came across it in my collection of Friday magazine recipe cuttings and I really wanted to try it out for its sheer simplicity. The cinnamon sugar sounded all fancy-shmancy and I thought that since my plans of making doughtnuts have been postponed indefinitely, I may as well try making the muffins. I love recipes that make my life easy. I mean, I should be able to jump out of my seat and go bake something to beat the sudden post lunch cravings. If keeping eggs out of the fridge and getting butter to room temperature is mentioned in the recipe I will most probably skip it or bookmark it for later, when I am in the mood to plan and execute it. This recipe called for melted butter and no eggs. Yipee! Just my kind of a recipe. I put the batter together in a matter of minutes and in less than 40 minutes had my kitchen smelling simply divine. I am not a fan of cinnamon but don't hate it either, but since the time I tried this recipe, I can't get enough of cinnamon sugar! 
Pin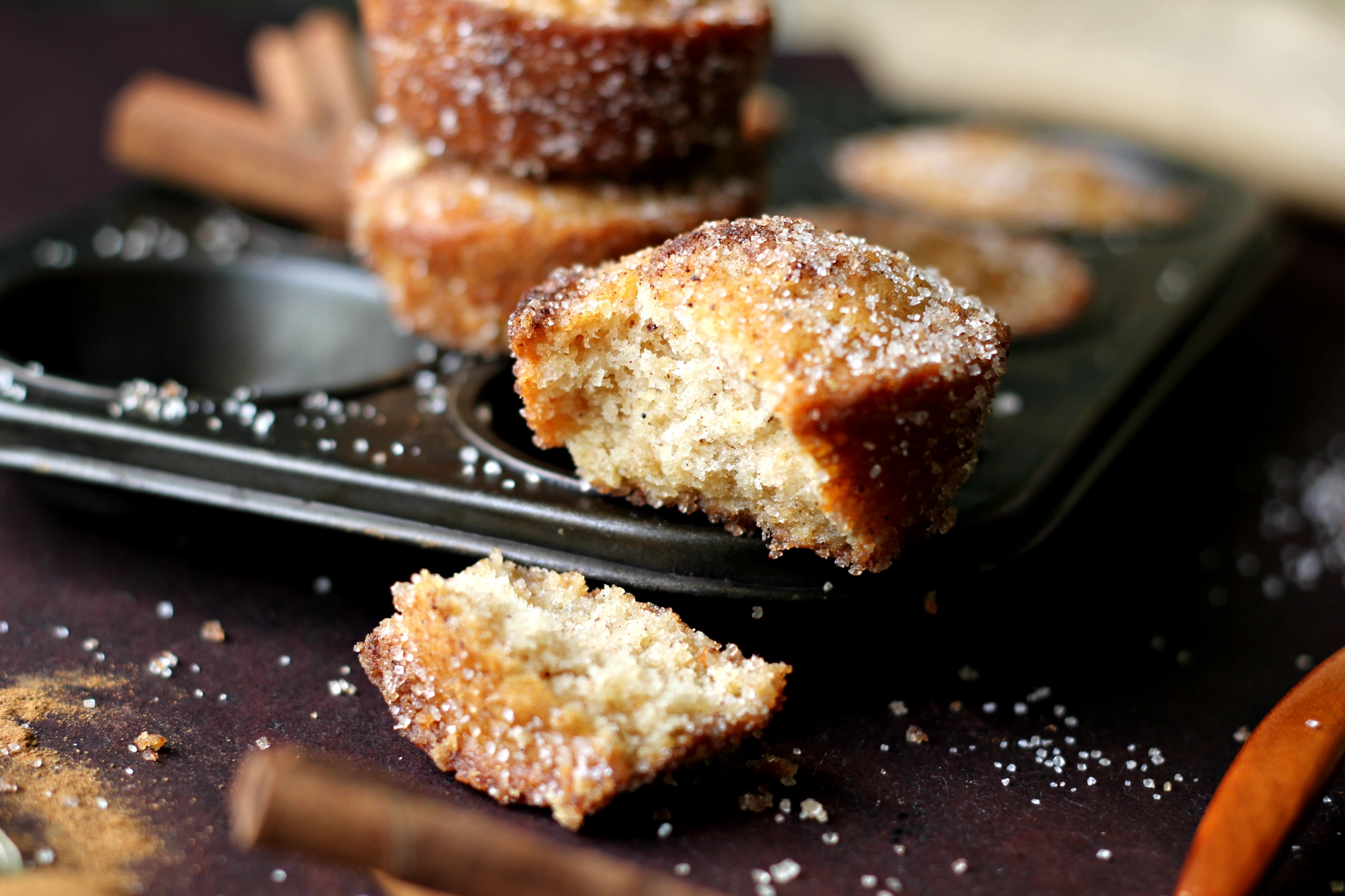 Pin
The muffins were incredibly delicious and soft. I am pretty skeptical about baking without eggs as I need to get my son to eat eggs in some form or the other so I generally avoid eggless bakes. However, this one was calling out to me and I had to bake them. Not once, not twice, but thrice. The last time I made these were on request by my son. He wanted to treat his class with something delicious on the last day of school. So I made these at super sonic speed at night so that I could pack them off in the morning. Sadly, the school did not permit food stuff to be brought in due to some new rules. The muffins came back home to me and I didn't complain. They were gone in a matter of minutes. The kids loved them too, especially my daughter who like her dad loves non-chocolatey things. She will opt for plain vanilla ice cream even if you offer her the most delectable ice cream flavours. 🙂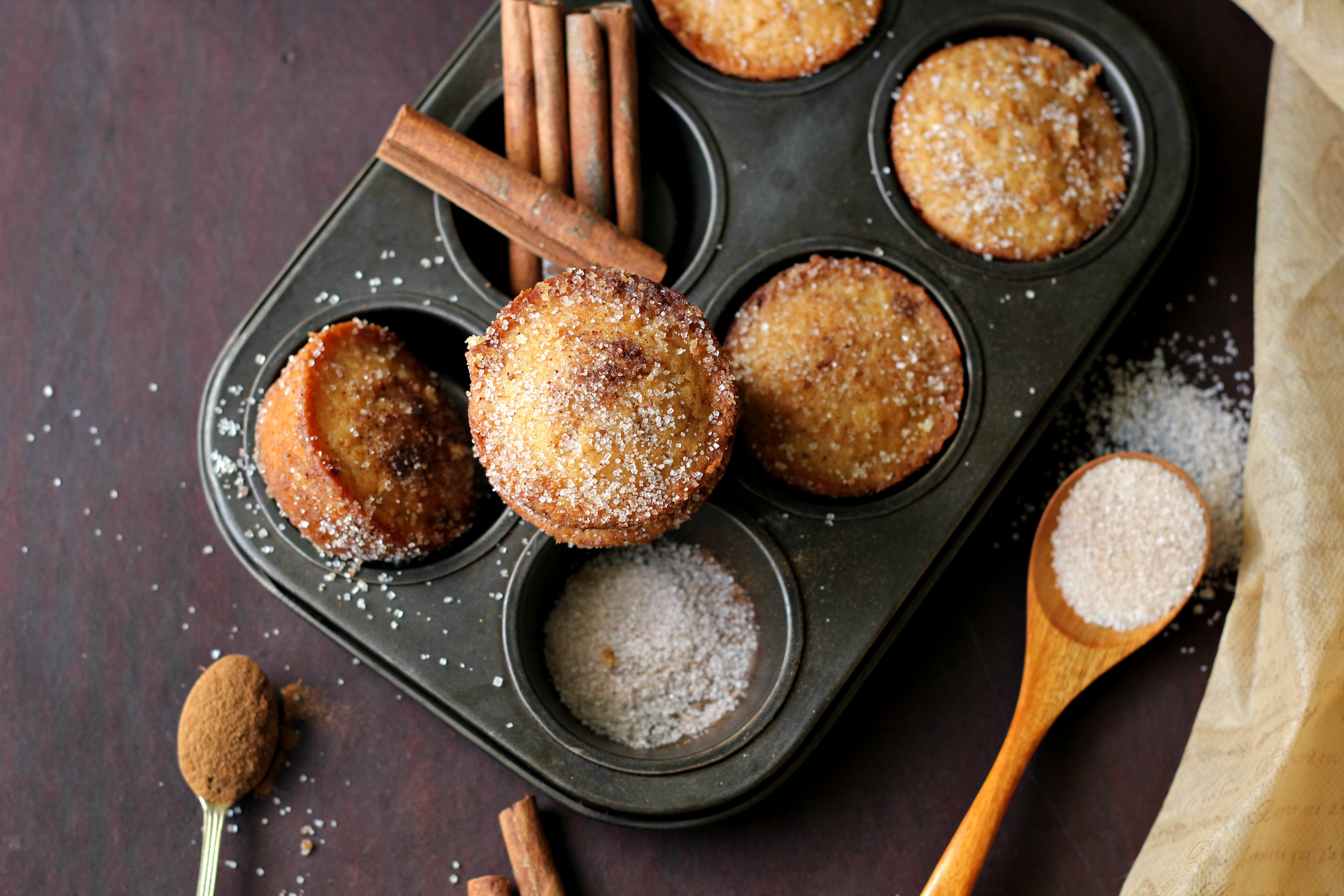 Pin
Pin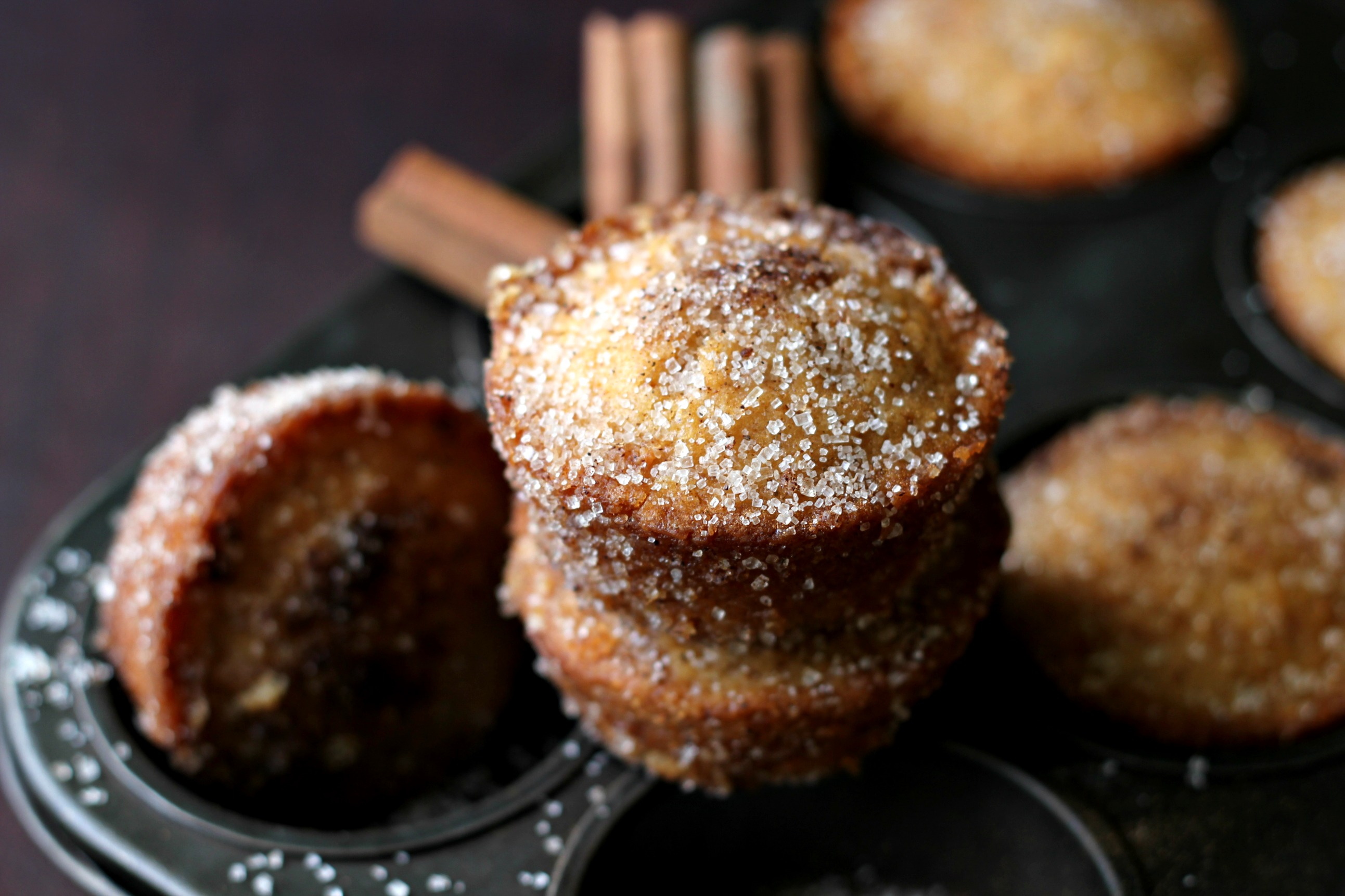 Pin
Without further ado, let's dive straight into the recipe! I hope you like it. If you do, please share a picture with me. Follow & tag me on Instagram @ruchikrandhp and #ruchikrandhap!
Pin
Save this recipe on Pinterest!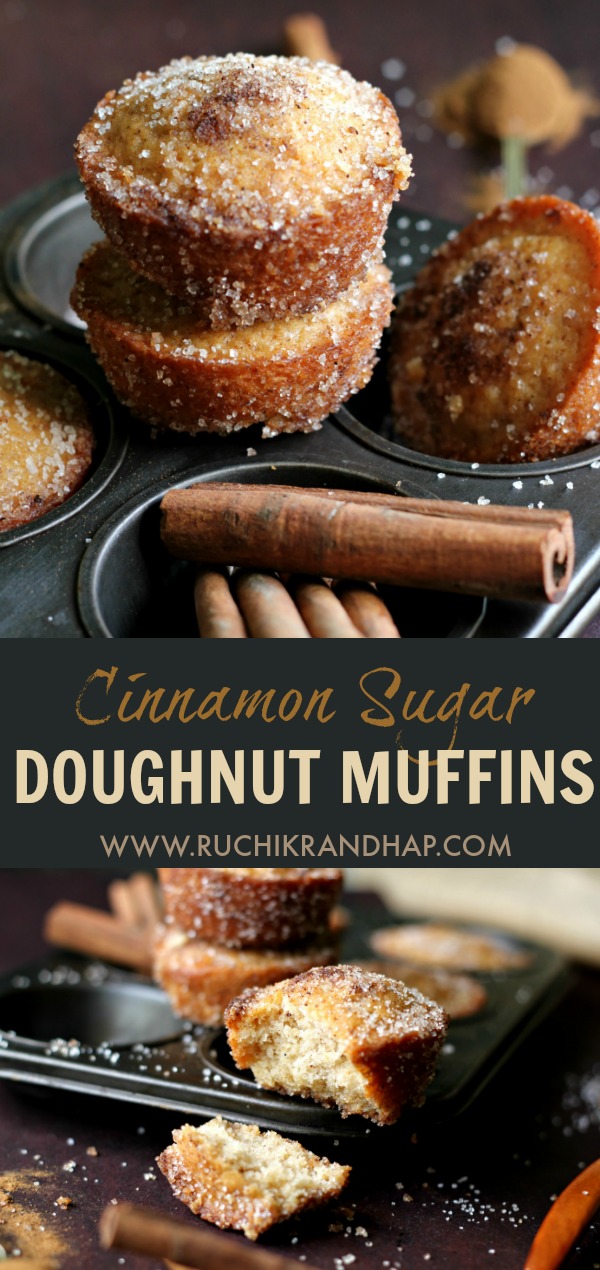 Pin
Cinnamon Sugar Doughnut Muffins
Incredibly moist & delicious muffins are a must try if you are a lover of cinnamon doughnuts! Try this for your next party or just bake it for yourself if you are in the mood to indulge
Print
Pin
Rate
Ingredients
190

grams

(1-1/2 cups) all purpose flour (maida)

1/2

teaspoon

cinnamon powder

3/4

tablespoon

baking powder

150

grams

(3/4th cup) caster sugar

120

grams

melted butter

unsalted

180

ml

(3/4th cup) milk

1

teaspoon

vanilla extract
For the cinnamon sugar coating
1/3

cup caster sugar

1

teaspoon

cinnamon powder

75

grams

melted unsalted butter
Instructions
Preheat oven to 180 degrees C. Grease or line a 12 hole muffin tray with cupcake liners.

In a large bowl, beat the sugar, butter and vanilla extract till smooth. Then add the milk but do not mix it yet.

Sift in the flour, cinnamon powder & baking powder into the bowl of butter & sugar and mix till everything is just combined.

Spoon the batter equally into the muffin tray and bake for 18-20 minutes or till the skewer inserted comes out clean.

Remove the tray and let it cool for about 10-12 minutes before unmoulding. Let the muffins cool completely on a wire rack

To coat the muffins, mix the sugar & cinnamon powder together in a shallow bowl or plate. Dip each muffin into the melted butter and roll in the cinnamon sugar mixture before serving.
Disclaimer
The nutritional values are only indicative.
Tried this recipe?
Please leave a comment & rate the recipe below or share a photo on Instagram and tag me @ruchikrandhap