My blog is 3 years old today!! Yayyy! It's been quite a wonderful journey and I am glad that I have gone slow and steady and the number of readers has only picked up along the way. In these three years I have learnt so much about the world of cooking – food, the various ways it is prepared and the multitude of ingredients that go into making a particular dish so different from the next. I have made a good bunch of friends along the way – some of them are bloggers turned friends and many are readers turned friends. I am so blessed that this blog has helped open up a whole new world to someone who thought that being a stay at home mom was just a fancy word for 'housewife' (homemaker if you please). There is so much one can do staying at home and blogging is a big part of my today and hopefully will remain to be a significant part of my tomorrows as well.
I was never a great cook – I learnt from a million mistakes and still make plenty of them, but it is fun when you have someone as supportive as my DH (dear husband) who was also the main reason behind the creation of this blog and has been my one true fan and an immense source of undying support, motivation & encouragement. For all this & more, I thank you Ro! My thank you speech would be incomplete if I don't mention that little someone who has changed me as a person – from a woman to a mother and has grown along with the blog – just a year older – so he can call himself the blog's older brother. My little Yu who is also assistant chef in the Ruchik Randhap kitchen and in whom his parents have great faith that someday he will grow up to be a great chef or at least someone who is naturally inclined to cook a delicious meal and delight those who savour it. Thank you my darling!
Coming back to this recipe, this is something that I first tried during Christmas as it was a part of the Christmas hamper that I put together for our close family friends. Before I actually made the hamper I looked around for ideas for a simple yet delightful sweet. Something that didn't require a lot of cooking or slaving over and looked pretty and dainty too. Truffles it was – I had never tried my hand at making them before and the ingredients were simple and readily available in my pantry. However, the only thing that was tricky was to shape them as the weather outside was really hot and humid and I found that I couldn't work so well with the chocolate during the day. So I would recommend you to try shaping them in a fairly cool temperature.
By the way, originally  truffles are a kind of underground fungus that are oddly shaped much like potatoes. Often called the diamond of the culinary world, truffles are rare edible mushrooms considered to be a delicacy and are rather expensive. Since they grow underground, they are difficult to find and hence are usually harvested by wild trained hogs. But don't worry, since the original variety may be far out of our reach, we can satisfy ourselves with a host of truffles made out of chocolate. Chocolate truffles are very easy to make and will taste great if you use your favourite chocolate. They are suitable as desserts for a small party for adults or kids and can also be gifted for all kinds of occasions. Traditionally chocolate truffles are chocolate shaped into balls and rolled in cocoa powder but they can also be rolled in shredded coconut, confectioner's sugar or finely chopped nuts.
Click image below to save this recipe on Pinterest!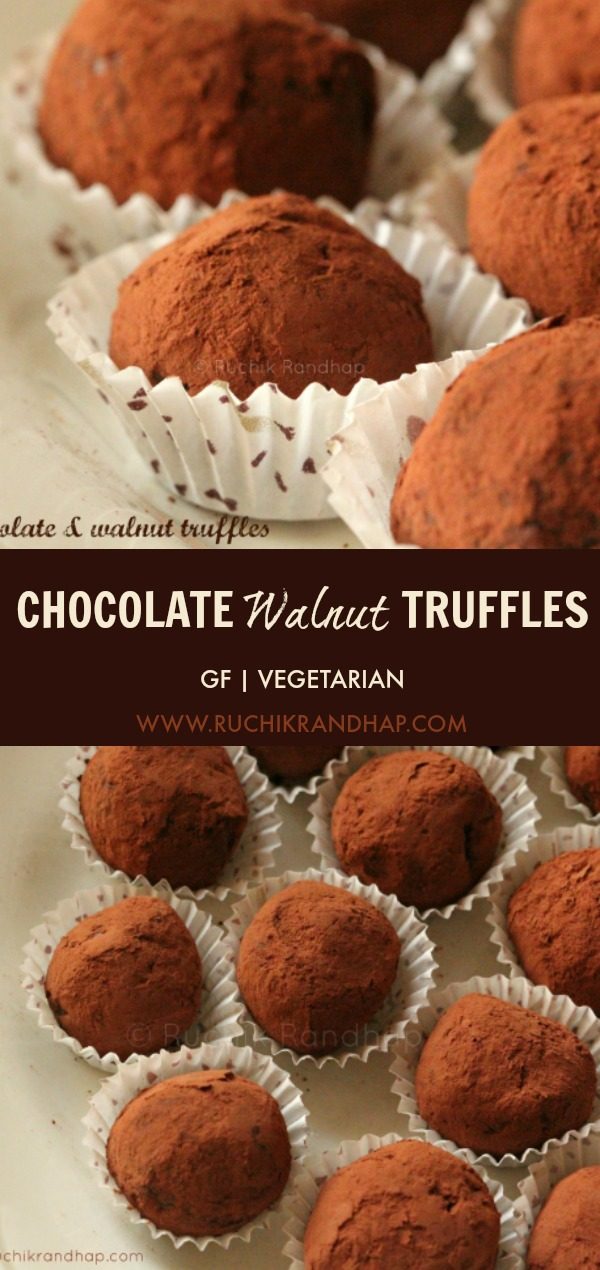 Pin
Chocolate Walnut Truffles
Delicious & gluten free chocolate & walnut truffles are the perfect treat for the festive season. They make for a great gift too!
Servings
:
50
lime sized truffles
Ingredients
225

gm bittersweet chocolate

200

gm heavy cream

60

gm walnuts

or hazelnuts toasted and chopped and sifted

1/2

cup

unsweetened cocoa powder
Instructions
Chop the bittersweet chocolate and place it in a bowl. In a saucepan, bring the cream to boil on a slow heat. Pour it over the chocolate and allow to stand for a couple of minutes then stir gently to incorporate the hot cream so that all the chocolate has melted.

Add the chopped walnuts and allow to cool a bit.

Line a shallow tray or baking tin with parchment paper/foil and pour the prepared chocolate mixture on it and spread to achieve a uniform surface. Refrigerate for at least 2 hours if the weather outside is pleasant. The chocolate needs to be firm enough to be handled without melting.

Draw lines on the surface to form squares - this will enable you to make equal sized truffles. Scoop out each square and roll into a ball. Proceed to use up all the chocolate squares.

Refrigerate for another hour or so before rolling them into the cocoa powder. Ideally do this a little before you are ready to serve them

Place the truffles in dainty paper liners and enjoy!