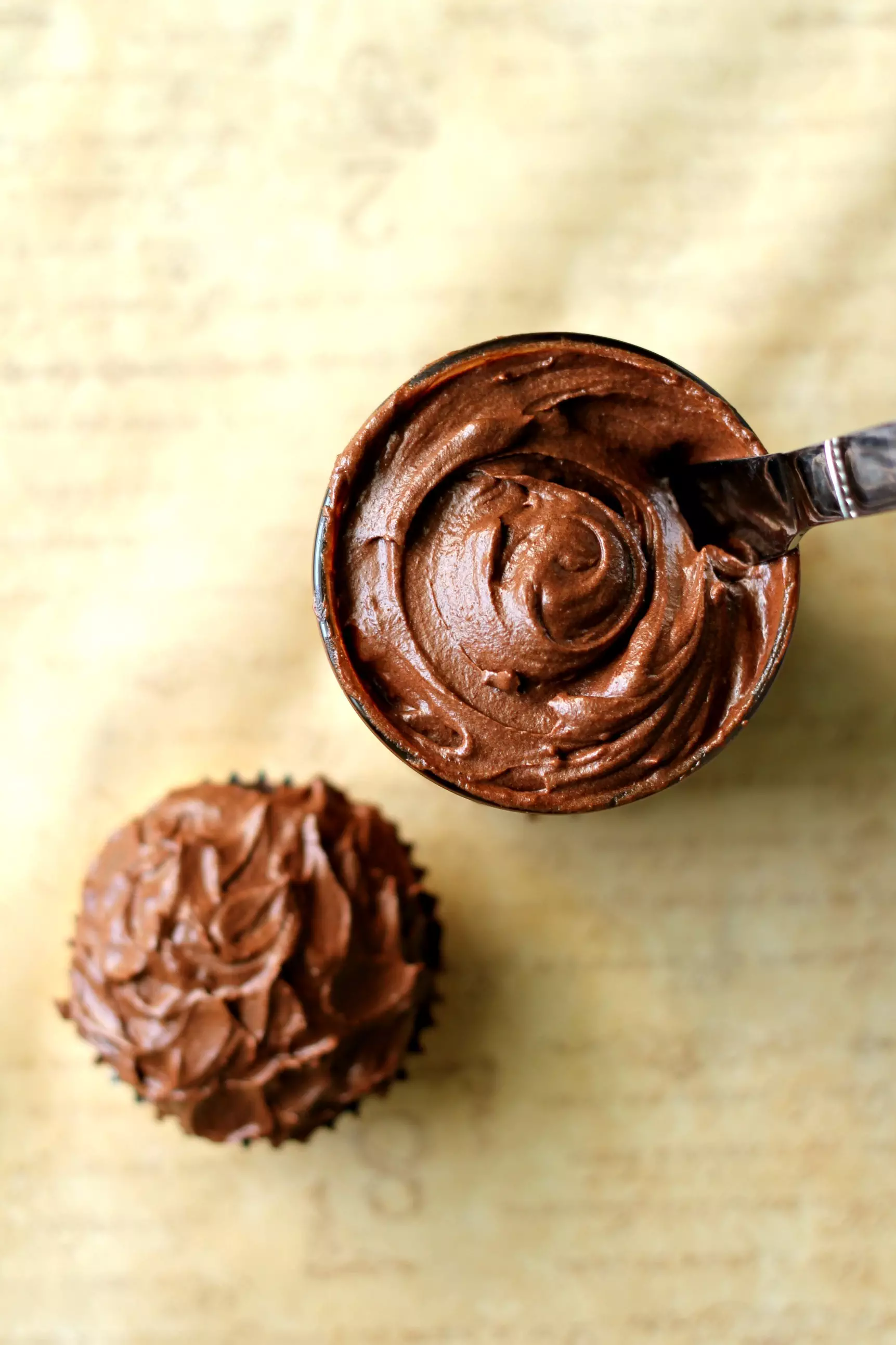 Pin
If someone asked all the chocolate buttercream icing lovers to raise their hand you'd find me waving both my hands frantically because I am such a HUGE fan of anything buttercream! There is an old world charm to it and it brings back a ton of old memories. To this day, I prefer cakes frosted with buttercream to those covered with fondant. Now, I don't have anything against fondant, I do believe that some of the best cake designs are the byproducts of fondant. Apart from the kids in my family, you can spot almost every adult peeling the fondant off their cakes before devouring them. Having said that, I was quite intrigued by it a couple of years ago and did try my hand at making design cakes at home for my children's birthdays. My daughter's birthday had a Frozen theme cake where I attempted covering a two tiered cake with blue coloured fondant. The figurines are made of plastic though. A few months after that I made an 8 shape cake inspired by the movie 'Inside-Out' for my son's birthday and this time the characters were all hand made. It was a very time consuming and laborious job that took me several hours per day for over a week to put together. This made me greatly appreciate the effort put in by home bakers who most times work single handed with fondant and still manage to deliver masterpieces to their clients. Considering that my kids were very young at that time and I didn't have extra help around the time I decided not to pursue this art. Instead, I stick to buttercream frosting/icing every time I have a cake to decorate.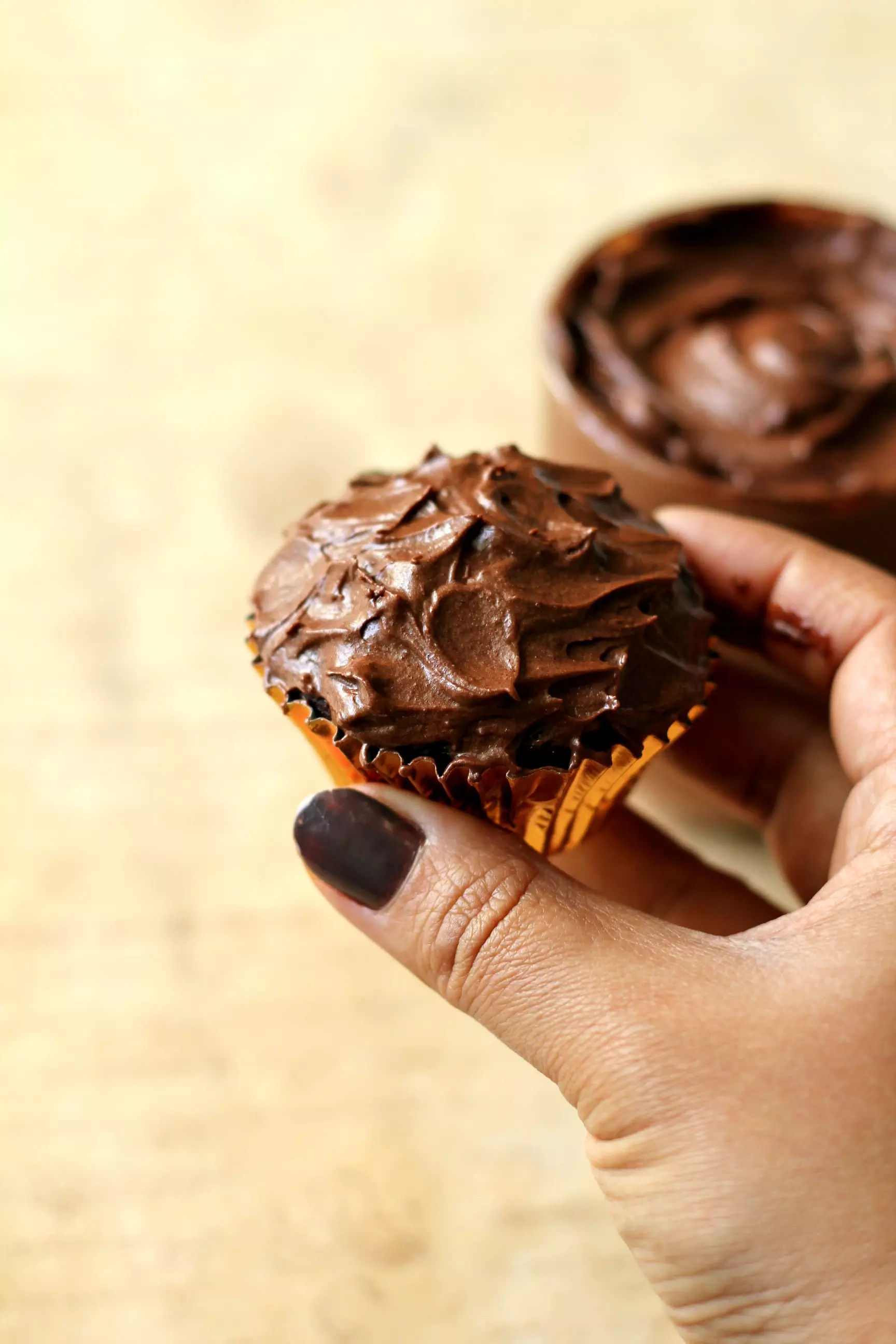 Pin
This fudge frosting recipe is my go to recipe whenever I have to frost a cake or cupcakes. I initially got the recipe from a simple book on cakes but adapted it over the years to suit my taste buds. I like my icing to be soft and delicious and chocolate-y. Hence the 'fudge' in the otherwise plain chocolate buttercream. The fudge quotient is brought in by some melted dark chocolate (oh yes!) – gosh! I am salivating for this buttercream even as I type this. I totally believe that a good frosting can cover up the sins of a cake that didn't turn out too well. Ok, at least, that's what I believe. Imagine this. You are a novice baker and the cake you just baked either didn't rise too well or just doesn't taste all that good. What do you do? Slather it with this incredibly delicious frosting of course and then eat it up like all is well with the world, because that's how it will be in the end. The minute your lips come in contact with that piece O'cake covered with this frosting you will forget everything. I know this for a fact because I froze some extra frosting a couple of weeks ago and when I got it out to be used on a fresh batch of cupcakes that I baked for my kids, I greedily stuffed one into my face DESPITE being on a diet. All this because although I could have resisted the cupcake, I couldn't resist the frosting. Mmm!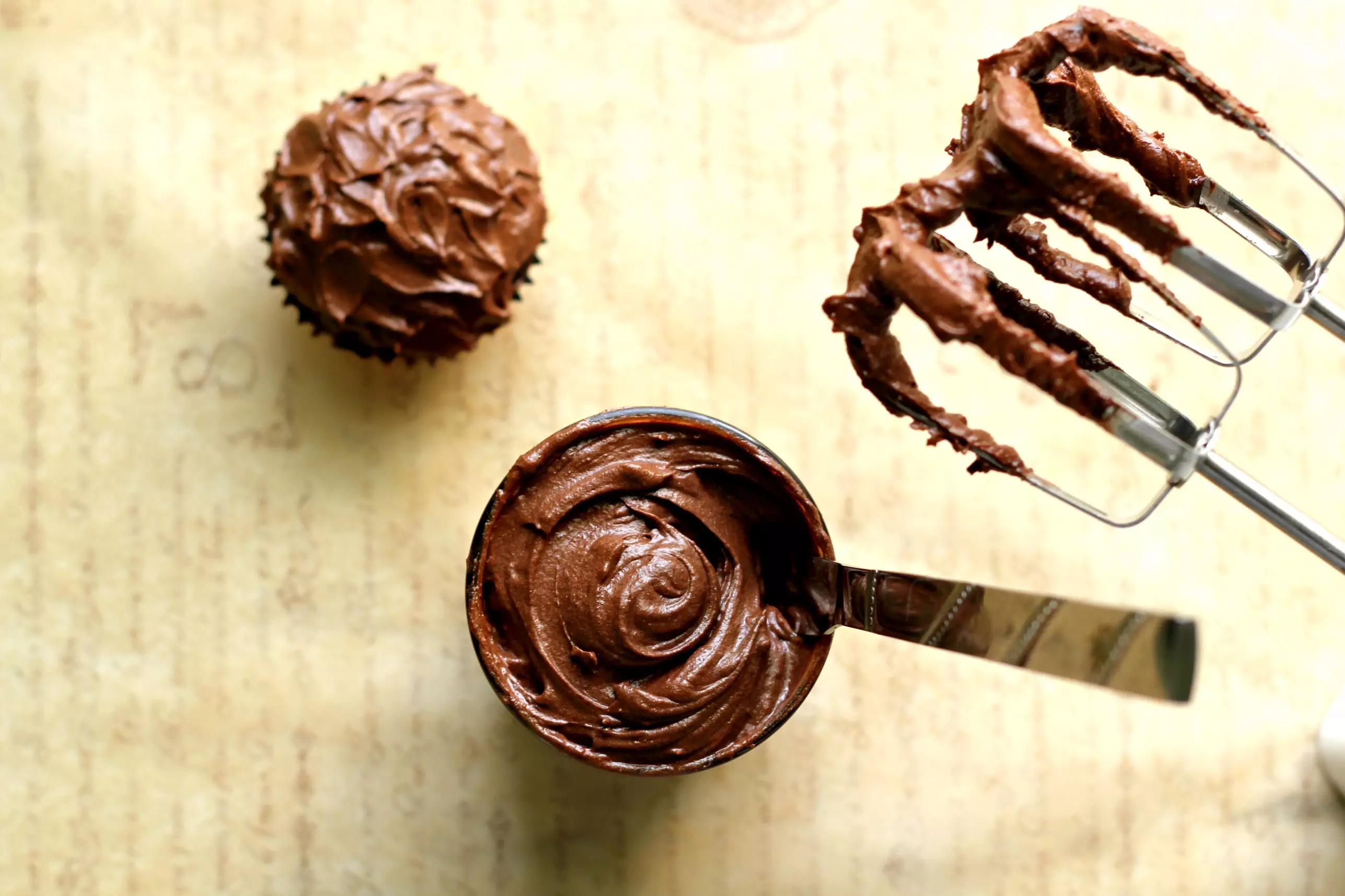 Pin
Pin
Okay! I think I may have gone a wee bit overboard with the description of this frosting. All I have to say is that this recipe is a keeper. You can frost a simple sponge cake with it like I do everytime I have to bake a birthday cake. I use my butter cake recipe for this. The devil's food cupcakes that I made recently were also frosted with this icing. This frosting keeps well for a good 2-3 months in the freezer so you can make a big batch and divide it into portions if you wish.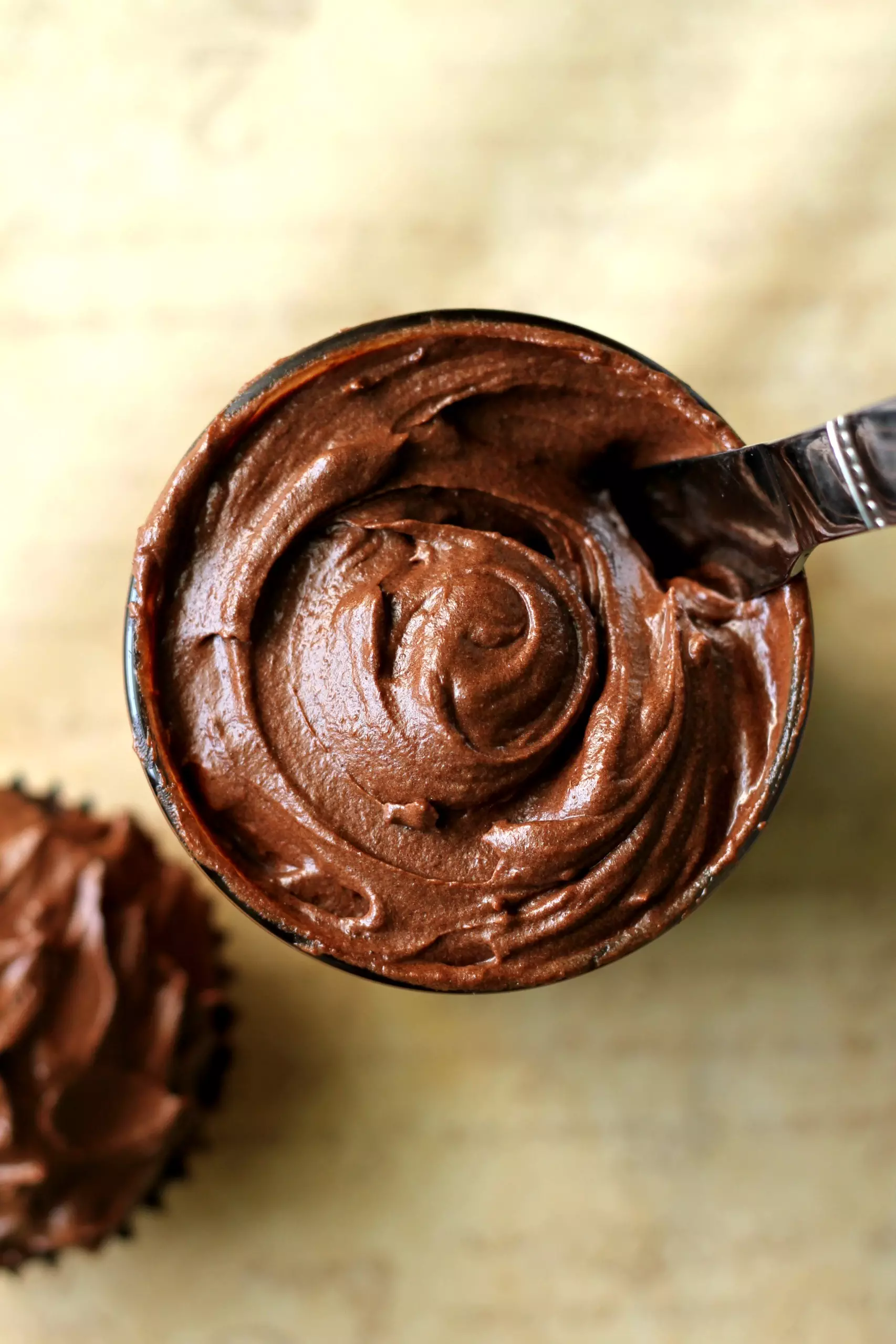 Pin
Chocolate Fudge Frosting
Rice, dark & fudgy chocolate buttercream frosting is what you need to be slathered on a simple vanilla or chocolate cake to make it more decadent & delicious! This recipe is a keeper!
Print
Pin
Rate
Ingredients
1/2

cup

115 grams unsalted butter, at room temperature

113

grams

unsweetened or bittersweet chocolate bar * see notes

2

cups

icing sugar plus extra 1 cup if required

1/2

cup

unsweetened cocoa powder * see notes

a small pinch of salt * see notes

1

teaspoon

vanilla extract

1/4

cup

fresh cream

2

tablespoons

milk only if required
Instructions
Place the chocolate in a heat proof bowl and melt the chocolate. You can do this either by microwaving it for half a minute on high powder (100%) stirring between 20 second intervals. Otherwise, just place the bowl over a small saucepan of simmering water. Ensure that no water gets into the bowl of chocolate, otherwise, it will seize (harden instantly). Stir until it is smooth, lump free and glossy. Keep aside until it cools down slightly.

In another bowl beat the butter, cocoa powder and sugar till the sugar dissolves. Add the vanilla extract and fresh cream and continue to beat. Add the melted chocolate and whisk well. Add the extra milk, a few teaspoons at a time only if required. Do not add it all at once. Whisk until you get the desired consistency

Scoop into a piping bag and use as required. This quantity is enough to ice approx 24 medium sized cupcakes or generously ice an 8" or 9" round cake (single cake, not multiple layers). Store the extra icing in a freezer safe, airtight container. You can freeze it upto 3 months.
Notes
When you measure the icing sugar just use a spoon to place it into the measuring cup. Don't pack the cup with the sugar or you will end up measuring more than required If you want a sweeter frosting you can add an extra half cup of icing sugar and then some extra fresh cream The icing tends to darken when it hardens and if you want a lighter colour, just add a few drops of milk at room temperature and whisk it well before using. I used an unsweetened baking bar of chocolate by Hershey's. It has zero sugar and hence this frosting turned out to be perfectly sweet for me. If you are using bitter sweet chocolate then reduce the icing sugar by half a cup and check the taste before you add more. Whatever wet ingredients you use must also be reduced or your icing will be of dripping consistency. The use of a few grains of salt will bring out the flavours beautifully and also balance the sweetness. Do make sure that you use fine sugar and not large flaked sea salt. For a deeper flavour use Dutch process cocoa. I use Hintz cocoa powder. Natural cocoa powder would be Hershey's
Disclaimer
The nutritional values are only indicative.
Tried this recipe?
Please leave a comment & rate the recipe below or share a photo on Instagram and tag me @ruchikrandhap