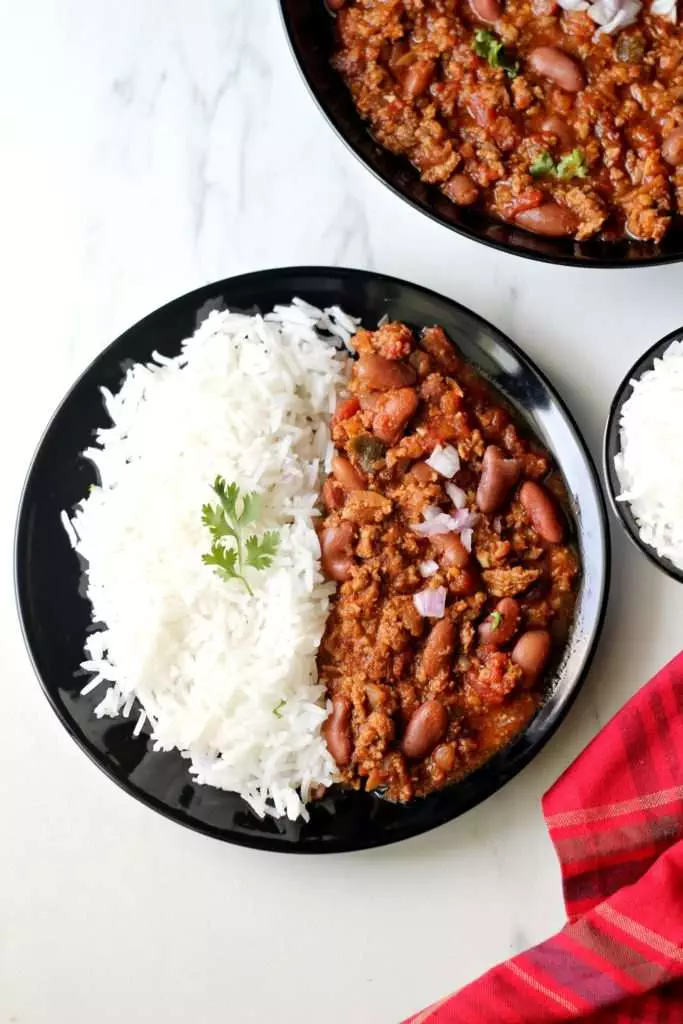 Pin
So a few weeks ago I was invited to lunch to my friend Mitchelle's place. She had just moved into a new apartment and wanted to have close friends over for a housewarming party. Being a great cook who is also passionate about learning about new cuisines and baking whenever time permits she decided to make a lovely chili for lunch. She served it with baguette and we had a great time together. Incidentally, we used to be old neighbours and hit it off very well when we first got acquainted because of our common love for baking and all things food. My joy knew no bounds when I found out that besides being a good friend she could be the next potential candidate to be a food sampler and give me accurate suggestions as to what was missing in the dish or how I could add some more sparkle to it.
Another advantage of this friendship was that we lived across the hall on the same floor and literally walked into each other's homes usually accompanied by a pot of something delicious and fresh. Most of my food experiments were gladly welcomed and since baking was our common passion, breads, cupcakes and cakes literally walked themselves out of the oven, across the hallway and right into to each other's homes 🙂 Right, so I should stop exaggerating and move on to the recipe but not before I thank Mitchelle for introducing me to a great dish!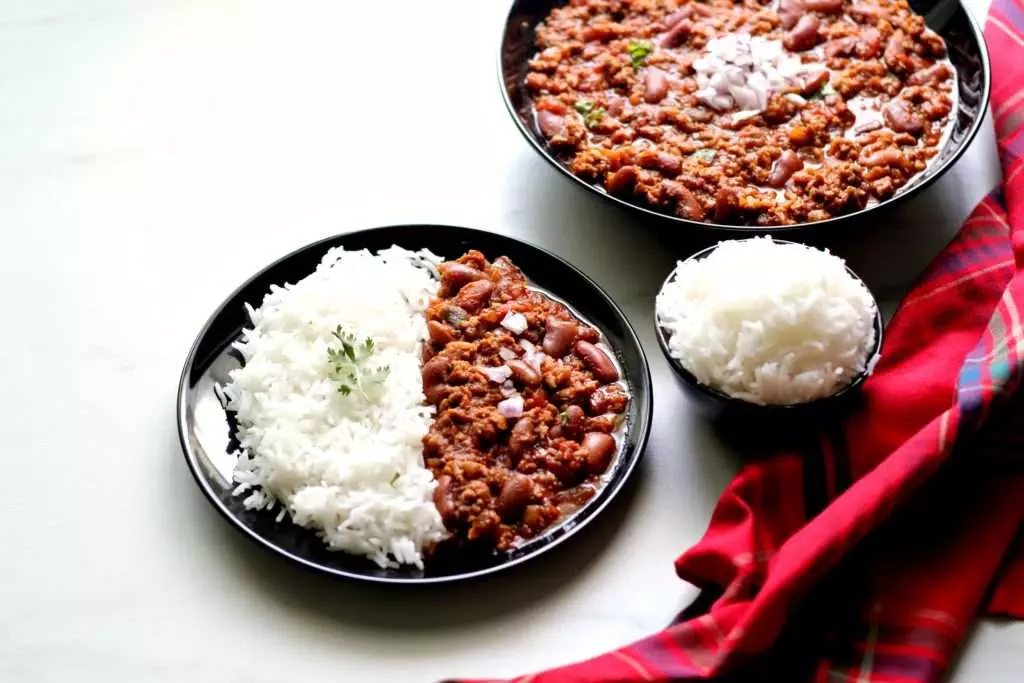 Pin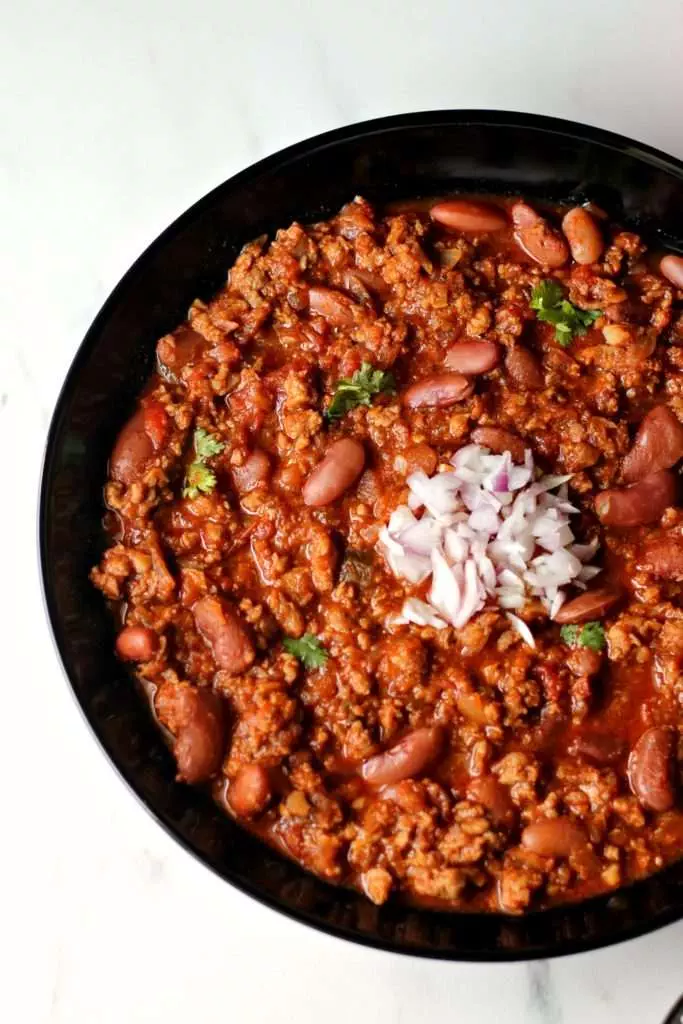 Pin
Chili con carne (pronounced as carnay) means 'meat cooked with chili peppers' in Spanish and has different versions of the history behind its origin. It is also known as 'chili' and is popular in Texas, US, making it the official dish of the state.
So, since my kids and I loved the chili that Mitchelle made I decided to make some at home. It was an absolutely simple dish to put together and was well received at home because of the fact that beef and lentils are a family favourite.
The good part is that you can even make this in advance especially in a slow cooker. Just add the beans during the last 20 minutes of the cooking stage and you are ready to serve a comforting, filling meal!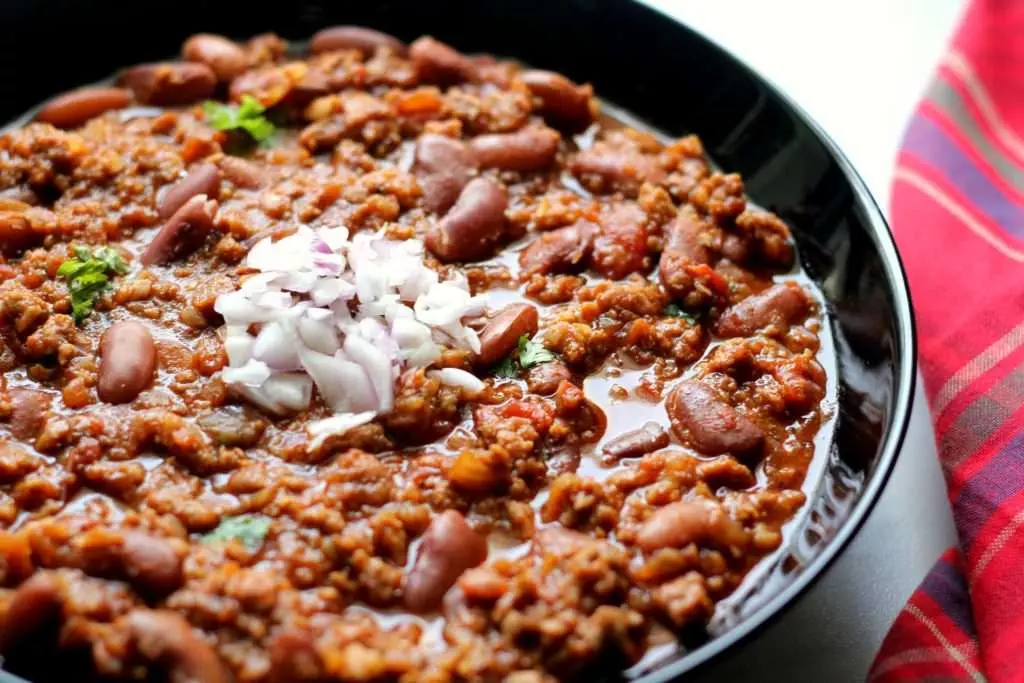 Pin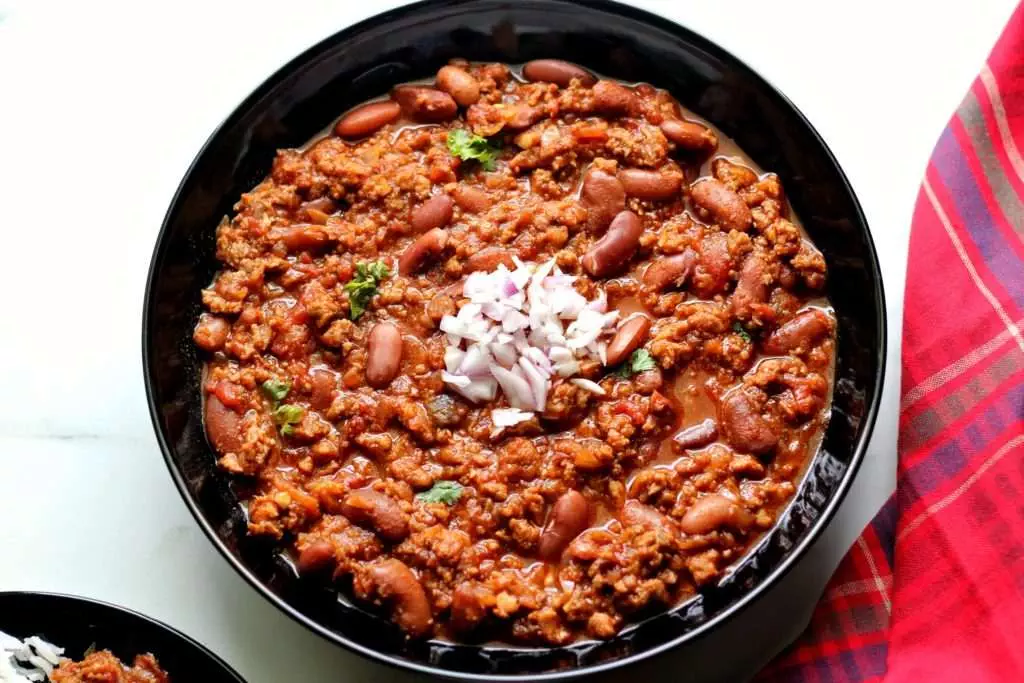 Pin
Ingredients
500

grams

beef mince

2

medium sized onions

finely chopped

4

fat cloves of garlic

minced

1

small green or fresh red chilli 

deseeded if you wish to tone down the spice

1

small red bell pepper

chopped (optional)

2-3

teaspoons

plain red chilli powder *see notes

1/2 - 1

teaspoon

paprika

optional

1-1/4

teaspoons

cumin powder

1

teaspoon

dried marjoram or oregano * see notes for substitute

300

ml

beef stock or 2 beef stock cubes dissolved in 300 ml water

1

can

400 grams tomatoes * see notes

2

tablespoons

tomato puree

1

teaspoon

sugar

1

can

400 grams kidney beans * see notes

1-2

tablespoons

oil

salt to taste
Instructions
Lightly wash the mince if you wish. drain excess water on a fine slotted colander and set aside

Heat oil in a deep pot/wok and fry the onions till they turn translucent. Add the chopped garlic, green or red chilli and bell pepper (if using), fry for half a minute.

Add the minced beef, chilli powder, cumin powder, oregano and fry for 2-3 minutes.

Add the stock and the canned (or fresh) tomatoes. Mix well, add salt to taste, check the taste and add the tomato puree (only as much as required)

Reduce the heat to a simmer and cook for 15-20 minutes, then add the kidney beans (or if they are already overcooked, add them during the last 5-10 minutes of the cooking stage. Continue to cook for another 20-25 mins or till the meat is very well done. Stir in between to avoid scorching. The cooking time may vary according to the quality, tenderness and the cut of the minced meat (how finely it has been minced)

Remove the pan from heat, garnish with finely chopped onions or chopped fresh coriander and serve hot with steamed white rice
Notes
Notes:
If you wish to use 400 grams fresh tomatoes, just blanch them in a pot of boiling water for about 8-10 minutes, then remove, cool and peel off the skin. Chop roughly and add to the pot of chili
Substitute canned kidney beans (rajma) by washing & soaking 3/4th cup of dried kidney beans in plenty of water for 10-12 hours. Then discard the water and refresh with fresh water. Transfer the kidney beans to a pressure cooker. Cover with enough water and salt to taste (about 1/2 -3/4th teaspoon). Cover the cooker & place the whistle. Cook on a full heat until 3-4 whistles are released. Then turn off the heat and let the cooker cool down until the whistle comes off easily. Stir the contents and use as required. Depending on the quality, size, age of the beans and soaking time, it could take anywhere between 2-5 whistles to cook them tender. Do not overcook or they will turn mushy & lose their shape.
I used only 250 grams of kidney beans (for which I soaked 1/2 cup of dried kidney beans as cooked as per tip given above)
Do not skip the sugar as it adds a lot of flavour to the dish. You can reduce it to 1/2 teaspoon. It is important to add spice to this dish, don't reduce it too much or the whole dish will strongly taste tangy from the tomatoes. The chilli powder will balance the flavours. If you want to reduce the tang, you can reduce the amount of tomato puree used. I used a mix of Kashmiri chilli powder and paprika. 
Minced meat should always be brought to room temperature or it can turn lumpy during cooking.
Since I didn't have either dried marjoram or oregano I simply used mixed dried herbs (Italian herbs). You can use the sachet of dried oregano that you get with Dominos Pizza in India, if you have the habit of saving it :-). However, don't use strong herbs such as rosemary. It is better to skip it altogether
Most versions of chili are cooked in red wine and beef stock.  You may add a little if you wish. The alcohol in it will evaporate so don't worry, you won't get drunk 🙂
Disclaimer
The nutritional values are only indicative.
Tried this recipe?
Please leave a comment & rate the recipe below or share a photo on Instagram and tag me @ruchikrandhap
Love the recipe? Save it for later on Pinterest!

Pin