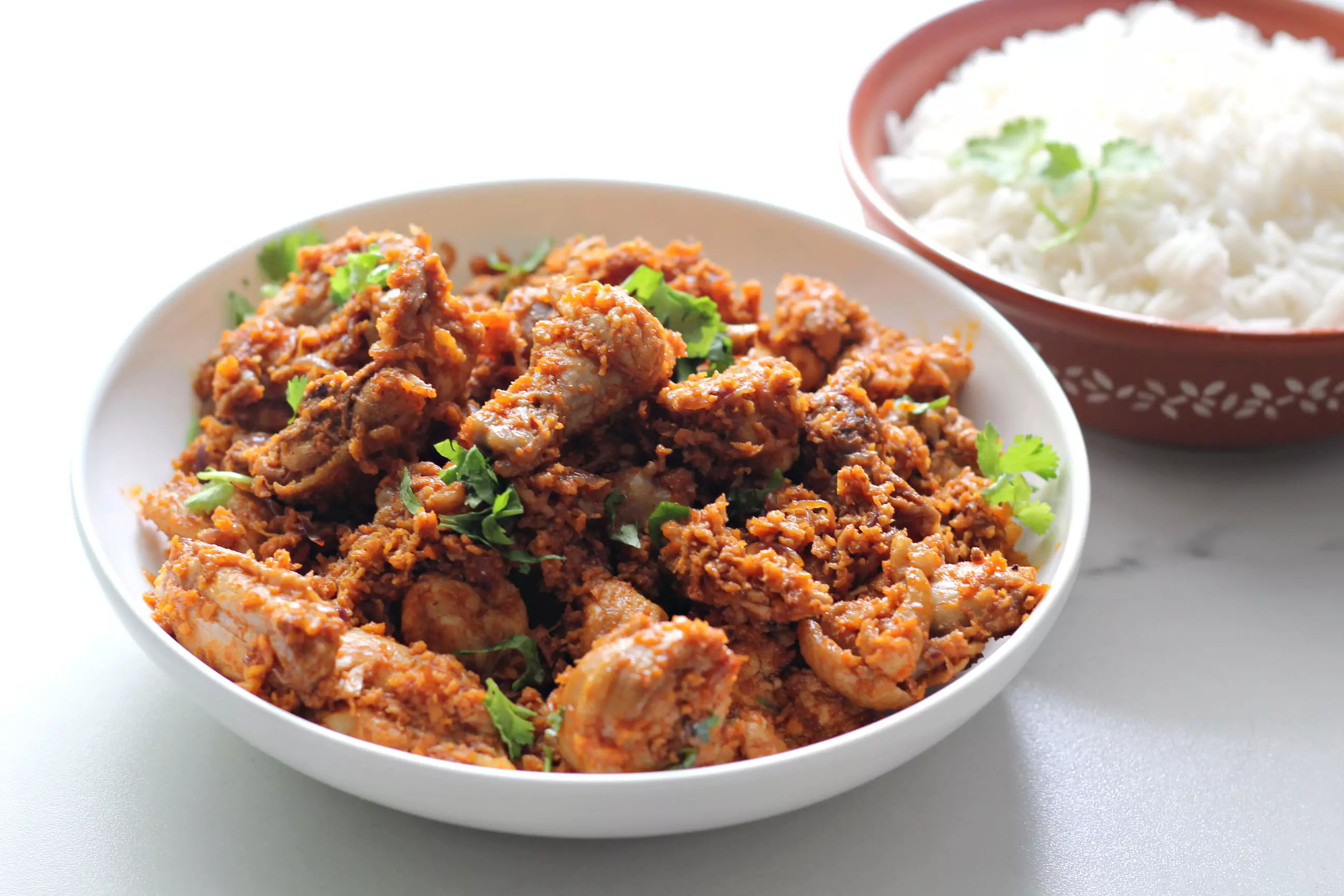 Pin
Chicken Sukka is by far one of the most popular and much loved dishes from the coastal belt of Karnataka. Sukka means 'dry' in the local languages and chicken sukka is perhaps the most common of them all because we make sukka out of vegetarian dishes too. The basic ingredients are lots freshly grated coconut and some spices, the combination of which results in the most outstanding of dishes.
It is by far the best way I like to eat my Mangalorean food, my most favourite being the sonay sukhe (black garbanzo beans) and beef sukka. Now, while I have two more recipes for chicken sukka on the blog, why did I need the third one you'd ask. Well, I love it so much that I like to try different recipes. The first ever recipe that I shared was for Kori Aajadina which is Tulu for Chicken Sukka, made Bunt style (Tulu is one of Mangalore's local languages and Bunt is one of the communities). The second recipe that I shared is for Kombi Sukhi which is Konkani for Chicken Sukka, made Mangalorean Catholic style. Both these recipes are slightly elaborate and involve slow roasting & grinding of the spices. Since I am usually on a mad rush on Fridays here in Dubai, I like to fix a quick meal before I pack off the kids for Catechism. So last Friday's lunch called for a quick fix chicken sukka & rice and here's the recipe for you. Chicken sukka with bafat powder – no grinding of masalas needed. Super quick, super tasty and yes, there is a video on how to make it so scroll right down to view it!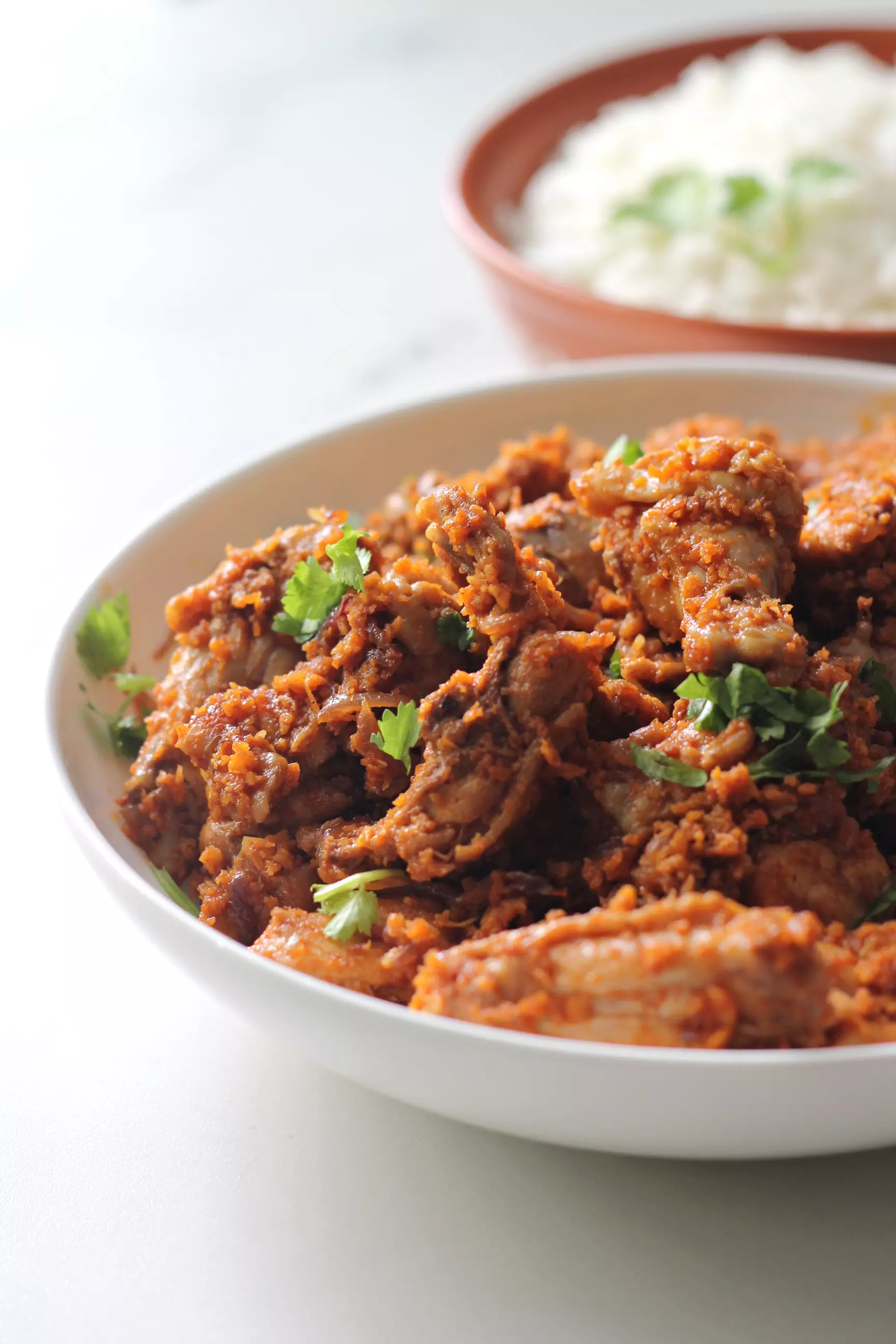 Pin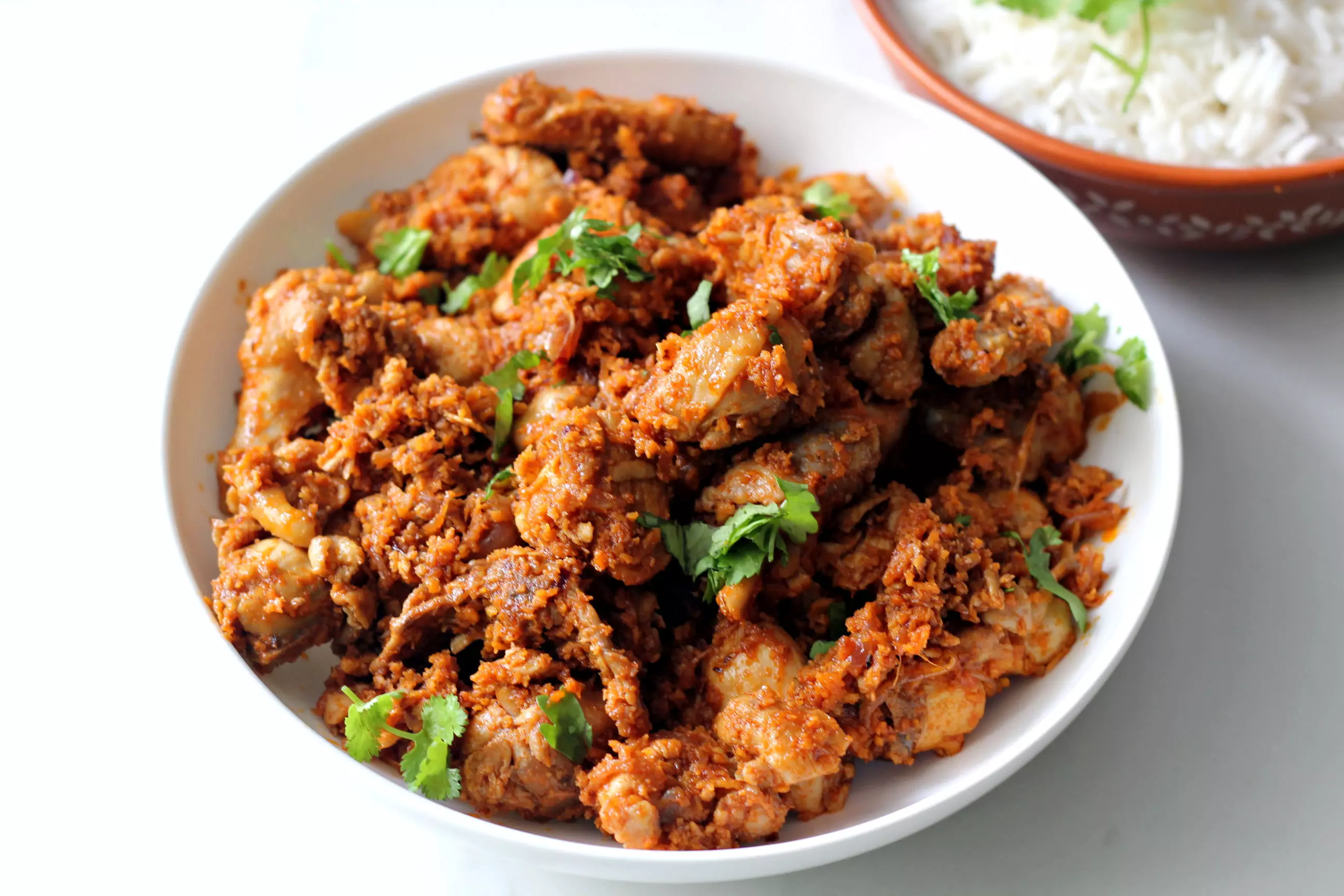 Pin
For those who are unfamiliar with Mangalorean cuisine, bafat powder is a typical Catholic style spice blend that is ubiquitous in our cuisine. We use it as a base in our gravies and marinades and cannot seem to live without it. Click here for a recipe to make your stock of bafat powder that should last you sometime. You can also find it in any Mangalore Stores outlet in Bangalore and Mumbai. I am not sure where you can find it in Dubai though as I bring my annual stock from Mangalore.
Pin
By the way, this recipe was hidden in my drafts for too long. I had shot a video which is already up on my YouTube channel but totally missed to share the recipe here on the blog. I hope you enjoy the video and the recipe. If you are new to my channel and like my videos, do subscribe! Do write in to [email protected] to let me know what you think of them.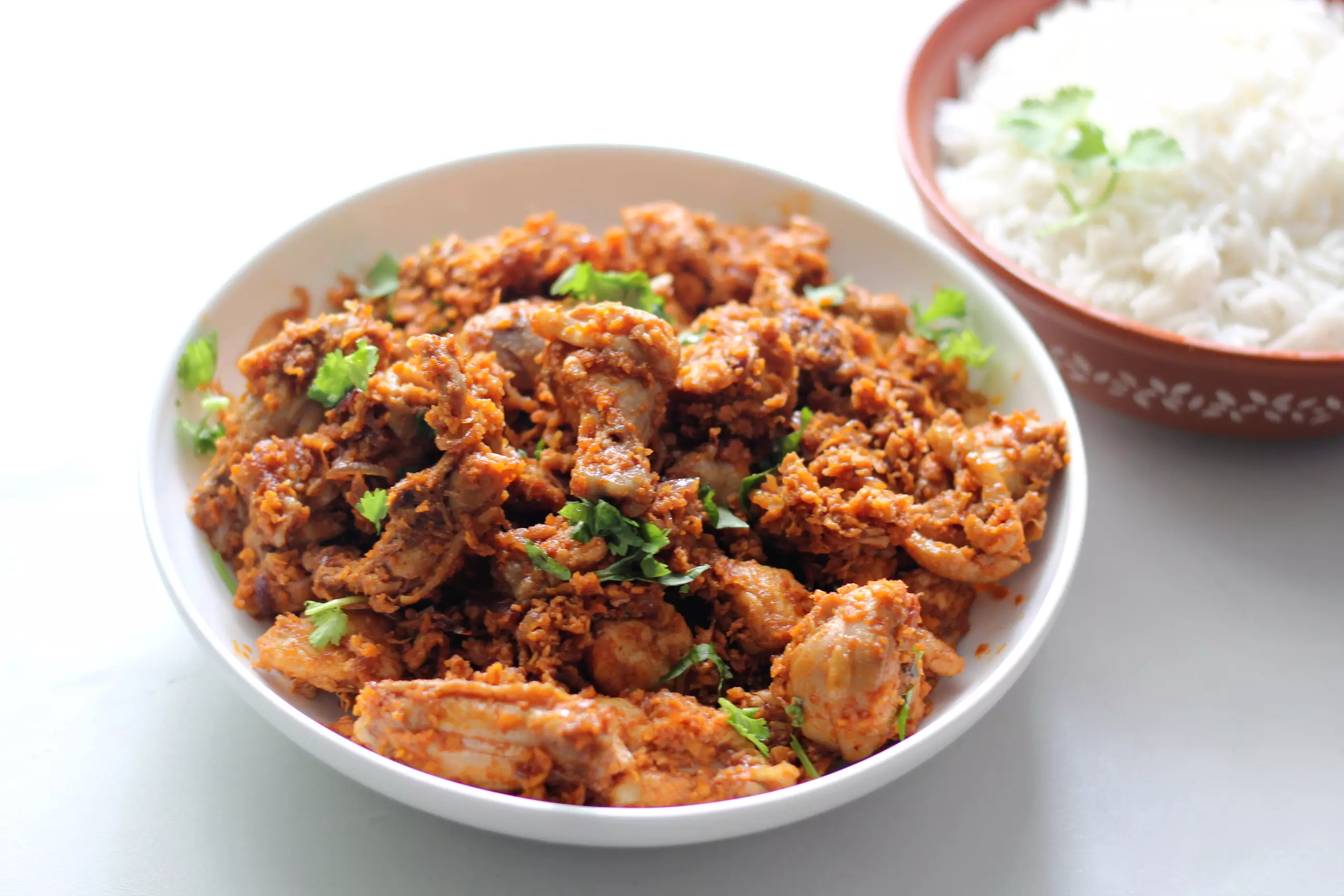 Pin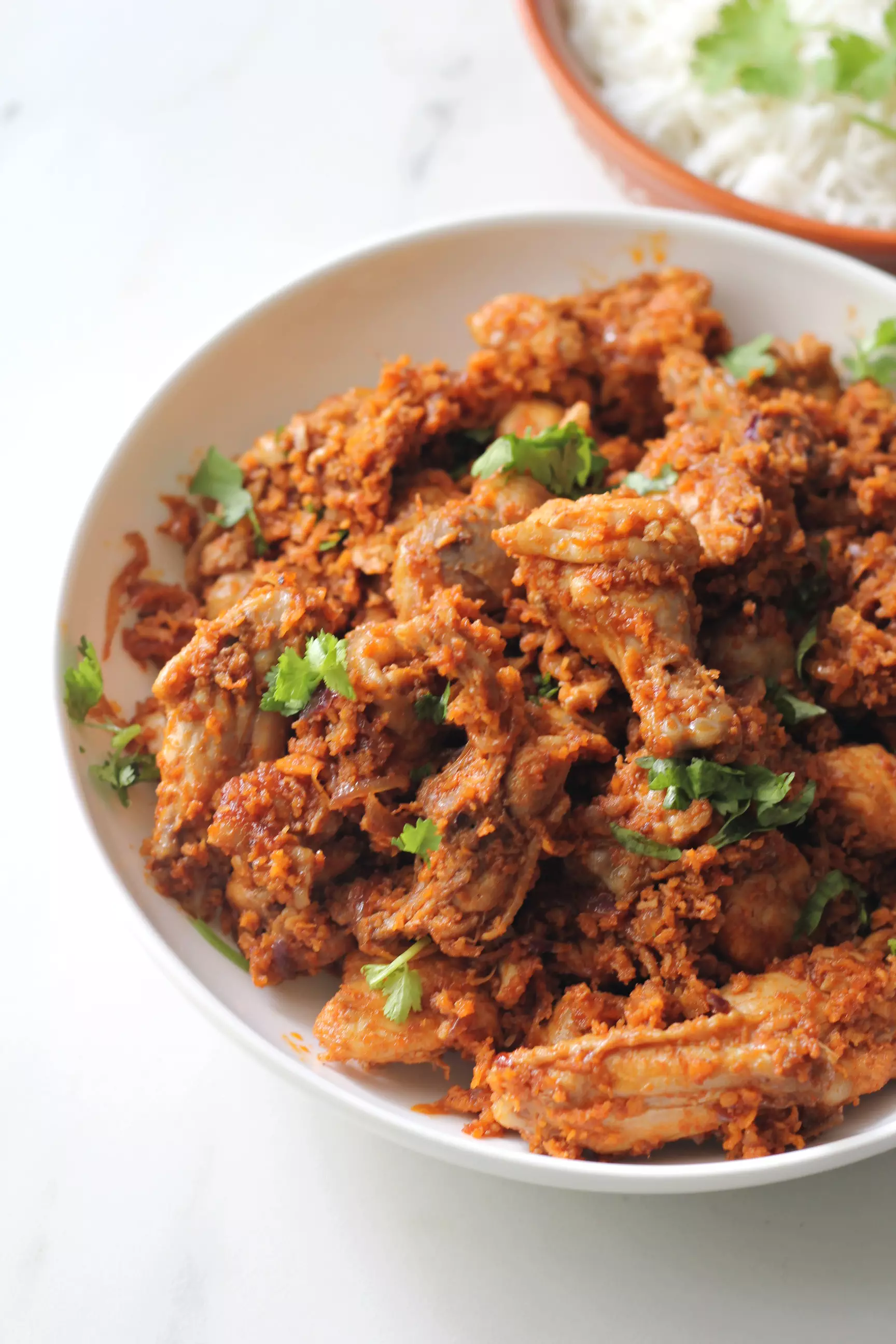 Pin
If you liked this recipe, save it for later on Pinterest!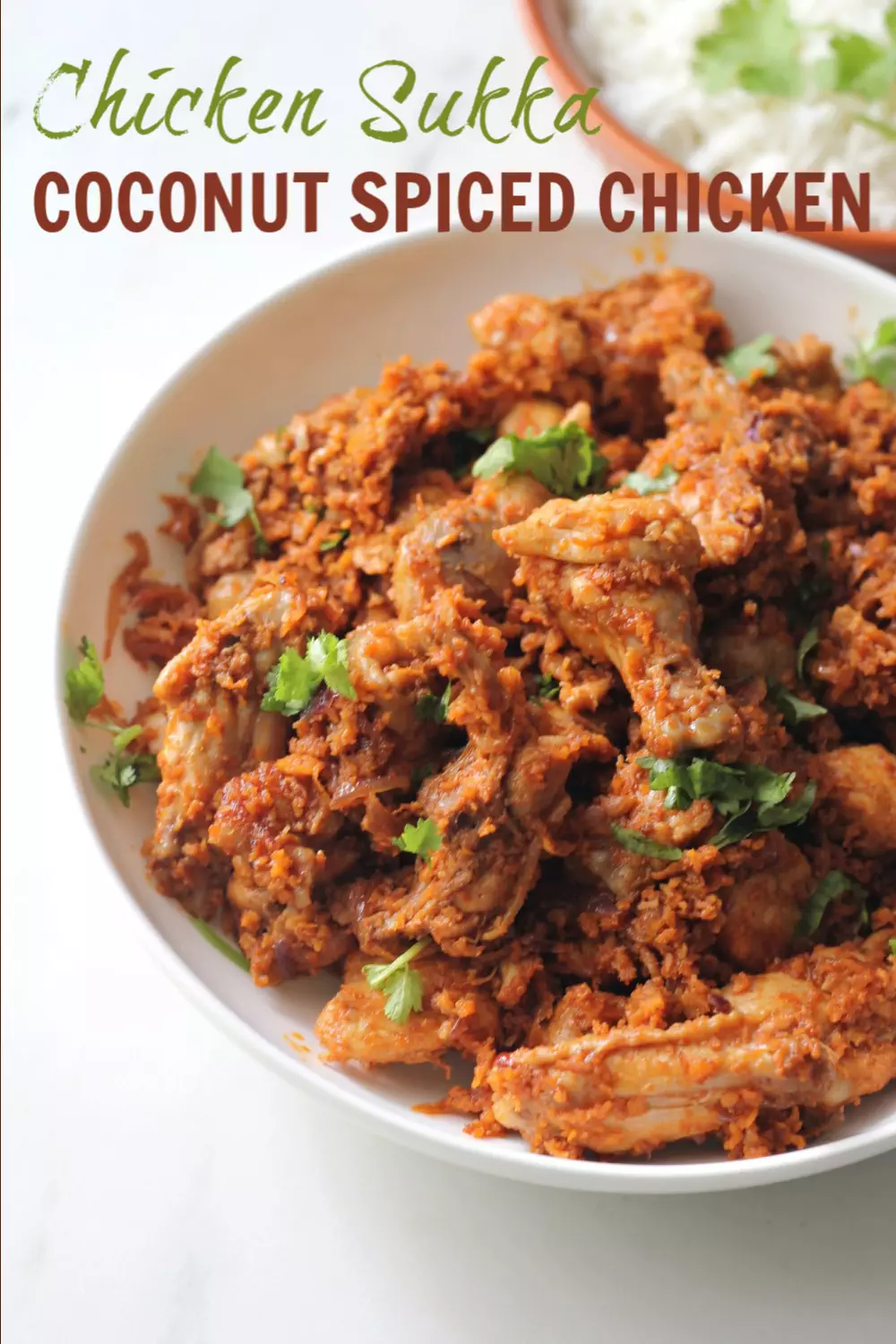 Pin
Here's the video of how to make Chicken Sukka ! I hope you enjoy it!
If you liked this video please do subscribe to my channel! Also, like, share & comment on it! It will really really motivate me to shoot more videos!
Chicken Sukka | Using Bafat Powder
Chicken Sukka or Kori Ajadina is a popular Mangalore-Udupi style dry chicken dish made with spices and lots of coconut . It tastes best when made with roasted spices. This method is a quick fix using a ready made spice blend known as the bafat powder
Print
Pin
Rate
Ingredients
1

kg

chicken on the bone

with or without skin

1

small ball of tamarind

1

" stick of cinnamon

2

cloves

2-3

tablespoons

of oil for frying

1

cup

of sliced onions

about 1 medium sized onion

1

cup

grated coconut

1-1/2

teaspoons

thick tomato paste

3

teaspoons

of bafat powder

salt to taste
Instructions
Cut the chicken into small/bite sized pieces. Wash well and drain it on a colander

Soak the tamarind in a little water for about 10 minutes and then extract the pulp.

Pre-cook the chicken by adding it to a pan. Add the cinnamon, cloves & salt to taste. Mix well & cook till the chicken is tender. Retain the stock and keep it aside.

Heat the oil in a pan, add the sliced onions and fry until they turn translucent. Do not brown them or they will begin to caramelise and taste sweet.

Add the grated coconut and fry on a low heat till the colour changes to a pale brown

Add the tomato paste and fry it along with the rest of the mixture. Reduce the heat to a low and add the bafat powder. Continue to fry on a low heat and then add half the tamarind extract. You can add the rest later if required.

Now add only the cooked chicken pieces without its stock. This will help us get a nice dry texture.

Add the stock in parts, a ladleful at a time and cook the chicken on a medium heat. This process will help the masala to properly absorb all the stock without making the dish too watery.

Taste the masala and add more salt, bafat powder or tamarind extract as required. If there is any stock remaining, add it now, cover the pan and and cook the chicken on a high heat for two minutes. This is to ensure that you are left with dryish yet juicy chicken sukka.

When the chicken is tender and almost all the liquid has been absorbed, take the pan off the heat.

Serve hot with neer dosa (panpolay), rice or chapathis.
Disclaimer
The nutritional values are only indicative.
Tried this recipe?
Please leave a comment & rate the recipe below or share a photo on Instagram and tag me @ruchikrandhap