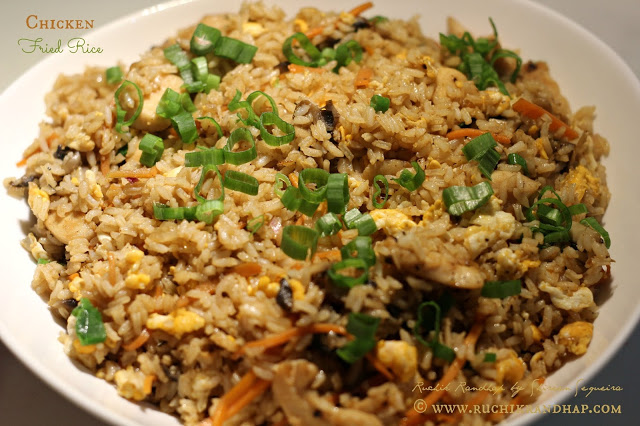 I am back with another post today, a simple chicken fried rice that the hubby put together a few days ago when we were eating leftovers for lunch and had nothing in the fridge for dinner. That's when he came up with this idea to use up some leftover rice. Perfect! Chop chop chop he went and 30 minutes later we had a pot of delicious, melt in the mouth fried rice to be walloped down!
Since I don't want to carry forward too many recipes into the next year I decided to post as many as I could in the coming few days so don't be shocked! I am not cooking everything in one go, it's just that I like to post the recipes when I have the time. The upcoming holidays on the occasion of the UAE National Day looks very promising as I will enjoy baking some new recipes – the love of my life! I hope I don't pile on too many kilos though! Anyway, when I am busy baking some simple one pot meals like the curd rice or fried rice come to my rescue. So here is a simple, delicious one pot meal that you can whip up this festive season when you have guests on short notice and the Chinese take away won't deliver home on time!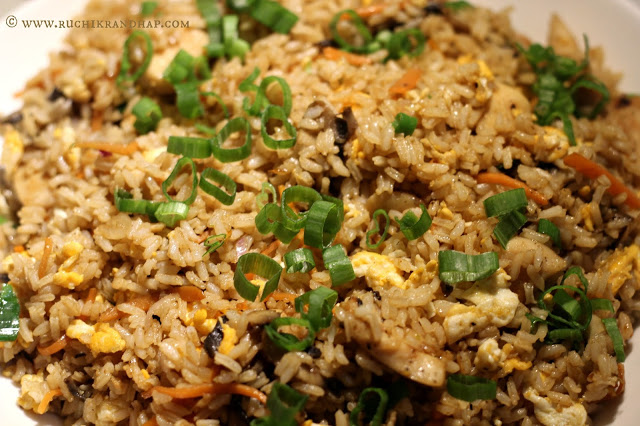 Chicken Fried Rice
Prep time: 15-20 mins | Cook time: 15 mins | Serves: 3-4


Ingredients:
2 eggs, lightly beaten
4 cloves garlic, minced
1/2 onion finely chopped
1/4 small carrot, cut julienne
3 mushrooms thinly sliced (optional) * see notes
Salt and pepper to taste
Oil for frying
For the rice:
4 cups of cooked white rice
1 tablespoon dark soya sauce
1 tablespoon of light soya sauce
1 teaspoon sesame oil
salt and pepper to taste
For the chicken:
200 grams boneless chicken, thinly sliced into 1/2 inch pieces
1/2 teaspoon dark soya sauce
1/4 teaspoon of sesame oil
1/2 teaspoon honey
1 teaspoon cornflour (cornstarch)
1/4 teaspoon rice wine vinegar
Salt and pepper to taste
Method:
1. In a bowl marinate the cooked rice with all the ingredients mentioned under 'For the rice'. Keep aside for at least 15 mins. In another bowl marinate the chicken with all the ingredients mentioned under 'For the chicken'. Keep aside till required (for at least 10 mins)
2. Heat 1 tablespoon of oil in a wok on a high heat. Add the marinated chicken and fry till it is tender – this should not take more than 2-3 mins. Remove and keep aside
3. Add more oil to the wok and pour the beaten eggs and scramble them into bite sized pieces. Add salt and pepper to taste. Remove and keep aside.
4. Quickly wipe the pan with a kitchen tissue and heat some oil again. Fry the onions and garlic for about 15 seconds each and immediately add the mushrooms or other vegetables, salt and pepper to taste and cook them on a high heat for 30-40 seconds or till the veggies are done.
5. Add the marinated rice and fry it on a high heat.
6. Add the fried chicken and eggs and mix well. Garnish with springs onion greens and serve hot
Notes:
You may use any vegetables of your choice. We used whatever was available in the fridge.