It's been a nice weekend. Completed all the tasks I had jotted down on my to-do list. Well most of it. I somehow can't stand clutter, but always seem to postpone the task of actually tackling it 🙂 So I am happy I achieved a lot in these two days. While I am at it, I thought it would be good to post one of my recipes that have been sitting in my drafts for way too long.
I made these mini quiches on Aug 15th, Independence Day for breakfast. Hubs was out of town & the little fellow was going to be the food critic of the day, so I hunted for some recipes on the net & came up with a simple recipe. The trick was to get him to eat some veggies which he had (and still has been) dodging for quite some time now. It was a great way to put the mushrooms & spinach I had in my fridge to good use.
The bright colours, coinciding with the colours of the Indian Flag (Orange Cheddar Cheese, White Mushrooms & Green Spinach) were not only a feast for the eyes but also tasty & an easy meal. I tried them a couple of times since then with a few changes to the ingredients & quantities. Replaced dried herbs with fresh ones & they still tasted great. You can go ahead & add some shredded/minced Chicken, Ham, Bacon or Sausages if you please. Go creative!


Quiche (pronounced 'Keesh') is an open baked pie that is made with a pastry crust and includes ingredients such as eggs, meat, vegetables and cheese. Although it is part of classic French cuisine, the word 'quiche' originally derived from German means 'Cake'
The mini quiche is a perfect appetiser or starter at a party & can also be eaten as a meal for breakfast, lunch or dinner.


Cheese, Mushroom & Spinach Mini Quiche
You Need
12-15 mini tart shells*see notes
3 tbsp Parmesan cheese
5 small button mushrooms
7-8 medium size spinach leaves
1 small onion (lime size)
4 cloves (Indian) garlic
2 small eggs
salt to taste
pepper to taste
paprika (chilli flakes) to taste
dried herbs – a sprinkling (I used a mix of rosemary & oregano)
2 tsp olive oil or unsalted butter
sharp cheddar cheese grated (as required)* see notes
Method:
1. Wash and drain the spinach leaves and shred them finely. Finely chop the mushrooms and mince the onion & garlic. Keep aside.
2. In a wok heat some oil or butter and fry the onions till translucent. Toss in the chopped garlic & herbs. Add the mushrooms and fry for 1 minute or till they slightly brown. Add the shredded spinach and fry till the leaves turn limp. Add salt & pepper to taste and fry for 30 seconds. Turn off the flame and allow to cool.
3. In a mixing bowl, beat the eggs, add the Parmesan cheese, paprika and blend well to ensure there are no cheese lumps. Add the spinach, mushroom mixture and mix well.
4. Preheat oven at 175C. Place the tart shells on a slightly greased baking tray or muffin tin. Pour out approx 1 tbsp each of the prepared mixture into the shells. Sprinkle grated cheddar cheese on the surface.
5. Bake for approx 15-17 minutes or till the centre looks fluffy & surface looks golden. Remove and cool for a few minutes
6. Serve warm!
Notes:
1. I used tart shells the size of small cup cake liners. A pack of 12-15 tart shells is available for about Rs100 at well stocked stores/bakeries & supermarkets. I bought a pack at Godrej Nature's basket in Oshiwara. If you live in Mumbai, you can also find them at Warden [email protected] Lokhandwala Market & [email protected] Malad West
2. If you do not have a block of cheese that you can grate or ready grated cheese you can even use cheese singles and shred them fine. The cheese will melt anyway, so use the cheese of your choice.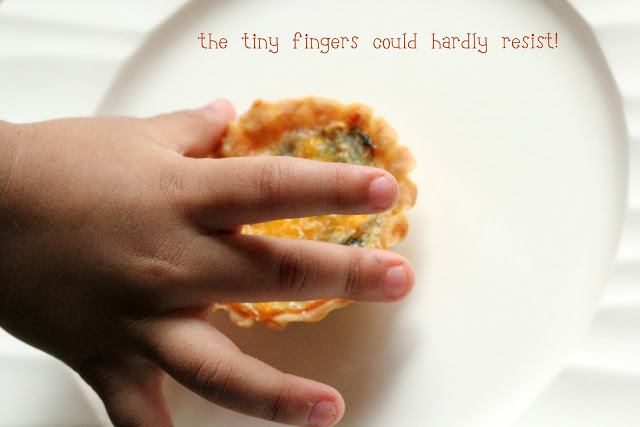 Pin