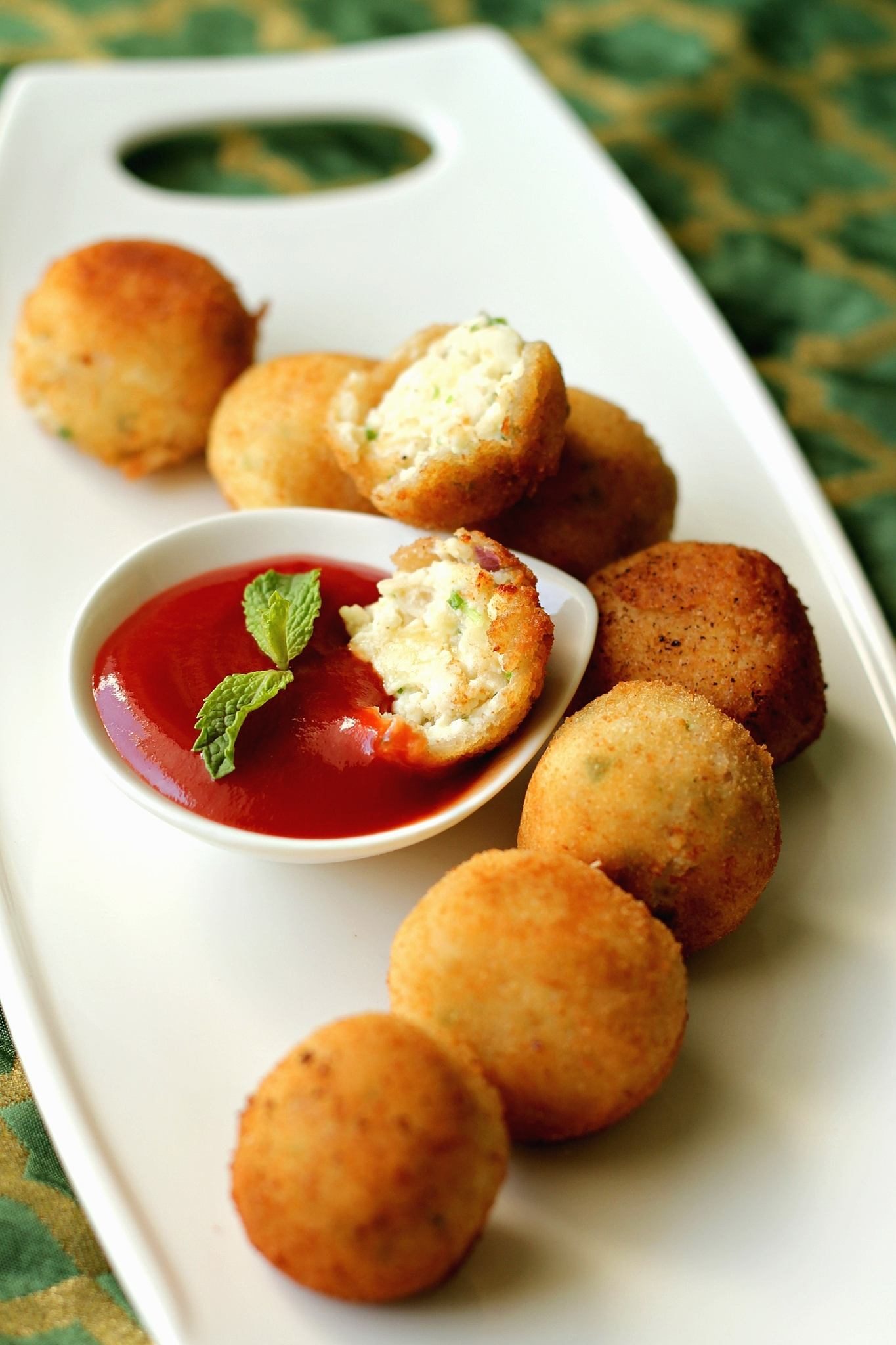 Pin
Cheese balls always remind me of Mumbai. Let me tell you why. When I was in Mumbai a few years ago I had the opportunity of learning a few cooking tricks and recipes from a cook that we had hired temporarily when the family she was working for went on vacation. Sangeeta was a self-taught cook who was super quick at her work. As is the norm in the metros and perhaps other busy cities in India, most people hire domestic helpers, nannies, cooks and drivers to help them with their busy lives. The number of employees hired may not be directly proportional to their income or social status. It would be fair to say that in most cities it is the norm, as many households are blessed with a double income and labour is cheap and in plenty. Although during my entire time in Mumbai, I never had a cook except for the one month that I mentioned above, I saw almost all of my neighbours and friends having a daily chore schedule for domestic helpers and cooks (yes, they would have several) would be hustling and bustling about their homes.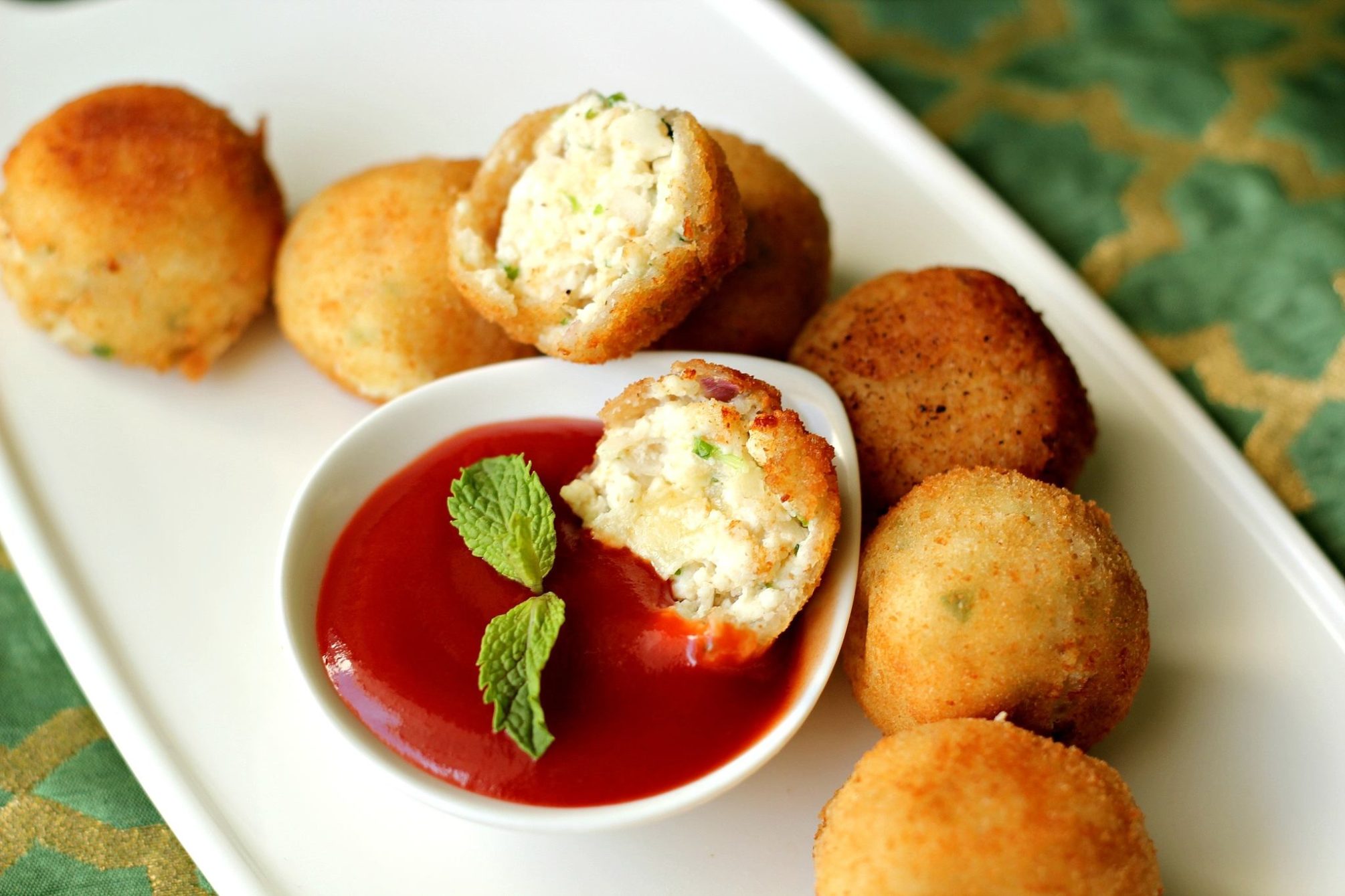 Pin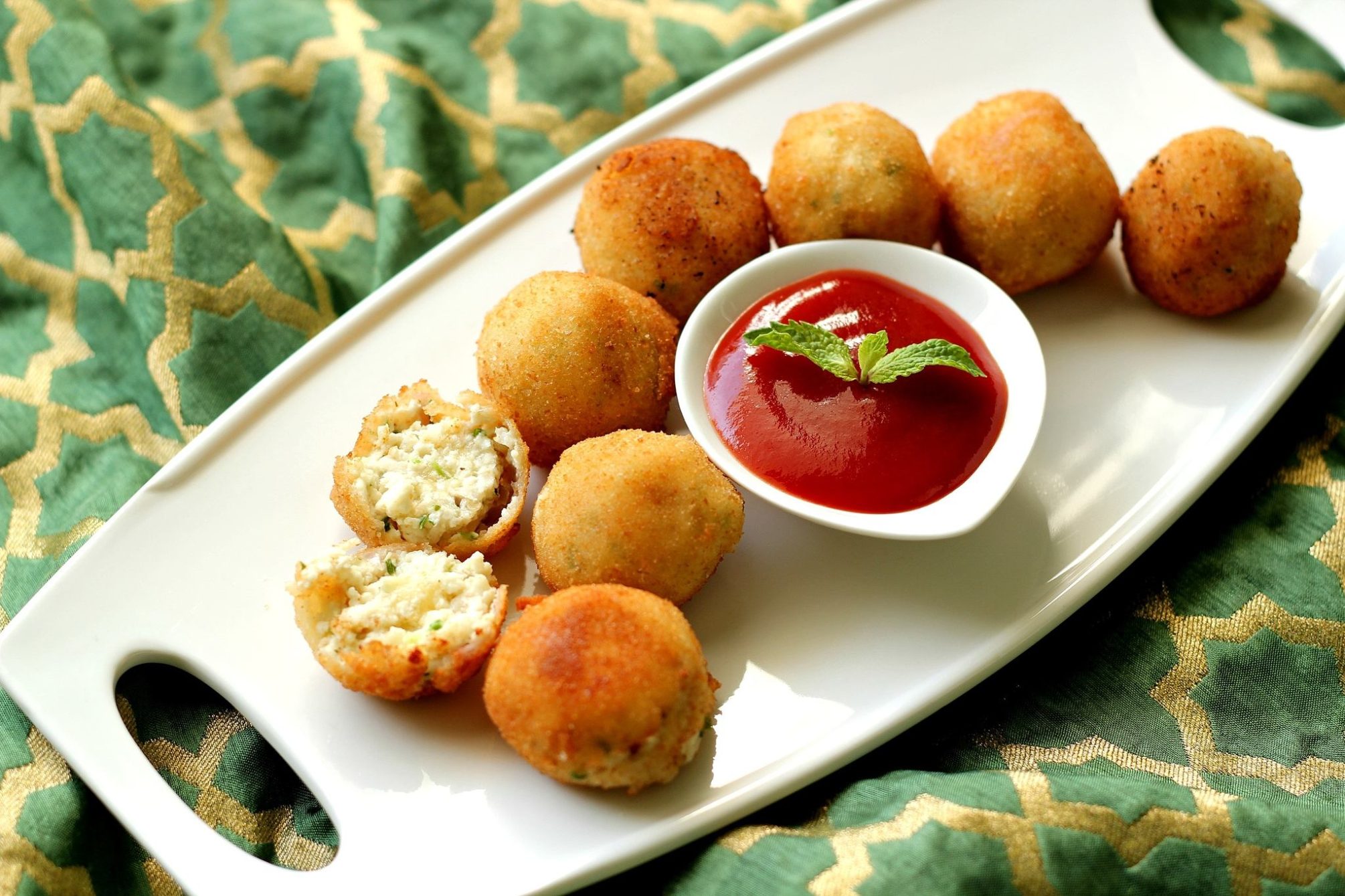 Pin
So this particular lady that I was talking about would come in by 9 am and get breakfast ready for us. She would then proceed to make chapathis and two side dishes, a veg and a non-veg dish after which she would leave the house by around 11 a.m leaving the sink and kitchen sparkling and spotless. Being a super slow cook in those days I was always in awe of the speed with which she worked. We once hosted a party and I requested her to assist me and she taught me a couple of recipes for appetizers. These cheese balls were one of them.
Cheese balls are always a hit during any party as kids love them. They are slightly laborious to make because of all the deep frying but if you have a helping hand you'll be sorted and plus you can plan ahead and prep up the previous day or at least a few hours ahead of time and you are good to go. I do hope you give these cheese balls a try. I'd love to know how you liked them so do drop me a mail at [email protected]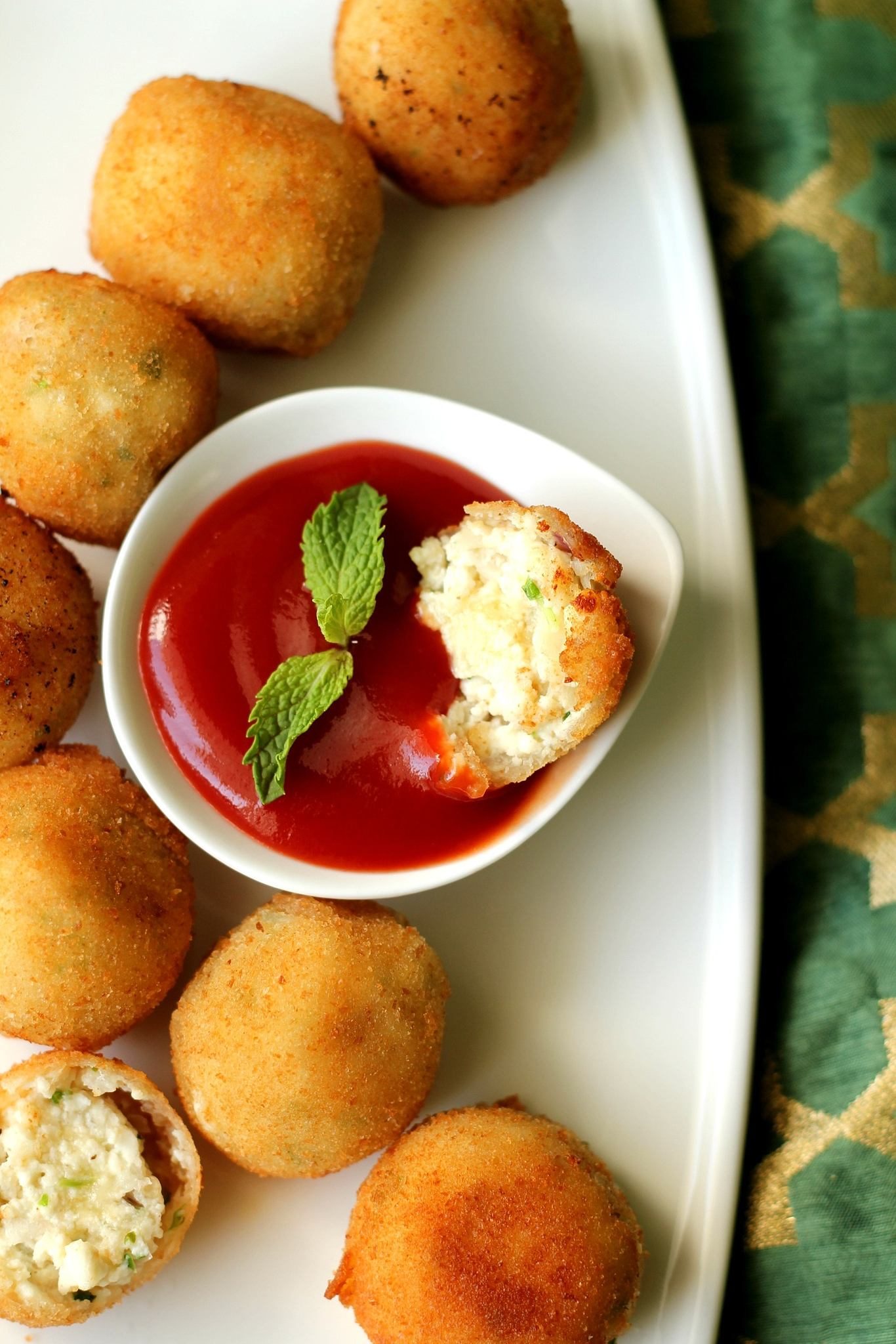 Pin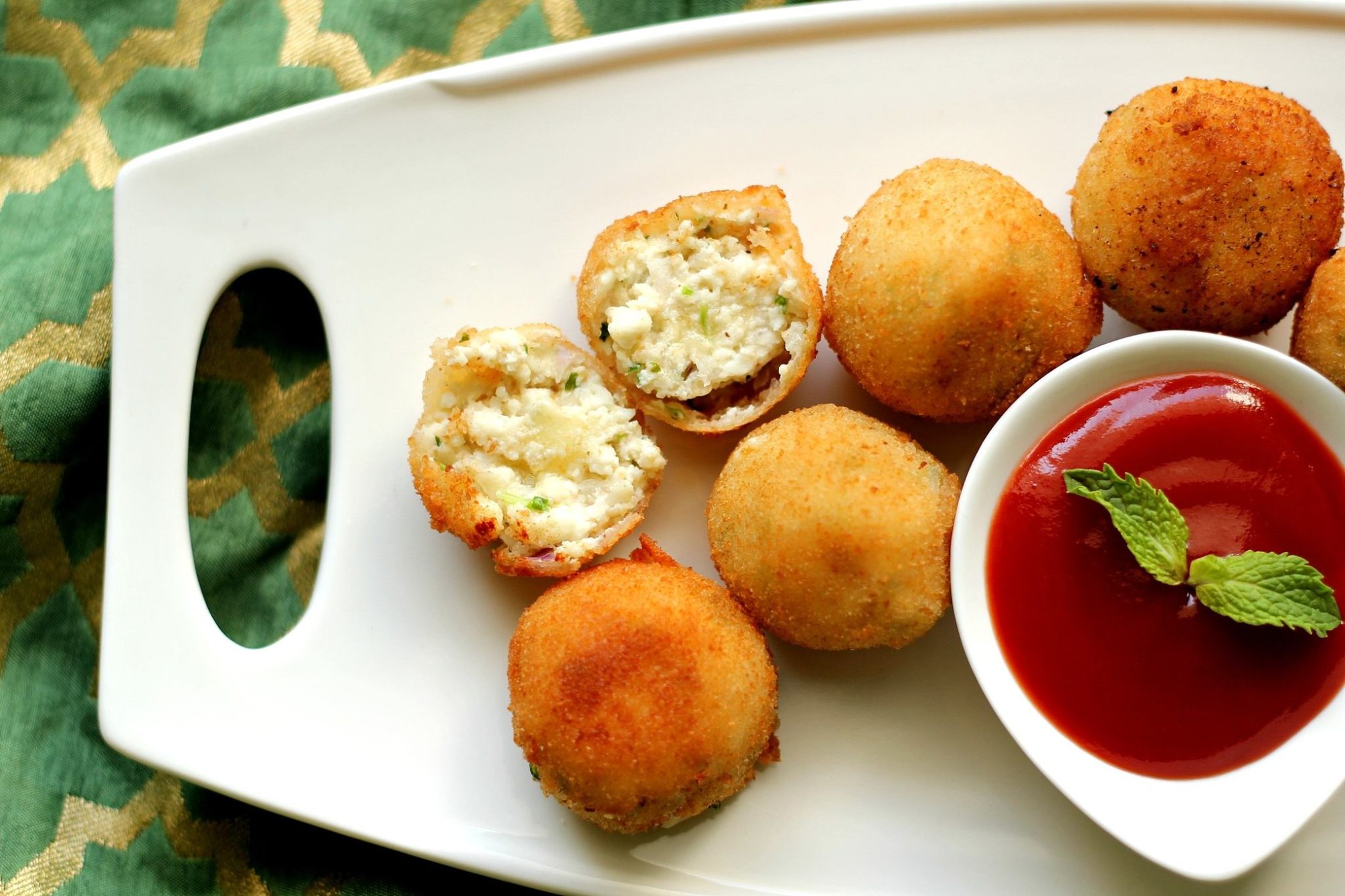 Pin
Cheese Balls
Cheese balls make for a great starter at any party. Serve these at a kids party and watch them disappear!
Ingredients
150

grams

approx 1 cup crumbled paneer (cottage cheese)

2

tablespoons

breadcrumbs

2-3

tablespoons

grated cheddar or mozzarella cheese

1

medium-small onion

finely chopped

1

green chilli

adjust to taste

1

tablespoon

coriander leaves

finely chopped

2-3

drops of lime juice

1/4

teaspoon

garam masala

1/4

teaspoon

chat masala

salt & pepper to taste
To stuff:
tiny cubes of cheese

optional
For the coating
3

tablespoons

cornstarch

cornflour

3

tablespoons

all purpose flour

maida

salt to taste

pinch

of red chilli powder

1/4

cup

water

or as required to make a thick batter

1

cup

breadcrumbs
Instructions
Place the cornstarch and maida in a shallow bowl or flat plate. Sprinkle a little salt and a pinch red chilli powder and mix everything well. Keep a small bowl handy and approx 1/4cup of water. Once the cheese balls have been rolled into the cornstarch & maida mixture we will make the batter out of the remaining flour mixture. In another plate spread out the breadcrumbs

Place the crumbled paneer, grated cheese, finely chopped ingredients (onions, green chillies, coriander), breadcrumbs, lime juice, salt, pepper, chat masala & garam masala into a bowl. Bring everything together and make gooseberry (amla) sized balls out of the mixture. Roll adequately to prevent the balls from breaking. If you wish you may insert a tiny cube of cheese in the centre of the cheeseball and seal it once again by rolling it.

Roll each ball into the cornstarch & maida mixture. Keep all of them ready for the next step. If you feel that the cheese balls are a bit too soft to handle you may refrigerate them for 20-25 minutes. Otherwise, proceed to the next step

Transfer the remaining flour mixture to a small bowl and add water (approx 1/4 cup) part by part and mix till you get a batter of medium thickness (if you pour it, it should fall in a steady stream). Keep a spoon and a fork handy

Now gently drop the cheese balls into the bowl of batter. Using the spoon, coat it adequately with the batter a couple of times. Gently lift the coated ball and place it on the fork which you will hold with your other hand. This way, the excess batter will dribble away.

Transfer the batter coated ball to the plate of breadcrumbs and coat it thoroughly using a light hand (take care to see that the cheese ball doesn't break). Repeat the process till all the cheese balls have been coated. At this point, you may either refrigerate them till you are ready to fry them or place them in an airtight, freezer safe box and freeze them for later use.

To deep fry, heat sufficient oil on a medium high in a deep kadai/saucepan. When the oil is hot but not smoking, gently drop 4-5 cheeseballs into it. Fry until golden brown, then using a slotted spatula transfer them on an absorbent kitchen tissue.

Serve hot with melted cheese, ketchup, green chutney or any dip/accompaniment of your choice
Recipe Notes
You may also add 1/2 cup of pre-boiled (or steamed) and coarsely ground corn kernels to the paneer mixture. It tastes delicious. You can use fresh, frozen or canned kernel. Just make sure it is ready to eat. For best results and if you own one, use a chopper to chop the onions, green chillies and coriander leaves. The finer the chopped texture the less crumbly the cheese balls will be. If the paneer is too dry and crumbly and you are unable to roll it into balls, just add 1 teaspoon of hot milk at a time and knead till you get the desired results.