Advent has officially begun yesterday, Sunday, the 29th of November. Advent marks the beginning of the Christmas season and calls for all the faithful to prepare spiritually. This is also the day when most homes put up their Christmas trees and decorate their homes in the colours of the yuletide season. No prizes for guessing how we spent our day yesterday! Yes! Our Christmas tree is up – standing tall and pretty. Most of the home has been decluttered and dusted and reorganized. The rest of it will be sorted over the next few days when the UAE will celebrate its 44th National Day on the 2nd of December. It is celebration time here in Dubai and what better than to welcome the season with some yummy cake pops!
Cake pops were invented I am sure, out of sheer necessity to get rid of or upcycle leftover cake or cake crumbs. When I made my daughter's
birthday cake
last month I was left with a ton of cake crumb – from the trial cakes and the actual birthday cakes (I made two tier cakes for the trial and actual cake – so you can imagine the amount of crumbs I was left it). I didn't think of making cake pops right away but then when I was decluttering my fridge I didn't have the heart to discard the crumbs. The ganache that was used to frost the cake was also used up in this fabulously simple, child friendly delight!
Cake pops are a great way to reuse leftover cake. No matter what the flavour of the cake you can always jazz it up with melted chocolate or condensed milk and get all creative while decorating the cake pops! These are also known as chocolate cake fudge balls if you don't intend sticking them up a lollipop stick.
These fudge balls will look fabulous on your party table and delight people of all ages. Kids will totally adore them!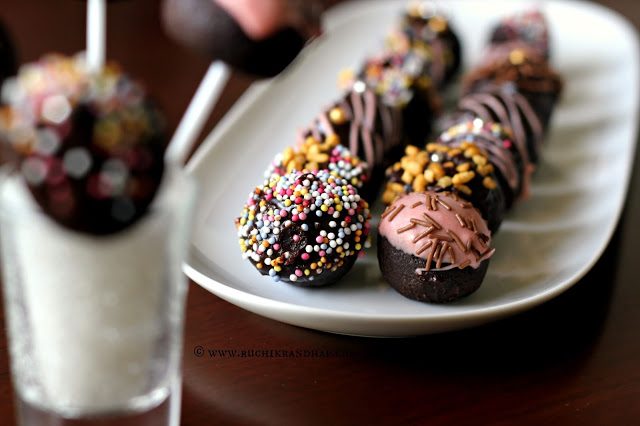 Pin
If you don't have lollipop sticks just use small cupcake liners to present them or simply place them on a fancy plate. You can make them ahead of time as the decoration of these cake pops will take you some time (dipping each of the cake balls into melted chocolate and then sprinkling the edible decoration on top). Do involve your little ones in this every enjoyable and tempting process. Don't complain if half the cake pops gets over before you are even done! 🙂 Enjoy everyone!
Click the image below to save this recipe on Pinterest!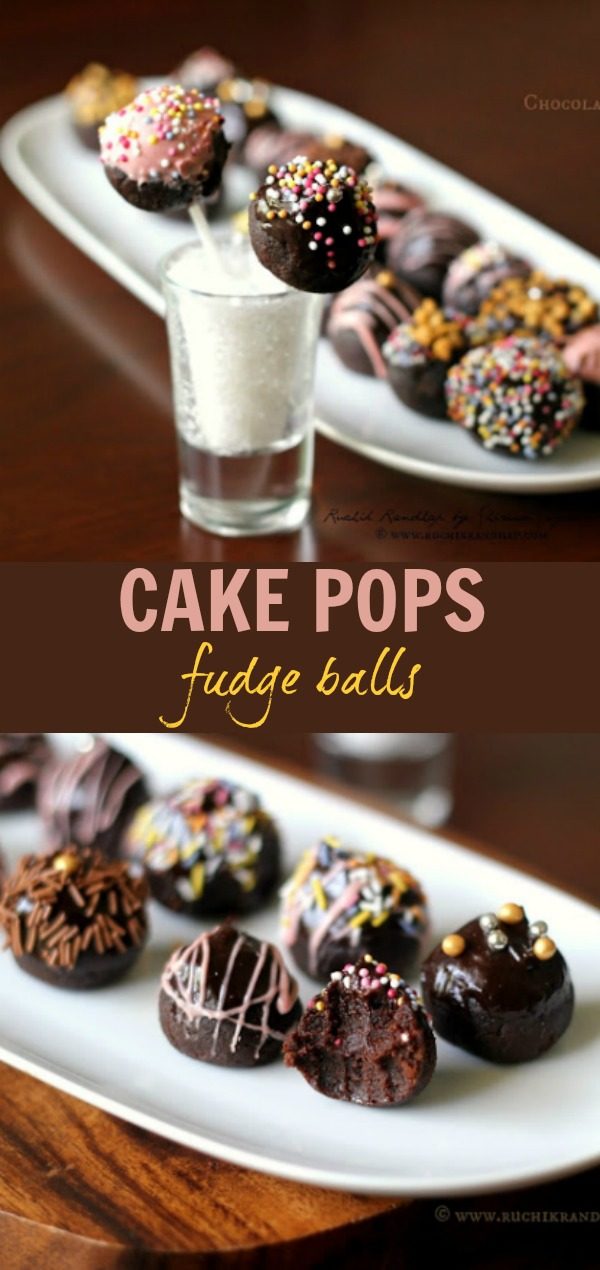 Pin
Cake Pops ~ Chocolate Cake Fudge Balls
Cake pops are a delightful treat and a great way to reuse leftover cake! They make for great Christmas gifts too! 
Ingredients
5

cups

cake crumbs * see notes

1

cup

chocolate ganache * see notes
To coat:
1/2

cup

coarsely chopped semi sweet chocolate

1/2

cup

white chocolate

optional

A drop of red powder or oil based food colour

optional * NEVER use water based colour

Cake sprinkles/sparkles or silver/gold dragee

or any other edible decoration * see notes
Others:
Cakepop/lollipop sticks

optional
Instructions
In a large bowl mix the cake crumbs and 3/4th cup of the chocolate ganache and mix well. Add the remaining ganache only if the mixture still seems dry. Depending on how moist the cake crumbs are you may or may not be required to use up all of the ganache. The mixture must be moist yet dryish enough to help you roll it into small balls. Place the rolled balls on a plate by lightly pressing down to form a base (not too flat though) - this will help you place them back on the plate to dry once they have been dipped in chocolate. You can help them harden faster by popping the plate in the fridge for 30 mins if you live in a warmer climate

To make the coating, place the chopped chocolate in a heatproof bowl and place the bowl on a saucepan with barely simmering water. Take care to see that the base of the bowl does not touch the water beneath. The sides of the bowl should be tall enough to prevent even the steam from getting into the chocolate or else the steam or water will cause the chocolate to seize and harden almost immediately. If you wish to use another colour of chocolate then melt the white chocolate accordingly and add the required amount of food colour to achieve the desired colour.

When the chocolate has melted and looks glossy (and reaches pouring consistency) gently dip the chocolate balls one by one using either a cake pop stick or just your fingers. If you have used a cake pop stick then make sure you can place the stick on a firm base to help the melted chocolate dry up. If you are using your fingers to hold the cake pops then the flat base will help you place it back on the plate or wire rack.

Decorate with cake sprinkles or any edible decoration of your choice and let the chocolate cool completely. Serve or store in an airtight container
Recipe Notes
1. I used cake crumbs that I got from levelling off the tops of the Traditional Chocolate Cake that I had baked for my daughter's birthday. You can use any leftover cake - vanilla or chocolate sponge. Two medium sized chocolate cupcakes yield 1 cup of cake crumbs. You can also substitute cake with crushed wafers or biscuits - just adjust the consistency of the mixture by adding a few drops of milk at a time in addition to the ganache as wafers and biscuits are dryer than cake. 2. To make 1 cup of chocolate ganache, just place 2/3rd cups of coarsely chopped semi sweet chocolate or choco chips in a bowl and pour 1/3rd cup of cream that has been heated till the bubbles just appear. Cover the pan of chocolate on which the cream has been poured and after a few minutes you will notice that the chocolate has begun to melt. Stir to remove any lumps. 3. Cake sprinkles are available in any cake decorating shop or a well stocked supermarket. I found lovely cake sprinkles by different brands at Lulu supermarket, Carrefour, Wilton stores (Tavola) and Baquer Mohebi here in Dubai.