One of the many things that coastal Karnataka especially Mangalore is famous for is cashew. The tropical climate suits this plant well. However since many farms and lands have now vanished to make way for residential and commercial buildings many cashew factories have shut shop or been let out for the manufacture of other things. While the cashew apple (the fruit) is in demand for the manufacture of feni (liquor) the nut is shelled and sold. The empty nut shells are also processed to extract oil that is used in developing drugs, antioxidants , tropical medicine and for anti termite treatment of timber. So many uses from one plant, isn't it?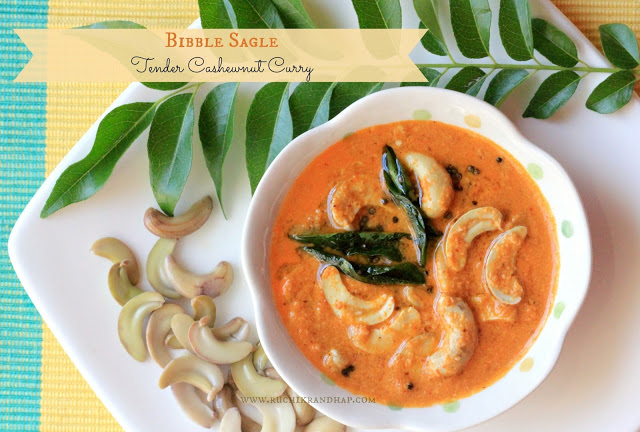 The most precious of all the uses, from a culinary perspective then would be that of the cashew nut – cooked when it is still tender. The Mangalorean Konkani (GSB & Non GSB) community particularly enjoys this preparation – of cooking pre maturely plucked cashew nuts in a mildly spiced coarse gravy made of ground coconut. With just a few ingredients on hand a beautiful curry is prepared and enjoyed with every bite! I am sure that my Konkani friends are actually salivating at the thought of even tasting this amazing dish 🙂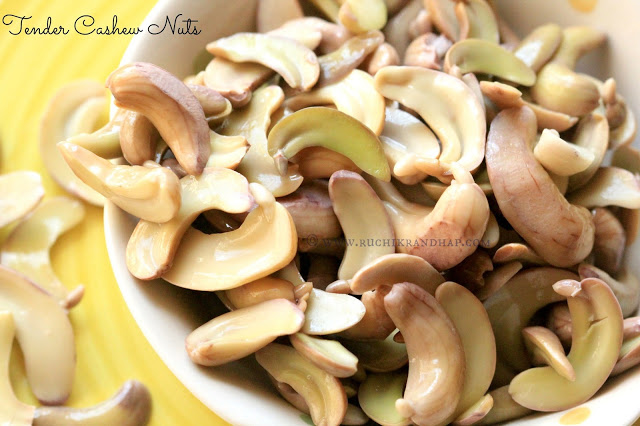 To be honest I had never paid much attention to the bibbo (tender cashew nut) during my growing up years in Mangalore. It is just recently that I was fascinated with this dish after my dear childhood friend Veda Pai mentioned it to me. I was having a casual chat with her about summer foods – delicacies & favourites and she asked me if I had ever tried this dish. Since I knew that my mother was going to come from Mangalore, I quickly phoned her and asked her to bring me some tender cashew nuts if they were available. Mum went straight to the Flower Market on Car Street, Mangalore and found just one vendor selling a couple of batches of it – "they are expensive ma'am" he said, "One reason why we don't keep too many packs and plus they spoil fast" he added. True that. Mum bought two packs of 100 cashew nuts each. Each pack costing Rs 110 (gasp!). Well yes, I know what you are thinking. I didn't waste even a drop of curry, not because I am stingy, but because such delicacies are hard to come by.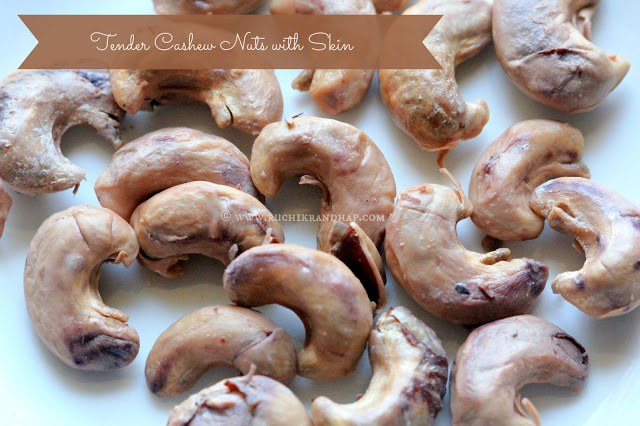 (Peeling process done by Mum)
Bibbe Sagle (pronounced Bibbay Saglay)
The best part about this dish is the way I prepared it. Without having tasted it, I got a full lesson in how it was to be prepared. Virtually! Thank God for Whatsapp, a mobile application that lets you chat with your phone contacts, Veda and I were found discussing everything from where the cashew nuts need to be purchased from to the way they need to be peeled. From how the texture of the ground masala should be to how a minor error in the consistency of the gravy could mess it up. Every minute detail was sought and given. Pictures clicked, shared, approved. Instructions, tips, suggestions followed by congratulatory messages and a virtual standing ovation (that both of us gave for this beautiful creation)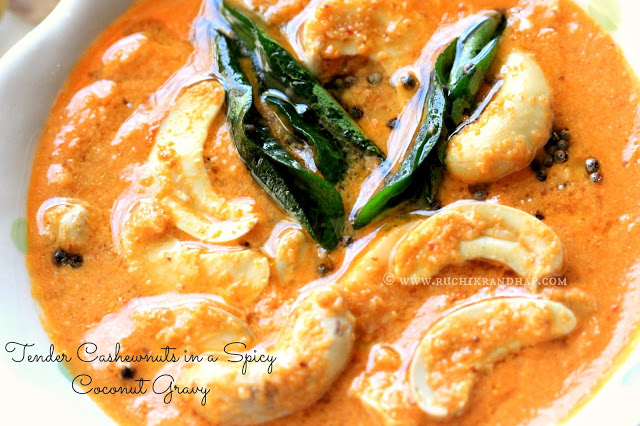 I am glad that I had so much help from her otherwise I may have never attempted it. Especially because cooking tender cashew nuts can be tricky. If you under cook them, they can taste a bit raw and over cooking them will ruin them beyond repair – they will simply dissolve into the curry.
So a BIG THANK YOU to you my dear Veda, for your patience and all the fine details. And by the way, if I haven't mentioned it yet, Veda happens to be one of the oldest (not by age!) friends I have. I have known her since I was 5 – so my next recipe will be to toast this great bond of friendship that has lasted over 3 decades! For now, hope you are able to find some of these tender cashew nuts! Celebrate summer with this dish, but remember not to eat too much. Cashew nuts are 'heaty' and can upset your tummy if you eat too much!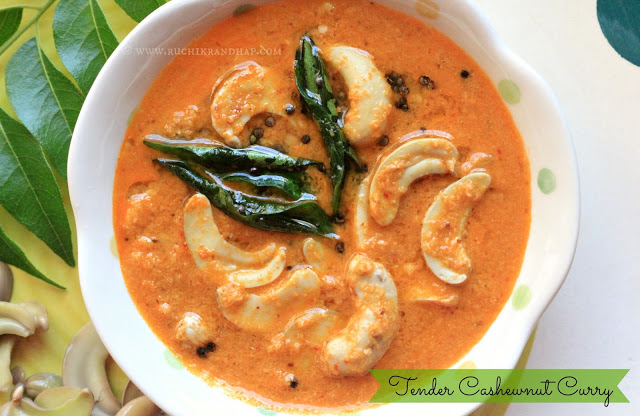 About the dish
A seasonal and much loved curry made of tender cashew nuts stewed in a very basic coconut gravy – made with very few spices. The trademark of Konkani cuisine is the red chilli lightly fried in coconut oil before being ground along with the coconut. This imparts a unique taste to the gravy. Simple, delicious and so very satisfying. Savour every drop of this curry with some freshly steamed and piping hot rice!
Bibble Sagle – Konkani Style Tender Cashew Nut Curry
Prep time: 15 mins | Cook time: 20 mins | Serves 2
You Need:
2/3 cup (or a pack of 100) tender cashew nuts
3 long dry red chillies (preferably Bedgi/Byadge)
3/4th cup grated coconut
1/2 tsp fenugreek (methi) seeds
2 tsp coriander seeds
a marble sized ball of tamarind
salt to taste
1 teaspoon coconut oil
For seasoning
2 teaspoons coconut oil
1/4 teaspoon mustard
1 sprig of curry leaves (kadipatta)
Method:
1. Heat 2 teaspoons coconut oil in a small pan & roast the chillies, fenugreek  and coriander. Remove and grind them along with the coconut and tamarind to a coarse paste of chutney-like texture. Do not grind too much or make a fine masala. Retain the masala water from the mixie.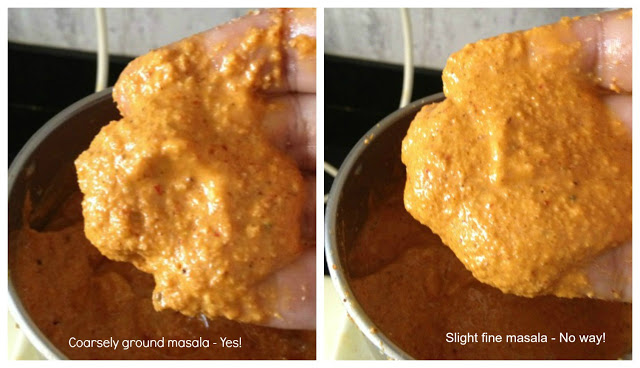 Pin
2. Cook the tender cashew nuts in 2 cups water for about 5-8 mins or till tender. Ensure that they are not overcooked or they will break and dissolve in the curry. Drain off the water and keep the tender cashew nuts aside
3. In a separate pan add the ground masala and the water from the mixie and bring it to a boil. Add salt to taste and adjust the consistency of the gravy to medium thickness. Add the precooked cashew nuts and bring it to a boil. Turn off flame and cover the pan.
4. To season, heat coconut oil in a small pan and toss in the mustard, when they stop spluttering add the curry leaves, reduce the flame and add this seasoning to the gravy. Cover the pan immediately to retain the aroma of the seasoning.
5. Serve hot with piping hot rice.