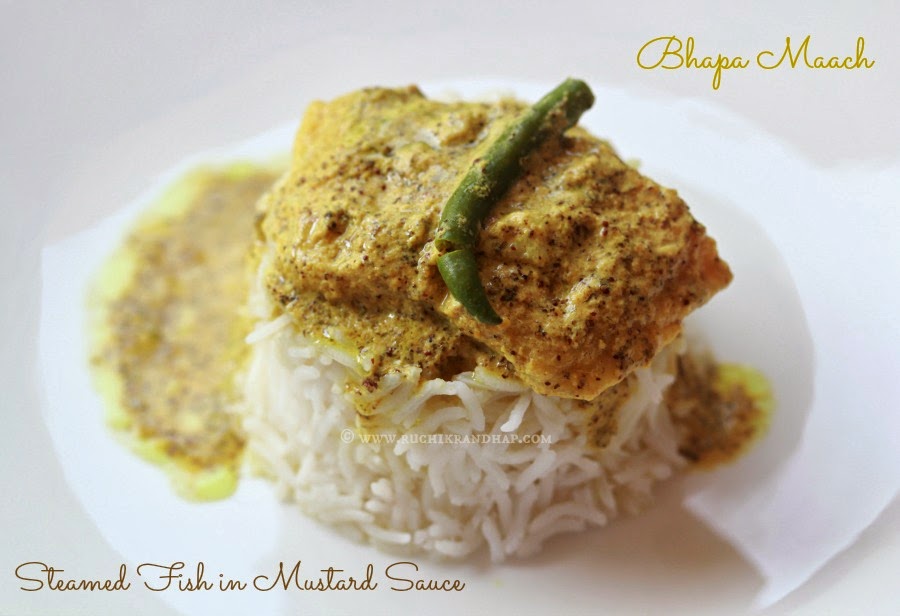 Life in Mumbai was great for many many reasons. The most important for a foodie like Roshan and me was the amazing number of restaurants that kept sprouting in the area we lived in. Every weekend we made plans of dinner and a movie. This was before our son was born and then after a short break we tagged him along for every movie that was suitable for kids and every restaurant that was child friendly (well, most restaurants in Mumbai are equipped with baby chairs and staff that can handle broken cutlery and a wailing child)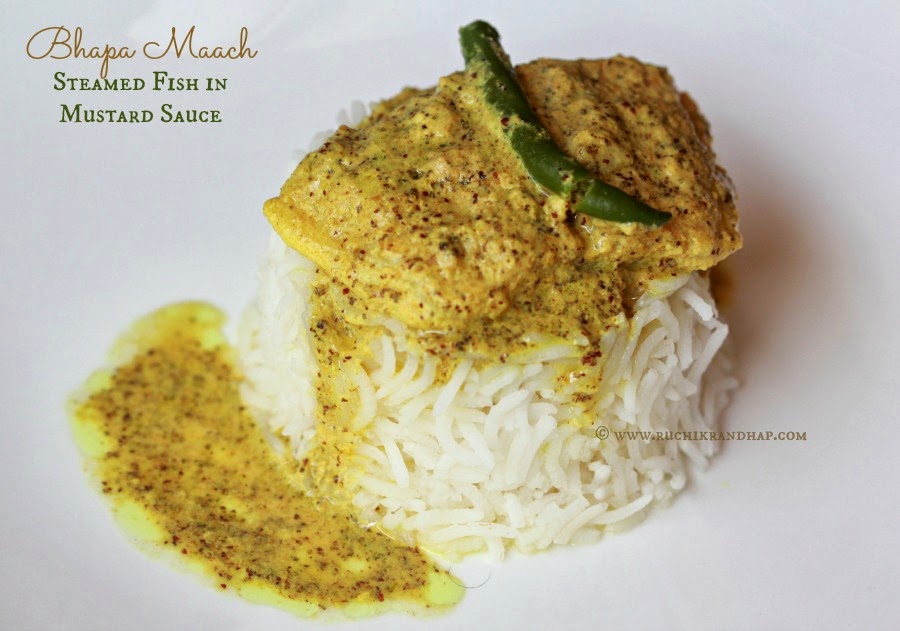 Among the many restaurants that we enjoyed going to, Oh! Calcutta was among the ones we really liked. It helped that we lived within walkable distance and that we could walk back home after a delightful seafood meal. The last time we visited we tried out the deep fried Hilsa for the first time along with the Bhapa Ilish (the steamed Hilsa) as it is called in Bengali. At the restaurant when we pored over the menu we weren't quite sure if we would like the taste of a load of mustard in our curry. Very overpowering we said. But heck no! The taste was so subtle and delicious that we fell in love with it. Roshan was very keen to recreate the flavours at home and it was our first tryst with Bengali cuisine. However we never got around to doing it while in Mumbai where we may have been lucky in finding Hilsa. Nevertheless our attempt at making it with basa fish was also a huge success. I totally loved the flavours – the mustard and coconut are simply married to each other. So hope you like this recipe!
Bhapa Maach (Bengali Style Steamed Fish in Mustard Sauce)
Prep time: 30 mins | Steaming time: 20 mins | Serves 2
Ingredients:
500 grams of fish (preferably Hilsa) * see notes
1 tablespoon of black mustard
1 tablespoon of yellow mustard
3-4 green chilies (if required deseeded) slit
2 tablespoons of coconut (coarsely ground)
2 tablespoons of thick coconut milk
1 teaspoon cumin seeds
1 teaspoon turmeric powder
salt to taste
2 tablespoons of oil (preferably mustard oil)
Method:
1. Wash the fish, drain on a colander and then marinate it with a little salt and turmeric powder for about 30 minutes.
2. Meanwhile soak the black and yellow mustard in a little water for about 30 minutes. After 30 minutes grind the soaked mustard along with 1 green chili, cumin seeds, turmeric powder and a little salt to a fine paste.
3. Mix the paste with the coarsely ground coconut and the coconut milk. Bring some water to a boil in a idli steamer.
4. Place the marinated fish in a steel tiffin box in a single layer (not one on top of the other), pour the ground paste and coconut milk mixture over the fish, add the remaining green chilies, drizzle some oil and close the lid of the box.
5. Place the box in the idli steamer and steam for about 15 minutes. Alternatively you may even bake in the fish in a preheated oven at 200 degrees C for about 15-18 minutes.
6. Remove from the steamer (or oven if used) and serve with steaming hot rice.
Notes:
1. Hilsa is the much loved seasonal fish that every fish eating Bengali loves. It is pretty expensive when it is in season so you can substitute with any fish preferably white boneless. Try white pomfret or basa. But since Hilsa fish is traditionally used for this curry, it would be great if you could try the dish with the same fish.