As I've mentioned in my previous posts, Mangalore is a beautiful pot pourri of cultures. This beautiful coastal town is home to so many languages, cultures and religious beliefs so it goes without saying that much of it trickles into our cuisine on the whole. The fine details ofcourse vary between ethnicities. Everyone identifies with the 'dosa' as a wholesome food that originated in the South. But there are so so many varieties that it is mind boggling. Some of them are traditional recipes passed down from one generation to the other and enables others to distinguish one culture from the other. The Bella Metthe Dosa is typically a breakfast or tea time snack prepared by the Mangalorean Protestant (Christian) community. The recipe was given to me by my dear Mangalorean friend Jenifer who I met here in Bombay, a family friend who is like a sister to me.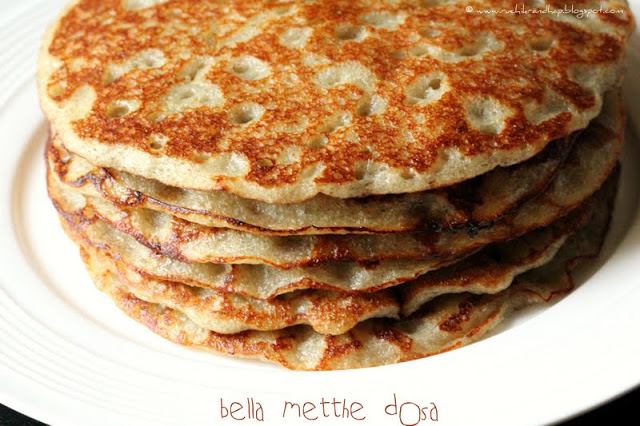 While a 'Dosa' typically means a pancake made out of rice or wheat, this one has extra flavours brought in by fresh coconut, jaggery and fenugreek. The right balance of flavours makes these dosas so irresistible especially when you have them once they have completely cooled off – you can lose track of how many you've had!
A perfect breakfast is one which helps jump start the metabolism and keeps you going through the day. These dosas are a great breakfast option as they are filled with the goodness of  coconut (rich in fibre, vitamins and minerals), jaggery (popularly known as medicinal sugar is a good source of magnesium, potassium and helps to maintain blood pressure), fenugreek (excellent herbal remedy for reducing cholesterol & blood sugar levels, treating skin inflammations and increasing milk production in lactating mothers), rice (which is an instant source of energy – a carbohydrate with many benefits), black gram dal (reduces formation of cough & acidity in the body and is beneficial to people with diabetes, nervous disorders, digestive system disorders and rheumatic afflictions)
'Bella' in Kannada means Jaggery and 'Metthe' is Methi seeds (Fenugreek)
So friends, what are you waiting for? There's nothing like a power packed breakfast – try this and let me know how you liked it!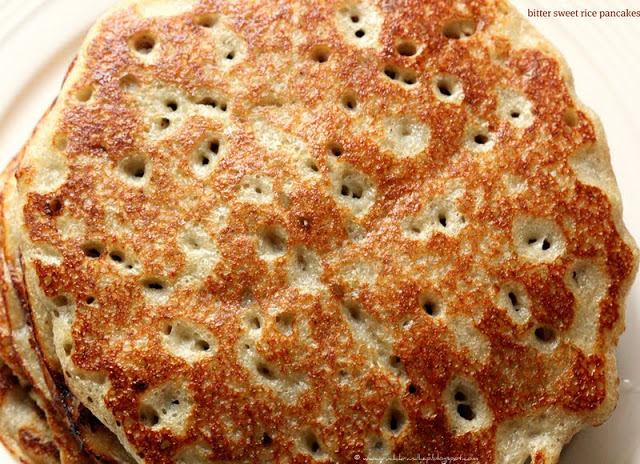 Bella Metthe Dosa
Soaking time: 6- hours | Prep time: 10 mins| Fermenting time: 2 hours | Cook time: 15 mins | Yield: 12-14 medium size thin dosas
Ingredients:
200 grams (1 cup) raw rice (Kolam/Surai/Belthige)
175 grams (1 cup) jaggery, powdered
100 grams (1 cup) fresh grated coconut
1/4 cup urad dal (black gram dal)
1-1/2 – 2 tbsp methi seeds (fenugreek seeds)
 1/4 cup cooked rice (preferably brown/red rice or boiled rice) or poha (beaten rice)
1 level tsp dry yeast (I used instant yeast)
sugar to taste (approx 1 teaspoon)
salt to taste (approx 3/4th teaspoon)
Method:
1. Wash and soak the raw rice, urad dal and methi seeds for at least 6-7 hours or overnight. Drain and grind it along with the jaggery, grated coconut and cooked rice or beaten rice to a fine thick paste. The consistency of the batter should be slightly thinner than dosa batter so add water in 1/4 cup increments until you get the right consistency.
2. Transfer the batter into a large and deep container that accommodates fermented batter. Note that the fermented batter will overflow so the pan must be tall & deep. Add salt to taste and sugar only if required. The batter should have a fine balance of sweetness & saltiness.
3. To prepare the yeast solution, take yeast in a small bowl and add 2 tablespoons of lukewarm water and 1 teaspoon sugar to help activate the yeast. Stir, cover and keep aside for 10 minutes till the yeast solution turns frothy. If the yeast has not turned frothy (and looks like coffee – flat and not frothy, discard it and start again with a new package. Add the yeast to the prepared batter, stir well so everything is mixed properly. Cover the mouth of the vessel with a muslin cloth or a lid that is not airtight but has an outlet for air to pass. Keep the pan undisturbed, in a warm spot of your kitchen to aid fermentation. In good (warm) weather and when good quality yeast is used the batter takes anywhere between 1-1/2 – 3 hours to ferment. * see notes.
4. When the batter has doubled, give it a good stir. It will immediately reduce in terms of its volume but will have the desired thickness and fluffiness.
5. Heat a non stick tawa/griddle on a medium high and grease it with a little oil. You can use half an onion poked with a fork to apply the oil (traditional method).
6. Reduce the heat to a medium low, take a ladleful of batter and pour in the centre of the pan, let it spread on its own or just help spread it a bit using the back of your ladle. Cover and cook for about half a minute. Since the batter is fermented with yeast it will be very airy (with air bubbles) and light so frying the dosa has to be done carefully. It will seem very soft and wobbly so you have to make sure that the top is cooked  or until the surface looks cooked and no wet spots are visible. Using a spatula gently raise the edge, the dosa should be golden brown underneath, if not, let it cook some more. Ensure that the heat is not too high.
7. Drizzle a a few drops of oil around the edges before you flip it over. Use a light hand to remove the dosa (gently shake the spatula back and forth till you get your dosa on it) so and it can be flipped comfortably. Cover and cook on the other side as well. Transfer to a plate and let it cool a bit.
8. Serve hot with chutney or eat them plain when completely cool – they are irresistible even when cold!
Notes:
1. You may leave the batter overnight for fermentation if you live in a slightly colder weather or have central AC at home. Make sure that you place a large plate underneath the pan just incase the batter spills over.
2.  If you don't wish to fry  dosas at this stage you may even pour the batter into ramekins or a steel plate with sides and steam it for 15-20 minutes for a fluffy steamed cake.
3. In the picture above I have prepared thick dosa by frying them on a flat tawa. If you are using a large dosa tawa which is slightly concave in the middle then use a ladle to spread the batter in which case you may get slightly thinner dosa.
4. If the tawa is too hot the dosa will burn outside and remain uncooked inside. If it is not hot enough the batter will stick and refuse to spread even with the help of a ladle. Maintain the heat on a medium high.