Another week has passed by and it's time for another Blog Hop Wednesday. Well, you may be a little surprised as my previous post (exactly a week ago) was also part of the Blog Hop. There are two reasons for that, the first being that although Blog Hop Wednesdays an event hosted by Radhika of Tickling Palates is a bi-monthly event (scheduled every alternate Wednesday) it has happened for two consecutive Wednesdays in view of the upcoming festivities that will keep everyone rather busy – preparing for the upcoming celebrations, travelling etc. I have thoroughly enjoyed participating in the first segment and am pretty excited about the second segment that starts from 2nd of November. Now coming to  the second reason why you didn't see any posts after the
Egg Butter Masala
was because my little one & I were down with the terrible trio – cold, cough & fever and I thought I should take the much needed break from blogging and relax a bit. Now that I am hale & hearty after a good dose of medicines and rest I am back to blogging! Yayy!
This Wednesday I am paired with Ayeesha Riaz of Taste of Pearl City. Ayeesha has an amazing collection of recipes accompanied by beautiful pictures. A comprehensive recipe index with recipes ranging from Indian to Mediterranean to Middle Eastern to Continental. I really had a hard time deciding which recipe to actually get down to making. I short listed a whole bunch of recipes ranging from rice items, main courses – vegetarian & non vegetarian, baked goodies and sweets of course, but unfortunately I could not try them out on time due to my bad health. However I am glad that I got around to trying something so simple yet delectable, easy yet perfect for the upcoming festive season. When I browsed through Ayeesha's recipe index and read 'Beet Rava Laddoo' I actually raised my eyebrow in delightful wonder. How does it taste? I asked myself. Well, to be honest I don't buy Beetroot too often as my hubby runs a mile away from it. But I love all kinds of vegetables and often buy at least one small beet with the intention of using it in salads. Thankfully one Beet was in the fridge and I knew I had to try this recipe as it would help my family get the goodness of Beet at least in the form of a sweet.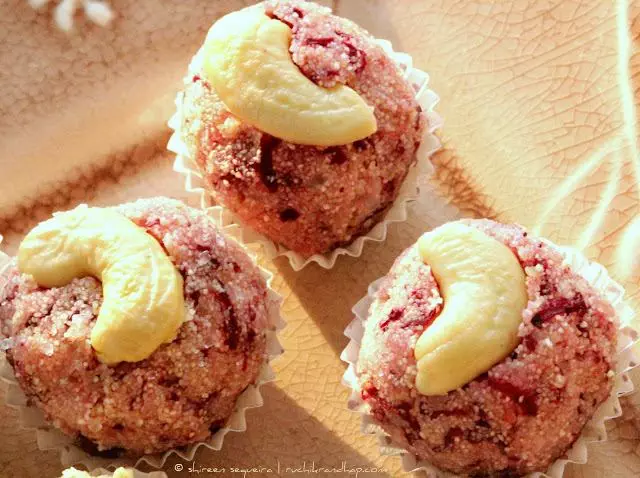 Pin
Well, I grew up with my mum telling me that Beets were great for the production of blood in one's body and many a time my brother & I would enact some crazy ham scene from some hindi movie & use the juice of Beetroot as if it were blood. So yes, the crimson colour often brings to mind these memories. I am assuming the same goes for hubbykins too which is why he may be apprehensive to eat them. My association with the Beet has been limited to just a slice which is all you need to make the Mangalorean
Plum Chutney
which is famously served along with the
Sweet Pulao
.
Laddoos by nature are very easy and fun to put together and yummy to eat (or gobble up!). They are probably the only Indian sweets that can be either completely sinful or absolutely simple depending on the ingredients & method of preparation used. Motichoor/Boondi ladoo (chick pea flour droplets deep fried & shaped into balls) Churma laddoo (wheat flour laddoos), Besan ke laddoo (chickpea flour laddoos), Coconut laddoos to name a few are some famous laddoo varieties in India. The Mangalorean varieties (which are less famous) are the Rice Laddus, Sheme (Sevai) Laddu, Mithai Laddoo (softer version of the Boondi Laddoo), Boondi Laddoo (harder version made with melted jaggery), Chikki (peanut & jaggery) Laddoo, Til (sesame seeds & jaggery) Laddoo, Sweet Charmuri (Puffed Rice) Laddu, Laayo (Rajgira) Laddus (phew!) ~ Most of the laddoo versions are made with melted jaggery that make them so hard that they often call for a new set of teeth (joking!), yet we all love to eat them, don't we?
Since I am huge fan of Laddoos especially the Boondi and Rava varieties, I chose to make the Rava variety first. I am also beginning my Christmas sweets series shortly and though Rava Laddoo is not a part of the traditional Mangalorean Kuswar (platter of Christmas sweets & savouries), many people include them to add to the variety. Traditionally the Kuswar includes the
Rice Laddoos (Thandhlache Laadu)
 but this time I will be more than delighted to include the Beet Rava Laddoos as they are not only healthier than other deep fried sweets but has the added advantage of the Beetroot which lends its delicate flavour and robust colour to these sweets making them look all the more festive.
If you are still not convinced about adding the Beetroot, you can skip it altogether and leave the snow white laddoos as simply as they are. They are delightfully delicious irrespective of the colour.
For those of you planning the Kuswar menu, do consider including these Laddoos and those of you celebrating Diwali – well, you must make these!!
Beet Rava Laddoo
Yield: 10-12 lime sized laddoos
You Need:
1 cup/150gm rava/semolina
1/3rd cup/75gm sugar * see notes
2 tbsp grated coconut
3 tbsp ghee (clarified butter)
1/4 cup milk
10 cashewnuts halved
10-12 raisins
1/2 tsp cardamom powder (or 3-4 cardamoms powdered)
1 beetroot/100gm finely grated beetroot (optional) *see notes
Method:
1. Heat ghee in a heavy bottomed pan/wok and fry the raisins on a slow flame. Stir continuously and remove them as soon as they puff up. Toss in the cashewnuts and fry them till golden brown and remove. Roast the grated coconut & remove. Add the grated beetroot and fry until all the water evaporates. Remove & keep aside.
2. Add the rava to the remaining ghee and lightly roast it till the colour changes very lightly and you get a nice aroma. Add the sugar and continue to cook on a very slow flame for another 2 minutes.
3. Add the milk and mix well, continue to stir. This helps the sugar to melt & the rava to cook well. Turn off the flame after a couple of minutes taking care to see that the rava does not burn.
4. Remove the pan off the flame, transfer contents to a wide pan or bowl and allow the mixture to cool off a bit until it is warm enough to be handled. Mix in the roasted raisins and cashewnuts & the grated beetroot well. and quickly form lime sized balls by compressing the mixture in your palm into a tight fist. If you wish you can place one raisin & cashew nut on the surface and press (just for decoration). The laddoos will be soft initially but will harden as they cool.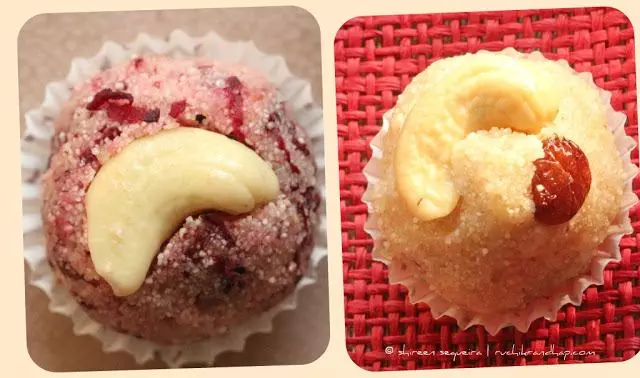 Pin
Notes:
1. I added 75gm sugar which is mildly sweet. If you wish you can adjust it accordingly (1/4 cup or 50gm for very mild sweetness or upto 100gm for very sweet laddoos)
2. I used about 1/4 cup+2 tsp milk. You can keep 1/2 cup milk handy and use as required.
3. If you wish to make laddoos in two colours, you can use only 50gm grated beetroot & halve the mixture and add it only to one half.
4. Since I did not have a fine grater, the beetroot strands did not blend so well with the rava as you can see in the original recipe but looked just as pretty.