There are some incidents in life that completely change your life. The birth of a child is one of the most important of such incidents – I am no different from the millions of moms out there whose lives take a 360 degree turn when their babies are born. I dont have to get into the details of how things pick up from there on. For most of us lucky (or unlucky) ones who quit our jobs because supportive spouses do all the toiling & converting sweat into money and being the bread winners, life throws the next big question – What next? How do I keep myself occupied and sane while being at home 24x7x365? How do I get my creative juices flowing apart from having to entertain a toddler (besides being the official cook, driver, nanny, maid, in-house doctor, teacher, story teller)? How do I entertain myself apart from having intelligent conversations with a 2 yr old? Well, these questions brought me to Blogger – thanks to my husband who gave me a gentle push & said I had it in me to write to entertain myself if not anyone else. Ha ha! So well, that's how I started to blog and although things didn't quite pick up initially, I went back to it time & again.
Over a period of time I realised that blogging was not just about being hooked on to the computer (that by the way is a choice you make) but it is also about learning fabulous things on the internet (new technology et al) and of course making new friends. The best part is catching up with some who you never thought you'd ever meet again (even if that means just virtually) and seeing the world through their eyes. Food, history and travel make up most of my reading material and what better than to read about them through the blogs of people known to you? Most of my favourite blogs are by friends (even those I've known but not personally) – all of which are listed on the panel on the right – Thank you dear fellow Mangaloreans/Bloggers for sharing so many special things about those things dear to you.
My post will be incomplete if I do not mention my dear readers who send me mails & comments of appreciation & encouragement. Thank you, it just makes writing worthwhile! A special thank you to my dear reader Cynthia, from whom I received my first mail and who never fails to drop me a note to express what she feels about each of my posts. This one is specially for you…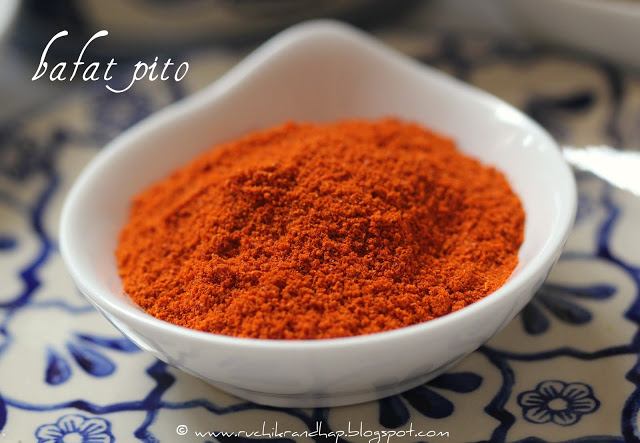 The Bafat Powder (also pronounced as 'bafad) is a must-have blend of spices in every Mangalorean (especially Catholic) home. Especially those who regularly prepare & relish the 'Dukramaas' (Pork Bafat style) – which is probably the easiest and most delicious (especially when reheated on the second and third day) preparation which requires minimal effort (only chopping of ingredients can take a while depending on how much you make).
Bafat powder can be made and stored for a year or more and is available in most Mangalorean stores & Goan ones too which stock it up, but the home made version scores better any day as it is fresh & fragrant when stored well. It is so versatile that the powder minus the garam masala (see note at the end) can be used to prepare fish curries in a jiffy. I have used this powder which my mother-in-law prepares in abundance for all dishes ranging from Chicken sukka (Chicken with dry coconut), Chicken curry, fish curry and vegetable sukka (vegetable stir fry with grated coconut). It is probably the one item that 99% of Mangaloreans have it on their list of 'items to buy when they visit Mangalore from abroad so shops such as Konkan Traders, Don Stores & Costa Bakery stock it up in abundance the whole year through.
Although one can replace the Bafat powder with regular chilli powder, turmeric & coriander powder – the result is never as perfect as when the original Bafat is used. Like they say, originals should be left untouched…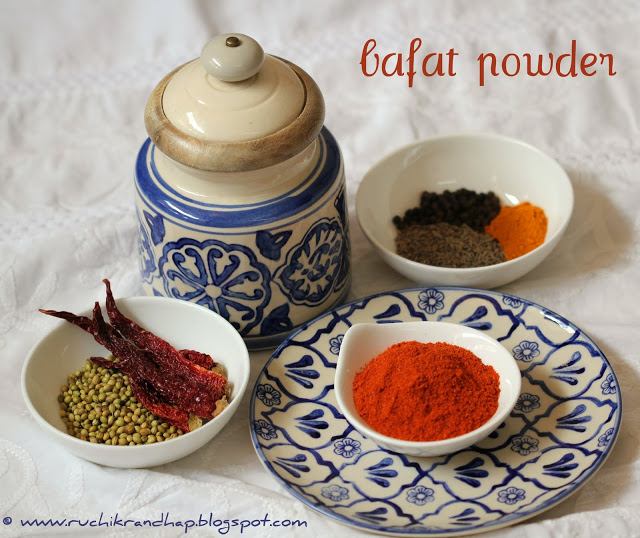 Bafat Powder
Print This
Recipe Source: My Mum-in-law
Yield: Approx one and a half kilos


You Need:
150gms Kashmiri chillies
400gms Long red chillies (also called as 'Kumta' & 'Kumti' mirsaang in Konkani) *see note below
200gms Short red chillies (also known as Madrasi chillies)
500gms Coriander (dhania)
40gms Cumin (jeera)
25gms Peppercorns (miri/kali mirch)
50gms Turmeric Powder (haldi) (If you can manage to use dried pieces of Turmeric (haldiche kudke), it is even better)
Method:
Use a dry grinder to powder all the above ingredients to a fine powder, store in an airtight container and use as required
Note:
1. If the Kumti chillies (long ones) are unavailable, just use Kashmiri chillies instead (ie increase it to a total of 550gms instead of 150gms). However, the short red chillies are very important to achieve the desired spiciness & fragrance of the Bafat powder
2. This recipe is for the Bafat powder without the garam masala (cloves & cinnamon), hence it is very versatile and can be used for fish/veg preparations which do not require garam masala. When you use it for meat preparations such as Pork, add about 4 cloves and 1 inch piece of cinnamon for every 1kg of meat.

Bafat/Baffat/Bafad Powder by the way is similar (in terms of versatility) to the Goan Rechad Masala and the East Indian Bottle Masala – A blend of spices used in a variety of preparations. A Mangalorean Catholic housewife worth her salt cant do without the Bafat Powder!