Spritzgebäck (pronounced as shplitz-ghe-beck) are one of the most delicious cookies that I've ever tasted! They are as Amul's logo states 'utterly, butterly, delicious'! Honestly, I never thought that making these would be so much fun and that the taste would win so many hearts. When I first came across this recipe I instantly bookmarked it to be tried out for my Christmas collection. I was so delighted when the results crossed my expectations in terms of taste. Initially I thought I had done a poor job at shaping them but I realised that I didn't do so bad either.
Spritz cookies derive their name from the German word 'spritzen' that means 'to squirt'. The buttery soft dough is squirted (squeezed to push) out of a cookie press that has a metal plate with designs at the other end of it to help make pretty, fancy shapes. Spritz cookies are traditionally made during Christmas in most Scandinavian countries.
While the most standard equipment for this cookie is the spritz cookie press which is a kind of a tube with a metal plate inserted on one end that helps get the exact shape and size of the cookie dough out, you can also pipe out the shapes using a simple piping bag attached with a star nozzle (which is what I did). After I had piped out all of the dough I realised that I had a spritz cookie press that the husband had bought for me a few years ago from his trip abroad and I had totally forgotten about it! I am going to use it in the next few days when I start my Christmas baking.
These cookies are extremely fragile and melt in the mouth. Trust me, they will taste better than that store bought box of Danish cookies. Homemade cookies always score higher in comparison to their store bought counterparts – this is my opinion.
I do hope you give these cookies a try. If you don't have the star nozzle fret not! Just use a ziplock back, place your cookie dough in one corner, snip off the end and you are ready to go!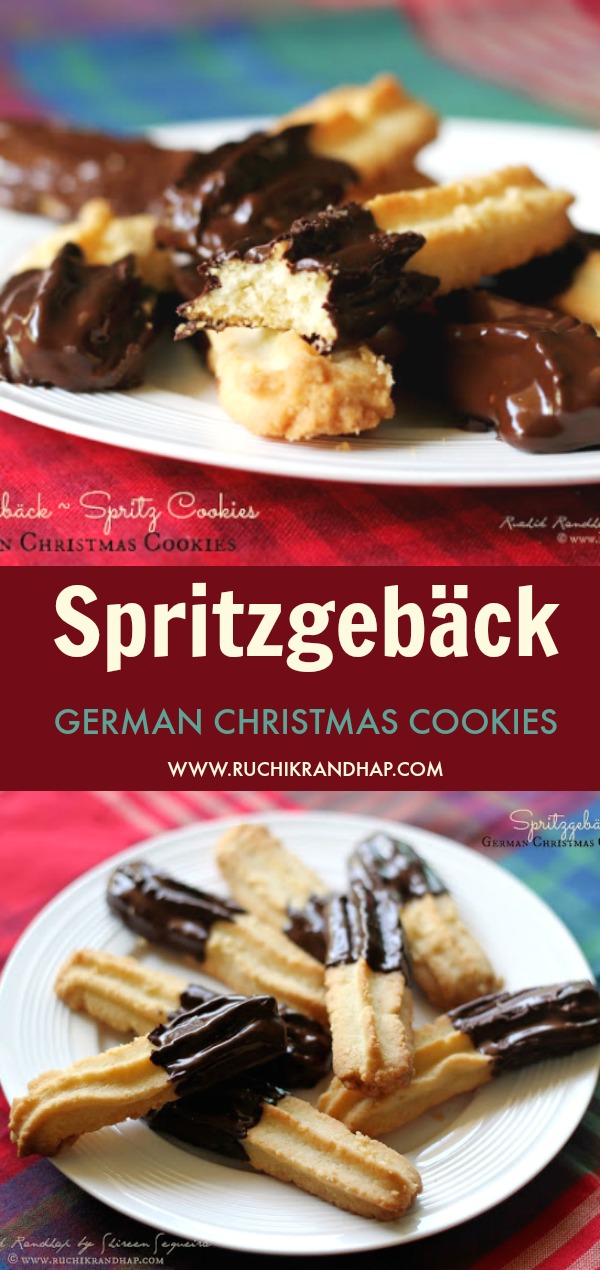 Pin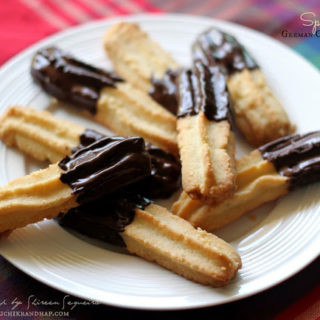 Spritzgebäck ~ Spritz Cookies (German Christmas Cookies)
These melt-in-the-mouth German cookies are a must try this Christmas!
Print
Pin
Rate
Ingredients
500

grams

plain flour, sifted

125

gram

almond flour (ground almonds)

380

grams

unsalted butter, at room temperature

250

grams

caster sugar

1/4

teaspoon

vanilla extract

pinch

of salt

2

egg yolks

if required
For the chocolate glaze:
100

grams

dark or milk chocolate, roughly chopped
Other things you will need:
a piping bag with a large star nozzle * see notes
Instructions
Preheat oven to 180 C and line 2-3 large baking sheets with baking parchment. Keep aside.

In a mixing bowl, place the butter and beat it with an electric whisk/hand mixer till fluffy. Add the sugar, vanilla and salt and mix till everything is well incorporated.

Add the flour in parts and stir in. Add the almond flour and knead the mixture into a soft dough. The dough should be soft enough to be squirted out of the piping bag, so adjust the consistency of the mixture by adding an egg yolk at a time. Test the consistency by placing a little dough into the piping bag and squirting out a little. The squirting should be effortless in order to get reasonably large cookies without breaking off the dough (which will happen if your dough is too dry)

Transfer the prepared mixture into the piping bag fitted with the star nozzle and pipe the mixture into 3 inch lengths onto the baking sheet.

Bake for 12 minutes or till light golden. Remove and allow to cool for 5 mins on the baking sheets before transferring onto a wire rack/cooling rack till they firm up completely.

You can transfer them into an airtight container right away or glaze them with the melted chocolate, cool again till the chocolate hardens and then transfer into a box.

To glaze with the melted chocolate, melt the chocolate in a bowl placed over simmering water or in a microwave in 30 second intervals and dip the cookies halfway into the melted chocolate. Cool completely till the chocolate hardens and store in an airtight box.
Notes
If you don't have a star nozzle just use a regular round shaped nozzle to squirt out the cookies. If you don't have a piping bag just place the cookie dough in one corner of a clean zip lock or food grade plastic bag and snip off the end with a pair of scissors. You can widen the size by cutting a bigger hole once you have piped out a cookie or two.
It is important that you get the right consistency of the dough. If it is too soft you won't be able to get proper shapes and if too dry, the dough will break while shaping and also result in dry, crumbly cookies. If the dough is too soft, chill it in the fridge for about 15 minutes so that the butter in the dough hardens up a bit. Loosen up the dough with the egg yolk if you find it too dry.
If you will be using the same cookie sheet (baking tray) between batches make sure they have been cooled down to room temperature or else while you pipe the cookie shapes onto them, the butter will begin to melt and the cookies will lose shape. Between batches, lightly rinse the baking sheets and wipe dry or chill them in the fridge before using them again.
Nutrition
Nutrition Facts
Spritzgebäck ~ Spritz Cookies (German Christmas Cookies)
Amount per Serving
% Daily Value*
* Percent Daily Values are based on a 2000 calorie diet.
Disclaimer
The nutritional values are only indicative.
Tried this recipe?
Please leave a comment & rate the recipe below or share a photo on Instagram and tag me @ruchikrandhap