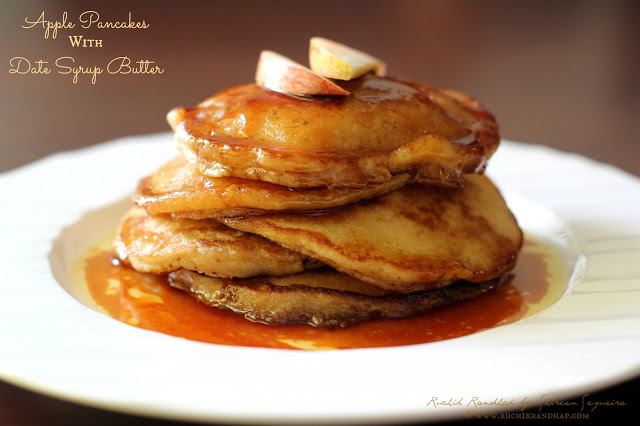 Pancakes have been a favourite at my place since a while now. During my growing up years the only pancakes I've really known were our South Indian dosas and trust me, I always called the whole bunch of them as 'pancakes'.  The difference between the two would be that pancakes have some kind of raising agent (baking soda or baking powder) added to the batter to give them a fluff while crepes would be thin and flat with no raising agent added to the batter. So while dosa batter, which would be fermented overnight with black gram (urad) dal is the raising agent could fit the bill of a pancake or Mangalorean neer dosa would be called a rice crepe and not a pancake.
Anyway, like I said before, these pancakes have become a hot favourite at my place now and sell like hot (pan)cakes (pun intended) the minute I make them. Usually my son is after me to cook him different kinds of tea time snacks. Pancakes are super easy and quick to put together and this recipe calls for grated apples that add to the taste and nutrition of this delightfully delicious and filling snack.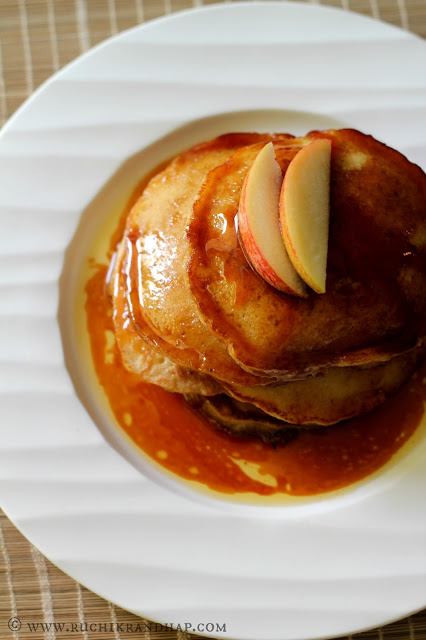 Instead of apples you may add grated pears or even carrots. If you wish you can add pulpy fruits like mangoes or peaches but don't go overboard (especially if you are using canned fruit soaked in syrup) as they could render the pancakes too sweet (which is usually the reason behind the snack being rejected by little ones). The original recipe which I found in a cookbook asked for maple syrup. Since I didn't have any, I simply used date syrup which is pretty popular here in the Middle East. From what I've read, date syrup beats honey and maple syrup in terms of its nutritive value as dates are loaded with tons of health benefits and if you want kids to benefit from it you can try switching to dates in their syrup form.
Date syrup tastes very good on pancakes – my son vouches for it. The best part is that for the longest time he thought he was having maple syrup (and not date syrup) on his pancakes! Oh well, this was until the day he caught me sneaking in a bottle of syrup out of the pantry and mixing it with butter to make the date syrup butter. Since then he has grown to be a fan of it. It is definitely a healthier alternative to synthetic chocolate syrups and the like that are loaded with sugar and preservatives. Date syrup also tastes great on oatmeal and ice cream. Try drizzling some into your smoothie or french toast or even add it to a marinade for chicken (instead of using honey). If you don't get date syrup you may use date paste and dilute it a little before using. For those of you who still want to try this recipe but don't have date syrup simply grind some pitted dates to a smooth paste using a little water! Enjoy!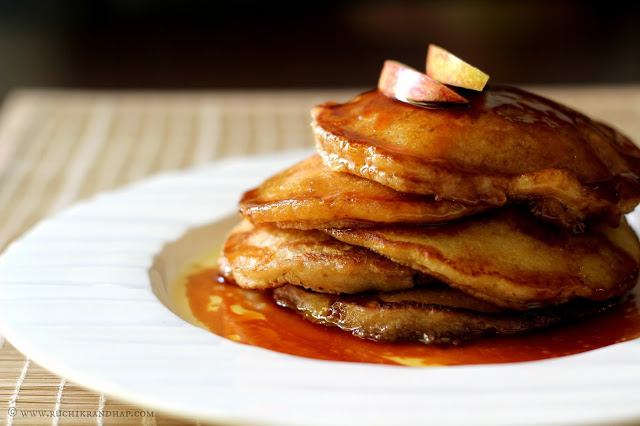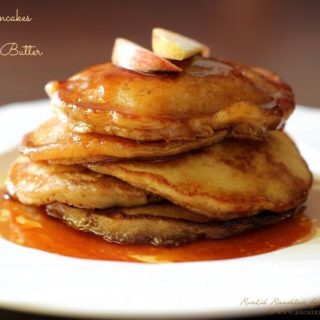 Apple Pancakes With Date Syrup Butter
Hot pancakes drizzled with some date syrup butter is simply irresistible! Whole wheat flour can be used instead of all-purpose flour for a truly delicious and wholesome breakfast!
Print
Pin
Rate
Ingredients
For the pancakes:
1

cup

(125 grams) all purpose flour

* see notes

1

teaspoon

baking powder

1/2

teaspoon

baking soda

1/2

teaspoon

salt

1/2

cup

(125ml) milk

* see notes

1

tablespoon

apple cider vinegar

or regular white vinegar

1

egg

lightly beaten

1

tablespoon

unsalted butter

melted

1/2

an apple

peeled, cored and grated (approx 2 tablespoons of grated fruit)
For the date syrup butter:
1-2

tablespoons

date syrup

or maple syrup

1

tablespoon

unsalted butter

melted
Instructions
Place the milk in a small bowl and add the apple cider vinegar to it. Keep it aside for about 5 minutes till it curdles. Add the rest of the wet ingredients to it – the beaten egg, melted butter and grated apple. Mix well.

Sift the dry ingredients – the flour, salt, baking soda and baking powder into another bowl and add the wet mixture to it. Whisk to a smooth consistency.

While the batter is resting for a few minutes, prepare the date syrup butter by whisking together the melted butter and the date syrup together. Adjust the amount of butter according to the thickness/consistency of the date syrup (this will depend on the brand of syrup you buy)

Heat a frying pan on low heat and grease it with 1/2 a teaspoon of butter – this is important as the pancakes can get burnt quickly and remain uncooked inside. Also, a low heat will help the butter to melt and not burn. Using an icecream scoop or a 1/8th or 1/4 cup measure pour the prepared batter into the centre of the pan. Let it cook on medium-low heat.

When bubbles begin to surface keep an eye on the pancake and flip it when the bubbles get really big and the surface looks less glossy/shiny. Let the pancake cook on the other side as well.

Remove and serve hot drizzled generously with the date syrup butter!
Notes
You can replace part of the all purpose flour with whole wheat flour Instead of milk (and adding vinegar to it to curdle it), you can use thick buttermilk (unflavoured) too Instead of the date syrup butter you may use plain date syrup minus the butter – this will definitely cut the calories. Alternatively you could also use chocolate syrup (like Hershey's).
Nutrition
Nutrition Facts
Apple Pancakes With Date Syrup Butter
Amount per Serving
% Daily Value*
* Percent Daily Values are based on a 2000 calorie diet.
Disclaimer
The nutritional values are only indicative.
Tried this recipe?
Please leave a comment & rate the recipe below or share a photo on Instagram and tag me @ruchikrandhap