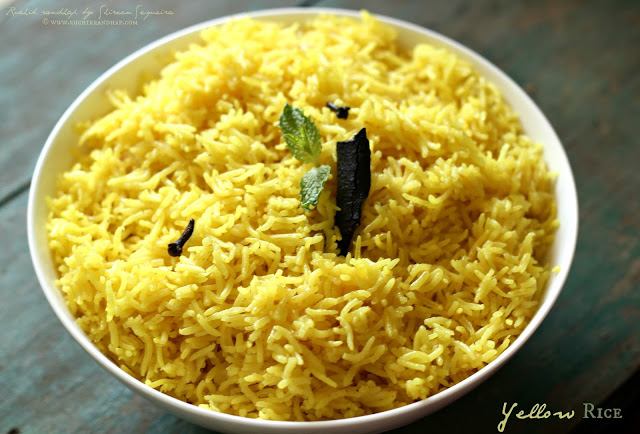 Goodmorning everyone! I woke up this glorious morning feeling refreshed and rested and now I am sitting by the kitchen window sill looking out every now and then. There are hardly any cars plying the roads – such a contrast to the scene that unfolds during the week. I live on one of Dubai's busiest streets and its only on Friday mornings that the roads are almost empty. Most people like to party on Thursday evenings and wake up late on Friday mornings. But for mums like me, every morning starts rather early. So after a simple breakfast I am wondering what chores to tackle during my free time. Should I try out a new recipe or go clean that closet? Sort out my blog posts or draw up a grocery list? Well, while I still debate on what I will do today maybe you should take a look at today's recipe.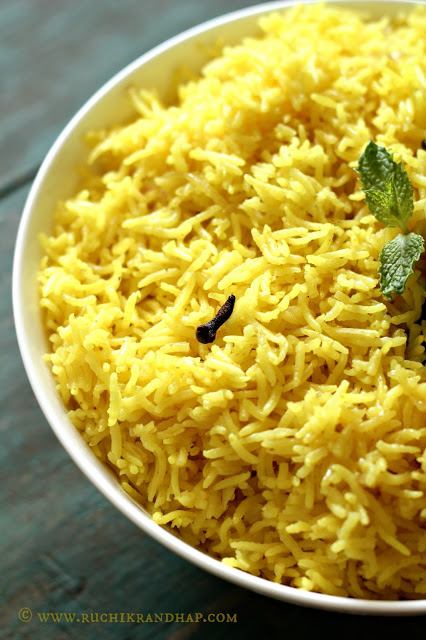 When we first came to Dubai we stayed at my brother's place for a few months and my sister in law used to prepare this yellow rice pretty often. I loved its taste and simplicity. It can be paired very well with pretty much any veg or non veg dish or even a simple raitha. It is super simple to make and can be put together in a jiffy. This week while I was catching up with her on the phone I asked her how to make it and then set out to make some. Paired it with the
Simple Meat Stew
, recipe that I posted earlier and everyone enjoyed it at home. Its a perfect recipe that will save you on a day when you want to present something fancy yet don't want to spend a lot of time making it.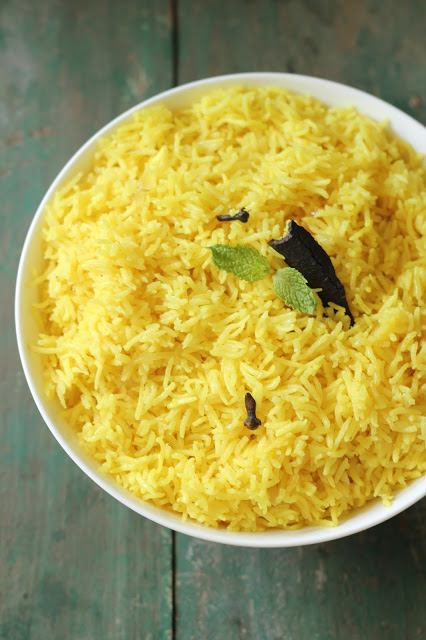 You can add fried onions, chopped mint or coriander or fried raisins and cashewnuts to garnish it if you prefer it a little more elaborate but to retain its simplicity I didn't use any of that. Make this no frills recipe for your weekday meals and when you aim to impress someone go that extra mile and garnish it with all those ingredients I just mentioned above. Enjoy!
Yellow Rice
Prep time: 10-15 mins | Cook time: 20-25 mins | Serves: 4
Ingredients:
3 cloves
2 cardamoms, bruised
1″ stick of cinnamon or cassia bark
1 bay leaf
1 medium sized onion finely sliced
2 cups basmati rice
4 cups vegetable or chicken stock or plain water, freshly boiled
2 bouillon cubes (if stock is not used)
2 tablespoons lime juice or 1 medium big tomato sliced
1/2 teaspoon turmeric powder
ghee or oil
salt to taste
Method:
1. Wash and soak the rice in plenty of water for about 10-15 minutes. Then drain on a colander.
2. In a pan heat the ghee and fry the whole spices – cloves, cardamom, cinnamon and bay leaf on a medium heat. Add the sliced onions and fry till they turn translucent. If you are using the tomatoes, add them now and fry until they turn limp.
3. Add the drained rice and fry until the ladle begins to feel heavy. If you fry beyond this point the rice will begin to break.
4. Add the freshly boiled stock (or water and the bouillon cubes dissolved in it) and adjust salt to taste. Add the lime juice if tomatoes were not used. Add the turmeric powder and mix well.
5. Bring the mixture to a rolling boil, then completely reduce heat to a simmer. Cover the pan well with aluminium foil and/or a well fitting lid so that no steam can escape. Set a timer for 5 minutes and let the rice cook on the low heat.
6. After 5 minutes are up turn off the heat and without opening the pan at all set another timer for 15 minutes. The rice will cook in its steam.
7. After 15 minutes are up open the pan and gently fluff up the rice using a fork. Cover for half a minute again and then serve hot with veg or non veg curry and/or raitha