It's time for a cake!!! Yayy!! Well, as you know I thoroughly enjoy my baking sessions – and I have company too, my little fellow almost always lingers around the kitchen trying to be helpful during my baking marathons.  But more than being helpful he ends up creating a lot of clutter (Sigh!)
I had bookmarked this recipe along with many others a long long time ago and since I have never really eaten (or rather consciously eaten) a Zucchini so this was a good chance to do so. And of course, I've mentioned a zillion times before about my obsession to get my son to eat some vegetables and his refusal to do so was making me come up with all sorts of ideas to sneak them into his food anyway.
But exotic & imported food doesn't come cheap in India. Sure, living in Bombay makes it easier to find them at well stocked supermarkets or fruit & vegetable vendors, but one has to be willing to cough up an indecent sum of money for a tiny piece of it. I paid Rs. 60 for a piece of Zucchini that weighted a mere 200 grams! The 'Bhaajiwala' (vegetable vendor) who I usually visit when I am in need of some 'phoren maal' (herbs & veggies that are not locally grown or part of the Indian cuisine and are supposedly imported), started off complaining how tough it was to make any profit on his sales these days if I complained like I did (but I complained anyway). So I returned home laden with the goods that didn't weigh as much as the burden of guilt I brought along with them – what if my cake flopped? What if the Zucchini didn't taste as good as it's supposed to? What if it was locally grown like the Strawberries from Mahabaleshwar & the vendor had just fleeced a good sum off me? Gulp! Anyway, I swung into action as soon as I set foot in my kitchen. Out came the apron, the baking equipment and the rest of the clutter, courtesy: my son and off we embarked upon another journey to bakesville.
The loaf cake was as good as I could possibly imagine. Delicately flavoured and definitely didn't taste like I had sneaked a vegetable into it – so yes, my son devoured bite after bite and asked for some more. By the time we finished baking it, it was well into tea time, so it was a perfect accompaniment to a hot steaming cup of coffee as you can see.
My only regret is that I halved the ingredients because I wasn't sure whether my new loaf pan would accommodate all the batter and I had no intention of letting this cake flop. So if you notice, the loaf is a lot thinner than it is supposed to be. The whole wheat flour & olive oil just made it a bit more healthier than regular cakes. Since I didn't use up all the grated Zucchini, I am have frozen it for later use, so my hunt for new recipes is on – next time, it'll be something savoury!

Zucchini & Choco Chip Loaf Cake
You Need:
215gm (1-2/3rd cups) whole wheat flour
200gm (1-1/2 cups) soft brown sugar
175gm (1 cup) grated Zucchini
2 eggs
120ml (1/2 cup) light olive oil (or any odourless oil) or melted butter
80ml (1/3 cup) warm water
50gm (1/4 cup) chocolate chips
1 tsp baking powder
1/2 tsp salt
1/2 tsp cinnamon or nutmeg powder (optional)
Method:
1. Sift the dry ingredients (whole wheat flour, salt, baking powder) about 2-3 times and keep aside. Grease a 7″ loaf pan well and dust with flour. Preheat oven to 175 C (if you are using an OTG, preheat it for about 8 minutes)
2. In a large bowl beat the sugar & oil till the mixture looks pale and well blended. Add one egg at a time & beat well.
3. Mix in the sifted dry ingredients in parts till well incorporated. Add the water and combine into a smooth batter. Add the grated Zucchini & the chocolate chips & mix well.
4. Pour the batter into the prepared tin and bake for 1 hour 10 minutes or until the skewer inserted comes out clean.
5. When done, remove and allow the tin to cool on a wire rack for about 10 minutes. Carefully invert it & place it on the wire rack. Allow it to cool completely. Cut & serve with a hot cup of coffee or tea.
Notes:
You can use multi grain wheat flour to increase the health quotient. I used Ashirwad Multigrain Atta. Whole wheat flour tends to result in a cake that is more dense than regular flour (Maida) – so you can replace it with the same.
Adding unrefined sugar (brown/demerara/packed light brown sugar) instead of regular granulated white sugar is also a good idea if you want it to be a complete healthy cake
Increase the cinnamon powder upto 1-1/2 tsp if you wish a stronger cinnamon flavour & fragrance
A few of my old pics when I had made the same cake with all purpose flour and white sugar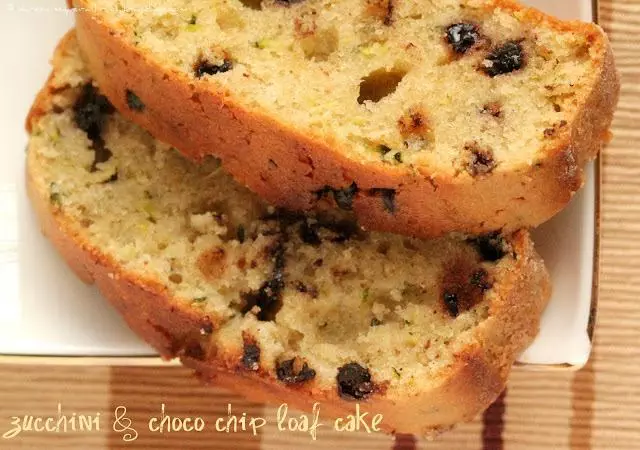 Pin