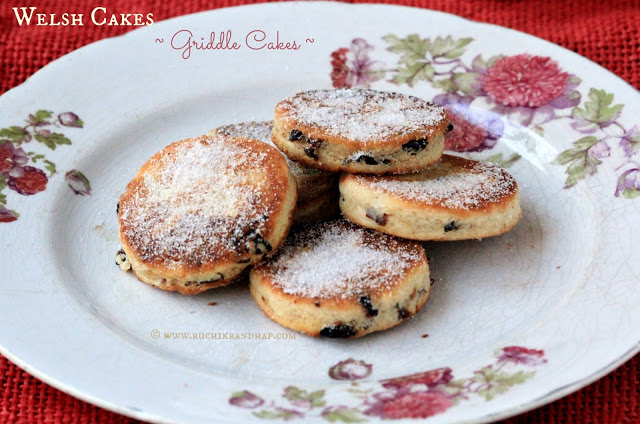 A few of my recipes are going to tumble out of the closet now. Hopefully I will be able to clear a backlog of recipes that I had tried when I was in Mumbai, this being one of them. I can't believe that today marks my 5th month in Dubai. My lil baby is older and crawling all over the place, the older one is getting accustomed to his new school life schedule and well, time just flies. I have been tied down more to the home than to the hearth this time with barely any outings thanks to the baby, but I am beginning to get a little more mobile as the lil one loves her outings too and looks forward to getting all dressed up and seeing the world go by as she lazes in her pram.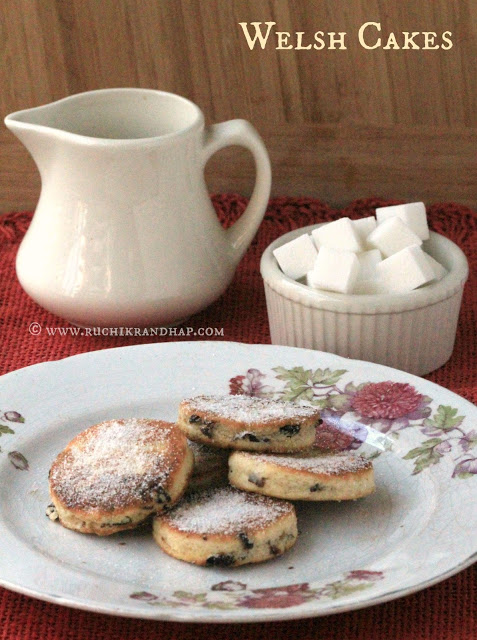 When I made these cakes I was quite fascinated with the fact that although they are called as 'cakes' they are actually fried on a regular griddle/ tawa. In essence they are pancakes but thicker and made with stiffer dough than a runny one that regular pancakes demand. I would call them pseudo cookies as you need to stamp out impressions from a rolled out dough and then fry them on, preferably, a cast iron griddle till beautifully golden on both sides. They are then allowed to cool and served with a generous sprinkling of caster sugar.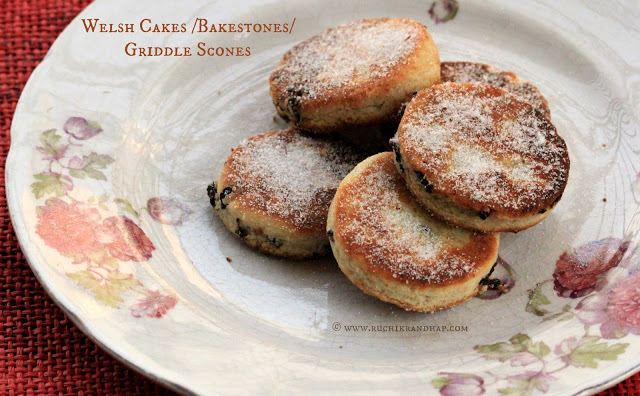 Welsh cakes originated in Wales, United Kingdom and are often called as 'bakestones' or 'griddle scones' as they require a thick bakestone/cast iron griddle to fry them on. These can be eaten without any accompaniment like butter or jam as they are rather flavourful on their own and serve as a great accompaniment to tea. I think it's a great tea time snack that you can make for hungry kids. Get them to help you by rolling the dough or cutting out the cakes with a cookie cutter. The very little ones can help sprinkle the sugar – such a fun project, no?!


Welsh Cakes
Adapted from: Everyday Muffins & Bakes
Prep time: 15 mins | Cook time: 20 mins | Yield 18
Ingredients:
225 grams/8 oz self raising flour * see notes
pinch of salt
110 grams unsalted butter *see notes
85 grams / 3 oz caster sugar
85 grams black currants (large black kishmish)
1 egg lightly beaten
1 tablespoon milk (optional) * you may not need to use it at all
caster sugar for icing
oil for shallow frying
Other things required
Non stick or cast iron griddle (tawa)
6 cm or 2-1/2 inch round or fluted cookie cutter (or any metal or plastic ring that helps cut out shapes)
Method:
1. In a large bowl sift in the flour (and the salt & baking powder if you are making your own self raising flour). Add the butter and rub it well with the flour until the mixture resembles bread crumbs. Stir in the sugar & currants.
2. Add the egg and knead the mixture into a smooth dough. Add drops of the milk or just moisten your fingers with milk to aid kneading. The dough should be smooth & not sticky
3. On a well floured working surface, roll out the dough to 1/4 inch thickness. Cut out circles of the dough using the cookie cutter. Gather the trimmings and roll into a dough again and cut out more circles until all the dough is used up.
4. Grease the griddle with oil and fry the cakes on 3 minutes on each side or until golden brown. Dust generously with caster sugar & serve warm or cold.
5. Store the extra cakes in an airtight box for 2-3 days at room temperature or in the fridge for upto a week.
Notes:
1. Self raising flour is nothing but regular all purpose flour (maida) + baking powder. To make your own at home, place 1-1/2 teaspoons of baking powder+1/2 teaspoon of salt in 1 cup (237ml measure), sift flour into the cup and you are ready to go.
2. The original recipe calls for 55grams of white cooking fat (lard) + 55grams of butter. Instead of lard, you may use vanaspati/dalda but I simply substituted it with butter.