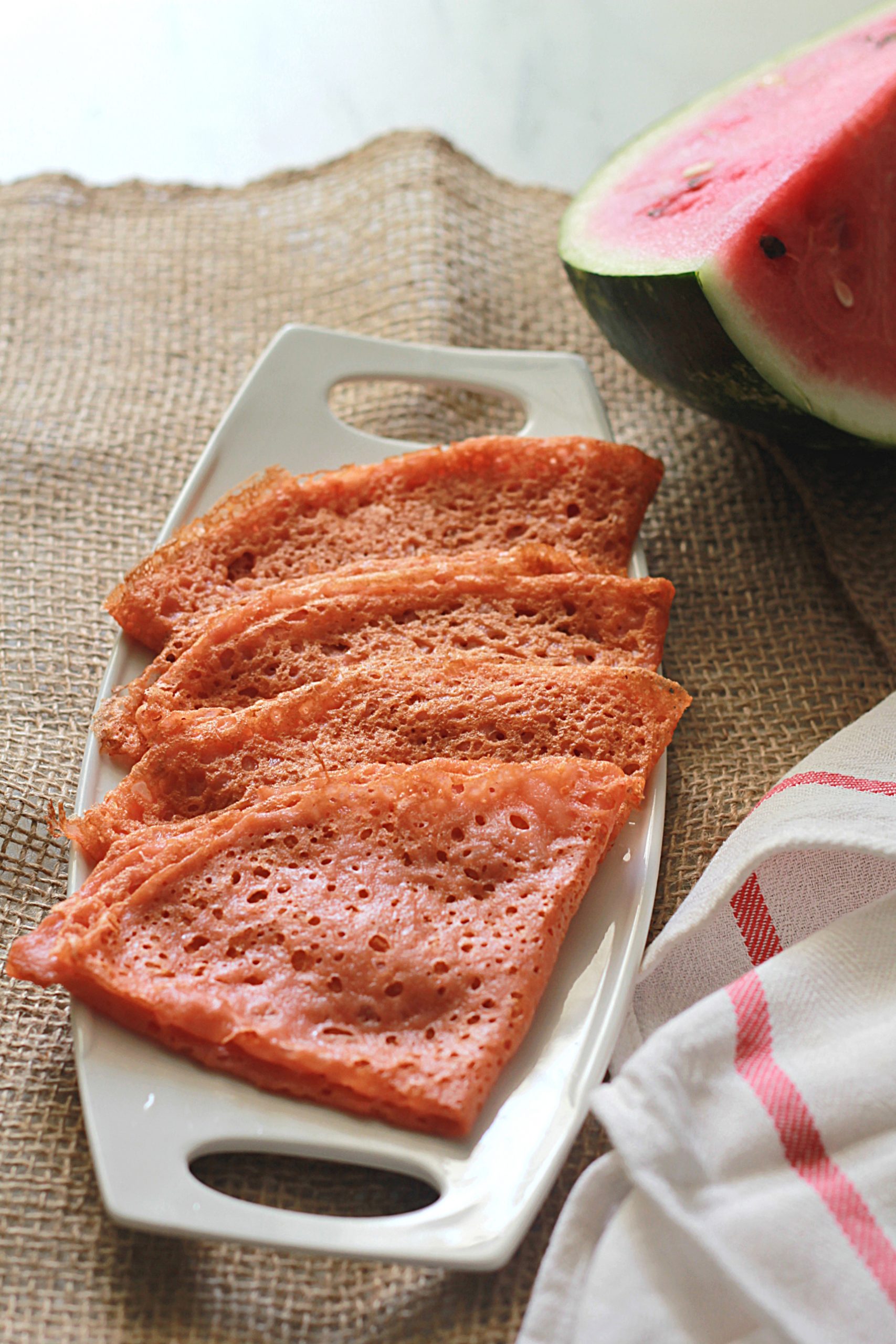 Pin
Heyya folks! Another seasonal dish is coming your way today! Well, I am not the kinds who goes out of her way experimenting with fruits but this had to be done! There was a theme announced on the food group I manage on Facebook and for the first half of the month of June it is watermelon. Since I started seeing a lot of beautiful recipes revolving around my beloved watermelon, I was like, why don't I experiment with it? While I managed to create something out of the rind a couple of weeks ago (recipe will come up shortly), I decided to make dosas too out of the rind. But since I thought it was something that everyone was making, I decided to use up the juice instead. Ok, to be honest, the sole reason why I decided to use the juice and not the rind was because the watermelon was dreadfully bland. It's like nature forgot to add the customary amount of sugar in it – just kidding! Well, since nature needs to sharpen her memory and do a better job next time, I decided to juice up half the watermelon and serve it sweetened with some sugar to my family who refused to eat the fruit. Now what did I do with the other half of the melon? Well, experiments of course -some flopped, some were okay and this neer dosa turned out perfect. Its a different thing that my kids didn't feel too excited about eating dosas with a fruit in them but then, they don't like eating even cakes if some fruit or dry fruit is sneaked in them. Whattodo?
Pin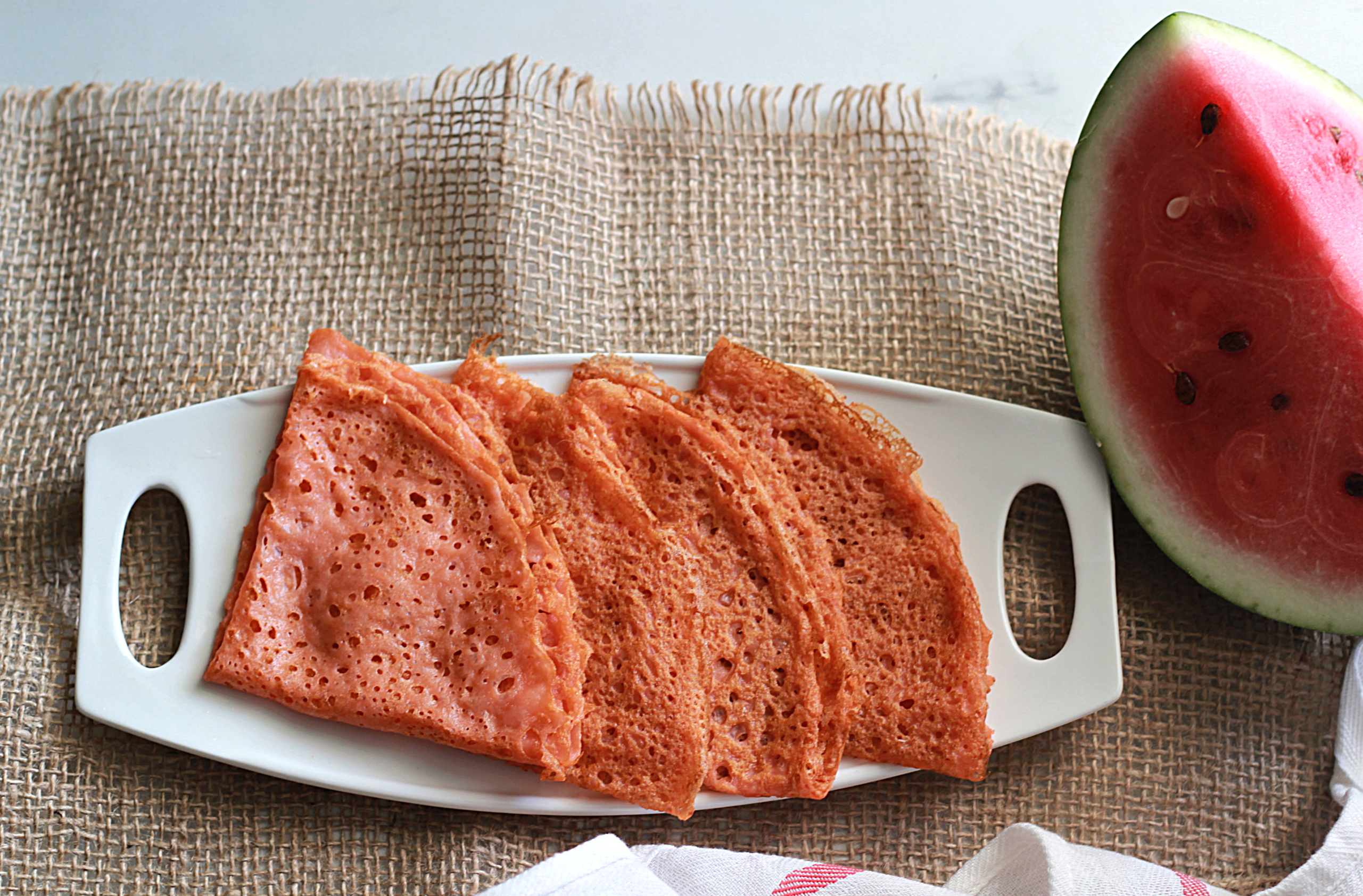 Pin
Since I thought it was a unique idea, I decided to go a step further and shoot a quick video too. In the hurry and the blurry (yeah, you read it right), the final shots of where I show the serving suggestion, the clips came out too blurry, so the video does not show the part where I serve these beautiful neer dosas with spicy coconut chutney. So please don't mind!
How do they taste? Are they too sweet?
Well, that's a very valid question and the first one that people have asked me ever since I posted the video online. The taste of these neer dosas will depend entirely on the sweetness of the fruit. If you are using a slightly bland to low sweetness kind of a watermelon, it will be fine. If the fruit you are making is too sweet, then I suggest you use only a small part of the fruit and more of the rind (white part) while grinding the dosa. This may lead to a thicker batter but you can adjust the consistency later.
Can I make them more savoury?
Oh yes you can! Just add 1 or 2 green chillies and 1/2 teaspoon of cumin seeds while grinding the batter and season it properly with salt (taste and add accordingly)
What can I serve these with?
Well, the dosa will taste nice with some spicy coconut chutney – plain, coriander flavoured or red chilly flavoured. You could also serve them with spicy tomato garlic chutney  Plain ghee works as a good accompaniment too for little ones. See what interests you at the time of serving.
Do I really need to soak the batter for 3-4 hours?
Not really. It all depends on the type of rice you are using. Raw rice (often called as white rice and 'surai' in Kannada and 'belthige' in Kannada) comes in many varieties and the cooking time for each varies hence the soaking time will too. I used India Gate Basmati rice to make these dosas as I ran out of my usual Kolam rice that I normally use for neer dosas. You can soak the rice for as less as 30 minutes or 2 hours too but soaking is important to help it grind fine.
Can I soak the rice in the juice at room temperature?
Well, since watermelon juice goes stale (smells) if you keep it at room temperature for too long it is advisable to refrigerate the bowl of soaked rice till you are ready to grind it.  You can also soak the rice overnight, but please don't forget to refrigerate it. Unless you are soaking the rice for less than an hour and you live in very cold weather or have central AC I would recommend you to refrigerate it.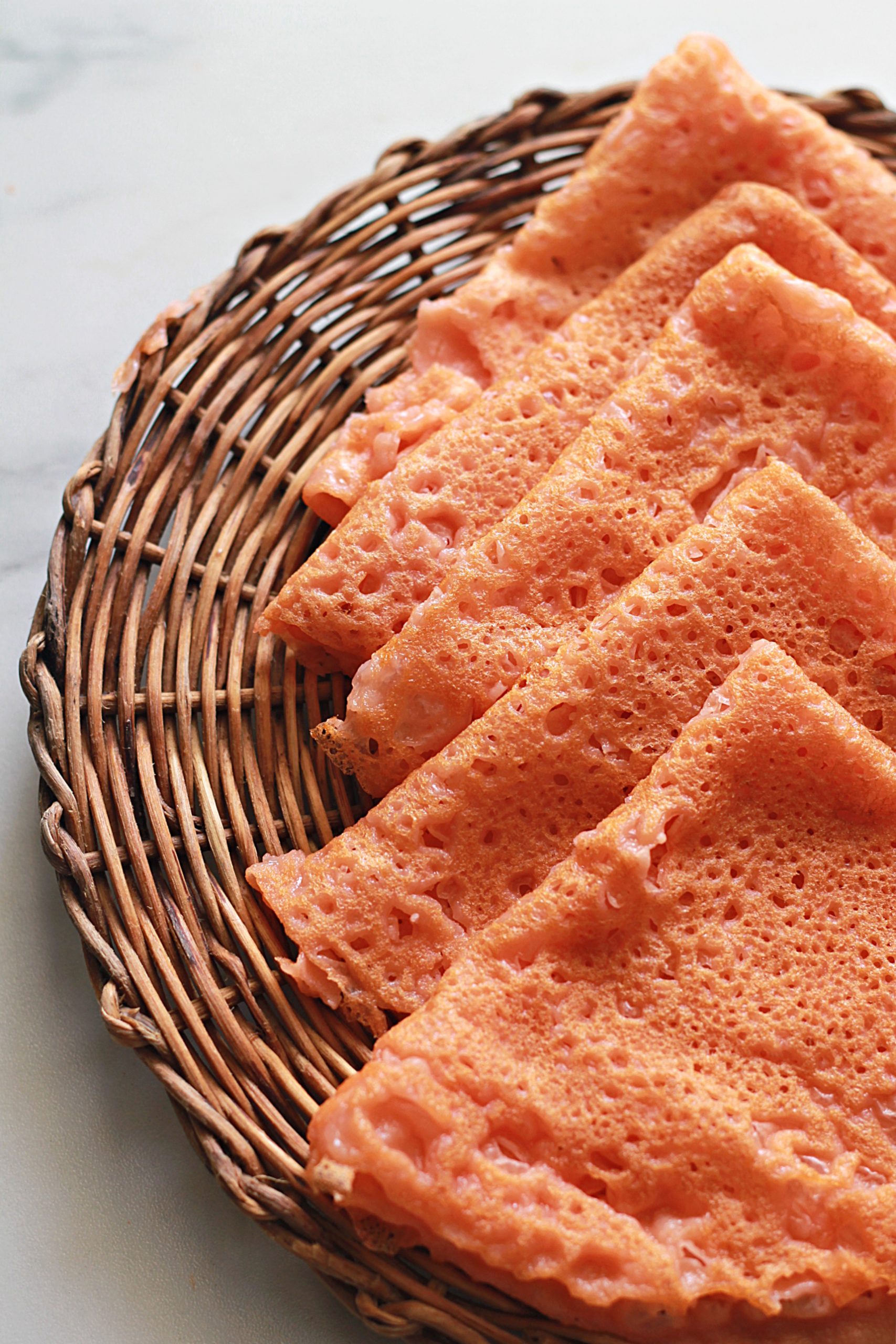 Pin
Pin
New here? Subscribe to my free newsletters with my latest recipes!
If you give this recipe a try do leave a comment on this post down below and don't forget to give it a star rating! It will really help more readers discover my recipes! Don't forget to check out my latest videos on my YouTube channel. If you like what you see, do give me a thumbs-up (like), share & comment and subscribe to my channel so that the gods of YouTube (a.k.a algorithms) recommend my channel to a wider audience with similar tastes and more & more people can discover my videos!
And while you're here, do follow me on Instagram, Pinterest,  Facebook and Twitter. If you'd like to say hello or have detailed queries do send an email at [email protected]. I'd love to hear from you!
Click the image below to save this recipe on Pinterest

Do check out the video of how to make this!! I hope you enjoy it!</p>
Watermelon Neer Dosa
Easy & flavourful watermelon neer dosas are very appetizing to look at. Pair them with a spicy chutney for a wholesome, nutritious breakfast.
Print
Pin
Rate
Ingredients
To soak the rice:
1

cup

raw rice

Basmati or Kolam

1

cup

fresh watermelon juice from 250grams watermelon pieces

salt to taste
To dilute the batter
1/2

cup

water to rinse the mixer grinder

1

cup

watermelon juice from 250 grams watermelon pieces

1/2

cup

water or a little more to adjust consistency
Instructions
Wash the rice in 2-3 times till the water runs clear. Drain the rice and keep it.

Extract fresh watermelon juice using a blender or a mixie and strain the juice into a bowl

Add the washed & drained rice into the bowl and mix. Let the rice soak in the juice for 3-4 hours. Refrigerate the bowl till then to prevent the juice from going stale.

Grind the rice along with the juice in which it was soaked and salt to taste to a fine, smooth paste.

Transfer this mixture to a deep bowl. Rinse the mixie jar with 1/2 cup water and add this to the bowl

Now adjust the consistency of the batter by adding 1/2 cup of fresh watermelon juice at a time. I used a total of 1 cup of juice and another 1/2 cup of water to dilute the batter to the right consistency. You may or may not need this extra 1/2 cup of water or you may need another 1/4 cup, taking the total amount of water to 3/4 cup - this will depend on the type and quality of rice used.

Check the taste of the batter and add some more salt if need be. If you want sweeter dosas, then less salt may be necessary but don't skip the salt or the dosa will taste bland after cooking.

Heat a non-stick or a neer dosa skillet on full heat. Grease the surface generously with some coconut oil.

Pour a ladleful of batter on one side of the skillet and quickly swirl it so that the batter covers the entire surface. If there are any spots you have missed, quickly pour a little batter to cover them.

Let the dosa cook for 20-30 seconds or until the colour changes and the surface looks cooked. When you are able to lift the edges easily with a spatula the dosa is ready to be removed.

Use a spatula to remove the dosa carefully or use a Mangalorean 'kurpon' woven out of reed to remove the dosa

Let the dosa cool. Then fold into quarters. Repeat the process to use up the rest of the batter.

Serve the watermelon dosa with spicy coconut or any other chutney of your choice.
Notes
1. If you wish you can add 1-2 green chillies (according to taste) and 1/2 teaspoon cumin seeds to the batter while grinding. This will give you savoury dosas that can be eaten plain or with chutney or curry.
Disclaimer
The nutritional values are only indicative.
Tried this recipe?
Please leave a comment & rate the recipe below or share a photo on Instagram and tag me @ruchikrandhap