Everything I eat has been proved by some doctor or other to be a deadly poison, and everything I don't eat has been proved to be indispensable for life. But I go marching on. ~ George Bernard Shaw
The above quote was just too cute to have not been shared although I have made a conscious effort to eat healthy. It is very important for a food blogger like me (who has a tendency to drool over recipes, try them immediately and gobble up most of it alone) to keep a tight watch on what I eat. I have battled with weight issues since I moved to Mumbai after my marriage and had a crazy work schedule to deal with which left me with no time for healthy cooking and I gave in to a lot of temptation (sweets & junk food). Then came motherhood which made sure the extra kilos stayed on forever. Staying healthy is also a big effort and challenge for a foodie like me who has led a carefree lifestyle in Mangalore – gorging on anything & everything and still being able to stay decently fit (if not slim).
So now, thanks to a city life I have to be extra careful of the method and medium of cooking. I don't deep fry too often (maybe once a month at the most) but then a South Indian breakfast is incomplete without the Uddina Vade also famously known as Medhu Vada in the North. And what good is life if you cannot indulge in your favourite food once in a while? And while you are at it, you may as well enjoy it to the hilt, isnt it?
Uddina Vade/Medhu Vadas are simply Black Gram Dal fritters. You can call them the Indian doughnut, savoury ones to be precise. Crispy on the outside and fluffy inside with an occasional bit of green chilli or curry leaf to bite into. These Vadas are my husband's favourite – especially the ones we get in small hotels in Mangalore. So crispy while they are hot and accompanied by the most delicious Sambhar. Sometimes they are even paired with Idlis making it the most delightful & complete breakfast! (Steamed (Idlis), Deep Fried (Vadas), Cooked (Sambhar) & Uncooked (Chutney))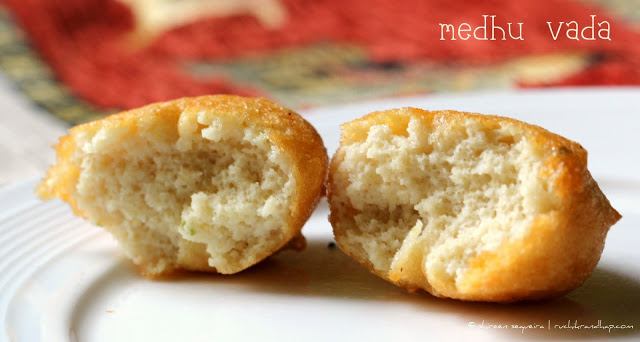 It's funny how the Black Gram Dal is actually white – but this is just because this Dal is the split lentil and the whole lentil has a black skin to it. The use of Urad Dal is quite common in South Indian houses as it finds itself in the preparation of Idlis and Dosas, Papads (poppadums) besides being used for tempering/seasoning curries & other dishes. Urad Dal is a good source of protein, iron, folic acid, calcium, magnesium, potassium and Vitamin B.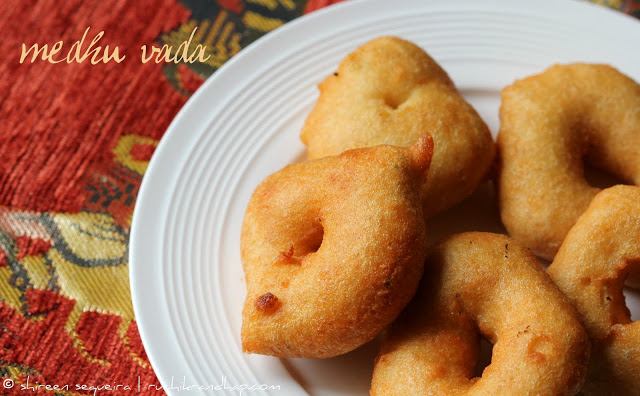 Uddina Vada/Medhu Vada:
Yield 10-12 small vadas
You Need:
1 cup urad dal/uddina bele/black gram dal
1/3rd cup chana dal/kadale bele/bengal gram dal
1 long green chilli finely chopped
1/2 teaspoon black peppercorns, crushed
4-5 curry leaves/kadipatta finely chopped
1 pinch hing/asafoetida
2 pinches soda-bi-carb (baking/cooking soda)
salt to taste
Method:
1. Wash and soak the dals overnight (or for 6-8 hours). Drain all the water before grinding them to a almost fine paste (slightly coarse texture). Avoid using water to grind as your batter needs to be dry enough to enable you to make a hole in the centre before dropping them into the hot oil
2. Add the chopped chilli, curry leaves, hing, soda-bi-carb and salt to taste to the ground batter.
3. Heat sufficient oil for deep frying in a heavy bottomed wide pan or kadhai (wide enough to be able to fry at least 3-4 vadas at a time). When the oil is smoking hot, reduce the flame to medium high.
4. Place approx lemon size portion of batter on a banana leaf or baking paper or a thick food grade plastic sheet, wet your fingers with some cold water and gently make a hole in the centre of the batter using your thumb. Slowly slide this batter into the hot oil – place your palm comfortably close to the oil or else the hot oil will spash/splutter if you drop the batter from a height – so be careful!
5. Repeat the process to make another 2-3 vadas (or as many as your pan can accommodate) as mentioned in step#4. Use a slotted ladle to gently flip the vadas over so that they fry well on both sides to a golden brown. This can take a minute or so.
6. Remove carefully and place it on a kitchen tissue. Do not cover immediately as the steam will turn them soggy. Serve hot with Sambhar and/or Coconut Chutney (especially the
Coconut & Roasted Chana Dal Chutney
)