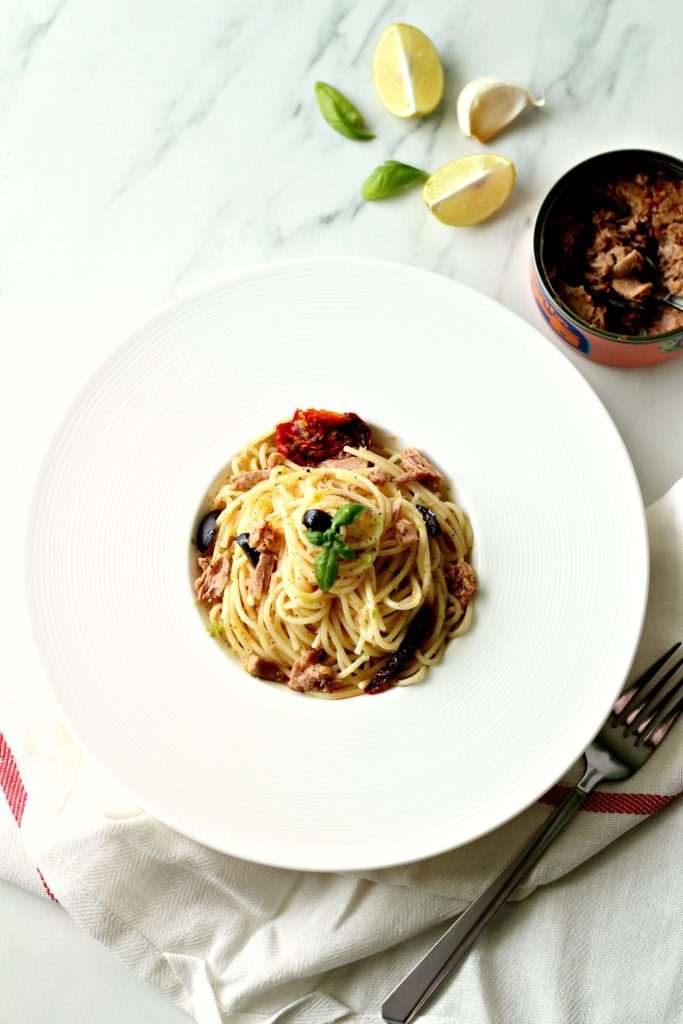 Pasta is a bi-monthly affair at my place. It is quick and easy and makes for a fuss free meal option. Most times I make it with some kind of sauce, mostly homemade, pesto sauce being the most favourite one. Sometimes the little ones like it without any sauce. Yep, plain and simple boiled pasta tossed in olive oil sprinkled with some salt and chilli flakes. I make different versions of the same thing. Sometimes I fry some garlic in butter and oil before adding the pasta. Sometimes I season it with whatever spice blend I have handy. When I am in the mood to splurge, I buy a small basil plant and throw in some fresh basil. A couple of months ago I had seen this gorgeous spaghetti recipe in the Friday magazine and bookmarked it. I knew that it was super easy as it called for canned tuna. I don't buy canned foods very frequently unless it's tuna or pineapple slices and this recipe was the perfect chance for me to use up the tuna I had bought recently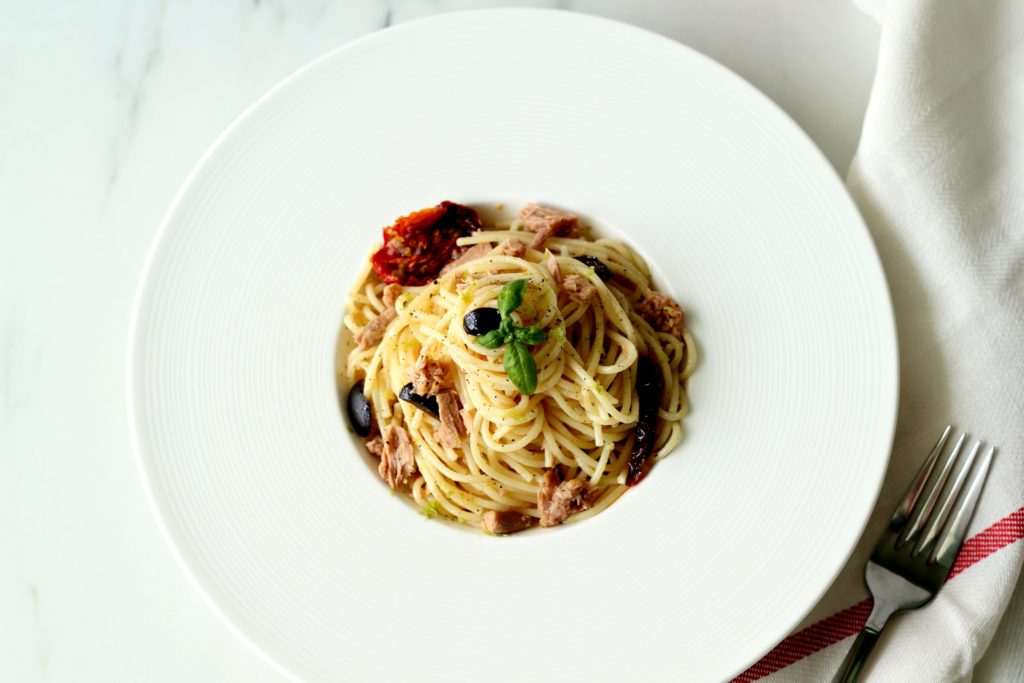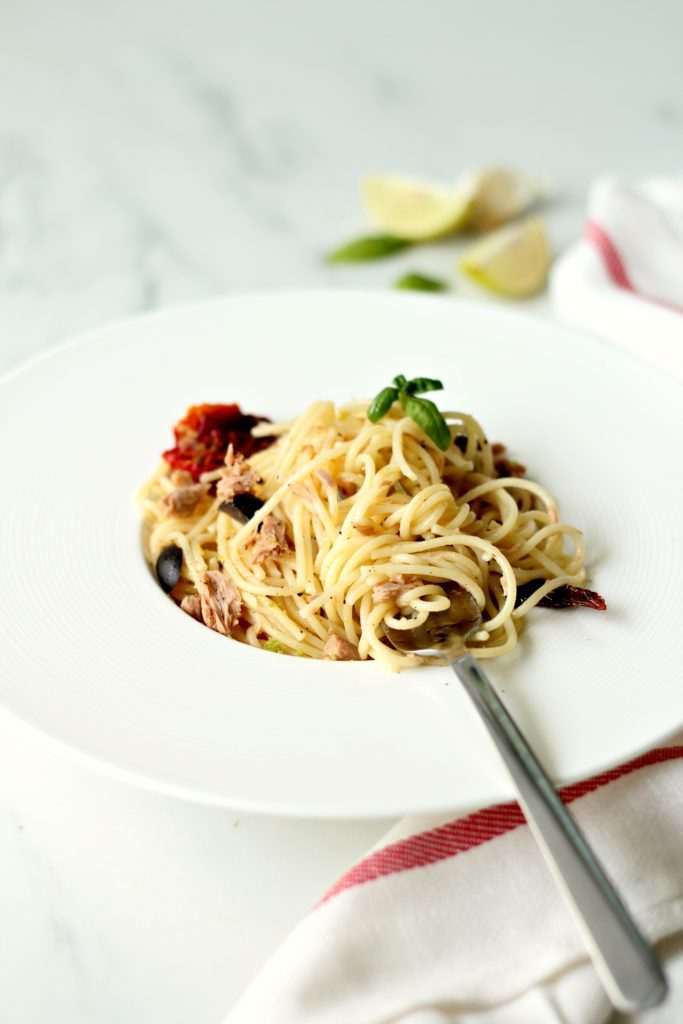 When I saw the recipe I was quite fascinated by the use of lemon zest. It may be a common thing but it wasn't for me. I loved the idea of letting the lemon zest add a sparkle to the spaghetti especially because there was no sauce added here in the traditional sense. Whatever went into the pasta had to have a strong character of its own (if you know what I mean), strong enough to serenade one's palate or else my little battalion would twitch their noses. Well, one of them did – the non-tuna lover, but then I don't give them much choice with food. They take it or leave it (and go hungry until the next meal which is usually a glass of milk & biscuits at tea time).
I tweaked the recipe to use up whatever I had with me in the pantry. The sun dried tomatoes are the only addition. These were lovingly brought by my brother from one of his trips around the globe. He knows my penchant for food and props and although the Dubai summers are hot enough to yield a sack of sun dried tomatoes a day, he still buys lovely stuff like this just to see me jump around in joy. Pictures of his gifts from yonder and other random things are regularly chronicled on my Instagram profile. Care to join me there?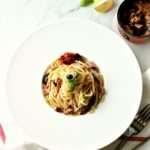 Tuna & Lemon Spaghetti
Super simple & delicious spaghetti with tuna can be quickly put together for a satisfying meal under 30 minutes
Ingredients
250

grams

spaghetti

1

tin

approx 170 grams of tuna in oil, drained and flaked

2

tablespoons

olive oil

2

tablespoons

of butter

2

fat cloves of garlic

minced

1

dried red chilli

broken into 2-3 pieces

3-4

small slices of sun dried tomatoes

(optional)

10-12

black olives

pitted &liced

1/4

cup

basil leaves

zest & juice of 1 lemon
Instructions
Bring a large pot of water (about 12 cups) to a boil. Add salt and a few drops of oil and then add the spaghetti to it. Cook until al dente (90% done). Drain the water, refresh with fresh water, sprinkle a little oil and toss it about to prevent sticking. Cover and keep aside till required.

In a wok/wide based pan heat the butter and oil and add the minced garlic, broken chilli and sundried tomatoes. Saute for a few seconds on a low heat. Do not brown them. Add the lemon zest and juice and take the pan off the heat

Add the spaghetti, olives, flaked tuna. Season with salt & freshly ground pepper. Toss to combine. Serve immediately

Follow me on Pinterest! Click below to save this recipe!