Folks! I know its been ages since I last posted. While the blog is on my mind on a daily basis what with all the food that gets cooked everyday, it is simply difficult to keep up with the mails and comments with an intermittent internet connectivity. At one point I decided to give up and just focus on relaxing while on vacation but then it was impossible to stay away from something I am so passionate about. So after a very long time I am posting one of the recipes I had tried out in Dubai before we travelled to Mangalore. I was very keen to try out tuna cutlets at home as I had only tasted them at my brother's place prepared a couple of times by my sister in law and her dad. They had used tinned tuna and it tasted good.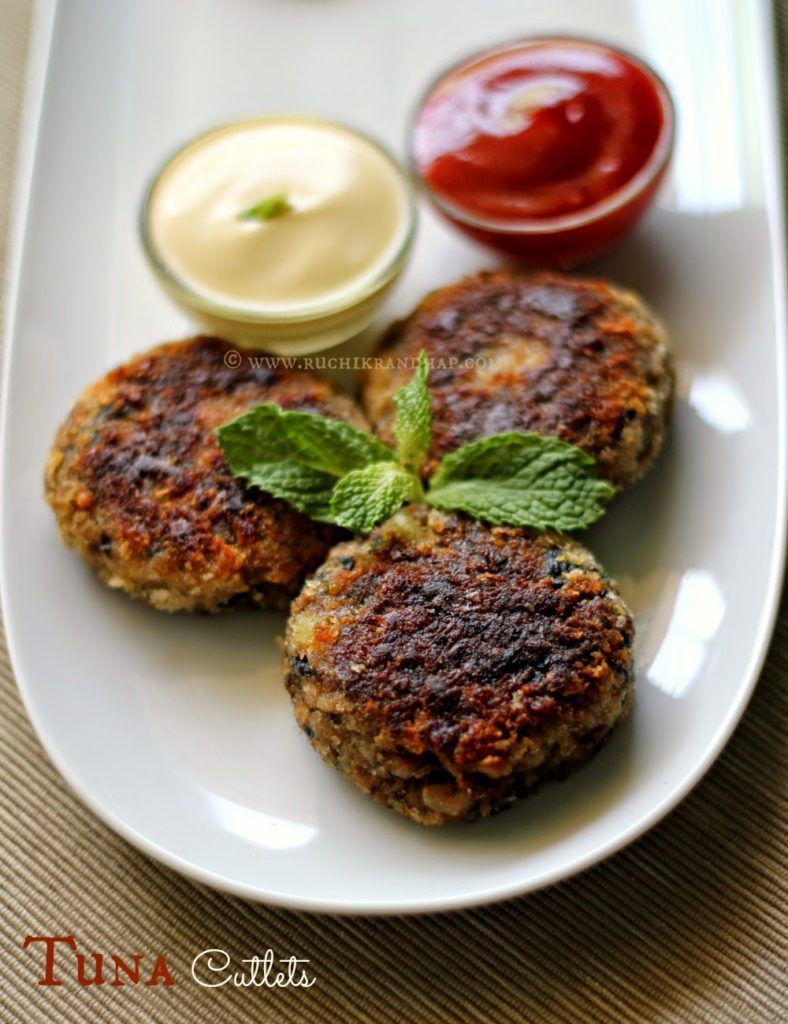 Pin
In June, Roshan on his trip to the Deira fish market brought some tuna. As it was not on the shopping list that I had given him (so typical of men who go grocery shopping no?) I dumped the fish in the deep freezer and forgot about it. A couple of weeks before we travelled to India we decided to use up all the frozen stuff and other perishables and chalked out our weekly menus accordingly. The tuna sparked no ideas. At that point of time we had only considered using it up in some sort of a curry or perhaps frying it. The man eventually decided to cut it up, debone it and use up the head, tail and bones to make some fish stock (more on homemade stock later). When the stock was being prepared we almost dismissed the idea of eating the flesh as the aroma was rather unappetising and strong. However, since I had wasting food and especially fish I decided to go ahead and make cutlets out of it. Not having a real recipe I worked around my minced meat cutlet recipe and added as many ingredients as required to mask the strong taste and aroma of the fish.
I would strongly recommend you to use tinned tuna if you prefer as it is the easiest way to make these cutlets and perhaps you won't require so many ingredients. But if you are like me and prefer to make things from scratch or have a fish you like to use up then I am sure you will enjoy the whole process – you get fish stock for free you see!
Today's recipe is for my dear friend Rashmi Pandey and her family. Rashmi's daughter was my son's best friend in their first playschool and the friendship has grown over the years. I do hope your family enjoys these cutlets Rashmi!
Tuna Cutlets
Prep time: 30-40 mins (only if you are using fresh tuna)| Cook time: 15-20 mins | Yield: 12 cutlets
Ingredients: (Please read the notes before proceeding)


For the mixture:
175-200 grams shredded white tuna * see notes
150 grams/3/4th packed cup (about 1 medium sized) potato, boiled, peeled and mashed
150 grams (1 large) onion finely chopped
12-15 curry leaves finely chopped
1/2 cup fresh coriander finely chopped
3/4th cup mint finely chopped
2 small green chillies finely chopped (de seed if you wish)
1 teaspoon ginger paste
2-3 teaspoons garlic paste
1 teaspoon coriander powder
1 teaspoon cumin powder
1/2 teaspoon dry mango (amchur) powder
1/2 teaspoon garam masala powder
1 slice of bread
1 teaspoon fresh Kashmiri chilli paste (optional) * see notes
1/2 teaspoon mustard paste (optional) * see notes
2-3 teaspoons vinegar and/or lime juice (adjust to taste) * see notes
salt to taste
oil for frying
For coating & frying
2 egg whites well beaten
semolina/sooji or breadcrumbs
oil for shallow frying
Method:
Prepare the mixture:
1. Heat the oil in a frying pan and add the the curry leaves and fry for a couple of seconds. Next, add the chopped onions and green chillies and fry until the onions turn translucent/pale.
2. Add in the ginger and garlic pastes and fry on a medium heat. Toss in the coriander and mint leaves and let them wilt.
3. Next, add the dry powders – coriander, cumin, amchur and garam masala and fry for half a minute. If you wish you can add the Kashmiri chilli paste now and fry it a bit.
4. Now add the shredded tuna, mashed potatoes and give them a good mix. Sprinkle a little water (4-5 drops) over the bread, shred and add it to the mixture. * see notes. Mix everything well.
5. Add the salt to taste (canned tuna may be salty, so use accordingly). Do a quick taste check and add the mustard paste if required.
6. Sprinkle vinegar and/or lime juice, mix thoroughly and remove from heat.
7. When it is cool enough to handle, divide the mixture into 12 portions and shape them into balls. Flatten each ball into cutlets.
Fry the cutlets:
1. In a small shallow plate place the beaten egg whites. In another plate place the breadcrumbs
2. Dip each cutlet into the egg white mixture first and then roll it over the breadcrumbs till well coated on all sides.
3. Heat oil in a frying pan and fry the cutlets on a medium heat. If the oil is too hot the cutlets will brown quickly. Fry them till golden brown on both sides.
4. Remove the cutlets onto an absorbent kitchen towel and serve hot with ketchup or dip of your choice. They go very well as a party starter or also along with your rice and dal.
Notes:
1. I used fresh white tuna, filleted (deboned) at home and cooked with some salt, pepper and a pinch of garam masala. Then I drained off the excess stock/liquid and shredded the fillets roughly. This was a time consuming affair and fresh tuna gives out a very strong fishy smell, so my recipe has many ingredients used to mask the smell. If you wish to use canned tuna please go ahead. If it does not have a very strong odor (or you like it that way) you may not really need to use the optional ingredients. Simply taste the mixture at every stage before adding the optional ingredients mentioned above.
2. To mask the strong taste of tuna I used both vinegar & lime juice.
3. Take care to see that you don't soak the bread in water – just lightly wet it. The purpose of adding the bread is to absorb excess moisture in the mixture and help bind and hold shape when you make the cutlets.
4. I used homemade Kashmiri chilli paste which was prepared by soaking deseeded Kashmiri chillies in boiling water (enough to cover them) for about 1 hour and then ground them to a fine paste. A little olive oil was mixed in it to help preserve it longer. The paste can be refrigerated for upto 2 weeks.