Most of my baking adventures happen on days when I have plenty of other things to do but when the baking bug bites me I simply sideline the rest just to satiate my hunger for baking. Since the little one now is showing her true colours and stepping into her terrible twos it is hard to finish baking in one go with an eternally clingy little monkey. Although I don't do any meticulous planning before baking (most of my baking happens on a whim) I phase out the whole program over a period of hours. If the bug bites me in the morning I try to complete my cooking first and parallely keep the eggs and butter out of the fridge. Next, I go about measuring the ingredients and placing them in different bowls and plonk them on my work table in the kitchen. We have a little foldable table that we picked up from IKEA for this very purpose. It springs into action only when required (a.k.a when the rest of the counter tops and workplaces are overburdened with random clutter) and gets shooed away when not in use.
Although the whole programme sounds tedious (I mean, I never ever considered measuring out ingredients into bowls earlier) it does save a lot of time. When everything is ready all I have to do is mix the batter and pop the tins into the oven. This whole job hardly takes 10 mins and then the oven takes over. There are days when I even measure out ingredients the previous night I am good to go in the morning or whenever I am free to bake. Hey, lest you think I am hyper organized, I am NOT! I just like to do whatever it takes to make sure I get my healthy dose of baking every so often. I go insane otherwise. Those who have a baking obsession will empathise with me.
When the muffins were baking the whole house was filled with the awesome aroma of toasted coconut. It filled me with such a warm feeling and it was wonderful to bite into these delicious muffins as soon as they cooled down a bit. It was truly a tropical fest what with the coconut, pineapple and banana that add a new dimension to muffins that would have otherwise been just plain and boring. These delicious muffins however are pretty heavy if you ask me – they fill you up easily and you may not go beyond one or two muffins at the most. This also is reason enough to serve them as lunch box goodies to your lil one. If he is a fussy eater and doesn't enjoy eating fruits by themselves he is sure to like this (hopefully!). Do consider serving them as an interesting breakfast option as these muffins are not very sweet. They make an ideal grab and go kind of a breakfast. I hope you enjoy them!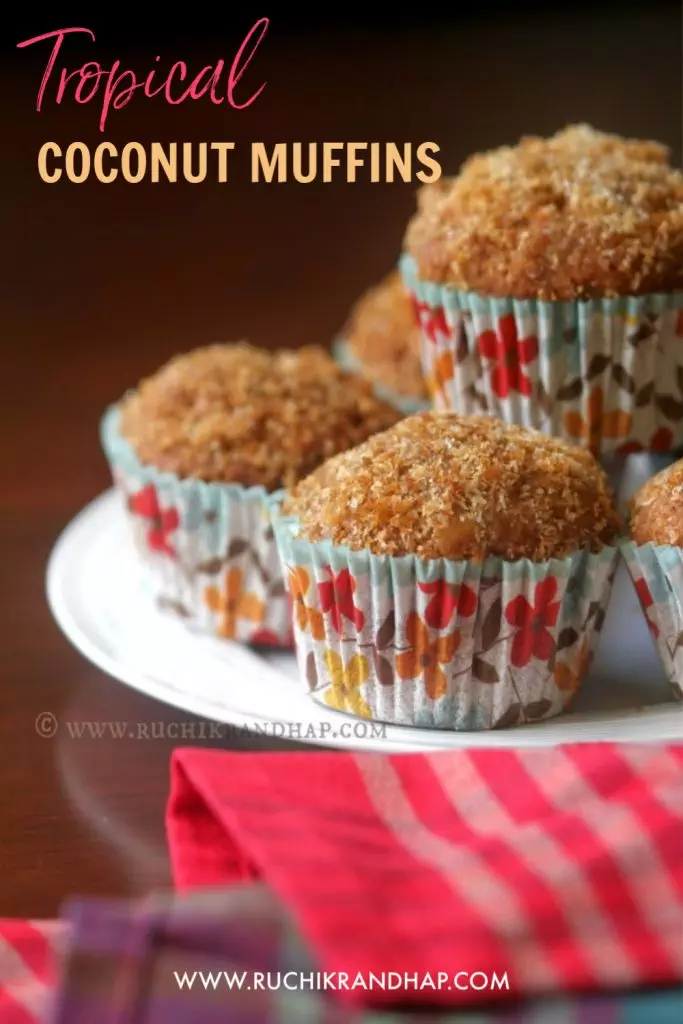 Pin
New here? Subscribe to my free newsletters with my latest recipes!
If you give this recipe a try do leave a comment on this post down below and don't forget to give it a star rating! It will really help more readers discover my recipes! Don't forget to check out my latest videos on my YouTube channel. If you like what you see, do give me a thumbs-up (like), share & comment and subscribe to my channel so that the gods of YouTube (a.k.a algorithms) recommend my channel to a wider audience with similar tastes and more & more people can discover my videos!
And while you're here, do follow me on Instagram, Pinterest,  Facebook and Twitter. If you'd like to say hello or have detailed queries do send an email at [email protected]. I'd love to hear from you!