December – the month of good cheer is finally here! Besides celebrating Christmas, it is also a month full of birthdays in my family, so I am looking forward to the good times ahead.
My little one also completes one month of her existence on this lovely planet in a couple of days and it has been a beautiful journey so far. The sleepless nights are absolutely worth it – today i got a teeny tiny smile of recognition and a coo in return for it. Bliss!
Now although I am not able to indulge in a marathon goody making session, I do have a few special recipes in store for you this Christmas season. Last year, I attempted a good number of Kuswar specialities. For those of you who are unfamiliar with 'Kuswar' – well, its just our very Mangalorean platter of Christmas goodies – sweets and savouries that are prepared in advance and distributed amongst relatives, neighbours and friends. Most of these are deep fried and have a long shelf life. Since they involve a bit of effort not too many people make them at home anymore – it is far more simple (economical and time saving) to just buy some Kuswar from the local bakery a week before Christmas.
However, the lack of time and inclination to make the goodies at home has turned this into a dying tradition. Gone are the days when kids used to help their mothers make large sums of 
Kidiyo (Kulkuls/Sweet Dough Curls)
, Gulio (Rice Marbles), 
Neurio (Crescent Shaped Sweet Puffs)
, 
Kokkisan (Roce Cookies)
, 
Rice Laddoos
, 
Pathekaan (Banana Chips)
 or 
Tukdi (Diamond Cuts)
 sitting around the dining table. Many afternoons/evenings were thus spent – chatting, laughing and preparing the sweetmeats. I tried to re create the magic last year. But sadly, I made most of the goodies alone when the husband was travelling. However I  was overjoyed when he got back in time to help me with the kulkuls. This got us talking and reminiscing our good ol' days in Mangalore in our respective homes – we missed those days, but were glad that we had each other to share our common passion – of making kuswar and vowed to pass on this lovely tradition to our children as well. I hope they pick it up from where we leave and help keep the tradition alive.
Sukrunde or Sukur Unde or Sukin Unde is a typical Mangalorean sweetmeat that is made of green gram and  jaggery. Balls that are dipped in rice batter before deep fried make for lip smacking sweets served during Christmas. However compared to the other deep fried snacks, these don't have a very long shelf life. Sukrunde had disappeared from the Kuswar platter at my mum's, but my mum in law kept the tradition alive and very patiently taught me to make them last October during my visit to Mangalore.
I do hope you give these sweets a shot. You will love them, I promise!
Season's greetings everyone!
Sukrunde (Crispy Green Gram & Jaggery Fritters)
Prep time: 15mins | Cook time: 10 mins | Yield 24 lime sized balls
You Need:


For the filling
100gm split green gram with skin (chilkewali moong dal)
100gm jaggery (increase it to 150gms if you like it sweeter)
3/4th-1cup freshly grated coconut (approx 1/2 of a medium sized coconut)
4-5 cardamom pods powdered
pinch of salt
For the outer covering/coating
1/2 cup raw rice soaked for a couple of hours and ground to a thick fine paste
OR
1/2 cup rice flour or maida (all purpose flour) made into a thick paste using 3-4 tbsp water * see notes
For deep frying
Method:
1. Wash the green gram till the water runs clear. Powder the jaggery. Coarsely grind the grated coconut (pulse it for a couple of seconds – do not make a wet paste).
2. Transfer the green gram into a pressure cooker and add a little less than double the amount of water and a pinch of salt. Pressure cook on a full flame till the first whistle goes off, reduce the flame and continue to cook for another 7-8 minutes. Remove from fire and let the cooker cool down to room temperature. Open and stir gently. *see note*1
3. Add the jaggery and stir on a medium flame till it melts and blends into the cooked lentils. Toss in the ground coconut and stir well until all moisture evaporates and the mixture is dryish. Remove from fire and allow the mixture to cool.
4. Make small lime sized balls (or the size of til laddoos) from the mixture and keep aside.
5. Heat the oil in a deep heavy bottomed kadhai/wok and drop 4-6 balls dipped in the rice flour/maida batter and fry on a medium high flame till golden brown. Remove with a slotted spoon, drain off excess oil and transfer onto an absorbent kitchen tissue.
6. Serve hot or allow to cool completely before storing in an airtight container.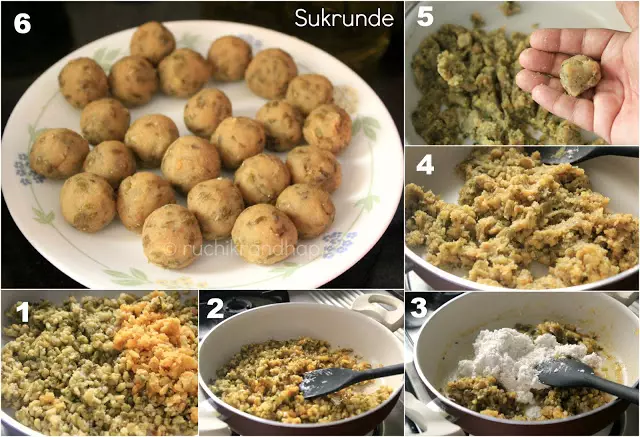 Pin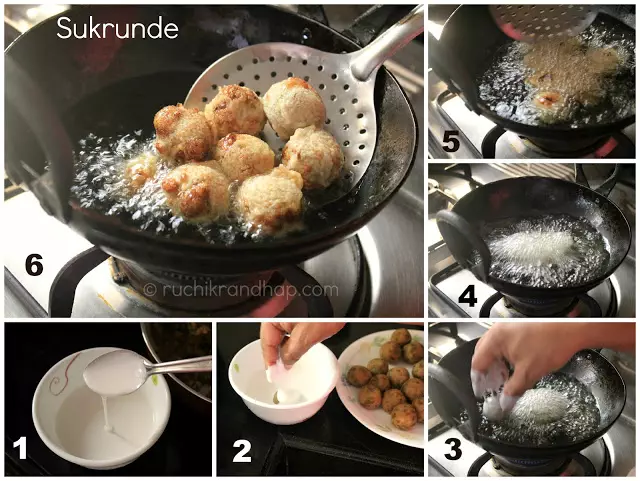 Pin


Notes:
1. The green gram needs to be perfectly cooked. If it is uncooked, add additional water as required and continue to cook (without covering the lid) till tender but not mushy. If it is perfectly cooked and excess water remains, drain it off. You need a dryish mixture before the jaggery is added so try not to overcook the dal to a paste. If you are not confident of pressure cooking the dal, you may cook it in a regular pan and keep an eye on it while it gets cooked – stir in between and add water as required. However this process will take you longer than the pressure cooking method.
2. The use of ground rice batter or rice flour will result in very crisp sukrundes but  the use of maida will result in a soft covering.